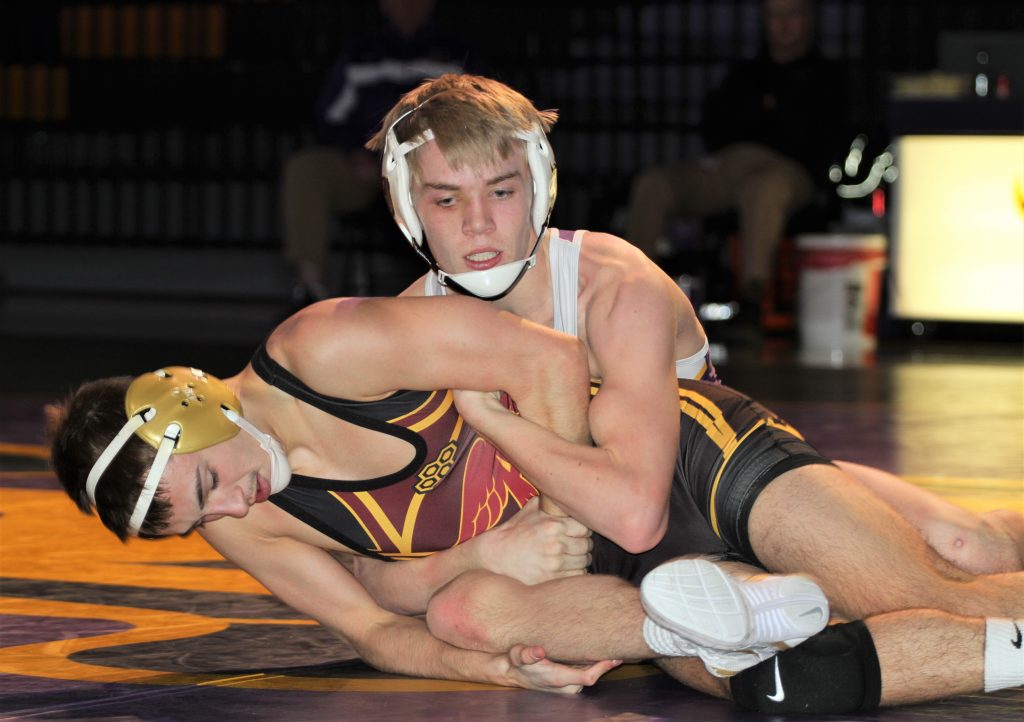 Ankeny wrestling coach Jack Wignall unveiled a new lineup on Thursday at Johnston.
Despite producing five falls and a major decision, the Hawks didn't do quite enough to pull out a victory.
Johnston, the No. 13 team in the Class 3A dual rankings, won eight of the 14 matches to edge No. 18 Ankeny, 35-34. The Dragons sealed the win when Harrison Pauley posted a 9-5 decision over Mo Watson at 160 pounds.
"When I looked at what (Johnston) had for a lineup at the beginning of the week, I knew it was going to be a very tight meet. I told the kids that," Wignall said. "We thought it would come down to bonus points, and it did. Both teams got some pins, but we just came up a little bit short."
The win allowed Johnston to remain unbeaten in the CIML Central Conference. The Dragons will visit No. 4 Ankeny Centennial on Thursday in a battle for the league title.
Ankeny's records dropped to 2-2 in the conference and 7-6 overall.
"Our guys really showed a lot of fight," Wignall said. "I was happy with the way we performed, and maybe we'll get another crack at Johnston at the end of the year."
The Hawks got pins from eighth-ranked Cael Cox at 113, top-ranked Caleb Rathjen at 126, Daniel Rose at 152, Cole Rathjen at 220 and heavyweight Romello Gray. Trever Anderson, who is ranked second at 106, posted a 9-0 major decision over eighth-ranked Rheiner Stahlbaum in a matchup of rated wrestlers.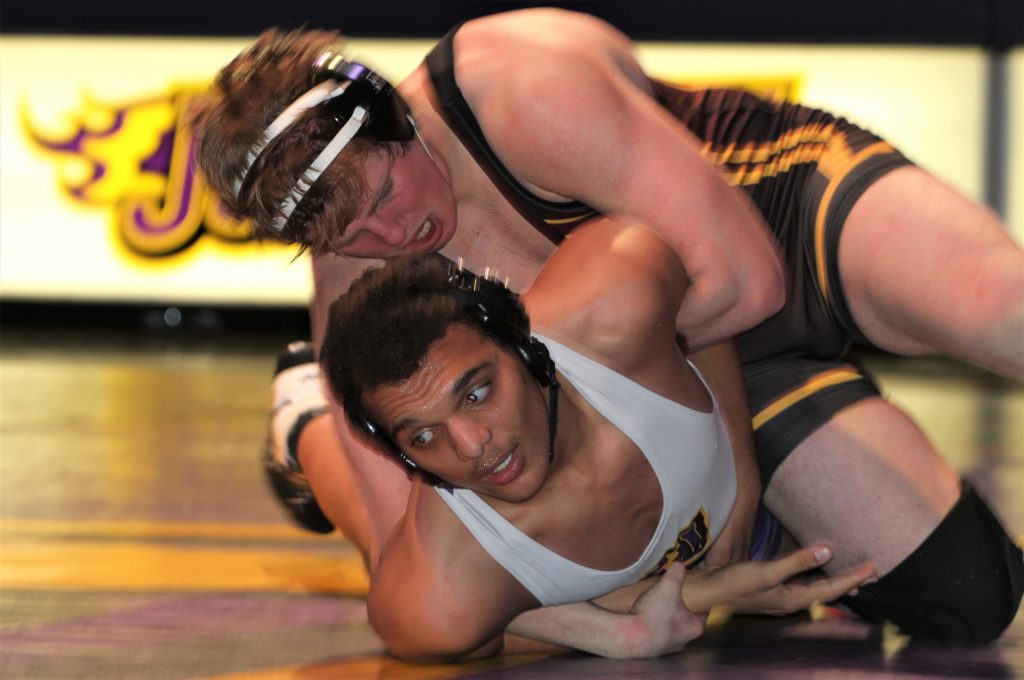 Cole Rathjen, who is ranked 10th at 195, competed for the first time in several weeks after spraining a knee ligament on Dec. 1. He pinned Zeke Baer-Deffebaugh in 5 minutes 49 seconds.
"I was excited," Rathjen said. "Being off the mat for awhile, I was anxious to get back out there, especially for my senior year."
Rathjen said he still needs to improve his conditioning.
"It's not where I wanted it to be, but it was good enough to be back and wrestling for almost 6 minutes," he said.
Rathjen moved up to 220 to allow Mason Thomas to remain at 195, where he dropped a 3-1 decision in overtime to Javian Rolley.
"We were really struggling with what to do at 195 and 220 because both of those guys are 95-pounders," Wignall said. "We didn't know if we should wrestle Cole there, but we went with what we went and we lost one and we won one. Mason wrestled a really close match, and sometimes it just doesn't fall your way."
Rathjen said he's willing to wrestle wherever Wignall wants him to.
"Right now, I'd like to stay at 95, but I have to do what the team needs me to do, if that's what coach wants me to do," Rathjen said.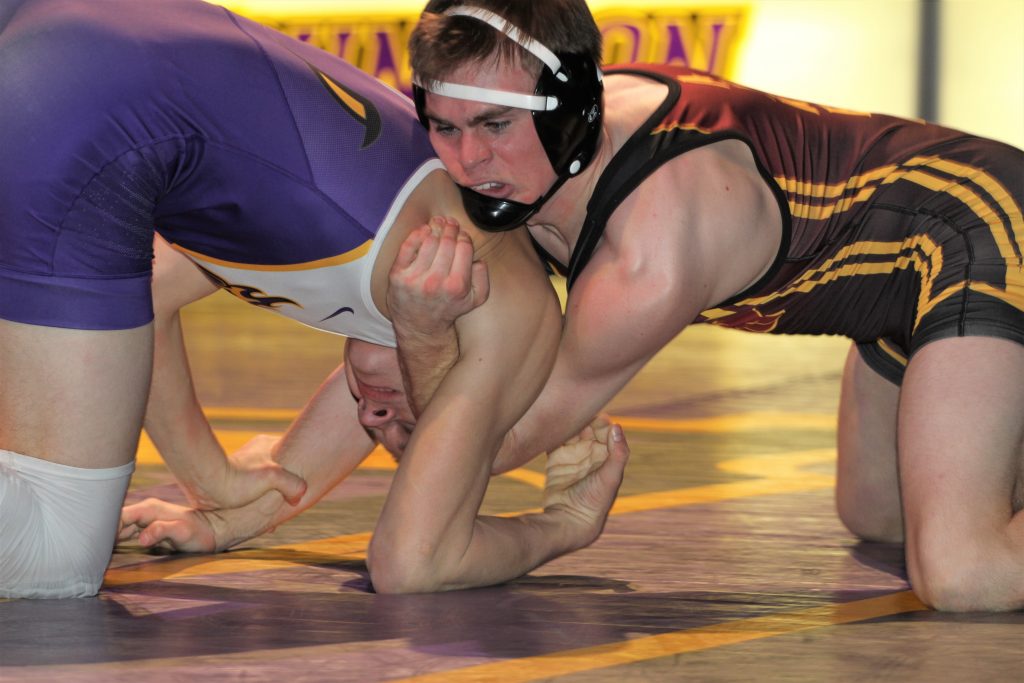 Wignall said he thinks the situation will be resolved soon.
"I'm not sure how we're going to work this out, but we will," he said. "The bottom line is, they're both good wrestlers and we need them both in the lineup, and that is not a knock on Colby Bales, who did not wrestle tonight. They're both seniors, and we have to get them in the lineup some way."
Thursday's meet also marked the Ankeny debut of 120-pounder Mark Ames, who previously wrestled at Southeast Polk. He was pinned by Thomas Edwards, who is ranked third at 126.
"We had some guys in the lineup that we wanted to have there. Some of it panned out for us; some of it didn't," Wignall said. "Our 120-pounder hadn't been on the mat for two years, so I expected some weak legs and some nerves."
The Hawks will host the Bob Sharp Invitational on Saturday.
Here are the match-by-match results:
Johnston 35, Ankeny 34
170: Moss (J) pinned Scherle, 1:26; 182: Christensen (J) pinned Karns, 5:04; 195: Rolley (J) beat Thomas, 3-1 (OT); 220: Co. Rathjen (A) pinned Baer-Deffebaugh, 5:49; 285: Gray (A) pinned Johnson, 2:22; 106: T. Anderson (A) beat Stahlbaum, 9-0; 113: Cox (A) pinned Madison, 1:14; 120: T. Edwards (J) pinned Ames, 3:45; 126: Ca. Rathjen (A) pinned Pruett, 1:39; 132: Helgeson (J) beat Kallem, 9-1; 138: Erickson (J) beat Kolthoff, 18-6; 145: J. Edwards (J) beat Carl, 10-4; 152: Rose (A) pinned Brinker, 2:46; 160: Pauley (J) beat Watson, 9-5.