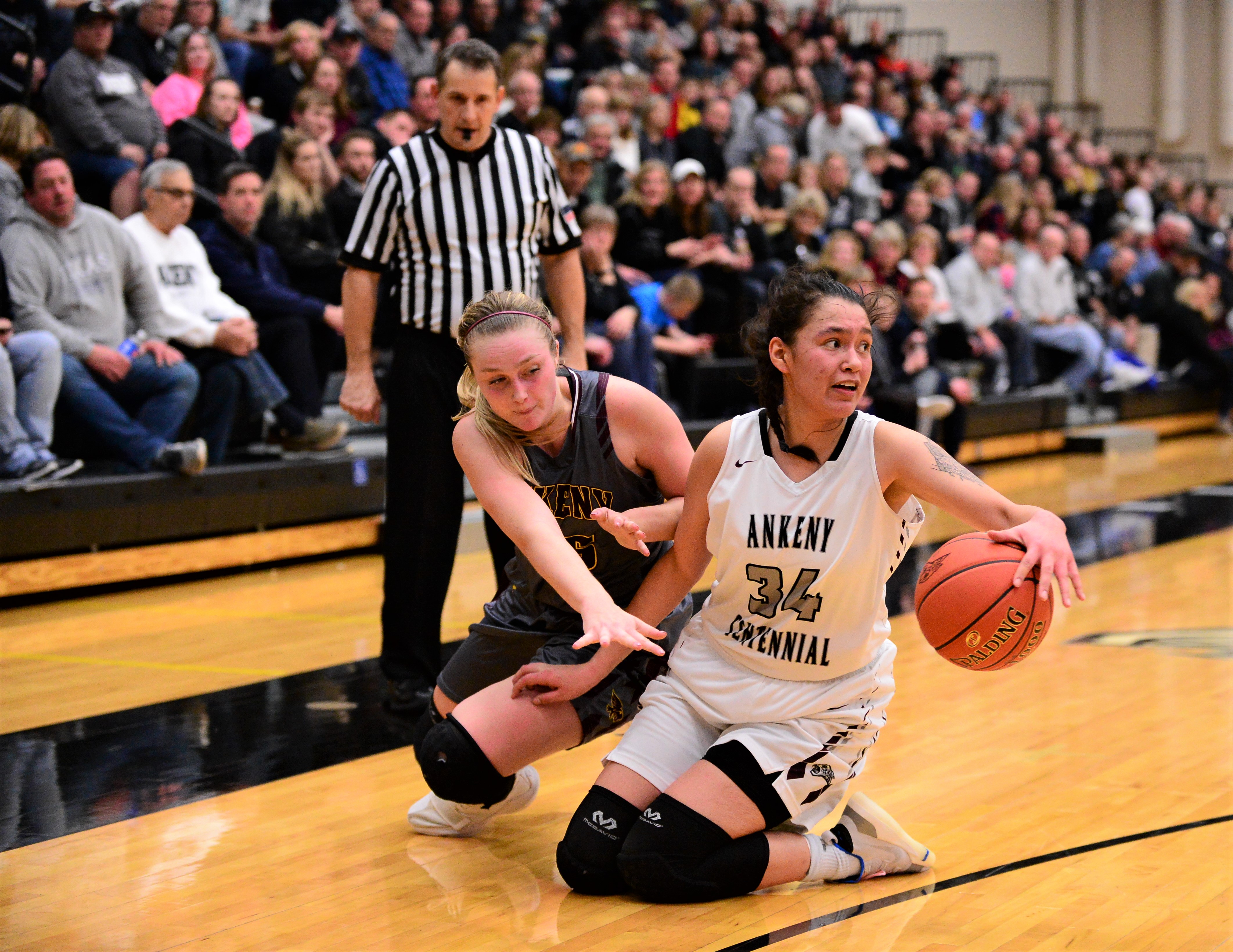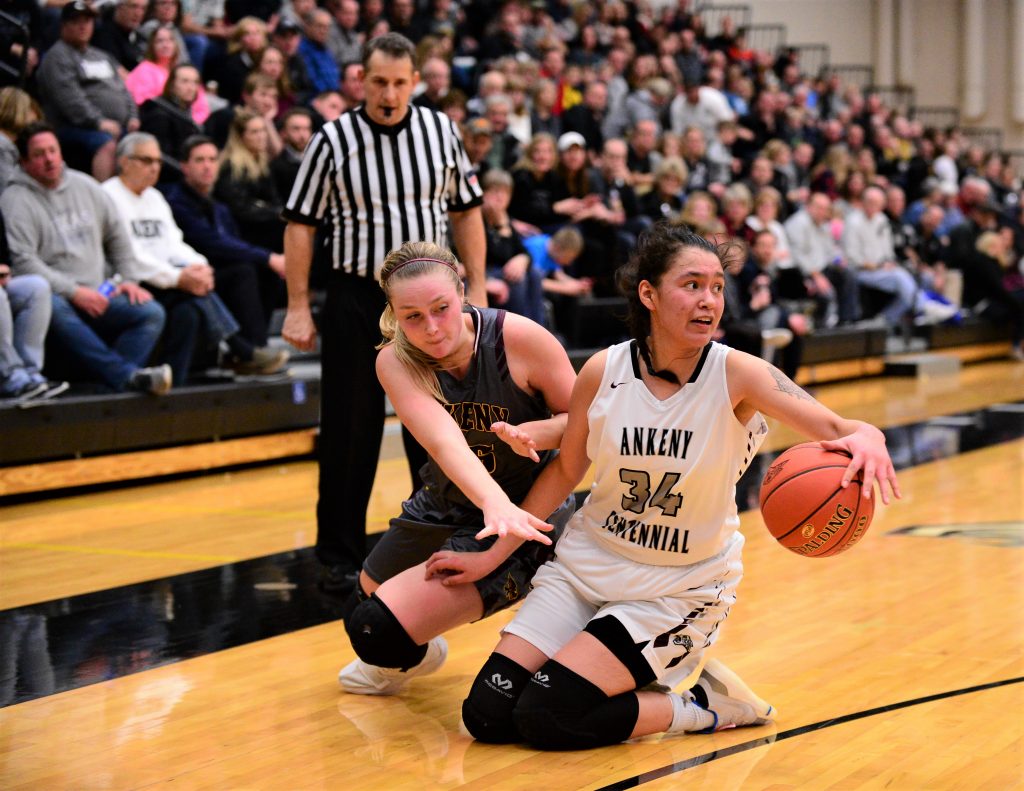 In her first two seasons on the Ankeny Centennial girls' basketball team, forward Alexandria Keahna-Harris served as a role player for the Jaguars.
Now, the 5-foot-10 junior is becoming a major force for coach Scott DeJong's squad.
On Friday, Keahna-Harris scored a game-high 12 points and also grabbed six rebounds to lead the 12th-ranked Jaguars to a 47-32 victory over No. 15 Ankeny in a CIML Central Conference game at Centennial. She also helped hold the Hawkettes' leading scorer, Sara McCullough, to just four points.
"Alex got it done at both ends of the floor," said DeJong. "She hit a big shot in the third quarter, and we moved her (on defense)–she played McCullough a lot in the second half. I can't say enough about her game. It was her best game of the year, and if that keeps happening moving forward, that's a good thing for us."
Keahna-Harris kept Centennial in the game in the first half, when she scored 10 of the Jaguars' last 13 points. She made back-to-back 3-point goals in the second quarter to offset a hot stretch by the Hawkettes, who connected on five 3-pointers in the first half.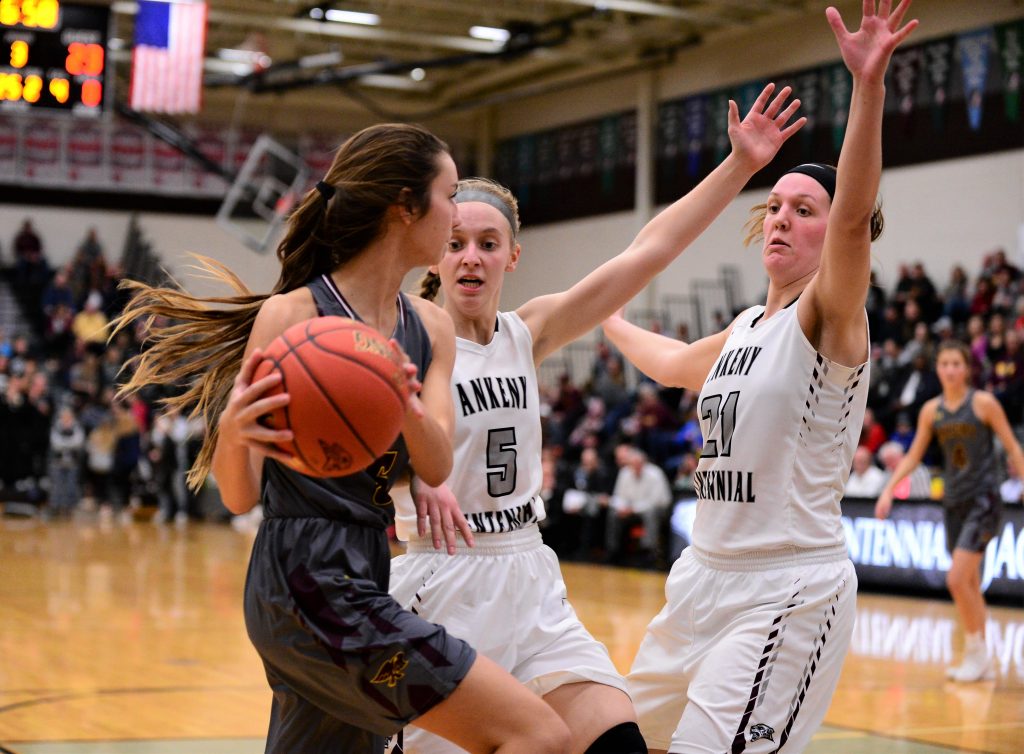 "I kind of figured they'd leave me open sometimes because I haven't been hitting them in the past lately," said Keahna-Harris, who entered the game with just a trio of 3-pointers on the season. "My teammates were really supportive. They kept telling me to shoot it so I shot it, and they went in."
Ankeny held a 23-21 halftime lead before Centennial outscored the Hawkettes, 12-3, in the third quarter. The Jaguars took the lead for good, 28-26, when Kenna Sauer stole the ball and drove the length of the court for a layup with 5 minutes 14 seconds left in the period.
Ankeny's only basket in the third quarter came on a 3-pointer by Kayla Pitz early in the period.
"It was kind of the same old song and dance with them," said Ankeny coach Dru McAnelly. "Their size and physicality bothered us the second half. They had some girls come in fresh and hit some big shots, and that was huge. Kudos to them."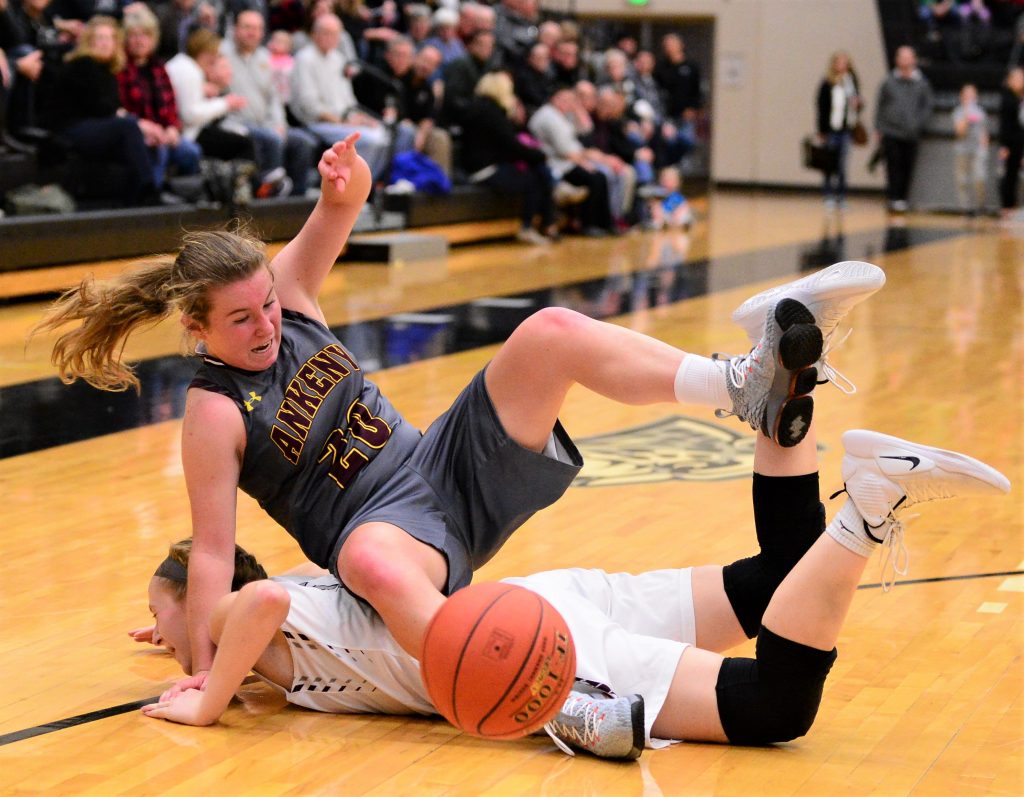 Rachel Schon had 11 points and six rebounds for the Jaguars. Meg Burns grabbed seven boards and hit six straight free throws in the second half to help Centennial pull away.
The Jaguars have never lost to Ankeny in 12 all-time meetings. They posted a 49-27 victory over the Hawkettes last month.
"It's so fun," said Schon, who is now 8-0 against Ankeny in her career. "They're always a real competitive team. We knew it was going to be a battle the whole way through, so I'm really proud of our team for coming through with the win."
Centennial improved to 4-2 in the conference and 9-4 overall. The Hawkettes' records dropped to 1-5 and 6-7.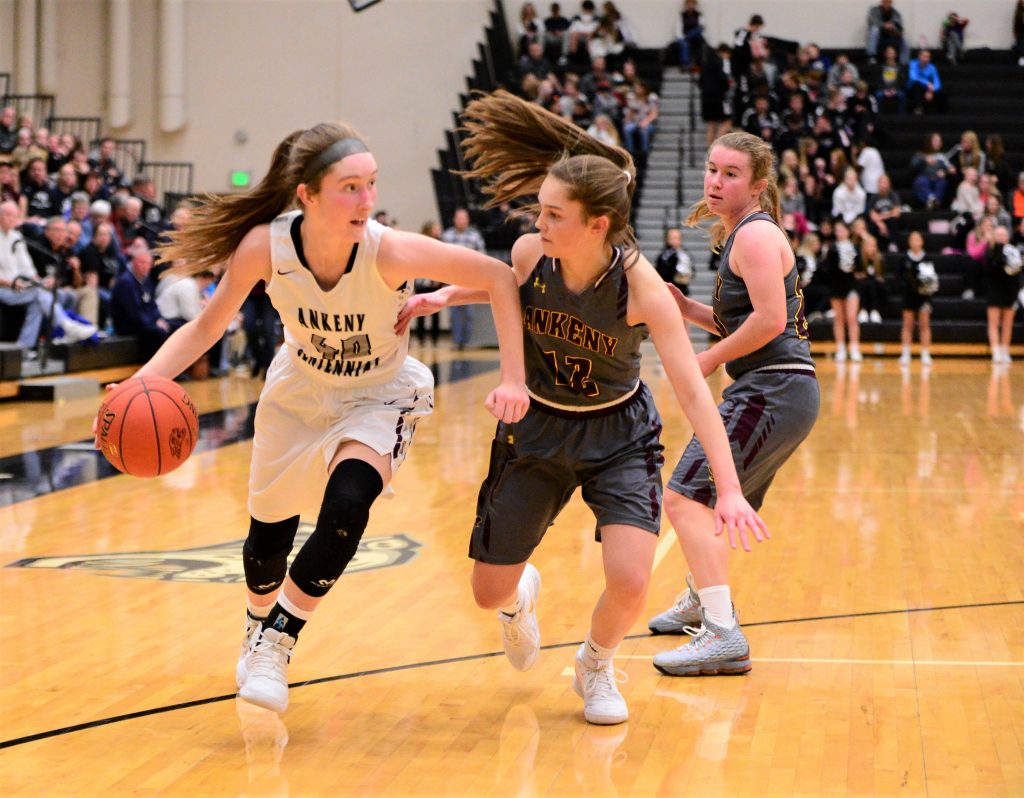 "(The rivalry) doesn't get old," DeJong said. "The girls don't say a lot, but you know it's a big game–you can just tell on their faces. I thought we were a little tight the first half. I was really happy to see how we came out the second half. We played a lot looser and a lot better."
Holly Trimble and Ellie Maschoff each had nine points to lead Ankeny, while Pitz added eight. Trimble and Maschoff combined for five 3-pointers in the first half, but were held scoreless the rest of the way.
"We were really confident," Trimble said. "We knew we needed to step up and hit shots. We just need to work on coming out hard for the second half, but we're going to come to practice on Monday and work really hard on finishing the game."
McAnelly wasn't disappointed with his team's effort.
"I thought our girls battled and played as hard as they possibly could play," he said. "We just got wore down a little bit, and you could see it in our legs. We were fighting so hard defensively and on the boards, we got wore down and missed some shots. That was kind of the story. But hats off to Centennial–they got after us defensively and wore us down."