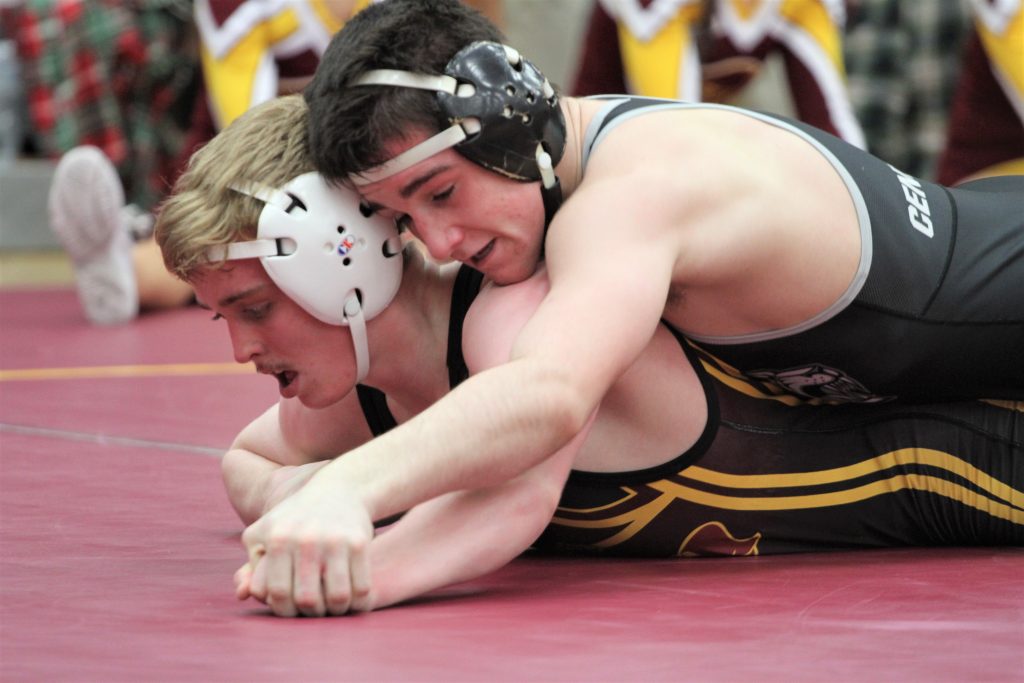 Ben Monroe and the Ankeny Centennial wrestlers once again walked out of the Ankeny High School gym with the Bob Sharp Invitational championship trophy.
For Monroe and his teammates, however, there are bigger goals on the horizon.
"We wanted to win the tournament, but the real goal is to win a state dual team and traditional state title," said Monroe, who won the 132-pound crown. "There is a lot more work to do for all of us, but I know we have the tools to get us there."
Ninth-ranked Centennial won Saturday's tournament with 218.5 points. No. 8 Ankeny was second in the 11-team field with 201.5 points.
The Jaguars, who are fourth in the Class 3A dual rankings, crowned four individual champions while claiming the team title for the fifth consecutive year.
"It was a close one," said Centennial coach Jay Groth. "It came down to the last four matches for us. There was some good competition, and it was nice to come out of there with tournament title No. 5."
Ankeny, meanwhile, had a pair of individual champions. The Hawks edged Des Moines Lincoln by two points for the runner-up spot.
"We are getting back almost to 100 percent as a team, so I thought we had a shot to win it," said Ankeny sophomore Caleb Rathjen, who captured the 126-pound title. "We wrestled really well, but we fell just a little short and we didn't have our stud heavyweight Mello (Romello Gray)."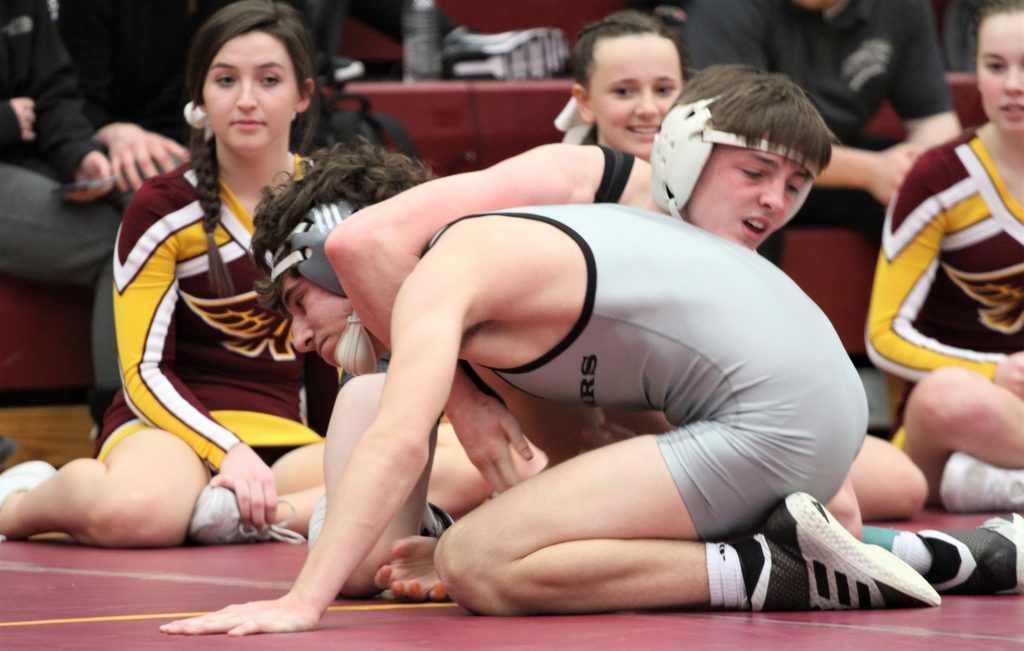 Rathjen and Monroe each defeated a crosstown rival in the finals. The top-ranked Rathjen pinned Centennial's Noah Blubaugh in 1 minute 17 seconds to raise his record to 26-1.
"I had never wrestled Noah before," Rathjen said. "I pinned him using a spladle."
The top-ranked Monroe then followed with a 13-6 decision over 10th-ranked Sam Kallem of Ankeny. The unbeaten junior improved to 26-0 on the season.
"I've wrestled Sam many times in practice," Monroe said. "He's a very tough competitor and a great friend, and it's always a battle."
Centennial went 4-1 in the championship round. The Jaguars also got individual titles from sixth-ranked Eric Owens at 145, third-ranked Logan Neils at 170 and sixth-ranked Nic Leo at 182.
Neils posted a 4-1 decision over Frank Vondrak of Sioux City Heelan to win his second straight Bob Sharp crown. The junior has won 26 consecutive matches since opening the season with a loss to Fort Dodge's Kaden Smith on Nov. 29.
"I was pretty confident I was going home with that bracket," said Neils. "After that first match of the year, I learned football shape and wrestling shape are completely different things. The coaches and I took a look at my pre-match warmup and figured out I was doing enough to get my body ready to go."
Leo recorded a fall over Aiden Waseskuk of South Tama in 1:52. The senior raised his mark to 24-3.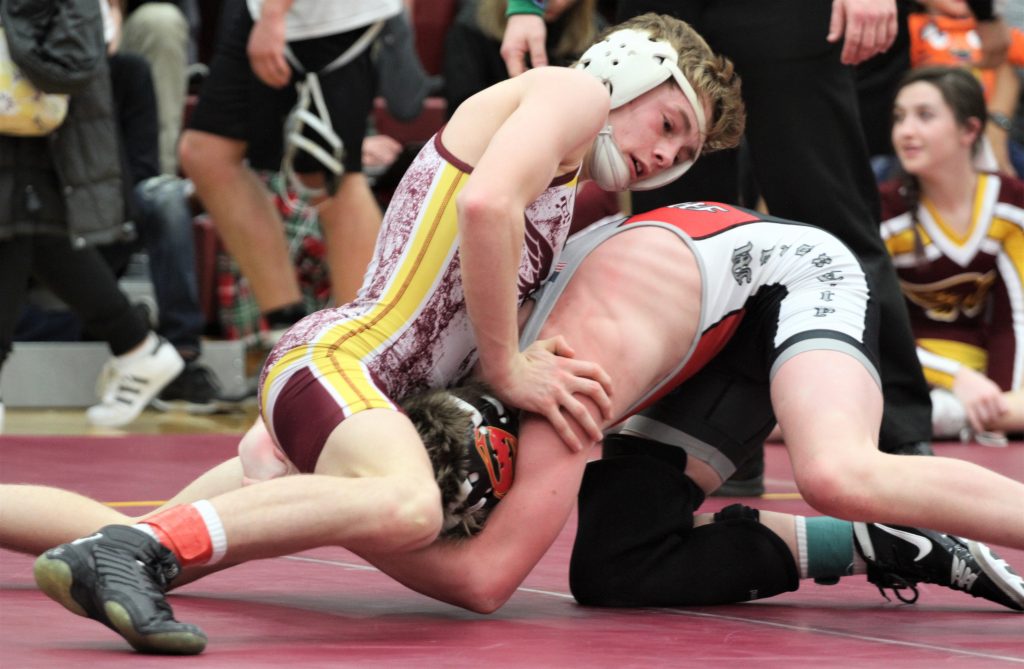 Owens won by injury default over fourth-ranked Ethan Vetterick of Norwalk. The senior, who improved to 25-3, also won his semifinal match by injury default.
"Eric wrestled one match and won a tournament title," Groth said. "That was weird and disappointing, but you can't do anything about somebody getting hurt."
Ankeny split its four championship matches. The Hawks also got a title from second-ranked Trever Anderson at 106.
"Both Trever and Caleb are wrestling at a high level right now," said Ankeny coach Jack Wignall. "Trever faced a good kid in the finals, but every time he is challenged, he comes out on top. He's only lost once, but he avenged that loss. He's just clicking on all cylinders right now."
Anderson lifted his record to 28-1 with a 9-0 major decision over Jace Rhodes of Mason City, who recently returned to the mat after recovering from an injury.
"I knew Jace was healthy, but I felt pretty confident," said Anderson, who pinned his first two opponents. "I envisioned myself winning the tournament. I envision myself winning every match, every time, I step on the mat. My goal is to dominate every position."
Ankeny's other finalist was 10th-ranked Cole Rathjen at 195. He dropped a 9-5 decision to Lincoln's Ramiro Gomez-Buentello.
The Hawks got third-place finishes from eighth-ranked Cael Cox at 113, Mark Ames at 120 and 10th-ranked Derek Anderson at 138. Ames recorded a fall over Centennial's Kyle Janssen in 1:39 in a consolation semifinal.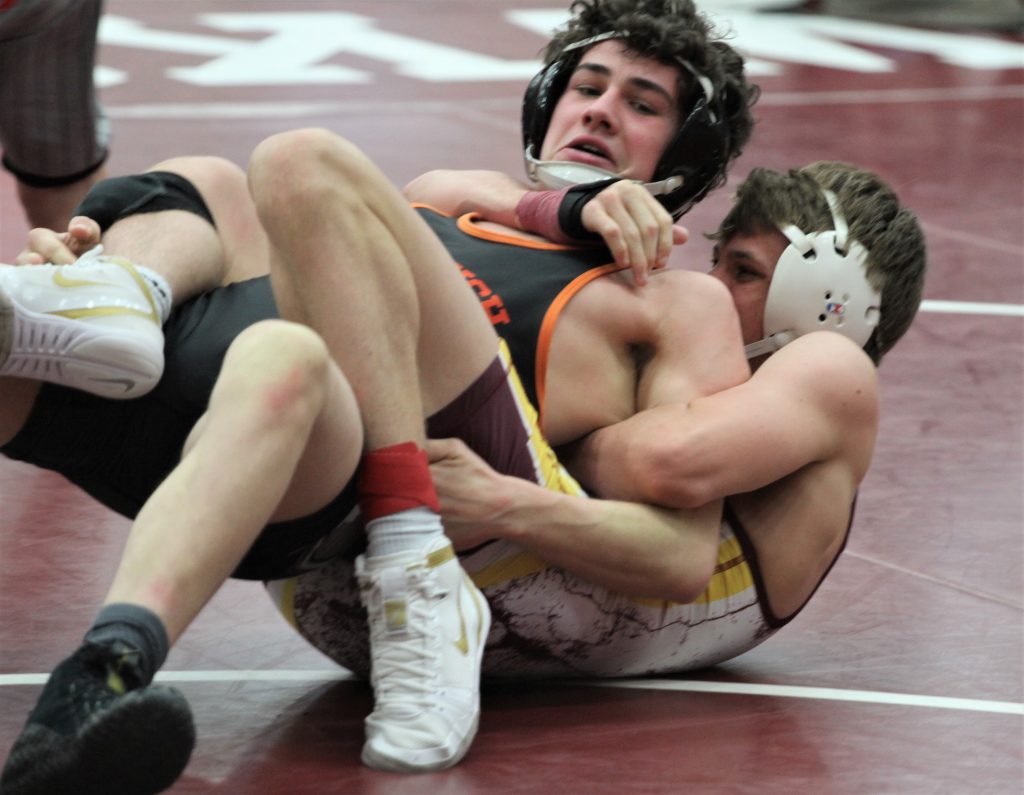 Anderson–who wrestled for the first time since breaking his thumb during the Cliff Keen Invitational on Dec. 1 at Independence–won his last three matches after being pinned in the quarterfinals by eventual champion Brennan Todd of Sioux City Heelan, who is ranked fourth in Class 2A. He defeated Cade Schmidt of Norwalk, 8-3, in the third-place match.
Cox posted an 8-2 decision in the quarterfinals over Jackson Bresson of Centennial before losing in the semifinals by the same score to Colby Lillegard of Bondurant-Farrar. Lillegard, who is ranked second in Class 2A, went on to win the title and earned his 100th career victory.
"We looked at our seeds that we had and all but one kid wrestled at or above their seed all day, and that's what you want," Wignall said. "You want the kids to get better and you want them to wrestle better than they were seeded. For the most part, we did that."
Centennial's Ethan Frazier placed third at 195. He recorded a fall over Aaron Neave of South Tama in 4:32 in the third-place match.
Placing fourth for the Jaguars were Jackson Helmkamp at 106, Carter Cahill at 152 and Lane Pruisner at 285. Cahill posted a 6-3 decision over Ankeny's Daniel Rose in a consolation semifinal.
"I was happy with the day for the most part," Groth said. "But we have to do some things better to continue to move forward and win some more tournaments."
The Hawks got a fourth-place finish from Colby Bales at 220. He posted a 7-4 decision over Centennial's Jayden Cooper in a consolation semifinal.
Ankeny's Mo Watson earned a fifth-place finish at 160 with a fall over Centennial's Anthony Nehring in 3:28.