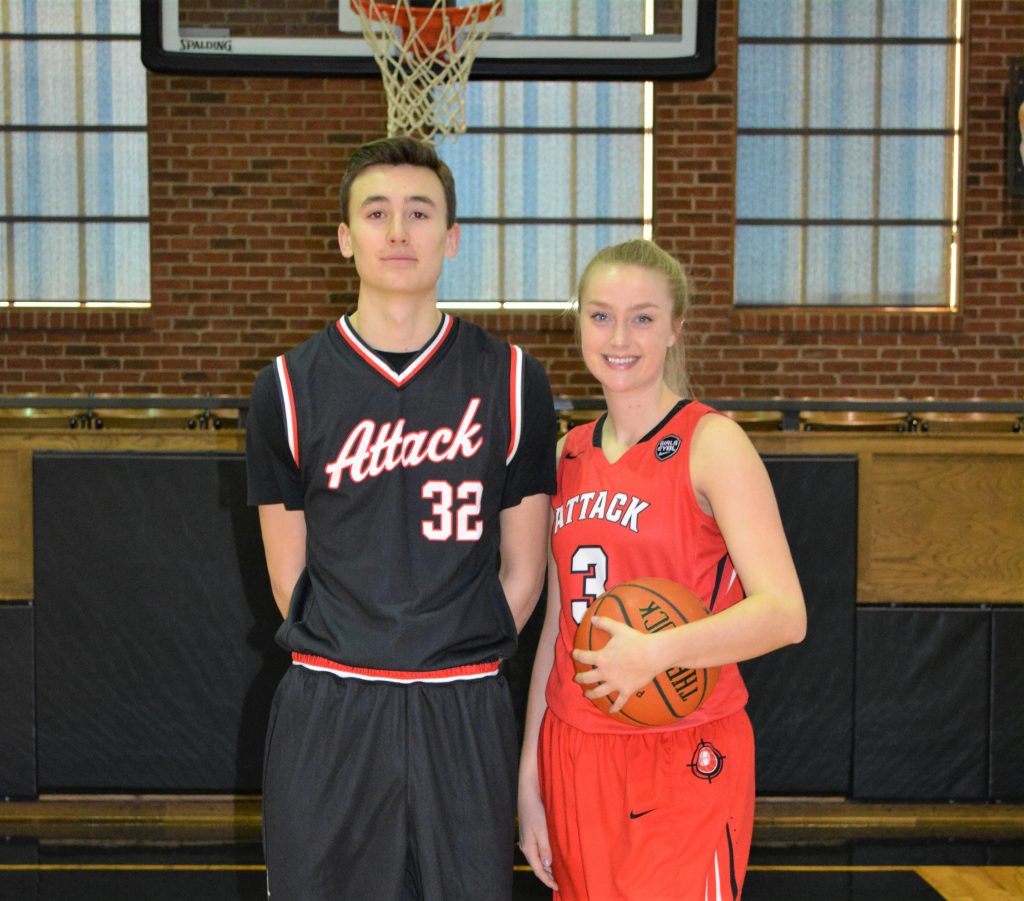 Cousins Sara and Cody McCullough have grown up on the opposite sides of Ankeny's crosstown rivalry.
Sara, a senior forward, is the leading scorer and rebounder for the Ankeny girls' basketball team, which dropped a 47-32 decision at Ankeny Centennial on Friday. The Northern Iowa recruit has averaged 13.8 points and 8.4 rebounds per game while helping the Hawkettes to a 6-7 record.
Cody, a junior forward, is the leading scorer and rebounder for the Ankeny Centennial boys' squad, which suffered a 61-51 loss to Ankeny on Friday. He has averaged 13.5 points and 8.2 rebounds while helping the Jaguars to a 4-7 mark.
Here is some inside info on the duo:
How is the season going thus far?
Sara: I feel that we have continued to show progress and every year we seem to get stronger than the year before. Prior to winter break, our program faced challenges with sickness and injuries. We are still in the middle of it with (Abby) Johnson being out with her ankle (injury), but we are fighting through the best we can and I am proud of the team for coming together to work through it. We are lucky to have a passionate coaching staff that care about us. We have to work with what we have, and injuries happen.
Cody: We are 4-7 so far, but I think the team wishes we had a better record than we do. We are still confident in our ability as a team and are looking forward to finishing the second half on a better note.
What has been the highlight for you?
Sara: When we beat East and Urbandale, who are both very good teams, that was a big highlight. It showed that we can compete.
Cody: Getting a chance to play at Wells Fargo Arena was really cool. And we also got a good team win that night against Des Moines Roosevelt.
Sara, you were held to four points in Friday's loss at Centennial. What did you think of your team's performance?
Sara: The first half was solid. We came out strong, hitting some big shots which put us in the lead at halftime, but by the second half most of us were tired because we don't have depth on the bench to consistently substitute. Being able to have fresh legs is a game-changer.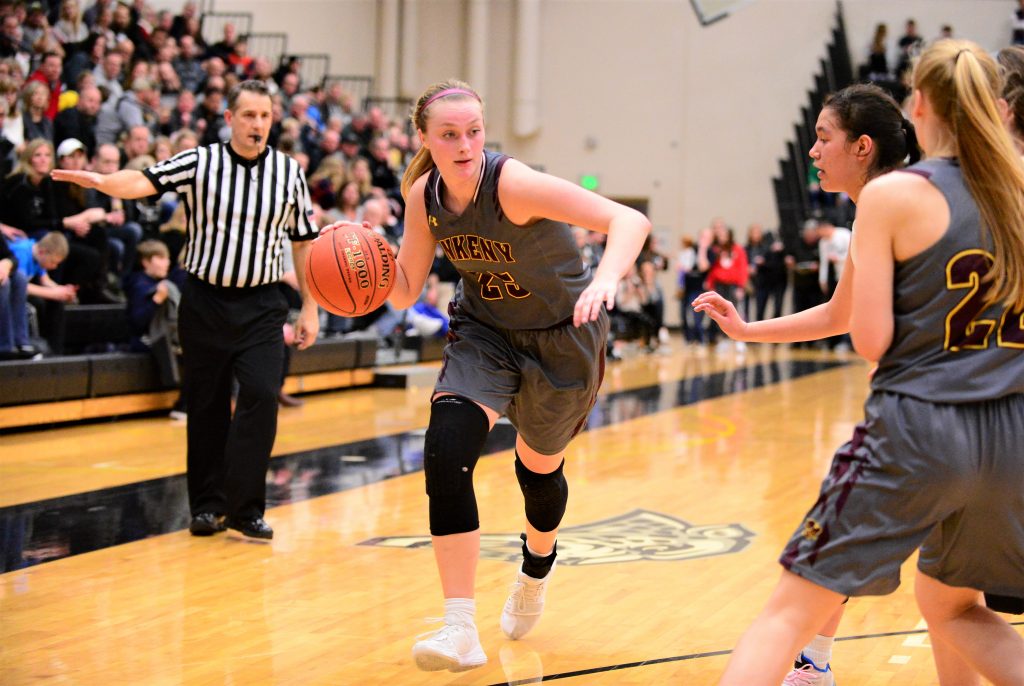 Cody, you had 17 points and 10 rebounds in Friday's loss to the Hawks. What did you think of your team's performance?
Cody: We obviously had a better start to the game than we did the last time (when Ankeny jumped out to a 28-4 lead), but they took advantage of our mistakes throughout the game. We did some really good things, and some not-so-good things as well.
The postseason pairings have yet to be announced. When they are, would you like another opportunity to play your crosstown rival?
Sara: I would say yes to any rematch!
Cody: Yeah, personally, I would like to play them again.
Even though the two of you obviously don't play against each other, has it been hard for you at times to be on opposite sides of the rivalry?
Sara: No, not really, because we have never been in the same school boundary. But, it would have been cool to have gone to the same high school as my cousins.
Cody: No, not really. I don't get to watch Sara play that much, but I still hope she performs well.
Both of you have had a chance to play a game at Wells Fargo Arena this season. What was that experience like?
Sara: The feel of the arena was cool, and hopefully we will get another opportunity to play there again in the postseason.
Cody: It was a really cool experience for the team, and hopefully we get the chance to play there again.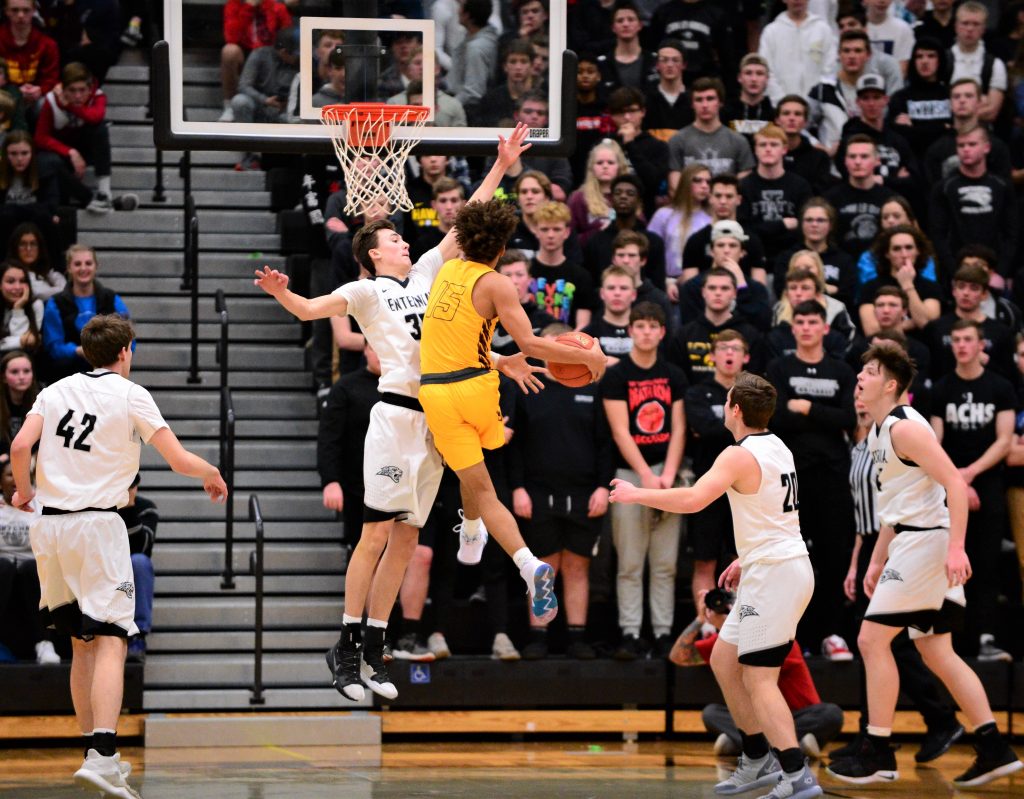 Both of your dads were standout athletes at Ankeny High School. Have you heard some stories about their accomplishments?
Sara: Yes, they like to talk sports! Both my dad and my uncle still have their individual pictures hanging up at the high school–my dad (Matt) is for football and my uncle Gregg is for basketball. It really is our family's way of bonding, especially with our dads. My mom isn't into the sports thing, but my mom was able to surprise my dad by getting all of the VHS tapes from the high school for my dad's high school basketball and football seasons, so she had them put on DVDs. He remembers every single game and each play. We have watched them a few times over the years, and it's neat to be playing for the same high school as my dad. Also, in the videos there are quite a few players that still live in the area and I have been raised around their kids. Mostly when it comes to my dad and uncle Gregg, the comments people make to me are about being good students and their character which makes me proud that they had good sportsmanship. They have set a good example for us.
Cody: Yeah, my dad has shared some stories and it's pretty cool to know that he made the all-state first team when he was a senior.
Sara, what part of Cody's game are you most envious of? Is there something he does on the court that you wish you could do?
Sara: I like how consistent he is with rebounding because that can be exhausting, but he really pushes through. I have really been working this season on being strong down inside, but it's a different skill because with club, I am strictly a 3-point shooter and I seem to keep re-breaking my nose when I get down inside!I watched Cody on Friday, and he just doesn't give up. He keeps working down there.
Cody, what about you? Is there a part of Sara's game that you'd like to have?
Cody: One thing I wish I had from Sara's game is the ability to shoot free throws consistently like she does.
Who wins a game of H-O-R-S-E between the two of you?
Sara: Definitely ME! But, that could really be anyone's game on any day.
Cody: I'm not sure l feel like that would be a very long game.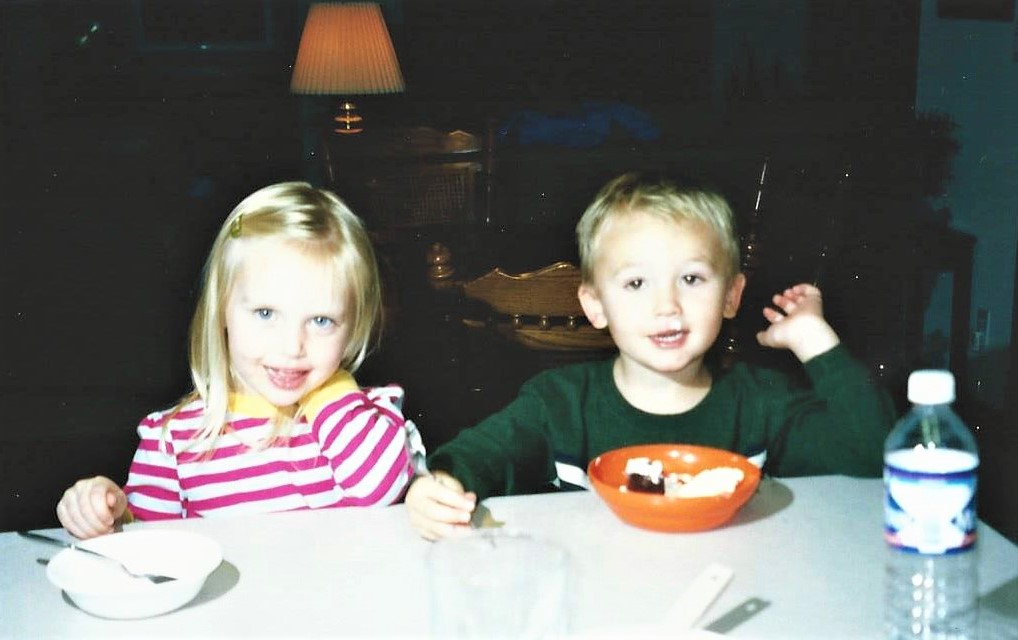 Sara, you have committed to play for Northern Iowa. What do you think will be the biggest adjustment for you to play at the next level?
Sara: Probably playing entire teams of Division I players where each player brings a strong skill set and mindset. That is going to take stamina. Maintaining my shot when I am exhausted takes digging deep as well as continuing to develop my game inside. Knowing that I was recruited for a specific role and was given a full ride means that I have a job to do which is perform because there will always be someone sitting there ready to play and take your place. They only give out three scholarships a year so I am very grateful that I have been blessed with this opportunity. I have watched DI practices and they are run like my club (All Iowa Attack). I have spent the last four years earning my spot, losing it and re-earning it with club ball. I know how it works and I am all in. I think a big challenge will be being on the road for consecutive weeks and missing classes.
Cody, I know you recently received an offer from Truman State. Have you been contacted by some other schools?
Cody: Yeah, there have been schools from every level that have contacted me so far.
Sara, have you given Cody any advice on how to handle the recruiting process? If so, what did you tell him?
Sara: No I haven't, but it was overwhelming in September of my junior year on the official open recruiting day when coaches can call. I remember calling my mom on her way to work because I was just getting up and my phone was going off. We had never even talked about it and don't really talk about sports in my house other than recapping games or something with my dad. My first call was from the University of Iowa so that started the day off very exciting and the recruiting process went on throughout the days and weeks following. It was pretty intense and exhausting on a daily basis because I had school all day and then straight to practice so I just kept forwarding everything to my parents. I had to keep in mind that my parents would have my brother Brady in 10th grade with his games so it made sense to focus first on in-state (schools). We had a daily log with names and contact information because it is just not the head coach calling. It is the entire coaching staff because they are all establishing a relationship with you so that they can decide on their end if you are a good fit. It is truly just not about basketball. It is much more than that. I spent my nights returning phone calls and answering lots of questions. Something important that I learned and I think is very important for others to know is that you don't have to be a "baller" and you don't have to be tall to play basketball. I am not the fastest, I don't have the strongest ball skills on the court, and I am not a true "big". I think that is part of the reason that we were in such shock that I was being recruited by D1 schools. I know that this all seems typical to say, but it is the diversity on the team that they are seeking. Every single college coach told me that I was being recruited because I have a 3-point shot and can play well with my back to the net. They were all very transparent with me as to the why and when they would be extending an offer for my position. The coaches and players wanted to know what I was like, how I handled difficult situations, my attitude, what my family was like, did I follow rules, my grades, was I coachable, and a lot more. After all, they are handing over a scholarship worth a lot of money so they want to make sure that it goes to the right player for their team and culture. Ultimately, I chose the University of Northern Iowa because after my visit, I loved the feel of the campus and how they are really hands-on. I think that I will get a good education and have a good basketball experience.
Cody, would you like to make a decision soon or are you planning to take your time?
Cody: Right now I am just focused on my school ball season. After that, I will be taking a harder look at things.