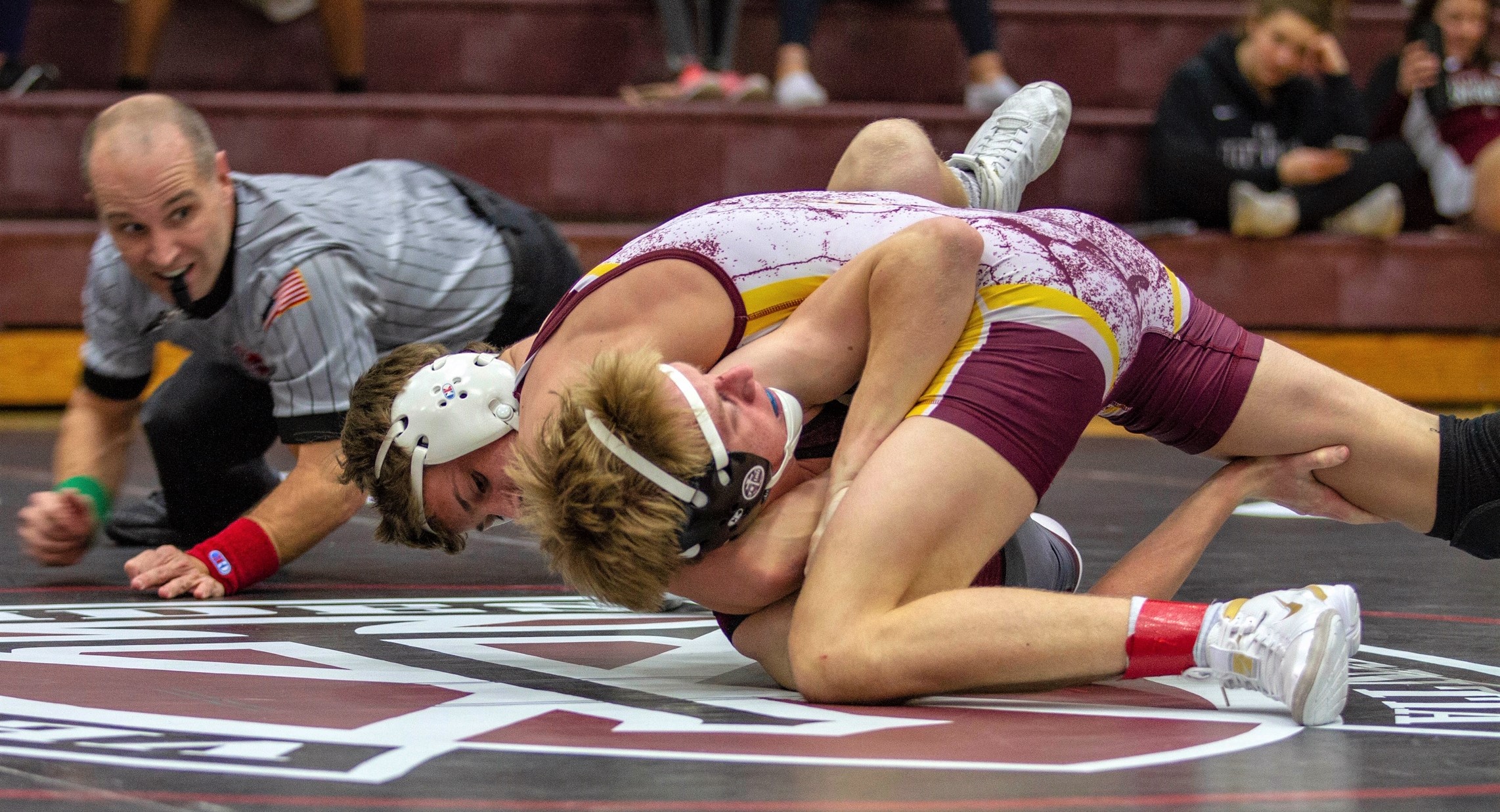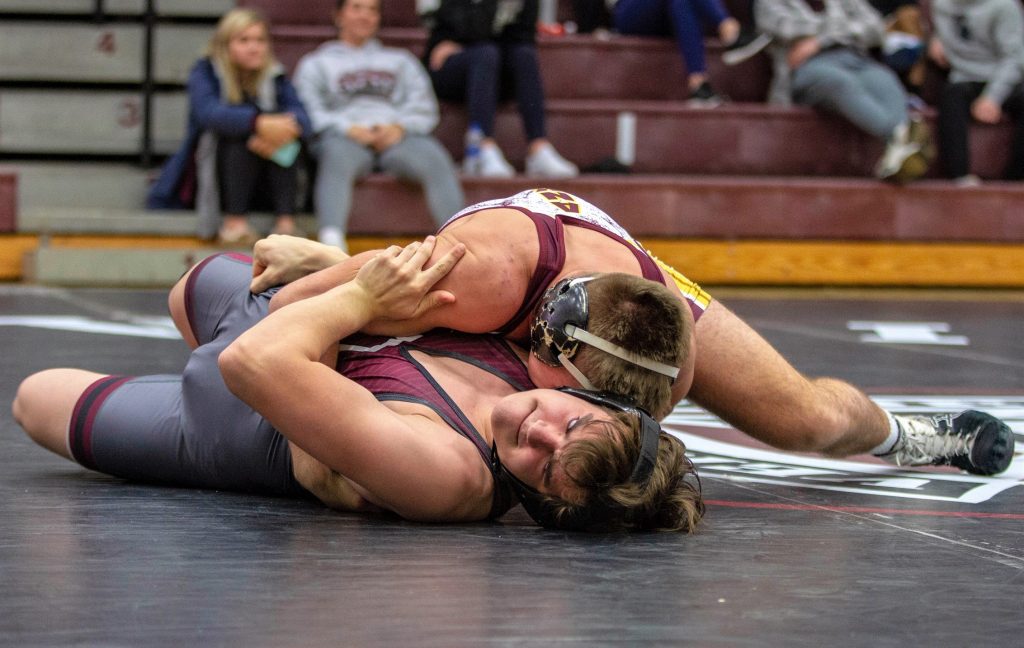 After getting off to a good start in Thursday's dual meet, the Ankeny wrestling team limped toward the finish line and held on for a 44-30 victory at Dowling Catholic.
The Hawks won the first six matches to build a 32-0 lead. Dowling then won six of the last eight matches.
"I feel like sometimes we take two steps forward and one step back," said Ankeny coach Jack Wignall. "We're never quite all going in the same direction at one time."
Ankeny got falls from eighth-ranked Sam Kallem at 132 pounds, Derek Anderson at 138, Nick Scherle at 170 and 10th-ranked Cole Rathjen at 195. Scherle needed just 19 seconds to pin Michael Scholz.
Top-ranked Caleb Rathjen recorded a technical fall at 126.
"The guys that we expected to get wins, we did," Wignall said.
The Maroons closed the meet with back-to-back falls. Top-ranked Greg Hagan pinned Colby Bales in 1:07 at 220, then heavyweight Alex Kirton pinned Romello Gray in 29 seconds.
"Their 220-pounder is a monster," Wignall said. "And then Mello got pinned, too. He's still trying to come back from a sore back. We just can't quite get ahead of some things, which has kind of been the story of our season."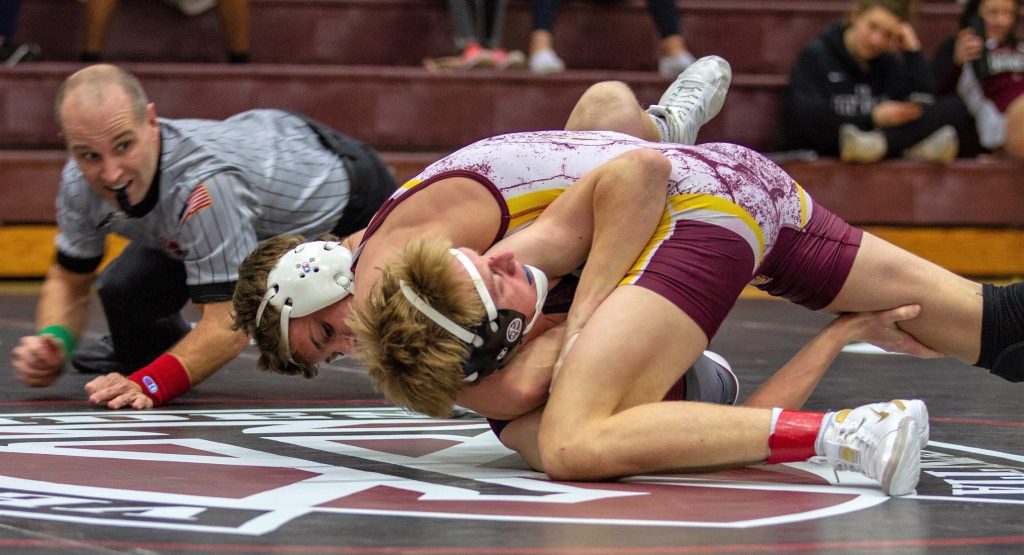 The win allowed Ankeny to finish with a 3-2 record in the CIML Central Conference. The Hawks improved to 8-6 overall.
Wignall was just hoping for a more emphatic victory.
"We wrestled pretty well at the Bob Sharp tournament last weekend," Wignall said. "I thought we were headed in the right direction and we had some great practices this week, but then stumbled at a few weights tonight. The fight is there, but we've just got to improve our technique a little bit."
Ankeny was slated to host the Dave Ewing Duals on Saturday, but the tournament has been cancelled due to Friday's forecast of a winter storm. The Hawks will now be off until Jan. 25, when they compete in the CIML Invitational at Southeast Polk.
"It's frustrating because the dual tournament is a really good weekend for us," Wignall said. "We'll just have to get back to work next week."
Here are the match-by-match results from Thursday's meet:
Ankeny 44, Dowling Catholic 30
106: T. Anderson (A) won by forfeit; 113: Cox (A) beat Mahoney, 7-4; 120: Ames (A) won by forfeit; 126: Ca. Rathjen (A) won by technical fall over Murray, 17-2; 132: Kallem (A) pinned McMahon, 1:42; 138: D. Anderson (A) pinned Reinhardt, 1:00; 145: Derry (DC) beat Carl, 9-2; 152: Faber (DC) pinned Rose, 3:16; 160: Schwager (DC) pinned Watson, 5:27; 170: Scherle (A) pinned M. Scholz, :19; 182: Collins (DC) beat Pomrenke, 8-3; 195: Co. Rathjen (A) pinned J. Scholz, 4:55; 220: Hagan (DC) pinned Bales, 1:07; 285: Kirton (DC) pinned Gray, :29.