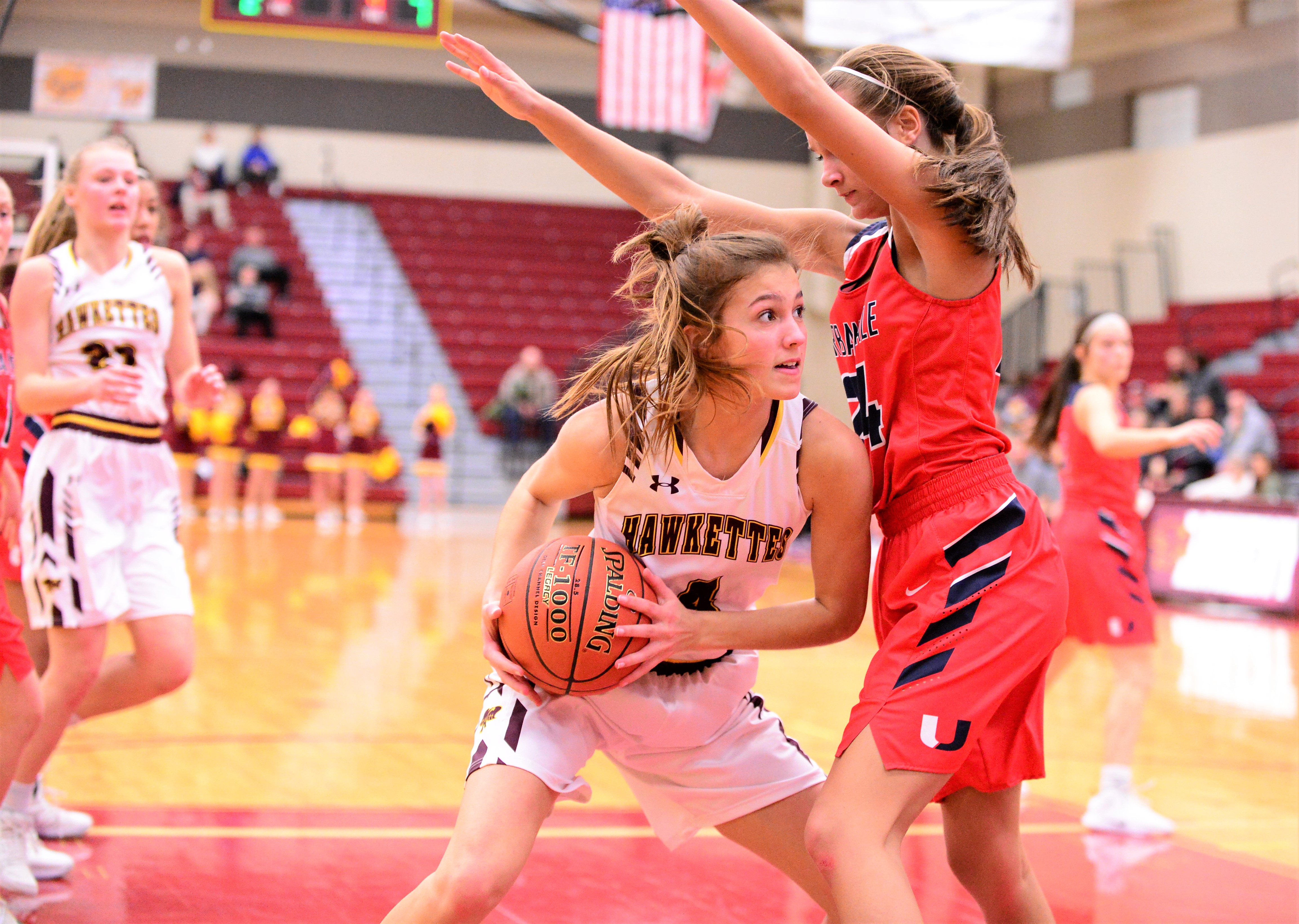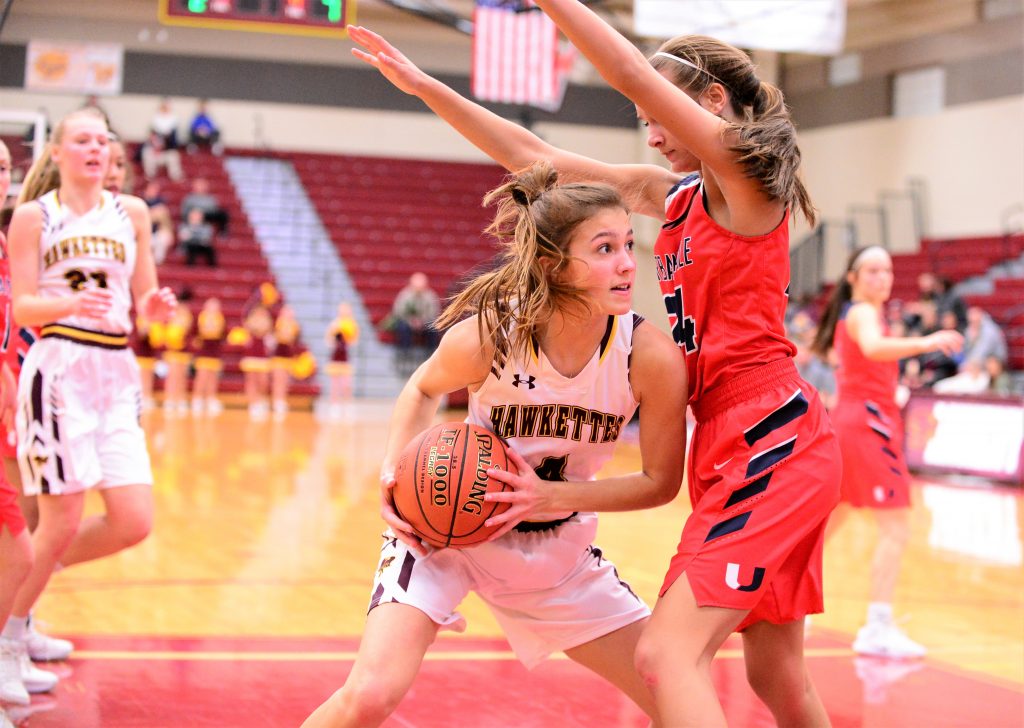 When the Ankeny girls' basketball team hosted Urbandale on Thursday, it was a matchup between two teams whose fortunes have been reversed since the last time they met on Dec. 14.
Ankeny posted a 46-40 triumph at Urbandale last month, but suffered a huge blow in that game when sophomore forward Abby Johnson suffered a deep bone bruise in her foot with about 1 minute left. The team's second-leading scorer and rebounder has been sidelined ever since, and the Hawkettes have struggled to a 1-5 mark without her.
The 13th-ranked J-Hawks, meanwhile, responded by winning five of their next seven games, including an upset over Ankeny Centennial on Dec. 21. They then continued their midseason surge with a 55-51 victory on Thursday.
"I think any team that is losing this much lately gets a little discouraged, but we just have to regroup together and start from there and build our way back up," said Ankeny guard Ashley Harrington, who led the Hawkettes with 15 points.
Maya Gyamfi scored 21 points in the second half as Urbandale improved to 3-4 in the CIML Central Conference and 9-6 overall. She made two free throws with 13.8 seconds left to seal the win.
Sara McCullough had 13 points for the Hawkettes, whose records fell to 1-6 and 6-9. Kayla Pitz chipped in nine points, and Isabelle Vacek added eight.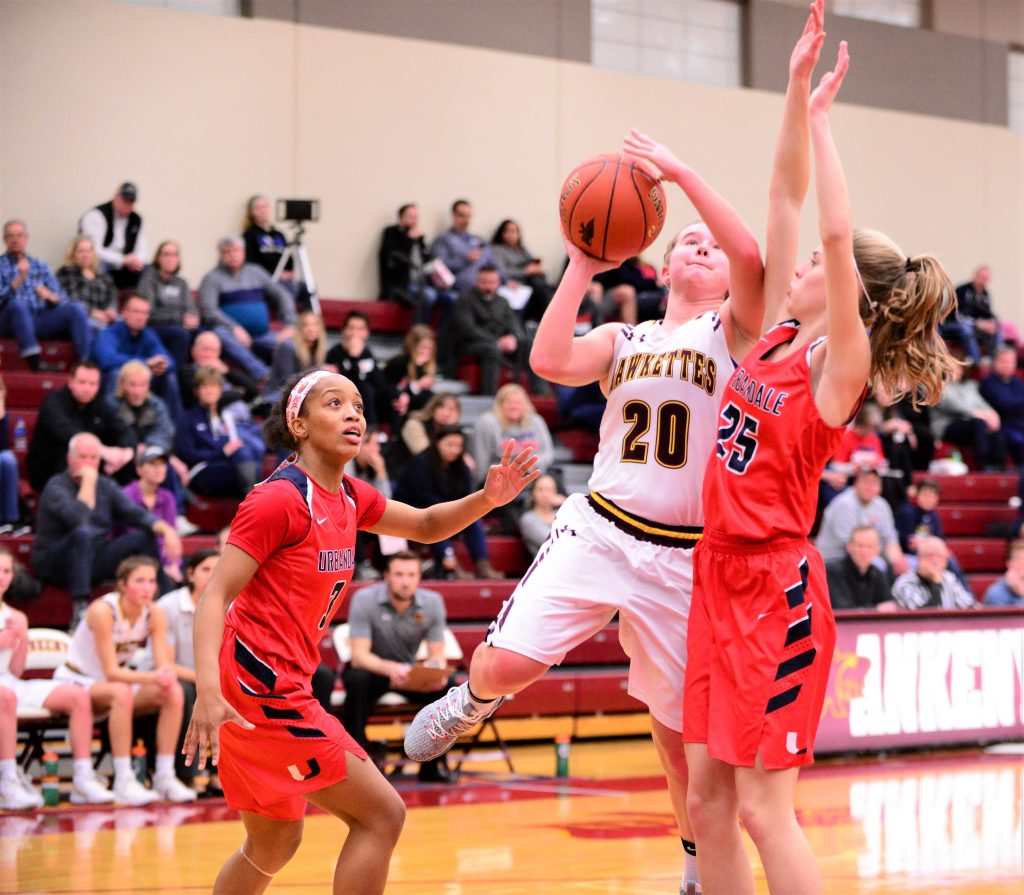 "We talked a lot about energy and effort because we came out flat against Valley (on Tuesday), and we came out and did a better job of that," said Ankeny coach Dru McAnelly. "Belle came off the bench in the first half and was huge for us."
Ankeny closed out the second quarter with an 11-0 run to take a 22-18 lead at halftime. Vacek scored all eight of her points during that stretch.
The Hawkettes took their biggest lead, 34-27, on a basket by Harrington midway through the third quarter, but Urbandale then answered with an 11-0 run of its own. The 6-foot-1 Gyamfi had a pair of 3-point plays during the run.
"They really attacked us and hurt us inside in the post and with their offensive rebounding," McAnelly said.
The J-Hawks held a 38-35 lead when Urbandale coach Kenton Tennal was called for two technical fouls and ejected from the game with 7:04 remaining. McCullough then hit 3-of-4 free throws to tie the score.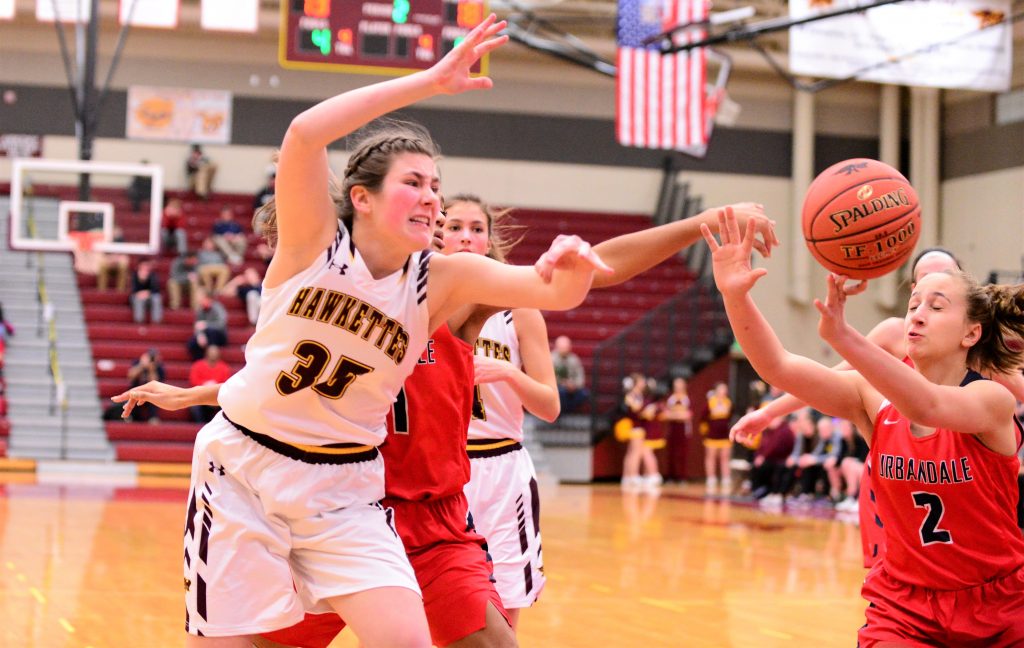 However, the Hawkettes failed to score on the ensuing possession, and Urbandale took the lead for good on a layup by DeeDee Pryor with 6:43 left. The Creighton recruit then made a 3-point goal about 40 seconds later.
"We had some girls make some plays, but unfortunately I think the double technical almost sparked them more than it did us," McAnelly said. "They really turned it on in the fourth quarter, and DeeDee made some big plays–there's a reason why she's a Division I point guard. I'm glad sometimes that she doesn't try to do more. I'll be happy to see her graduate."
Ankeny later closed the gap to 46-44 on a pair of free throws by McCullough, but Pryor then converted a steal into a layup with 2:29 left to make it a two-possession game.
"She's tough," Harrington said of Pryor. "I tried to kind of guard her man-to-man–I tried to stop her–but she's a really good player. A good, quality player like that is hard to stop."
Harrington made a jumper with 2 minutes to go to cut Urbandale's lead to 48-46. Gyamfi then answered with a 3-pointer just 11 seconds later.
A 3-point play by Ellie Maschoff again pulled the Hawkettes to within 51-49 with 1:34 left. But Jada Gyamfi made two free throws with 56 seconds to go, then her sister later connected on two more to clinch the verdict.