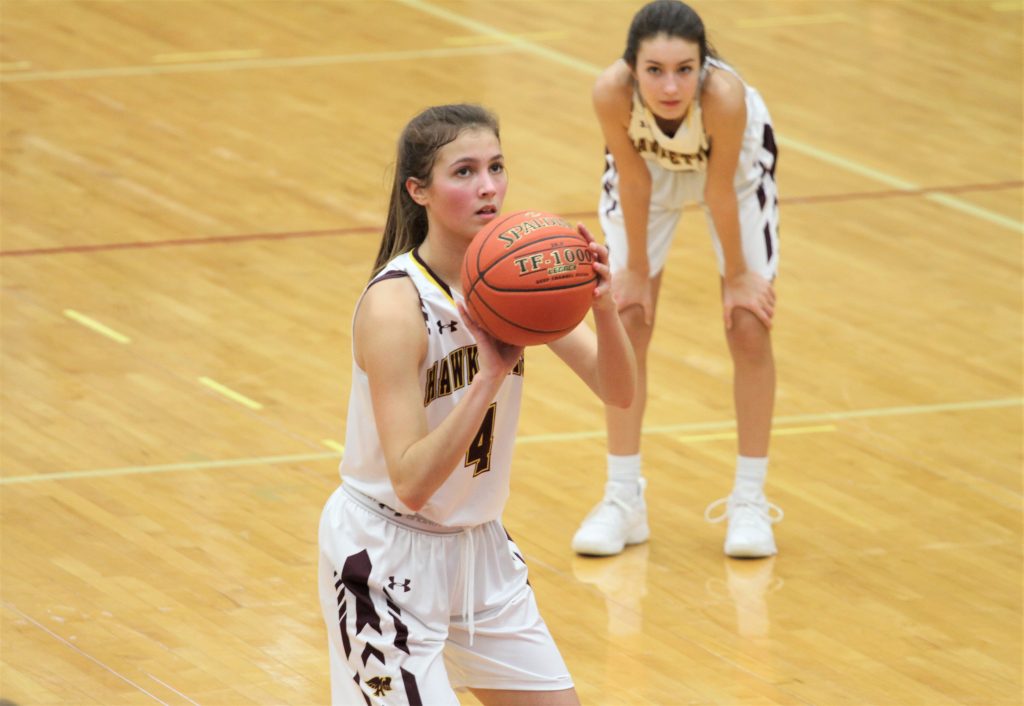 Perhaps one of these days the Ankeny girls' basketball team will be back to full strength.
Until then, however, the Hawkettes could have more nights like Friday, when they battled 14th-ranked Ames down to the wire before dropping a 47-45 decision at Ankeny.
"It's kind of been the story of our year," Ankeny coach Dru McAnelly said of his team's various health issues. "We understand that it's sports and it's life. When you're trying to turn a program around in year three and we've got some nice pieces to the puzzle but we just can't put them all together due to health, it's a little bit frustrating. But we're not going to give up. We're going to keep fighting and make the most of every opportunity that we're presented with."
Ankeny was already playing without sophomore forward Abby Johnson, who has missed the last eight games due to a deep bone bruise in her foot. She could be back in the next week, but now the Hawkettes are dealing with some other injury woes.
Sophomore guard Ellie Maschoff suffered a concussion and will be out for a week. Junior guard Ashley Harrington sat out part of Friday's game due to an illness and finished with five points on 1-of-6 shooting.
"We were playing with six kids, and thank goodness Rachel Christmann gave us an unbelievable spark off the bench," McAnelly said. "She got us back in the game in the fourth quarter. The girls fought and made some plays down the stretch, but the ball just didn't bounce our way there at the end."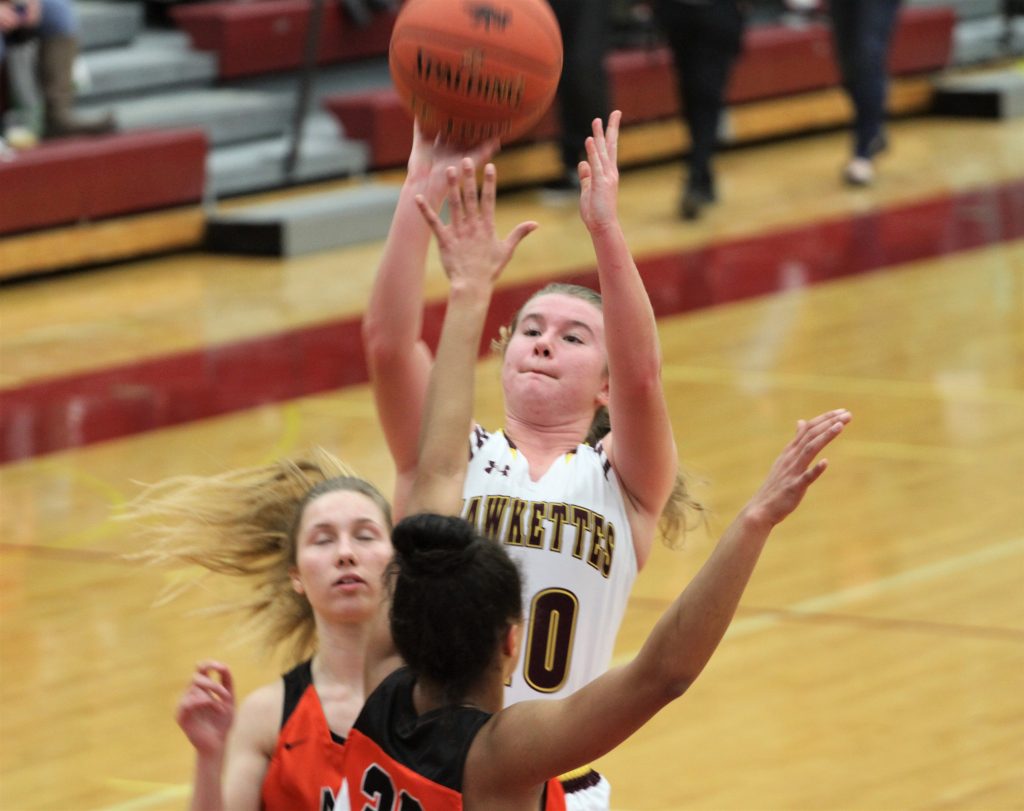 Ames used an 11-0 run midway through the second half to take a 34-23 lead, its biggest of the game. Caroline Waite capped the run with a pull-up jumper and a 3-pointer early in the fourth quarter.
That's when McAnelly inserted Christmann into the game. The sophomore guard then responded with eight points over the next 2 minutes, going 3-for-3 from the floor.
Christmann's second 3-pointer pulled Ankeny to within 37-34 with 4:20 remaining.
"I practice (shooting) a lot, so I just decided to do what I know how to do," said Christmann, who had played in just seven of the previous 15 contests, scoring a total of nine points.
Holly Trimble then had Ankeny's next six points to keep the Hawkettes within striking distance. Sara McCullough followed with two free throws, then Harrington made two more with 12.6 seconds left to cut Ames' lead to 46-44.
The Little Cyclones beat Ankeny's full-court press on the ensuing possession, but Teagan Lipsey declined to shoot a layup and was then fouled with 8.4 seconds to go. She missed the one-and-one free throw, and Trimble was fouled in the scramble for the rebound.
Trimble made the first of two free throws with 7.7 seconds left, but she missed the second attempt that could have tied the game. Lipsey was fouled again with 4.4 seconds to go, and this time she made the second of two free throws to give Ames a 47-45 advantage.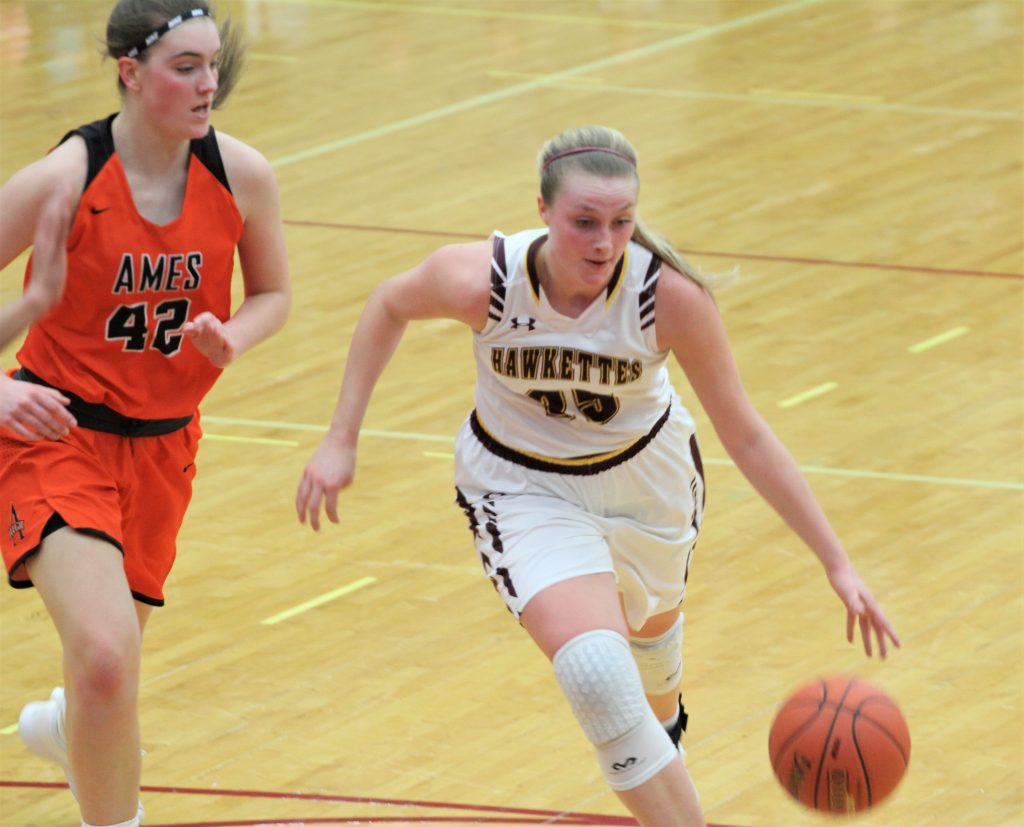 After a timeout, the Hawkettes inbounded the ball to McCullough, who dribbled the ball to midcourt and heaved a desperation shot at the buzzer that was off the mark.
McCullough had a double-double with 15 points and 10 rebounds to lead Ankeny, which dropped to 1-7 in the CIML Central Conference and 6-10 overall. Trimble added 12 points.
The Hawkettes shot just 32 percent from the field (16-of-50) and 21 percent from behind the arc (7-of-33).
"It's just something you have to work through. Everyone has to go through some adversity at some point in the season," Christmann said. "I think if we can get everyone healthy, we can really make a statement."
Ames completed a sweep of the season series. The Little Cyclones improved to 3-4 in the conference and 8-7 overall.
Ankeny will host a make-up game against Des Moines Roosevelt on Monday.