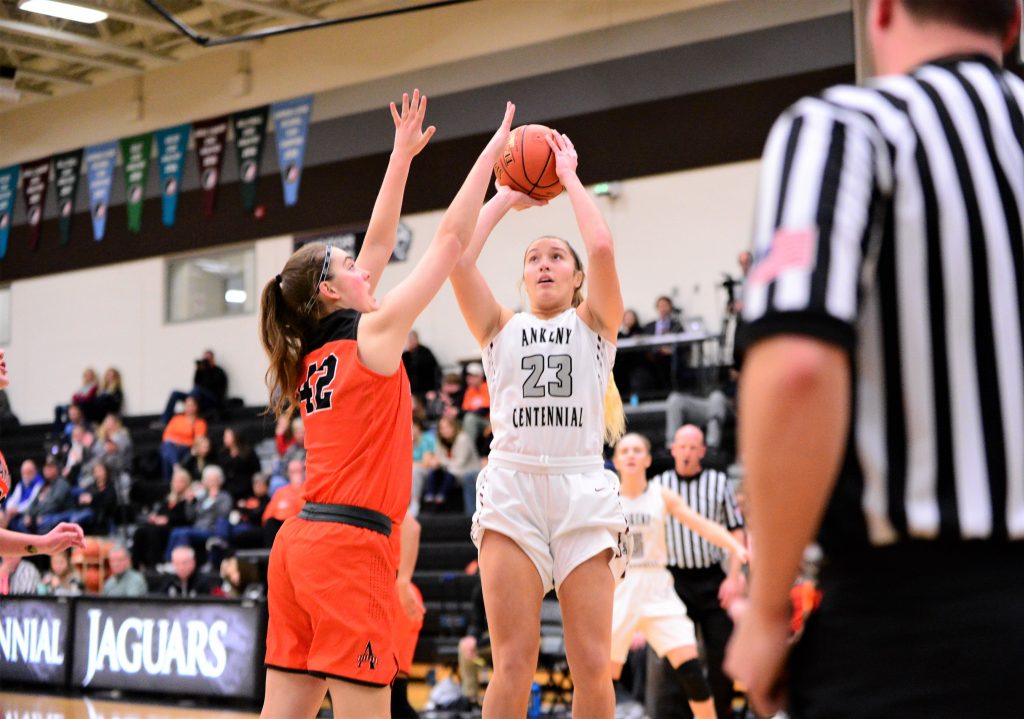 Kenna Sauer had a sour taste in her mouth following Friday's game at Johnston.
Less than 24 hours later, she had a chance to do something about it.
The senior forward tied a season-high with 17 points and grabbed 10 rebounds to lead the ninth-ranked Ankeny Centennial girls' basketball team to a 47-39 victory at No. 14 Ames on Saturday.
"(Friday) wasn't my best performance, so today was a chance for me to kind of redeem myself, and I know I have to start playing like that all the time going into the postseason," said Sauer. "It was a really great team win, and you could just see and feel everything coming together. It's nice to go into the weekend ending on a win."
The victory snapped Centennial's two-game losing streak and allowed the Jaguars to wrap up a second-place finish in the CIML Central Conference. They improved to 6-3 in the league and 12-6 overall, while Ames' records dropped to 4-5 and 9-9.
Centennial rebounded after making just 11-of-46 shots in the loss to No. 3 Johnston that allowed the Dragons to clinch the outright conference title.
"We didn't play well enough Friday, so it was certainly good to see the kids come back and play really hard and beat a good team," said Centennial coach Scott DeJong.
Sauer had six points on 2-of-9 shooting in the loss to Johnston. On Saturday, she went 6-for-10 from the field and 5-for-8 at the free-throw line as the Jaguars avenged an earlier loss to Ames.
"I think we all just had a little fire under our feet not only because (Ames) beat us last time, but because we lost (Friday), too," Sauer said. "There was no way we were letting them get us, and we knew we had a lot better ball in us than we showed (at Johnston). We didn't run any plays for me–I guess I just really really wanted to win."
After leading Centennial to a state volleyball title in November, Sauer has struggled to regain her form on the basketball court. She was Centennial's leading scorer as a sophomore, when she averaged 10.6 points per game.
Sauer missed most of her junior season due to an injury. The Missouri volleyball recruit entered Saturday's game as the Jaguars' fourth-leading scorer at 7.9 points per game.
"It was great to see her play like that," DeJong said of Sauer. "She can get the ball anytime she wants. We can throw it into her, and she can go up and get it. She also had a couple (baskets) in transition, and she made some free throws, too. We need that from her until we're done to be a really good team because she was rebounding, she was scoring, and really leading the team."
Centennial held a 25-24 lead at halftime. The Jaguars then outscored Ames in the third quarter, 12-5, to build a 37-29 advantage.
Alexandria Keahna-Harris had 10 points in the win, while Rachel Schon and Taylor Runchey each added eight. Meg Burns contributed three assists and three steals.
Sophomore guard Caroline Waite led Ames with 14 points and four assists. She was averaging nearly 20 points per game.
"I thought we did a great job on (Waite)," DeJong said. "Taylor guarded her most of the game and was really, really good."
The Jaguars will face another challenge on Tuesday when they host a non-conference game against Mason City, the No. 3 team in Class 4A. The Moahwks (11-6) are led by Iowa recruit Megan Meyer, who averages nearly 25 points.