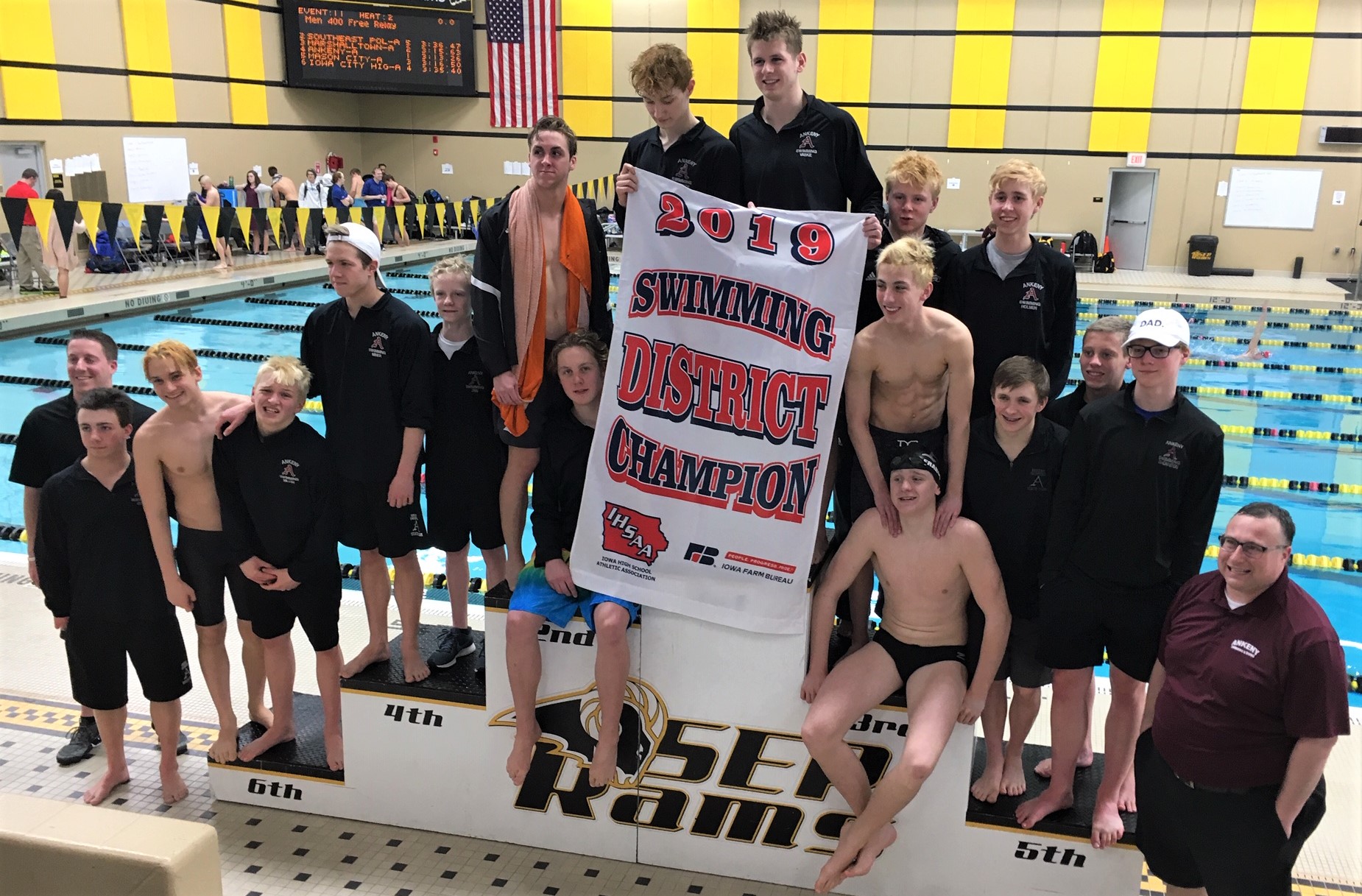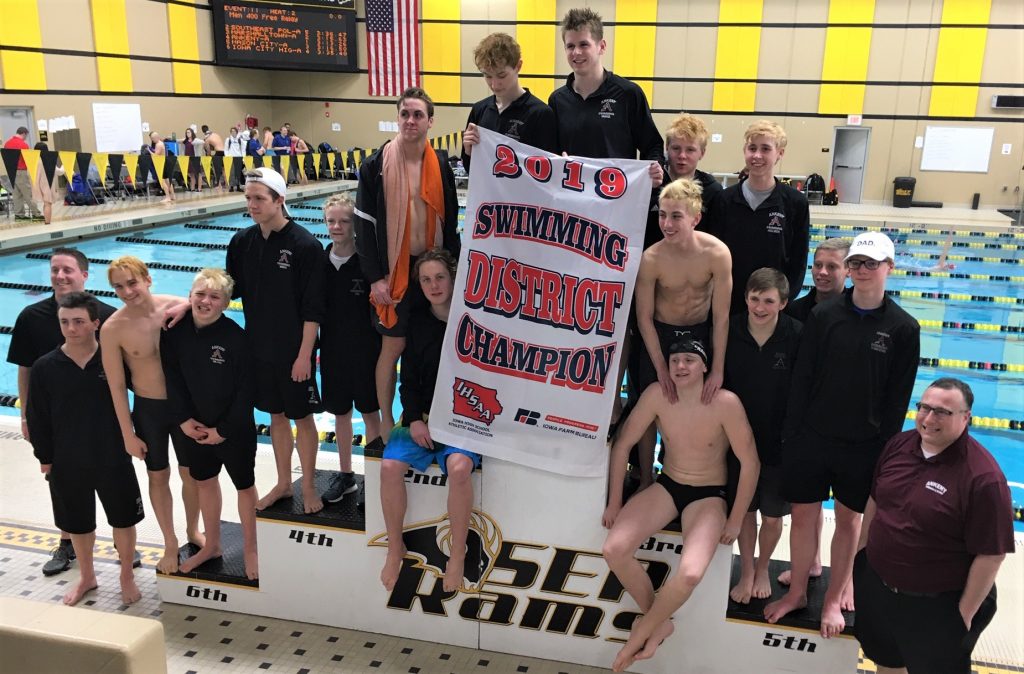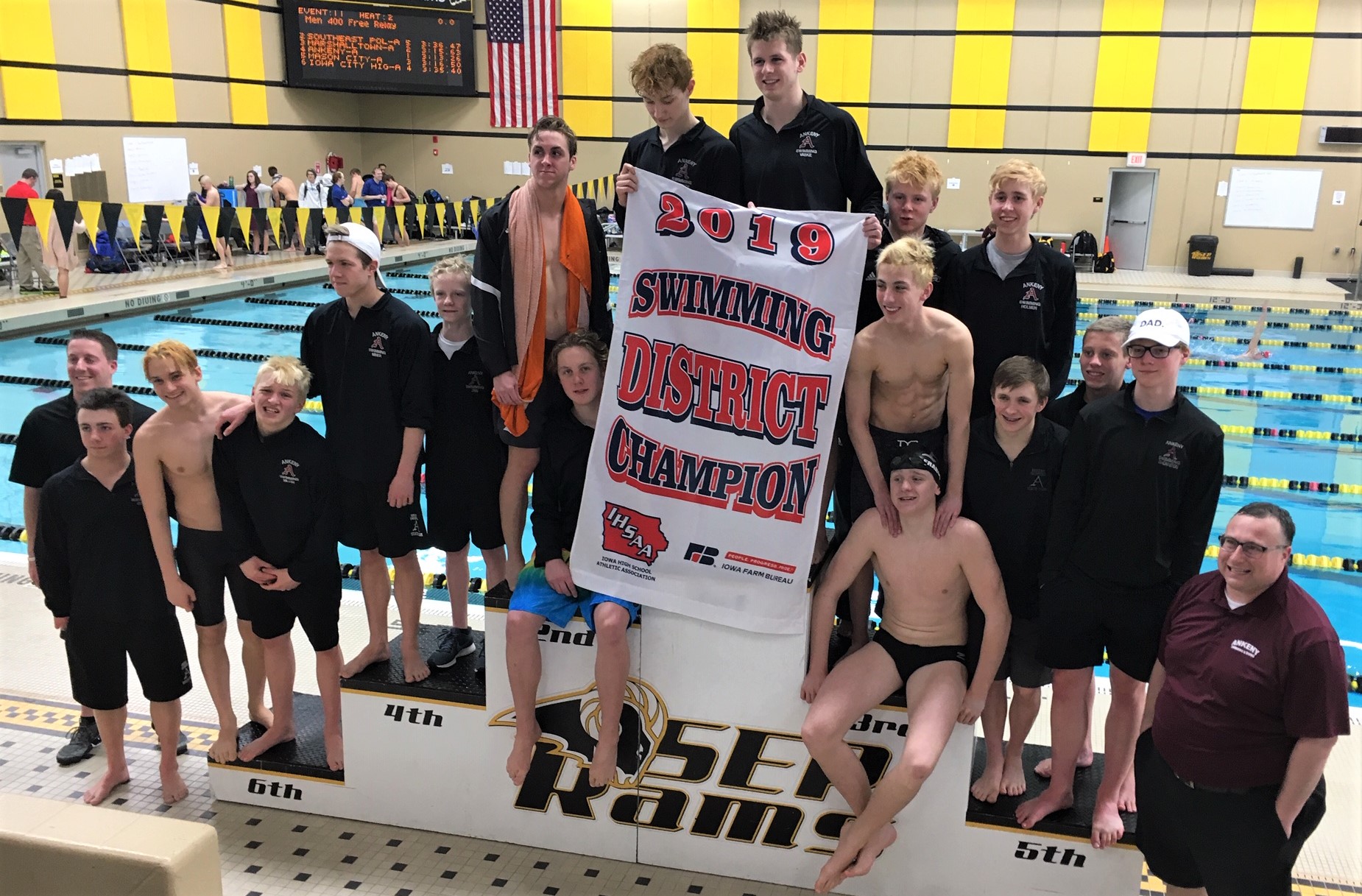 Ankeny boys' swimming coach Justin Crouch spent a lot of time on Saturday near the awards podium.
The top-ranked Hawks won 10 of the 11 events and cruised to a district title at Southeast Polk, racking up 455 points. Marshalltown was a distant second in the eight-team field with 342 points.
It was Ankeny's second consecutive district crown and its third in 10 years under Crouch, who handed out the medals to the top-six finishers in every event except for the 100 breaststroke–the only race that the Hawks didn't win.
"We did what we set out to do," said Crouch. "We wanted to post some decent times and just get that feeling back of swimming fast. We haven't had a lot of meets in the last two or three weeks, so it was good to get back in the pool and swim well."
Ankeny sophomore Trent Frandson was named the district athlete of the year. He easily won both of his individual events and also swam on two winning relays.
Frandson captured the 200 freestyle in 1:43.97. He later posted a time of 4:36.46 in the 500 freestyle, where he pulled away from teammate Brek Stukerjurgen to win the race by more than 10 seconds.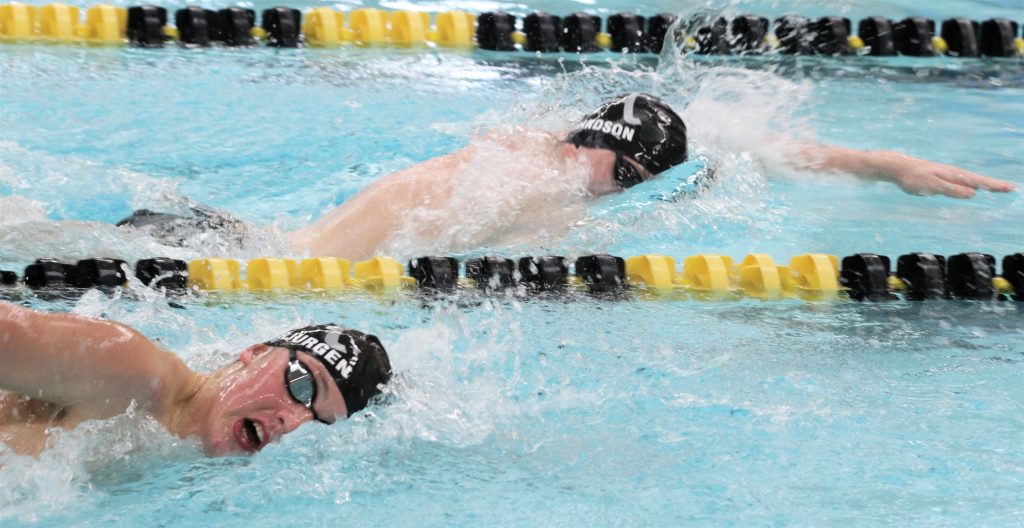 "I was pretty happy with my times," said Frandson. "I think I'm seeded pretty good for the state meet."
Ankeny came from behind in two of its three relay victories. Frandson teamed up with Max Martin, Adam Vaske and Jae Swanepoel to win the 200 freestyle relay in 1:27.45, edging Marshalltown by .30 seconds.
Frandson swam the anchor leg in 21.43 seconds to overcome the Bobcats.
"I wasn't expecting that one to be that close," Frandson said. "I just put on the burners, but we've got to get good seeds so that was fine."
Earlier, Ankeny opened the meet by winning the 200 medley relay in 1:37.65. That team consisted of Stukerjurgen, Mason Keinroth, Weston Miner and Martin.
Iowa City High took the lead midway through the race following a strong breaststroke leg by junior Forrest Frazier, who is one of the top breaststrokers in the nation. Frazier later won the 100 breaststroke by nearly 6 seconds.
"We knew (Frazier) was swimming today, and we expected him to be pretty good," said Martin. "We just wanted to have safe exchanges and do our best."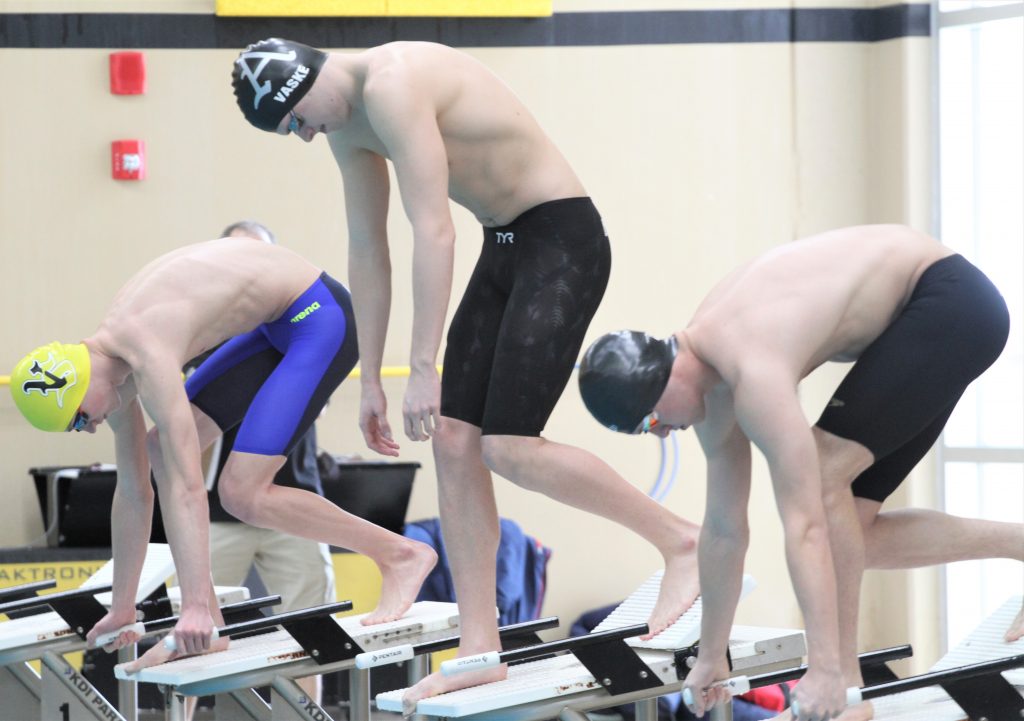 Martin later anchored the Hawks to another victory in the 400 freestyle relay. He teamed up with Frandson, Vaske and Swanepoel to post a time of 3:13.26.
"Most of the kids on the relays weren't tapered all the way down; I'm not tapered all the way down, either," Frandson said. "We should be a lot faster next week (for the state meet), too. We can get some more rest and everyone will be shaved, and I'll put a suit on."
Ankeny also got victories from Keinroth in the 200 individual medley (1:59.74), Martin in the 50 freestyle (21.33), Miner in the 100 butterfly (51.49), Vaske in the 100 freestyle (47.70) and Stukerjurgen in the 100 backstroke (52.98).
Martin led the Hawks to a sweep of the top three places in the 50 freestyle. Vaske was the runner-up in 21.68, while Swanepoel took third in 21.73.
Swanepoel also qualified for the state meet with a fifth-place finish in the 100 freestyle. He was clocked in 48.83.
Stukerjurgen took second in the 500 freestyle in 4:46.67. He later won the backstroke while Miner placed fourth in that event in 54.66 and also qualified for state.
Keinroth placed third in the breaststroke in 1:03.48, but missed the cutoff time for state by .66 seconds. That is the only event in which the Hawks won't be competing at the state meet.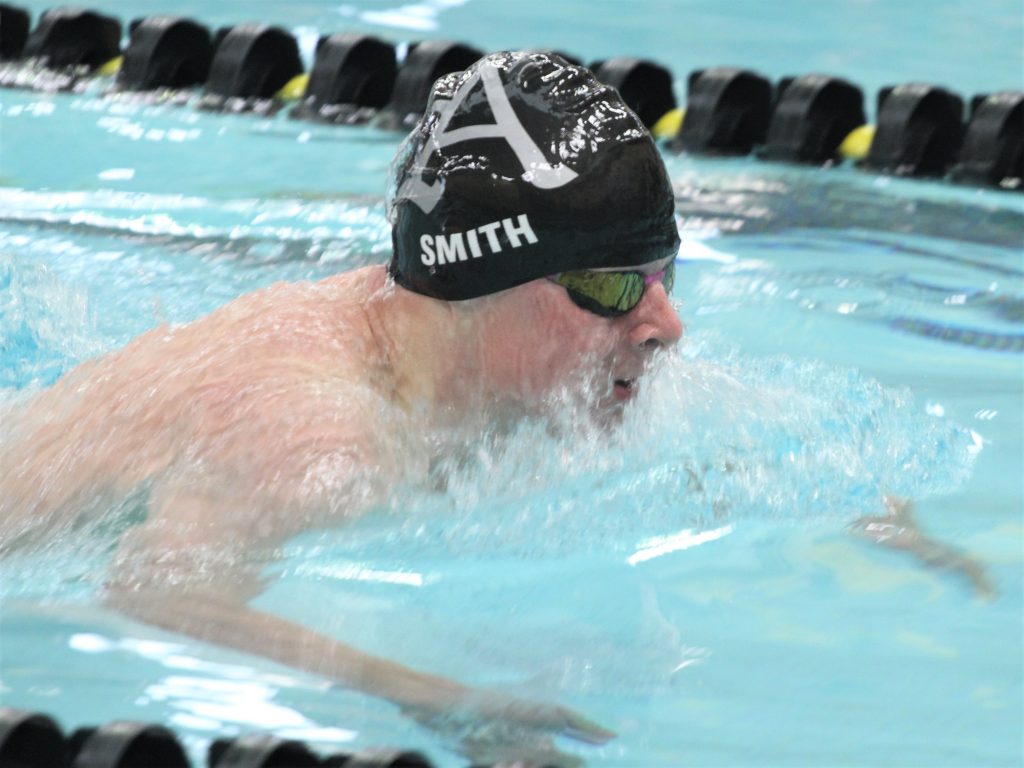 Anders Peterson placed fifth in the butterfly in 55.11, missing the cutoff time by .33 seconds.
"The kids did everything we asked them to do over the last two weeks," Crouch said. "There were some bumps in the road, but every team faces some adversity at some point. But they responded in a great way, and hopefully we can rebound and swim even faster next week. It helps having seven guys not shaved today."
Martin said the Hawks exceeded their expectations in many of the events.
"We did a little bit better than we wanted to," he said. "We were planning on going just moderate pace–like we were doing all year–but we did a lot better than that."
Here are the rest of Ankeny's placewinners from the district meet:
200 freestyle: Zane Holmen, 1:52.65 (9th); Zach Zinn, 1:57.69 (12th).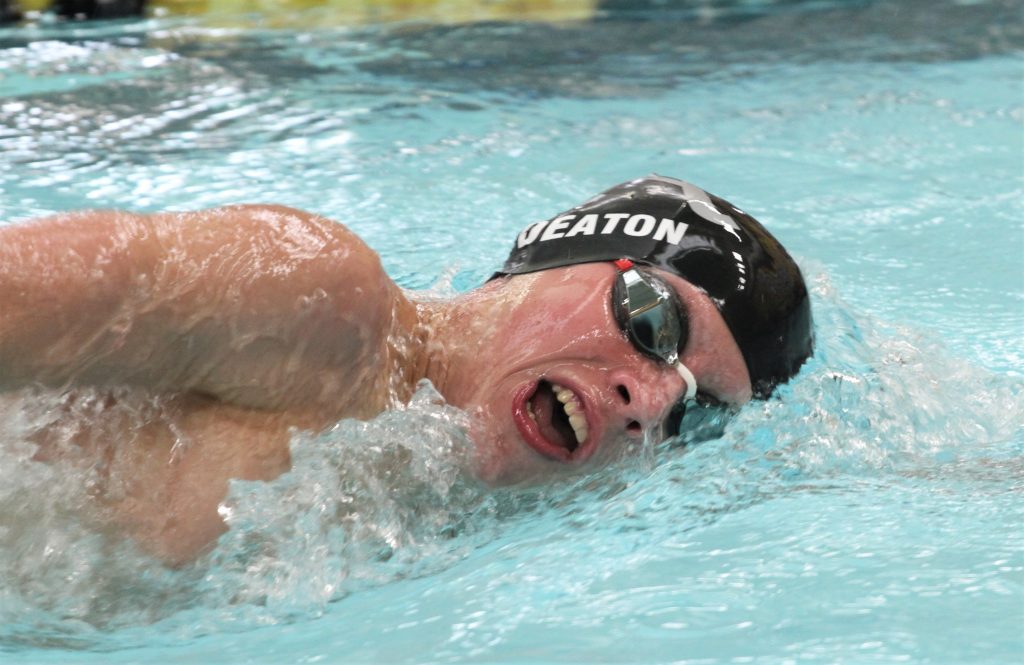 200 IM: Grant Miller, 2:08.24 (7th); Josh Deaton, 2:10.84 (10th).
100 butterfly: Noah Odson, 56.75 (7th).
100 freestyle: Devin Thornton, 53.73 (11th).
500 freestyle: Deaton, 5:27.97 (12th).
100 backstroke: Miller, 57.90 (7th).
100 breaststroke: Carter Smith, 1:05.93 (7th); Sam Dimeo, 1:07.94 (11th).