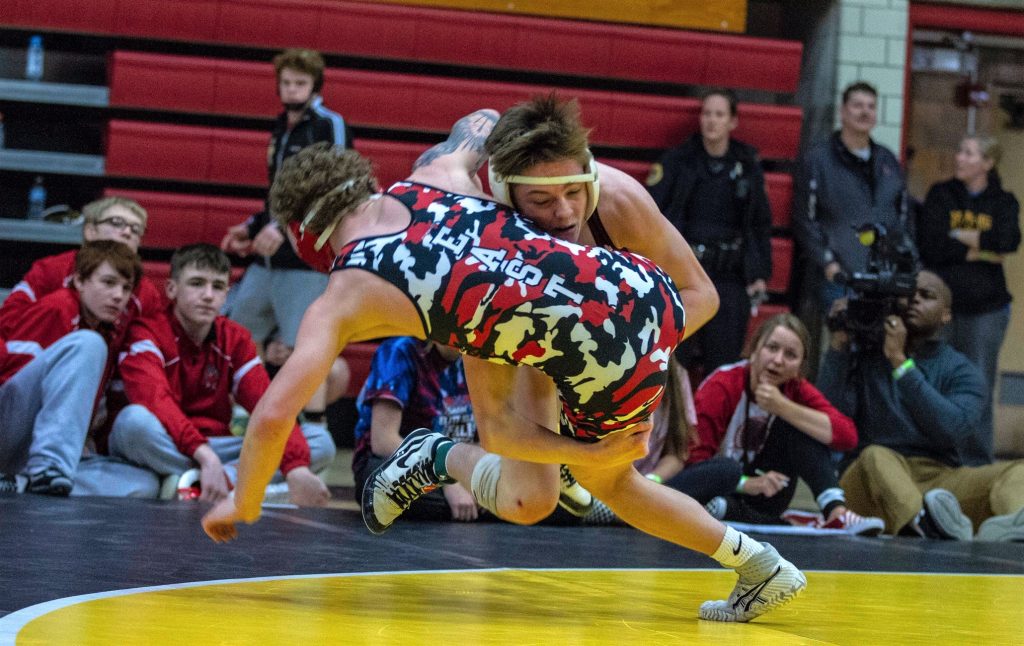 A year ago, the Ankeny wrestling team advanced just two wrestlers to the state tournament.
In 2017, Ben Schiltz was the Hawks' lone qualifier in Class 3A.
That's why Ankeny coach Jack Wignall was so excited after his team advanced six wrestlers to this year's tournament at Wells Fargo Arena. The seventh-ranked Hawks placed second in a district tournament on Saturday at Des Moines East with 211 points.
"I was just thrilled with how our kids wrestled," said Wignall. "I couldn't have asked for them to wrestle any better on this day."
Top-ranked Southeast Polk won the district title with 290.5 points. The Rams crowned eight champions and had three other state qualifiers, leaving just 17 spots for the other seven teams in the field.
Ankeny and Norwalk each had six qualifiers. The Warriors placed third overall with 195 points.
"You always want more–you wish you could have got one or two more kids to state–but considering where we were at with the competition that was there, we had our best day of wrestling this season," Wignall said. "The kids peaked at the right time. They did a great job, and I'm really happy."
Ankeny got individual titles from the top-ranked duo of Trever Anderson at 106 pounds and Caleb Rathjen at 126. Eighth-ranked heavyweight Romello Gray also captured a crown.
Anderson pinned both of his opponents to raise his record to 38-1. He got a fall over Southeast Polk's Kale Anderson in 3 minutes 36 seconds in the finals.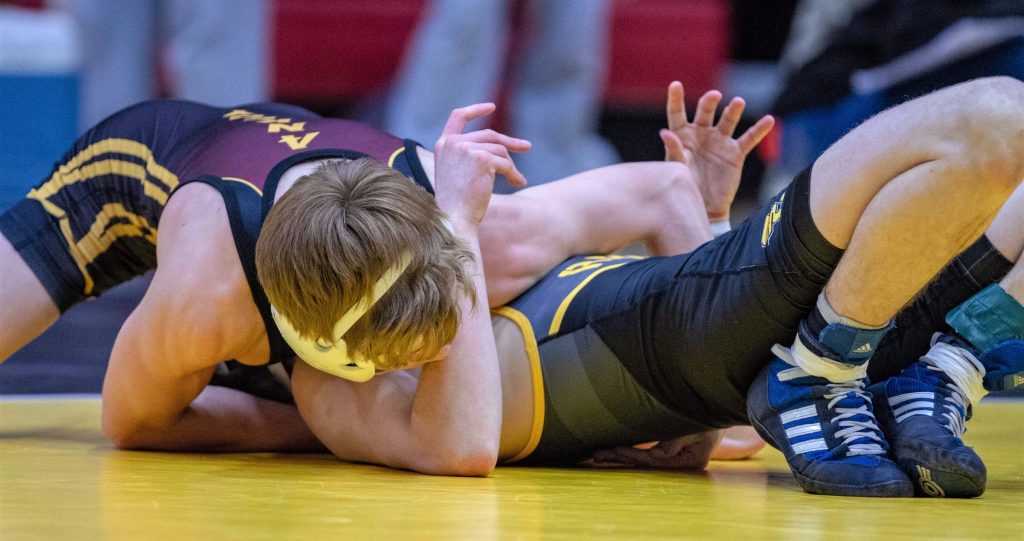 Rathjen, meanwhile, posted a 20-9 major decision over seventh-ranked Matthew Jordan of East. He improved to 37-1.
Rathjen, last year's Class 3A runner-up at 113, earned his second straight trip to the state tournament.
"Caleb and Trever–you'd like to think they were automatics to qualify," Wignall said. "But stranger things have happened, that's for sure. Those guys still had to go out there and get the job done, and that's what they did."
Gray (25-11) earned his title with a 3-1 decision over Connor Brown of Southeast Polk. He also won a close match in the semifinals, posting a 4-3 victory over Pella's Tyler VanderMolen.
Three other Hawks also qualified with runner-up finishes. They are seventh-ranked Sam Kallem at 132, Derek Anderson at 138 and Cole Rathjen at 195.
Kallem (31-11) dropped a 4-2 decision to third-ranked Brock Espalin of East. Anderson (16-9) was pinned by fifth-ranked Nathan Marchand of Southeast Polk in 1:14.
"Derek and Sam both had great days," Wignall said. "Those two guys avenged losses from Wednesday night to get into the finals."
Kallem pinned Carson Martinson of Southeast Polk in 2:52, avenging a 6-4 loss in a regional dual three nights earlier. Anderson punched his ticket to state by pinning Christian Milligan of East in 2:41, avenging a 9-2 loss.
"Those were some huge wins for us," Wignall said.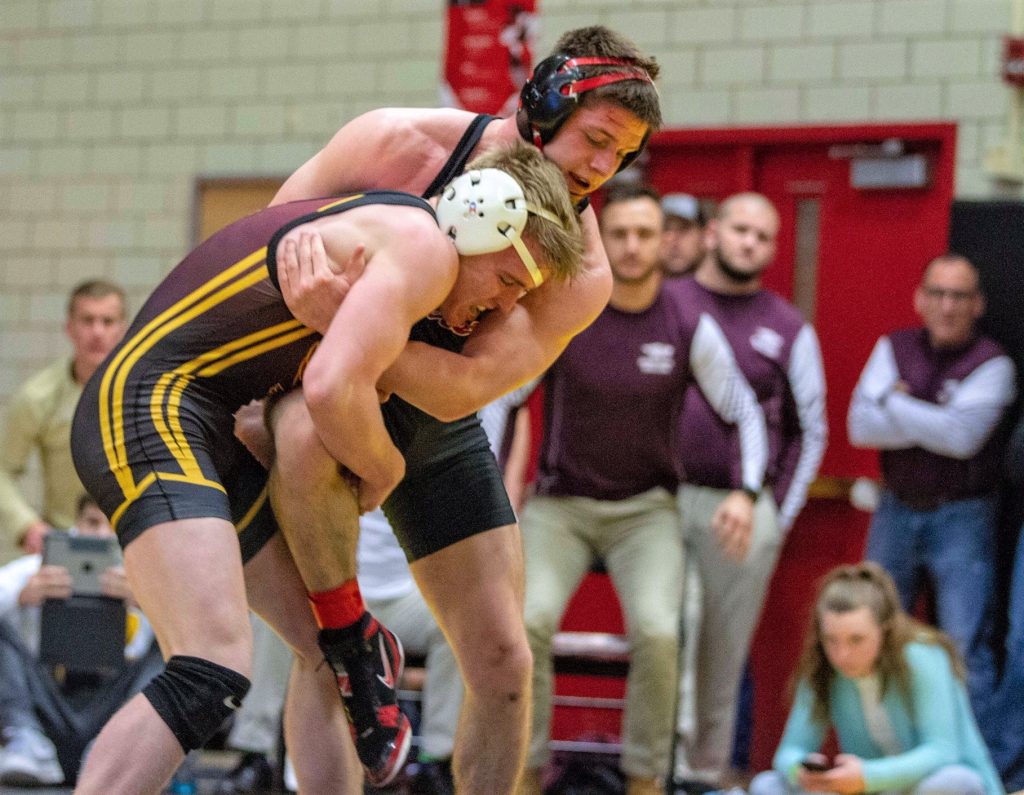 Cole Rathjen had the most eventful day among Ankeny's qualifiers. The senior reached the finals before being pinned by top-ranked Gabe Christenson of Southeast Polk in 59 seconds.
Rathjen (20-7) then had to face Ottumwa's Bryan Cordova in a wrestle-back match for second place. The bout ended 1 minute 22 seconds into the first period when Cordova was called for an illegal slam.
"Cole was beating (Cordova) and the kid lifted him and brought him down on the top of his head," Wignall said. "I think Cole was out for a second. I thought he broke his neck, so we injury defaulted him out of that match. I'm not one who usually likes to do that, but with the potential injury there was no way he was going to wrestle the same way he was before that happened.
"(Cordova) didn't do it on purpose, but it was definitely a scary situation," he added.
Rathjen said he didn't remember much about the incident.
"I mean it sucks to qualify that way," he said. "But Wignall knew that he wanted me to be done. He was not going to take a risk and possibly get me hurt even more."
Placing third for the Hawks were eighth-ranked Cael Cox at 113 and Daniel Rose at 152. Finishing fourth were Mark Ames at 120, Mo Watson at 160 and Nick Scherle at 170.
Rose lost by a technical fall to second-ranked Carter Schmidt of Norwalk in a wrestle-back match for second place. Cox finished the season with a 33-9 record after dropping an 8-3 decision in the semifinals to sixth-ranked Grant Harbour of Norwalk.
"Cael got beat by the same Norwalk kid that beat him last year," Wignall said. "He just came up a little short."