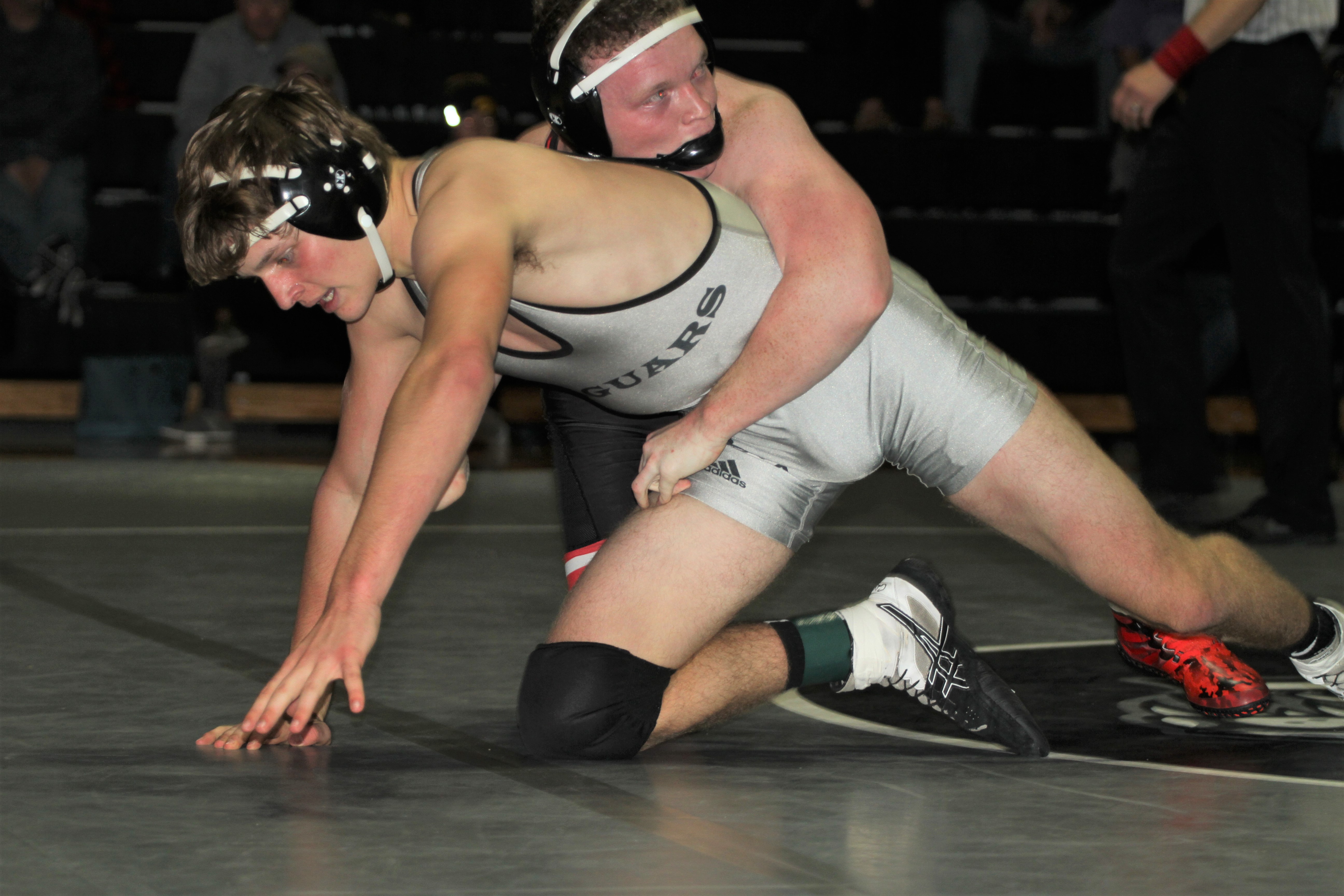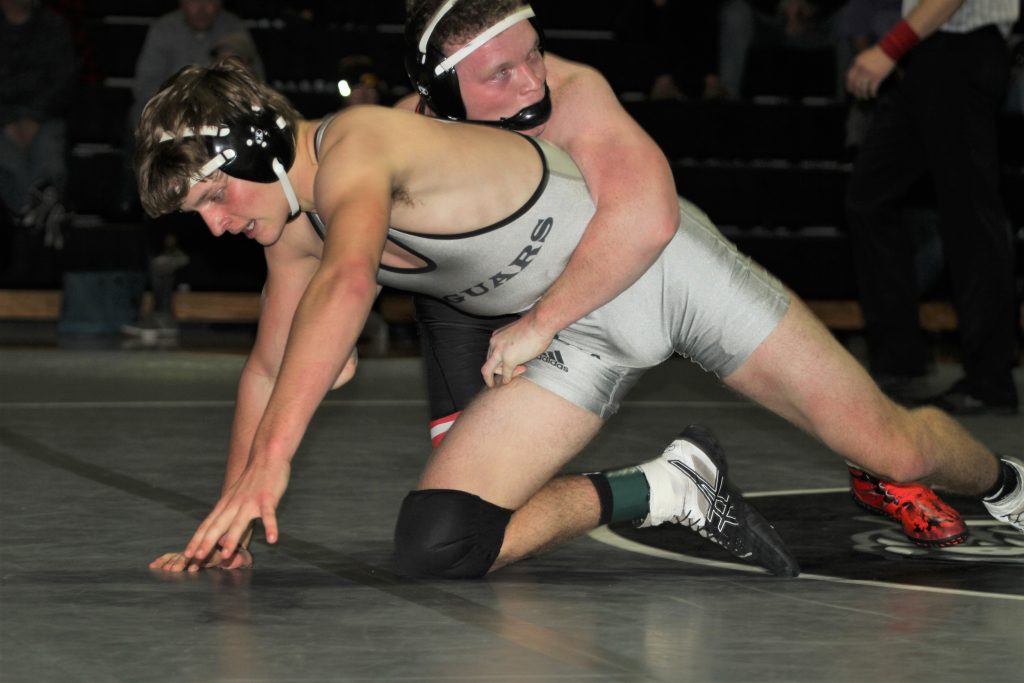 Coach Jay Groth doesn't want his Ankeny Centennial wrestlers to get caught looking ahead.
He prefers to have the Jaguars focus on their immediate task.
"The emphasis is just to score the next point and everything else will take care of itself," Groth said.
On Saturday, that strategy resulted in a Class 3A district title for Groth's team, marking a first in program history. Fifth-ranked Centennial advanced a record nine wrestlers to the state tournament while winning the district crown at Fort Dodge with 243 points.
No. 9 Fort Dodge, the defending state champion, placed second in the eight-team field with 236.5.
"The final round was basically a dual meet between us and Fort Dodge, and we were able to come out on top," Groth said. "It was a team effort all the way around."
Centennial crowned five individual champions, including top-ranked Ben Monroe at 132 pounds. The two-time state runner-up earned his third straight trip to Wells Fargo Arena with a 14-4 major decision over Dreyzon Phillips of Fort Dodge.
"Ben dominated today," Groth said. "He was loose and aggressive, and he wrestled really well. When he wrestles like that, nobody beats him. He just did a great job."
Monroe (37-1) recorded a fall in just 12 seconds in the opening round. He won his semifinal match by a technical fall.
Monroe bounced back after suffering his first loss of the season on Wednesday, when he dropped a 6-4 decision to fifth-ranked Caleb Helgeson of Johnston during a regional dual.
"I learned a lot from the loss on my nerves and mindset," said Monroe. "I'm very confident in my ability to win a state title going into next week."
The Jaguars' other champions were fifth-ranked Eric Owens at 145, second-ranked Logan Neils at 170, fourth-ranked Nic Leo at 182, and eighth-ranked Ethan Frazier at 195. Owens, Neils and Leo each qualified for state for the second time.
Owens (34-4), who placed sixth at 113 as a sophomore in 2017, fought his way off his back and went on to post an 11-7 decision over Kody Cook of Fort Dodge. Neils (35-2), who took fourth at 160 a year ago, rolled to a 13-2 major decision over Colton Hoag of LeMars.
Leo (34-3) advanced to the finals with a pair of falls. He then earned his district crown with a 6-5 decision over sixth-ranked Taner Harvey of Boone.
"Nic had a close match with a real good kid," Groth said. "He wrestled a super smart match and won the title."
Frazier (30-7) qualified for state for the first time. He posted a 14-4 major decision over Aaron Ungs of Storm Lake.
Centennial's other qualifiers are Jackson Helmkamp at 106, Jackson Bresson at 113, Noah Blubaugh at 126 and Lane Pruisner at 220. They each qualified with a runner-up finish.
Pruisner (30-5) advanced to the finals before dropping an 11-5 decision to Travis Theisen of LeMars. He then pinned Patrick Conley of Sioux City East in 3:37 in a wrestle-back match for second place.
Blubaugh (28-10) earned a repeat trip to the state tournament. He dropped a 7-5 decision to ninth-ranked Brooks Cowell of Fort Dodge.
The Dodgers won two other head-to-head matchups against Centennial in the championship round. Eighth-ranked Lane Cowell posted a 4-2 decision over Helmkamp (29-11), while top-ranked Drake Ayala recorded a 23-8 technical fall over Bresson (28-12).
"We had a pretty good day," Groth said. "I can't be disappointed with nine qualifiers. I would have liked to get (Carter) Bennett and (Carter) Cahill through as well. I thought they had good shots at it, but they just made a couple of freshmen mistakes and just didn't quite get the job done. The good news is that they'll be back for three more years."
Bennett placed third at 138, while Cahill took third at 152. Cahill dropped a 7-5 overtime decision to Alex Kleider of Sioux City East in the semifinals.
"I thought our team wrestled amazing today. Everyone wrestled tough," Monroe said. "We lost a heartbreaker at 152 with Carter with a few questionable calls, but (Kleider) is one of the toughest kids that I know. I'm confident that (Cahill) will work even harder and be a top contender next year because he works very hard. But like I said, he wrestled great and so did the rest of our team."
The traditional state tournament will be held Thursday through Saturday. The Jaguars tied for 12th at last year's tournament, the best finish in school history.
"We talked about not wanting to be satisfied with being a state qualifier," Groth said. "We want our guys to go out there and become placewinners, and I think we've got a shot to bring home a trophy."
Centennial will also compete in the state duals tournament on Wednesday. The Jaguars will meet Bettendorf in the Class 3A quarterfinals.
"Wells Fargo better watch out because the Jaguars are coming!" Monroe said.