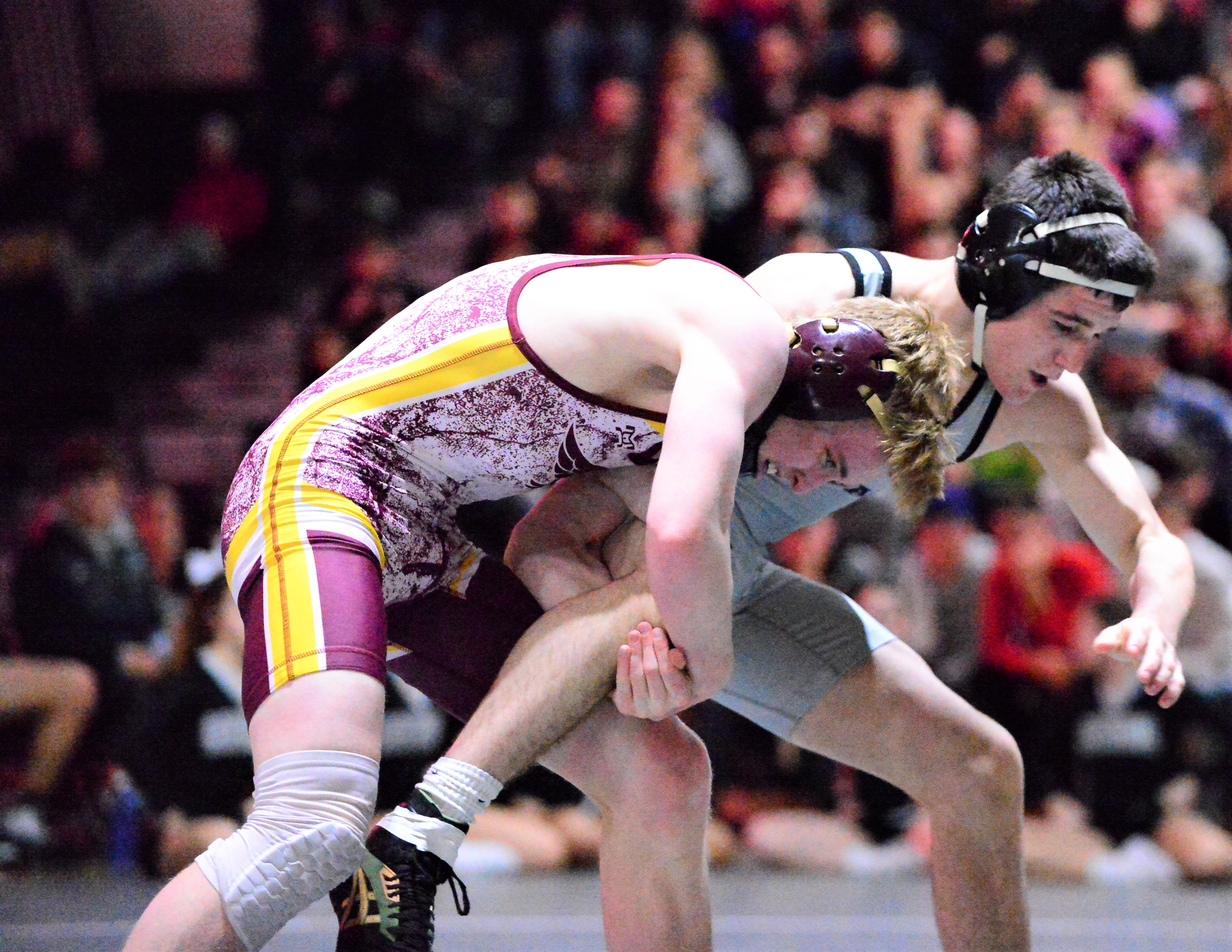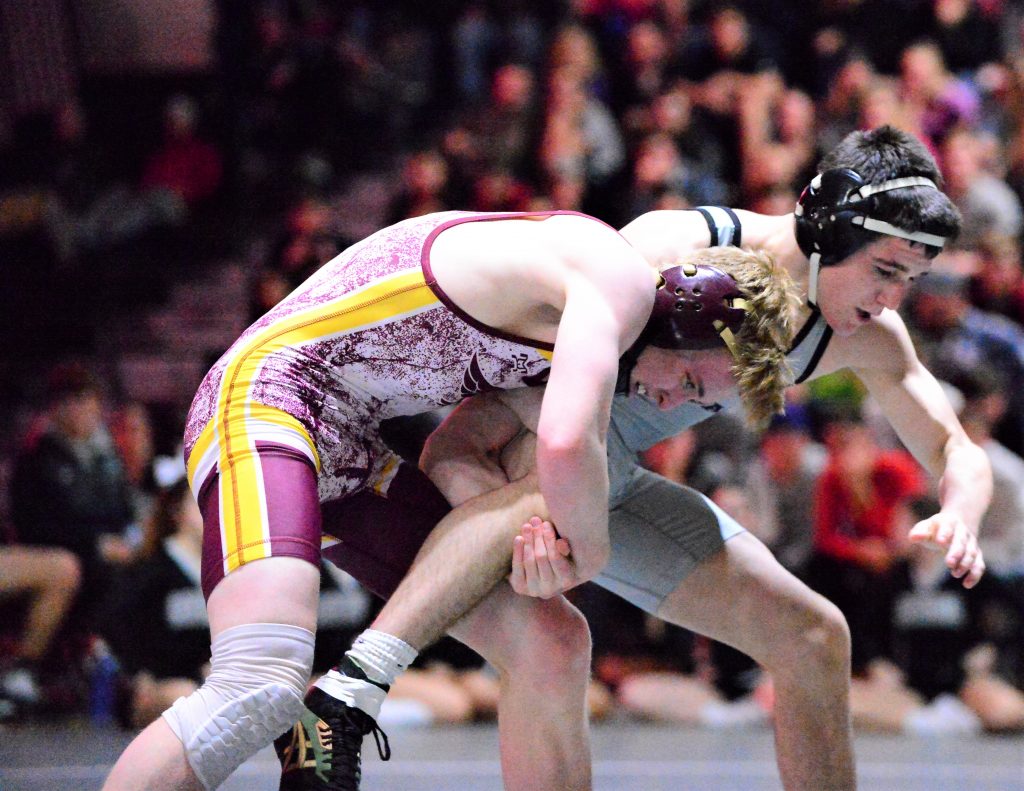 When the traditional state wrestling tournament gets under way on Thursday at Wells Fargo Arena, both Ankeny and Ankeny Centennial will be looking to reach new heights in the Class 3A competition.
Fifth-ranked Centennial boasts a record nine state qualifiers and should be able to improve on last year's 12th-place finish, the best in school history. If you ask coach Jay Groth, the Jaguars are among the teams that could dethrone defending champion Fort Dodge.
"We've talked about not going in there and hoping things go our way. We're going to go in there and try to make things go our way," Groth said. "If we get some bonus points and finish above our seeds, I think we've got the firepower to make a run at the title."
No. 7 Ankeny, meanwhile, enters the tournament with six qualifiers. The Hawks, who placed 21st a year ago, are seeking their first top-10 finish since the split into two high schools in 2013.
"I looked it up and the most state placewinners that Ankeny has ever had was three, and that only happened once or twice," said Ankeny coach Jack Wignall. "I feel like all of our guys have an opportunity to place, and wouldn't that be something to take six guys down and have all of them place? That's the goal right now."
Bettendorf leads the Class 3A field with 12 qualifiers. No. 1 Southeast Polk and No. 2 Waverly-Shell Rock each advanced 11 wrestlers.
Ankeny and Southeast Polk competed in the same district tournament on Saturday at Des Moines East.
"They came out of a tough district and qualified 11 kids," Wignall said of the Rams. "They have three other studs who didn't even make it, so they could have had 14 qualifiers. I think they're in the driver's seat, but I know Waverly-Shell Rock will have something to say about that and maybe Waukee and a couple of other schools. It's going to be exciting for sure."
Centennial's Ben Monroe is the No. 1 seed at 132 pounds. The top-ranked Monroe (37-1) will meet No. 10 Michael Moore of Des Moines North/Hoover (30-6) in the opening round.
Monroe, a two-time state runner-up, could face second-ranked Conrad Braswell of Cedar Rapids Prairie (31-4) or fifth-ranked Caleb Helgeson of Johnston (35-4) in the semifinals on Friday. Helgeson handed Monroe his only loss of the season during a regional dual last week.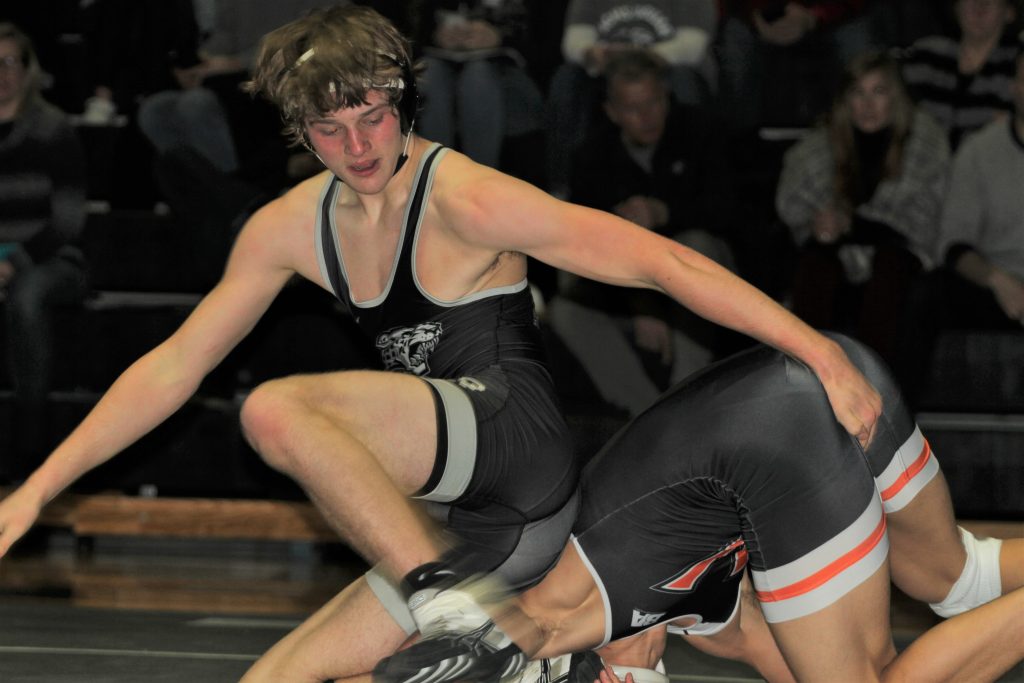 The Jaguars' other qualifiers are Jackson Helmkamp at 106, Jackson Bresson at 113, Noah Blubaugh at 126, fifth-ranked Eric Owens at 145, No. 2 Logan Neils at 170, No. 4 Nic Leo at 182, No. 8 Ethan Frazier at 195 and Lane Pruisner at 220. Groth said he believes that several of his wrestlers could reach the awards podium.
"I think we're up there in that list of favorites," he said. "It's just going to come down to which team gets that momentum going and makes things happen."
The tournament was seeded this year for the first time, but six of the brackets were redrawn after some mistakes were found in the initial brackets. The Class 3A 145- and 195-pound brackets were redrawn.
"Both Eric and Ethan are in better spots now, so we're happy about that," Groth said. "I think seeding is good, but I think we need to fine-tune some things about how it's done."
Owens (34-4) will meet No. 8 Tyler Murphy of Dubuque Hempstead (26-8) in the first round. He could face No. 1 Deville Dentis of Des Moines East (5-0) in the semifinals.
Frazier (30-7) will meet No. 7 Javian Rolley of Johnston (32-9) for the third time this season–they split the first two matches. The winner will likely face No. 1 Gabe Christenson of Southeast Polk (29-1) in the quarterfinals.
Neils (35-2) will face Dakota Southworth of Cedar Falls (20-10) in his opening match. He could meet No. 1 Anthony Zach of Waukee (42-3) in the finals, which would be a rematch of the CIML Invitational title match won by Zach, 5-0.
Leo (34-3) will meet No. 9 Alex Blizzard of Bettendorf (33-9) for the second time in two days–he defeated Blizzard, 4-1, in the state duals tournament on Wednesday. He could face No. 1 Jacob Wempen of Linn-Mar (Marion) (33-1) in the semifinals.
Pruisner (30-5) will face No. 10 Shane Mathias of Muscatine (31-9). The winner will likely meet No. 1 Cameron Baker of Council Bluffs Jefferson (43-1) in the quarterfinals.
Helmkamp (29-11) will face No. 3 Ethan Wood-Finley of Iowa City High (32-3). Bresson (28-12) will meet No. 5 Devin Harmison of Southeast Polk (27-6).
Blubaugh (28-10) will open up against Keaton Speicher of Iowa City West (20-10). He could meet No. 1 Caleb Rathjen of Ankeny (37-1) in the quarterfinals.
Rathjen, the No. 1 seed, is seeking his first title after placing second at 113 as a freshman. He will meet Kohler Ruggles of Bettendorf (14-23) on Thursday.
Rathjen could meet third-ranked Dylan Albrecht of Waverly-Shell Rock (34-6) in the semifinals, and a potential rematch against No. 2 Nick Oldham of Valley (30-3) looms in the finals. Oldham, who recently committed to Ohio State, defeated Rathjen in last year's finals but has lost all three meetings this season.
"I'm hopeful that those two will meet again, but that's why you wrestle the matches," Wignall said. "You've got to take it one match at a time."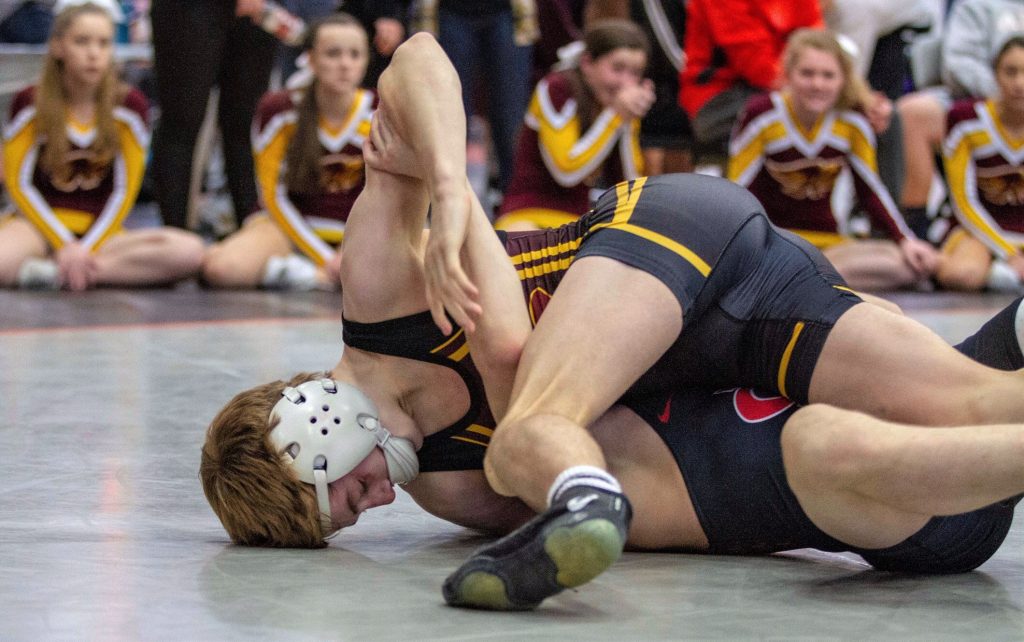 Ankeny's other qualifiers are top-ranked Trever Anderson at 106, No. 7 Sam Kallem at 132, Derek Anderson at 138, Cole Rathjen at 195 and No. 8 Romello Gray at 285.
Trever Anderson (38-1) will face Grant O'Dell of Iowa City West (31-13) in the opening round. No. 2 Aiden Riggins of Waverly-Shell Rock (44-1) is a potential semifinal opponent.
Wignall was surprised that Anderson received the No. 3 seed behind Iowa City High's Wood-Finley and Riggins. Anderson pinned Wood-Finley earlier this season.
"We thought Trever had criteria over (Wood-Finley), but each of those top three kids earned 14 points on criteria," Wignall said. "It was essentially a three-way tie, so they had a draw and Trever got the No. 3 seed and I'm ok with that. If this had been last year, two of those kids could have met in the quarterfinals and that would not have been good, either."
Gray will meet Logan Finowski of Fort Dodge (19-20) in the opening round. He could face No. 3 Andrew Snyder of Waverly-Shell Rock (41-4) in the quarterfinals.
The Hawks' other qualifiers face some tough draws. Kallem (31-11) will meet No. 4 Joe Pins of Dubuque Hempstead (31-3), Derek Anderson will face No. 3 Eli Loyd of Pleasant Valley (45-3), and Cole Rathjen will meet No. 5 Cade Parker of Cedar Rapids Kennedy (32-3).
Due to school closings on Tuesday, Centennial and the other state dual team participants weighing in on Wednesday received a one-pound scale allowance for the state duals. That meant one additional pound for all wrestlers and if an individual wrestler had qualified for the growth allowance (two pounds), a total of three pounds was allowed.
Individual state qualifiers will receive a two-pound scale allowance on every day of the tournament plus the two-pound growth allowance for a total of four pounds.