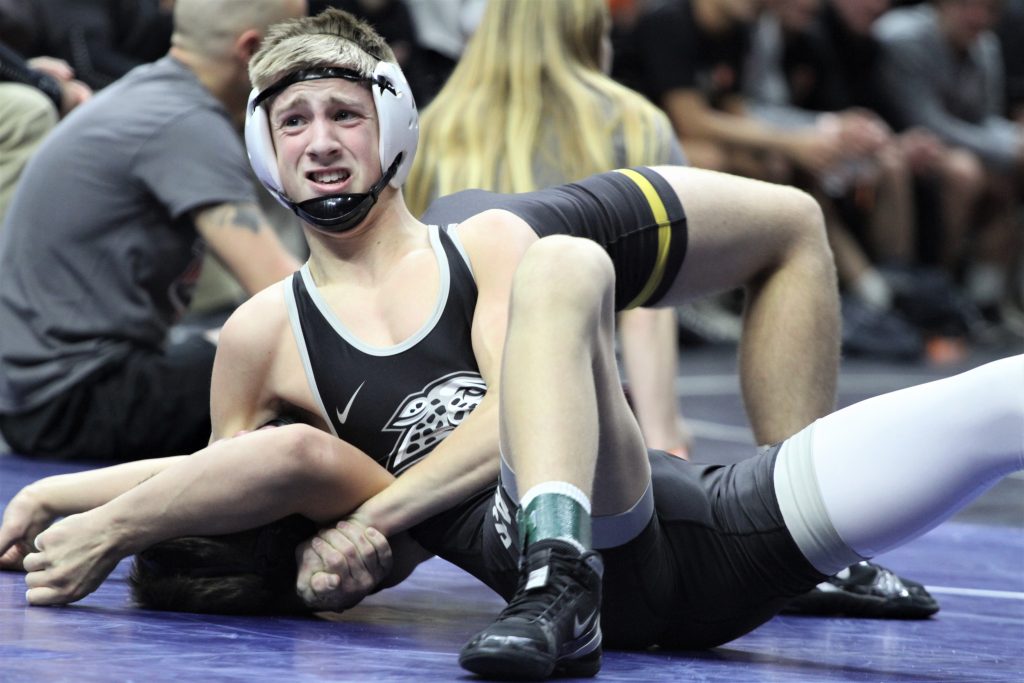 After suffering its first dual-meet loss of the season, the Ankeny Centennial wrestling team didn't have to wait long to get back onto the mat.
The Jaguars rebounded from a semifinal loss to Waverly-Shell Rock with a 34-33 victory over defending champion Fort Dodge in the Class 3A third-place match at the state duals tournament on Wednesday night at Wells Fargo Arena.
"I think we shook it off pretty good," Centennial coach Jay Groth said of the 42-25 loss to the Go-Hawks. "It was a test of our character, but I thought the guys answered. They wanted to win, and they wanted that third-place trophy. I thought they responded real well."
Centennial won the final two matches to overcome a 33-27 deficit. Noah Blubaugh put the Jaguars into position to win with a 12-4 major decision over ninth-ranked Brooks Cowell at 126 pounds, avenging a 7-5 loss at the district tournament on Saturday.
"That was huge," Groth said. "Noah really came through for us."
Top-ranked Ben Monroe then sealed the victory with a 13-7 decision over Dreyzon Phillips at 132. Monroe bounced back after dropping an 8-5 decision to sixth-ranked Evan Yant of Waverly-Shell Rock during the semifinal match.
"I liked that the match came down to me because it was super cool," said Monroe. "The only thing I'm going to worry about from now on is how much fun I can have wrestling because I wrestle much better if I'm smiling and having fun. I'm very proud of our team!"
Centennial finished the dual-meet season with a 21-1 record. Ironically, the Jaguars opened their season on Nov. 29 with a 33-32 victory over Fort Dodge.
"I thought it was going to be a battle, and it was a nailbiter," Groth said. "Sometimes you never know if everybody's going to put out their starters, but we did all day. We put our best kids out there all day long, we fought for it, and I think it was a good experience for the whole team. We enjoyed it."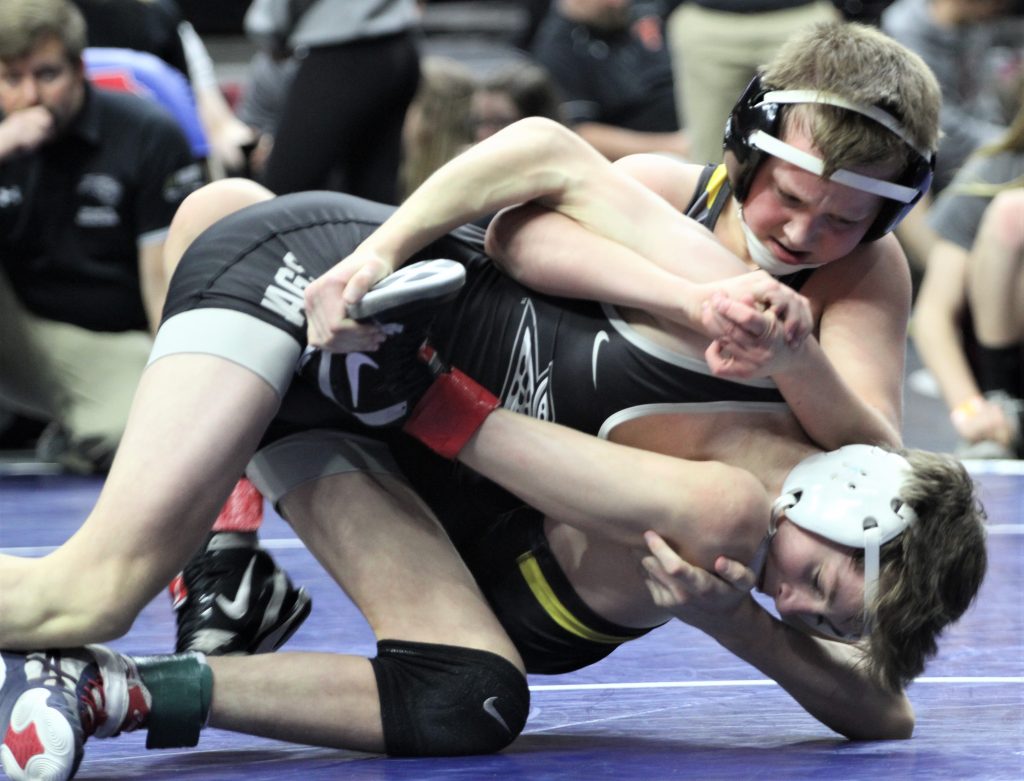 Third-seeded Centennial opened the tournament with a 36-26 win over sixth-seeded Bettendorf in the quarterfinals on Wednesday morning. Fifth-ranked Eric Owens at 145 and eighth-ranked Ethan Frazier at 195 each had a pin for the Jaguars.
"Frazier's pin was huge–that was a big momentum swing for us," Groth said.
Frazier got a fall over Kane Schmidt in 1 minute 51 seconds to give Centennial a 25-14 advantage.
"He was being aggressive, taking some diving shots," Frazier said. "I was able to catch him and just throw him behind me."
Jackson Helmkamp later posted a 4-2 decision over ninth-ranked Dustin Bohren at 106 to help seal the victory.
"I was never really too worried about the match," Groth said. "Helmie controlled the match."
Centennial's fourth-ranked Nic Leo posted a 4-1 decision over ninth-ranked Alex Blizzard at 182. Those two will meet again on Thursday in the opening round of the traditional tournament.
"Leo had a nice match, and we learned a couple things in that match about what to do and what not to do," Groth said.
Second-ranked Logan Neils rolled to a 9-1 major decision over fourth-ranked Will Jefferson. Those two could meet again in Friday's semifinals.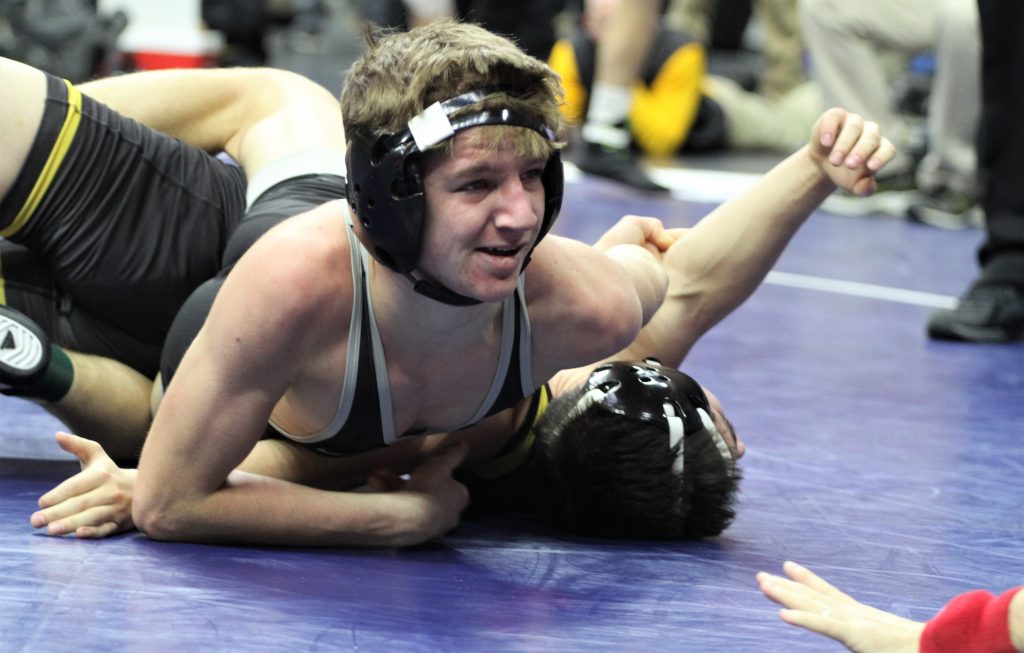 Both Neils and Kyle Janssen at 120 had a pin against Waverly-Shell Rock, but it wasn't nearly enough. The second-seeded Go-Hawks took the early lead on Yant's win over Monroe and never looked back.
"That was not the way we wanted to start that dual," Groth said. "When your teammates are used to you going out there and winning, we've got to go out there and be who we are. Sometimes we get caught up in wrestling not to lose, and that's never a good thing."
Waverly-Shell Rock advanced to the championship match against No. 1 Southeast Polk, which captured the title with a 37-27 victory.
Here are the Jaguars' match-by-match results:
Centennial 36, Bettendorf 26
126: Blubaugh (AC) beat Ruggles, 6-4; 132: Monroe (AC) beat Hughbanks, 8-3; 138: Petersen (B) beat Bennett, 16-6; 145: Owens (AC) pinned L. Adamson, 1:46; 152: Hill (B) beat Cahill, 8-0; 160: V. Adamson (B) pinned Nehring, 1:14; 170: Neils (AC) beat W. Jefferson, 9-1; 182: Leo (AC) beat Blizzard, 4-1; 195: Frazier (AC) pinned Schmidt, 1:51; 220: Pruisner (AC) beat L. Jefferson, 10-1; 285: Liddle (B) pinned Parlee, :31; 106: Helmkamp (AC) beat Bohren, 4-2; 113: Bresson (AC) beat Faber, 13-4; 120: Evans (B) pinned Janssen, :54.
Waverly-Shell Rock 42, Centennial 25
132: Yant (W-SR) beat Monroe, 8-5; 138: Heise (W-SR) beat Bennett, 20-8; 145: Owens (AC) beat Langreck, 13-6; 152: Hervol (W-SR) beat Cahill, 11-1; 160: Herrmann (W-SR) pinned Nehring, 3:27; 170: Neils (AC) pinned McDonald, :34; 182: Leo (AC) beat Wedemeier, 11-3; 195: Wolf (W-SR) beat Frazier, 8-0; 220: Walker (W-SR) beat Pruisner, 7-3; 285: Snyder (W-SR) pinned Parlee, :51; 106: Riggins (W-SR) pinned Helmkamp, 3:20; 113: Roybal (W-SR) pinned Hron, 1:30; 120: Janssen (AC) pinned Barnett, 1:59; 126: Talmadge (AC) won by forfeit.
Centennial 34, Fort Dodge 33
138: Ross (FD) pinned Bennett, 1:43; 145: Cook (FD) pinned Owens, 5:46; 152: Cahill (AC) beat Mills, 8-4; 160: Wheat (FD) pinned Crees, 4:22; 170: Neils (AC) pinned Smith, 1:08; 182: Leo (AC) beat Lee, 8-4; 195: Frazier (AC) pinned Licht, :45; 220: Cooper (AC) won by forfeit; 285: Pruisner (AC) beat Finowski, 4-3; 106: L. Cowell (FD) beat Helmkamp, 11-2; 113: Ayala (FD) won by technical fall over Bresson, 20-5; 120: Taylor (FD) pinned Janssen, :19; 126: Blubaugh (AC) beat B. Cowell, 12-4; 132: Monroe (AC) beat Phillips, 13-7.