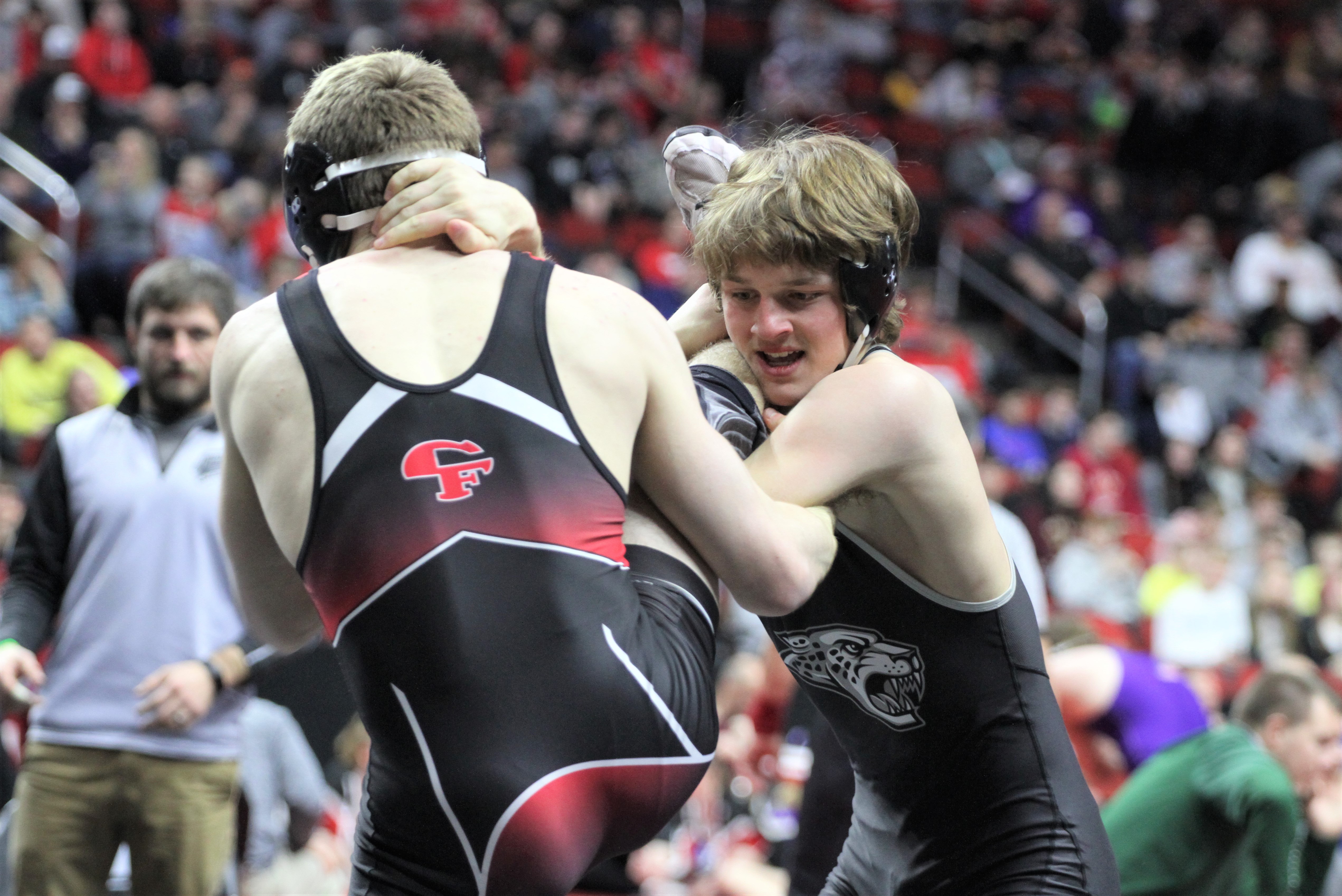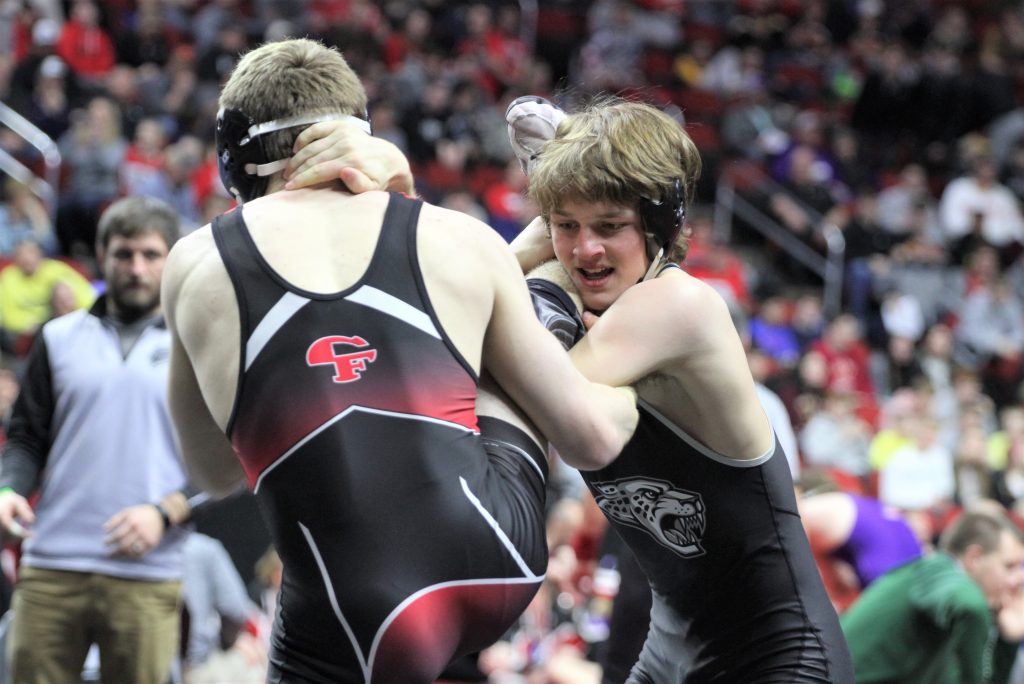 Both Ankeny and Ankeny Centennial are off to good starts in the Class 3A state wrestling tournament at Wells Fargo Arena.
Fifth-ranked Centennial still has six wrestlers alive following Thursday's opening round, including five quarterfinalists. The Jaguars are in ninth place with 17 points in the team standings.
"I'm happy for the six that are still wrestling," said Centennial coach Jay Groth. "I'm upset about the other three. They're good kids and they had good seasons, and I hate to see any of them done early."
No. 7 Ankeny, meanwhile, is tied with Des Moines East for 11th place with 15 points. The Hawks advanced three wrestlers to the quarterfinals and have two others alive in the consolation bracket.
"I hate to lose any of them, but when you look at the big picture, it was a pretty good day," said Ankeny coach Jack Wignall. "We knew the three kids that lost (in the first round) had some really tough matches, but we always think we can win."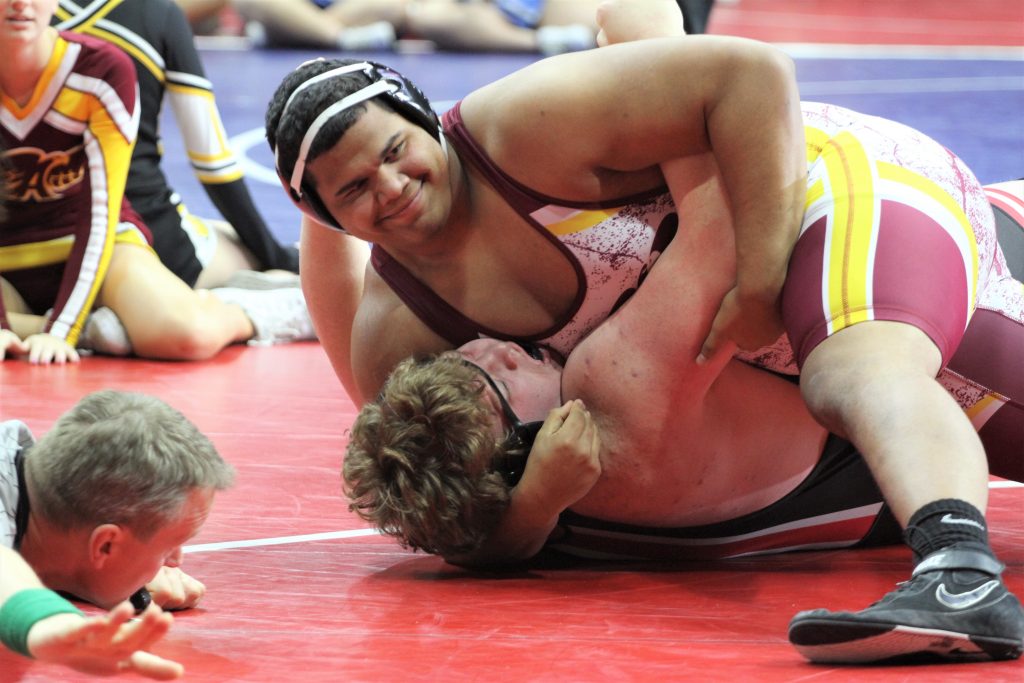 No. 2 Waverly-Shell Rock leads the Class 3A field with 31.5 points. No. 1 Southeast Polk is in second with 25.
Centennial got pins from Noah Blubaugh at 126 pounds, fifth-ranked Eric Owens at 145 and No. 4 Nic Leo at 182. Leo pinned No. 9 Alex Blizzard of Bettendorf in 3 minutes 24 seconds after posting a 4-1 decision over Blizzard during the state duals tournament on Wednesday.
"We watched some video this morning," Leo said. "We tried to figure out where we could get in (on him)."
Blubaugh pinned Keaton Speicher of Iowa City West in 2:44. Owens pinned No. 8 Tyler Murphy of Dubuque Hempstead in 2:56.
"We got some bonus points," Groth said. "We got pins from three guys and some good scores from the other guys. They wrestled well. I'm happy that we still got six coming back (Friday)."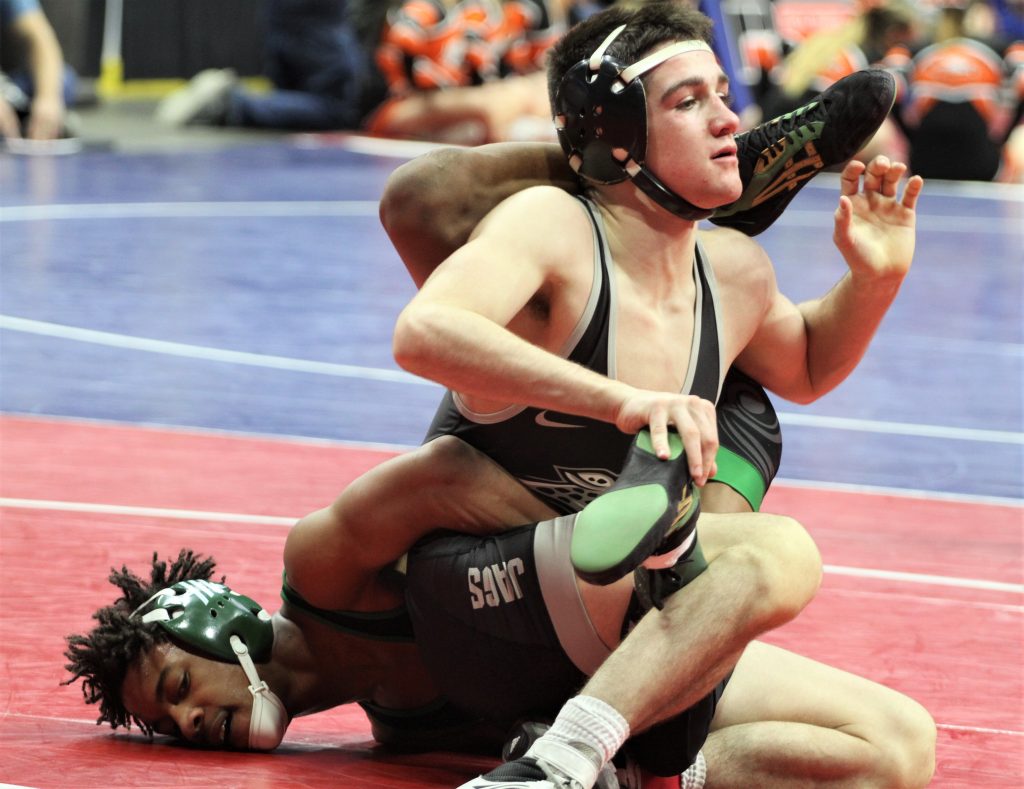 The Jaguars' other quarterfinalists are No. 1 Ben Monroe at 132 and No. 2 Logan Neils at 170. Neils posted a 7-1 decision over Dakota Southworth of Cedar Falls.
"I'd never seen him, and I didn't have very many common opponents with him," Neils said.
Monroe gave up an early takedown, but then dominated the rest of the way for a 7-3 decision over No. 10 Michael Moore of Des Moines North/Hoover. The two-time state runner-up will face Rylan Hughbanks of Bettendorf in Friday's quarterfinals, hoping to duplicate the 8-3 victory that he posted on Wednesday.
Ankeny got pins from No. 1 Caleb Rathjen at 126 and No. 8 Romello Gray at 285. Rathjen needed just 1:07 to pin Kohler Ruggles of Bettendorf.
"It's kind of nice to get a quick one out of the way," Rathjen said. "It just kind of gives you the rest of the day. You're not going to be tired."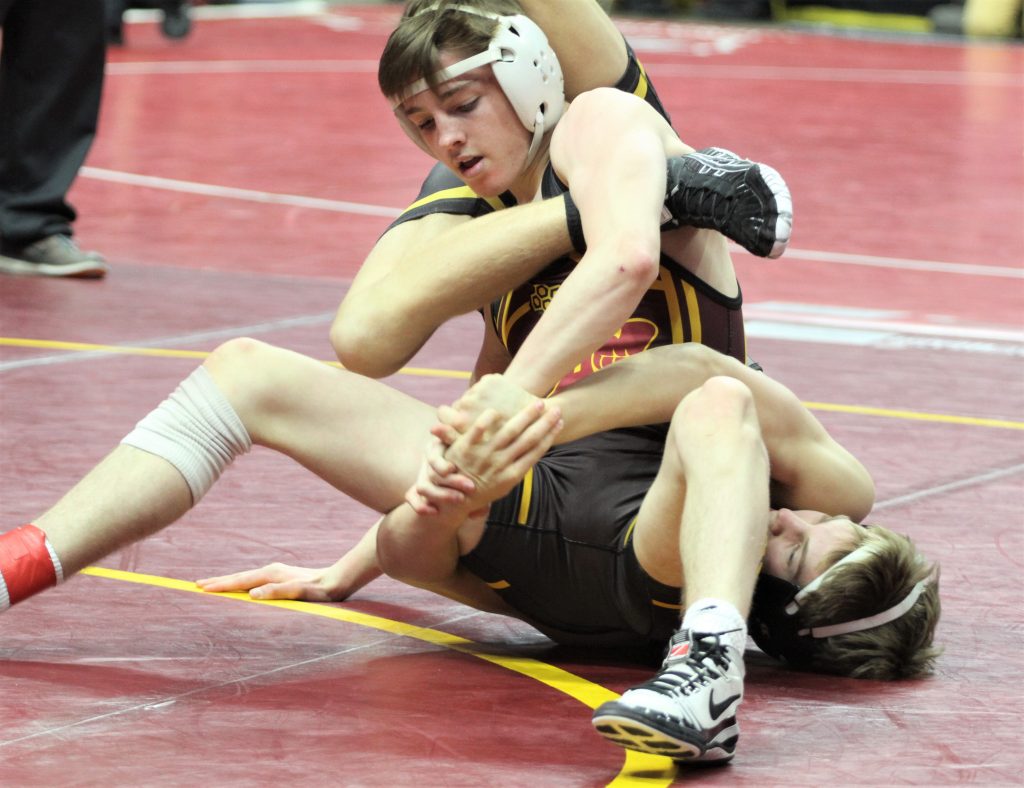 Rathjen is seeking his first state title after placing second at 113 a year ago as a freshman.
"Caleb was Caleb," Wignall said. "He did exactly what I expected him to do."
Rathjen will meet Blubaugh in the quarterfinals. He pinned the Centennial senior to win a title at the Bob Sharp Invitational last month.
"I just have to take it one match at a time," Rathjen said. "He's my next match, so I've got to focus on that one."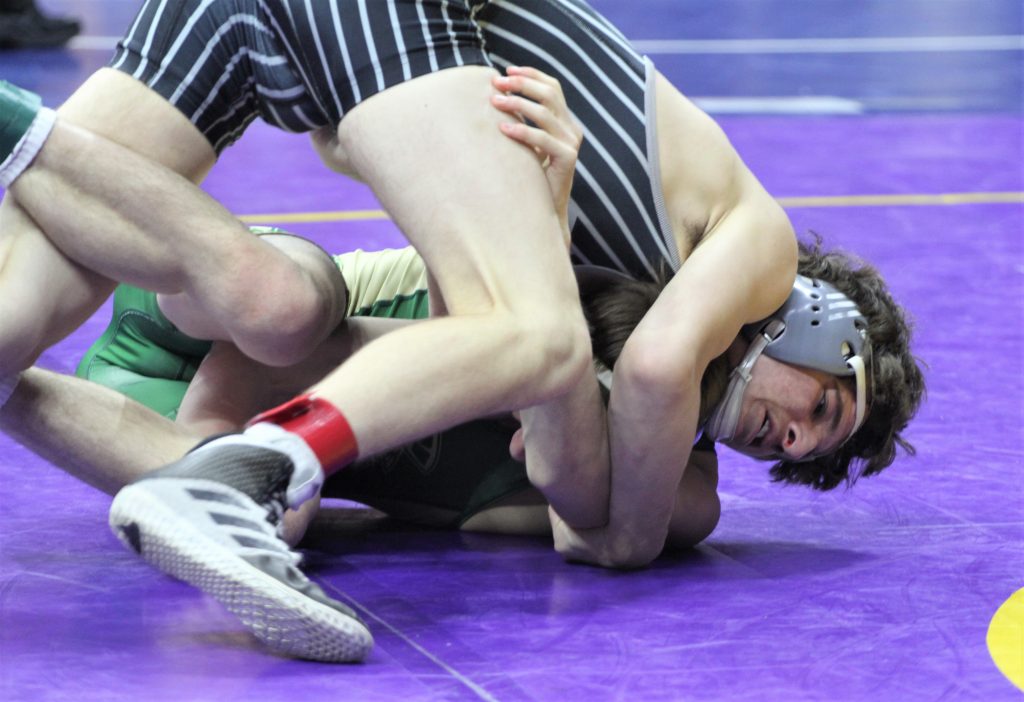 Gray pinned Logan Finowski of Fort Dodge in 1:16.
"Mello's never lost to that kid," Wignall said.
The Hawks' other quarterfinalist is No. 1 Trever Anderson at 106. He posted a 10-0 major decision over Grant O'Dell of Iowa City West.
"I was a little (nervous), but not too bad," said Anderson. "I felt prepared. I wrestled (O'Dell) when I was in like seventh grade. He's gotten a lot better."
Anderson, a freshman, was making his state tournament debut.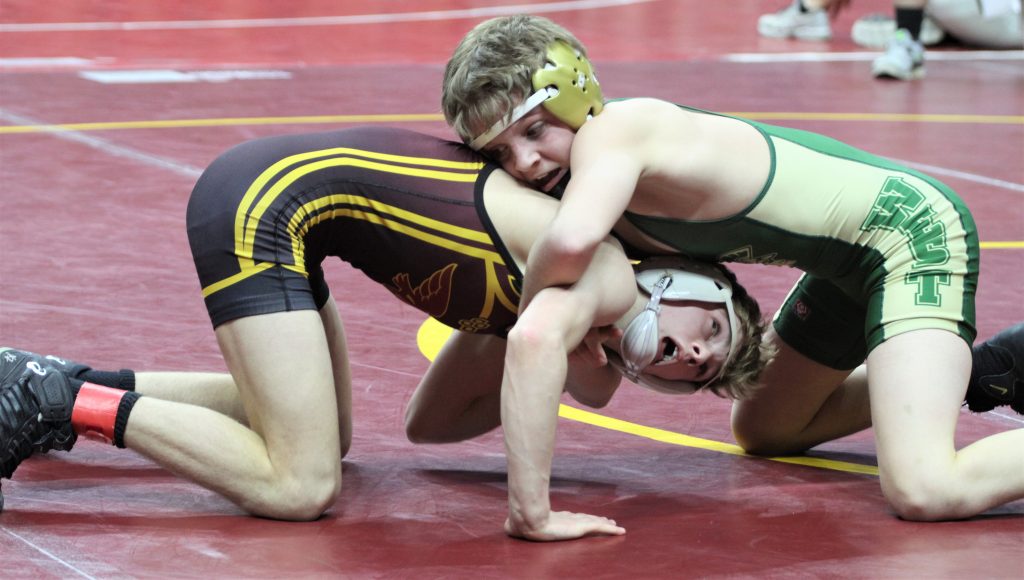 "(O'Dell) had a good game plan. He didn't shoot early, and he made Trever take him down," Wignall said. "But once he did, he was able to open up the match a little bit."
Anderson will meet No. 7 Ryder Downey of Indianola in the quarterfinals.
"I'm glad that Trever went 6 minutes," Wignall said. "It was good for him to see what it's like to wrestle a full match at the state tournament."
No. 7 Sam Kallem at 132 and Derek Anderson at 138 both won a consolation match to stay alive for the Hawks. Centennial's Jackson Bresson also bounced back from a first-round loss at 113.
Kallem lost by a fall to No. 4 Joe Pins of Dubuque Hempstead in 1:05. He then pinned No. 9 Duncan Delzell of Burlington in 3:42.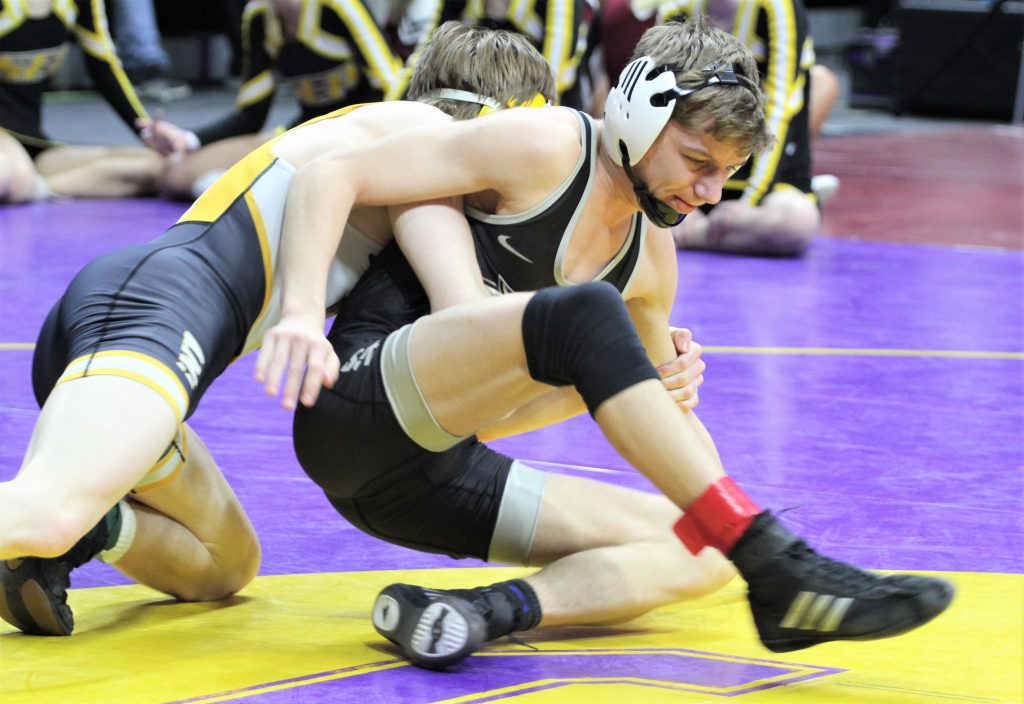 Anderson lost by a technical fall, 16-0, to No. 3 Eli Loyd of Pleasant Valley. He then rebounded with a 1-0 decision over No. 9 Dylan Falck of Cedar Rapids Kennedy, scoring the only point of the match on an escape.
"Derek wrestled a smart match and did what he needed to do," Wignall said. "I was really happy for him because he's had a career of ups and downs, especially this year with the broken wrist. For him to win a match and be able to come back Friday, that was monumental for him."
Bresson was pinned by No. 5 Devin Harmison of Southeast Polk in 3:43. He then battled back from a 5-0 deficit to post a 9-8 decision over Elton Kruse of Fort Madison.
Centennial's Jackson Helmkamp at 106, No. 8 Ethan Frazier at 195 and Lane Pruisner at 220 were all eliminated from the tournament after losing two matches. Ankeny's Cole Rathjen was also eliminated at 195.
Helmkamp was pinned by No. 3 Ethan Wood-Finley of Iowa City High in 1:23. He then dropped a 7-1 decision to No. 10 Tanner Wink of Council Bluffs Lewis Central.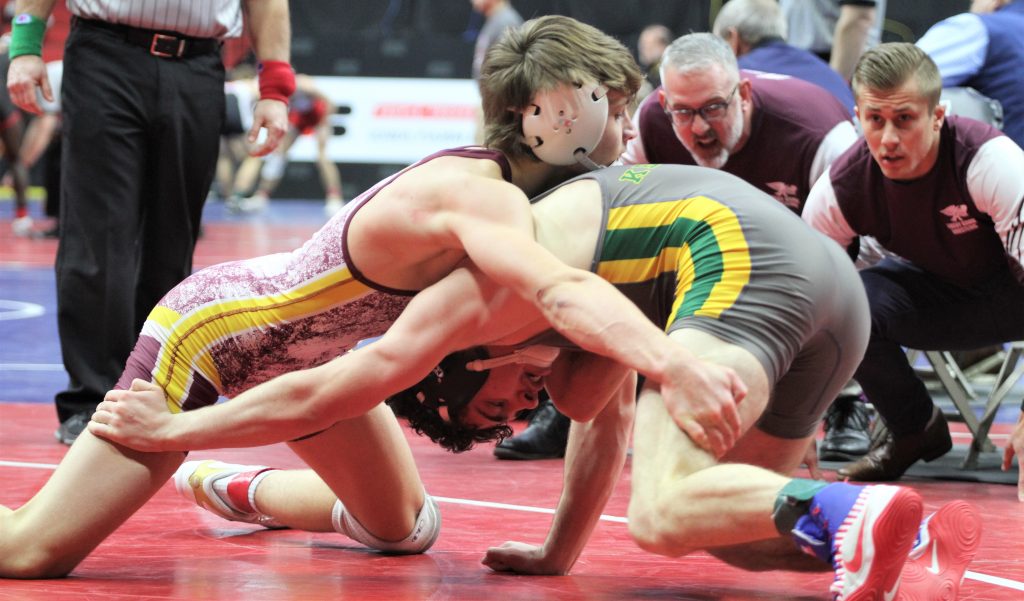 Frazier was pinned by No. 7 Javian Rolley of Johnston in 4:59. He then dropped a 6-2 decision to No. 10 Jacob Byers of Council Bluffs Jefferson.
Pruisner lost by a fall to No. 10 Shane Mathias of Muscatine in 3:25. He then lost a 7-1 decision to No. 4 Tanner Schultz of Linn-Mar (Marion).
Cole Rathjen also lost to two ranked opponents. He was pinned by No. 5 Cade Parker of Cedar Rapids Kennedy in 1:11, then lost by a fall to No. 9 Dalton Sell of Muscatine in 3:41.
"I LOVE my older brother, @ColeRathen," Caleb Rathjen tweeted after Cole's loss in the consolation round. "He has overcome so many obstacles in his wrestling career. It has been a blessing to not only wrestle on the same team as him but to wrestle at the state tournament with him. As kids we (dreamed) of it and today it happened."