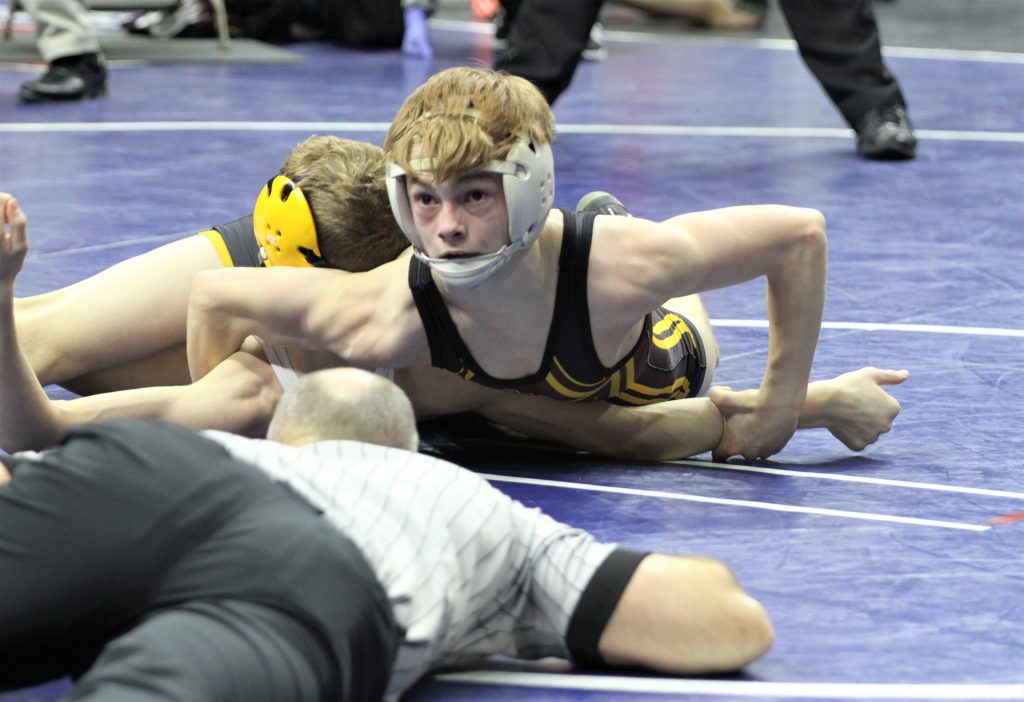 Ankeny's Caleb Rathjen watched from the bowels of Wells Fargo Arena as Trever Anderson turned in a dominating performance in the semifinals of the Class 3A state wrestling tournament on Friday afternoon.
A few minutes later, Rathjen joined his teammate in earning a trip to Saturday night's finals, giving the top-ranked duo a chance to capture twin titles.
"It's awesome," said Rathjen. "It's been fun to be around Trever. He's an awesome kid and an awesome wrestler."
Anderson raised his record to 41-1 with a 12-6 decision over No. 2 Aiden Riggins of Waverly-Shell Rock at 106 pounds. He used a pair of near-falls in the first period to build a 6-0 lead.
"I didn't really have a game plan. I just went out and wrestled my style and hoped the points would fall in my favor," said Anderson. "I was getting excited, though. I thought I had him pinned. That's a move I've been hitting all year on everybody."
Anderson increased his advantage to 12-2 after two periods before Riggins finally found his offense in the third period. By then, it was too late.
"Sometimes I think coaches tell these kids to look out for so much stuff that they don't wrestle their own match, and that was the case there," Ankeny coach Jack Wignall said. "(Riggins) was so worried about what Trever was going to do that he didn't have time to get his offense going. It didn't surprise me because Trever has been doing that to kids he hasn't wrestled all year because they just don't have that feel for him."
Anderson will wrestle No. 5 Jace Rhodes of Mason City (15-3) for the crown on Saturday. He posted a 9-0 major decision over Rhodes to win a title at the Bob Sharp Invitational last month.
"It feels amazing. There's nothing like it," Anderson said of reaching the finals. "I just have to relax, have fun and score points."
Wignall doesn't expect that to be a problem for the unflappable freshman.
"I've been saying all year that kid has ice water in his veins," he said of Anderson. "I don't know how he does it."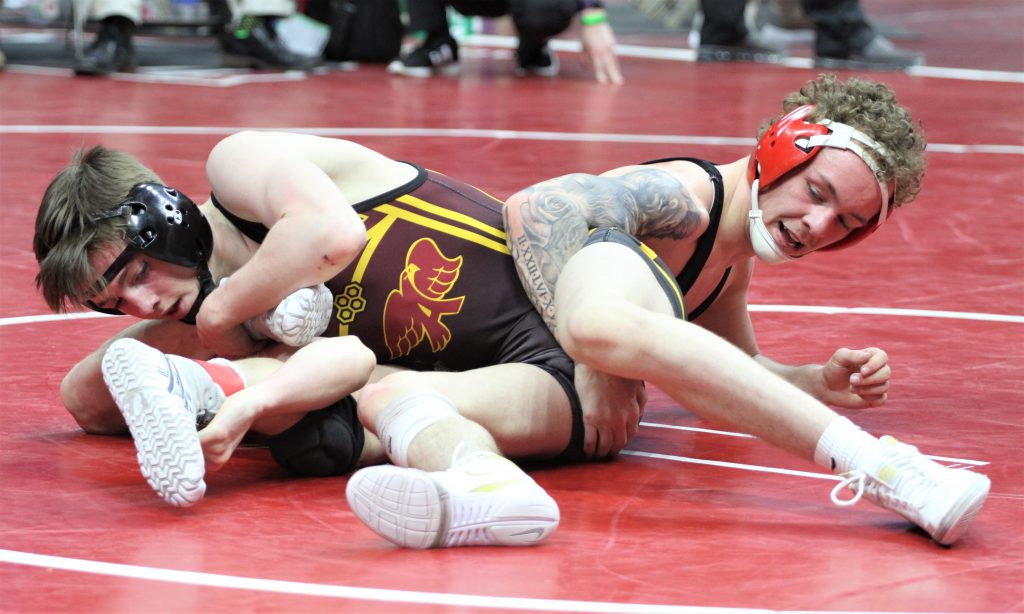 Rathjen, a sophomore, then followed with a 7-1 decision over No. 7 Matthew Jordan of Des Moines East at 126. He improved to 40-1 on the season.
"I didn't get to my attacks as much as I'd like," Rathjen said. "I came out and I was watching Trever and I was hyped up, and then I came out a little slow and a little flat. I didn't wrestle my best match, but hopefully my best match will be Saturday night."
Rathjen had rolled to a 20-9 major decision over Jordan to win a district title last weekend.
"It's a long day down here when you wrestle at 9 in the morning (in the quarterfinals)," Wignall said. "It really doesn't pay to go back to Ankeny so we stayed down here, but it does kind of suck your energy out. I think that happened to Caleb a little bit, and he was a little conservative. But it's important to get to the finals so now he can let it fly."
Rathjen will meet No. 2 Nick Oldham of Valley (33-3) in a rematch of last year's 113-pound title match, which was won by Oldham. Since then, Rathjen has won all four meetings against the Ohio State recruit.
"We wrestled once in freestyle and three times now this year, and he hasn't been able to get a takedown on me in those four matchups," Rathjen said. "I've got to be confident and go out there and wrestle my match and get to my attacks. If I do that, I think I'll be good."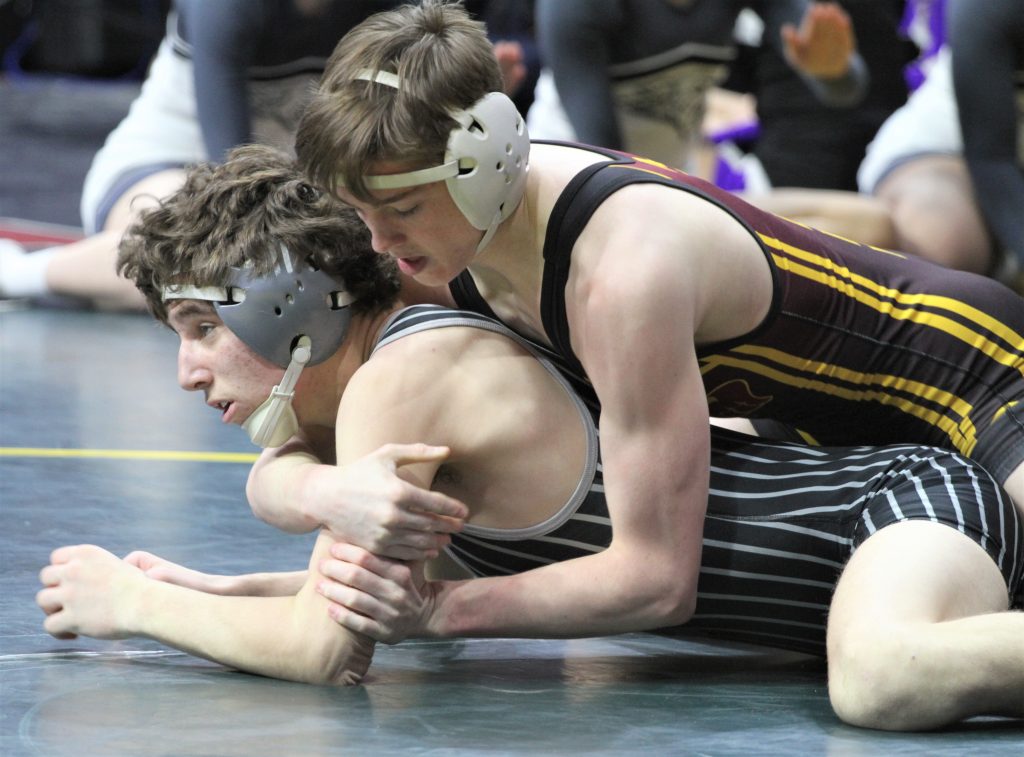 Rathjen earlier defeated Ankeny Centennial's Noah Blubaugh for the second time this season in the quarterfinals. He recorded a 20-5 technical fall in 4 minutes 37 seconds.
"I was pretty confident. I knew I could get to my attacks," Rathjen said. "I've wrestled with Noah for awhile–we came up in the club together so I know him pretty well. It kind of sucks wrestling him, but you've got to wrestle whoever they put out there."
Anderson, meanwhile, posted a 10-0 major decision over No. 7 Ryder Downey of Indianola. He did not allow a point in his first two matches at the tournament.
Ankeny is in 10th place with 51.5 points heading into Saturday's consolation rounds. The seventh-ranked Hawks could earn their first top-10 finish since the split into two high schools.
"I'm very, very happy," Wignall said. "The kids wrestled great today."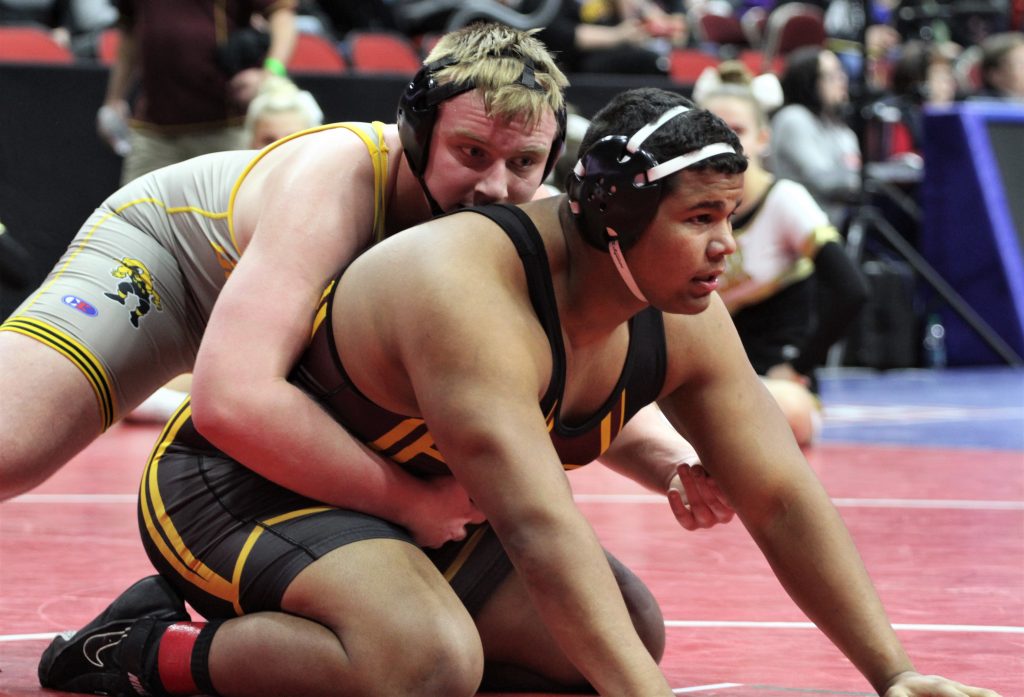 Ankeny junior Sam Kallem will also be a placewinner at 132. The seventh-ranked Kallem assured himself of a top-eight finish with a 10-5 decision over Rylan Hughbanks of Bettendorf in a second-round consolation match on Friday morning.
Kallem (33-13) was later pinned by No. 2 Conrad Braswell of Cedar Rapids Prairie in 4:16 in a third-round consolation match. He will wrestle No. 8 Christian Stanek of Cedar Rapids Xavier (33-11) for seventh place on Saturday.
Ankeny heavyweight Romello Gray was eliminated from the tournament after losing twice on Friday. The eighth-ranked Gray was pinned by No. 3 Andrew Snyder of Waverly-Shell Rock in 2:49 in the quarterfinals, then dropped a 3-2 decision to Danen Settles of Fort Madison in the blood round.
Fellow senior Derek Anderson also saw his high school career come to an end on Friday morning. He dropped a 6-2 decision to No. 5 Nathan Marchand of Southeast Polk in the blood round.
Anderson finished the season with a 17-11 record, while Gray finished with a 26-13 mark.