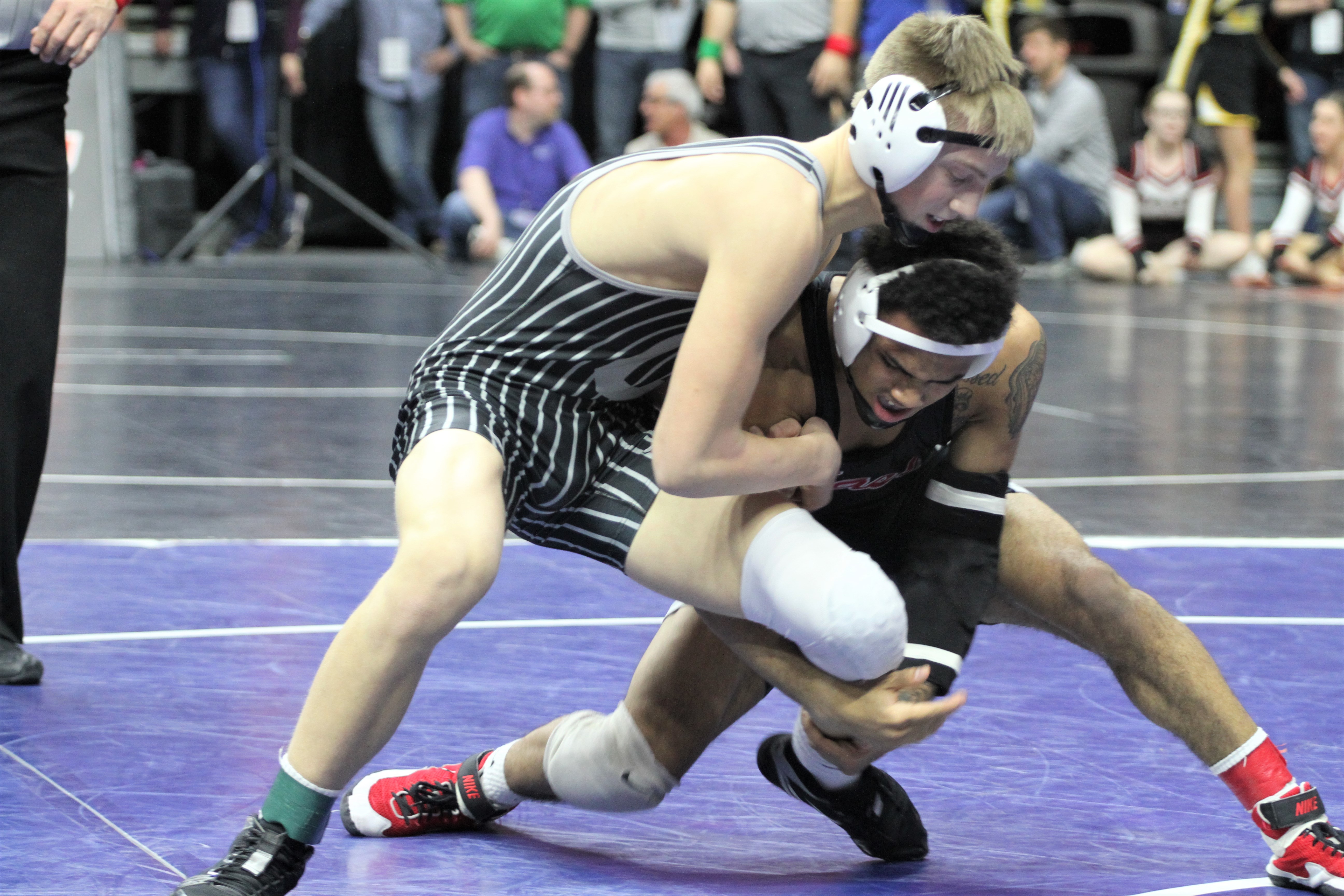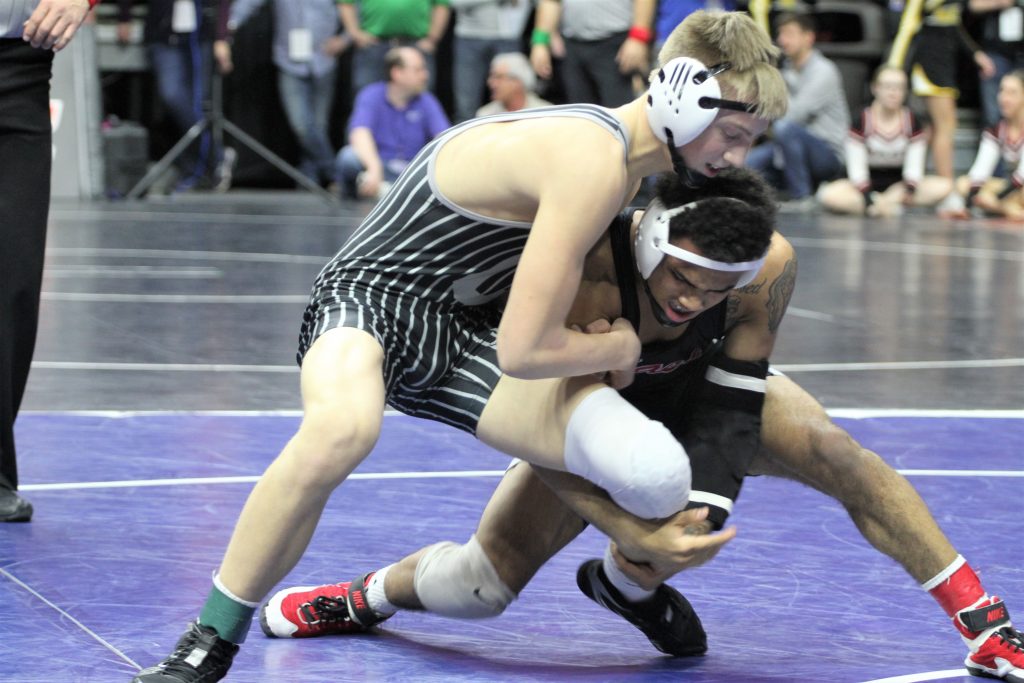 Ben Monroe has waited 365 days for another opportunity to win a state wrestling title.
Two of his Ankeny Centennial teammates, Eric Owens and Logan Neils, had their own championship aspirations.
Now, the trio will get their chance on Saturday night at Wells Fargo Arena. All three of them won semifinal matches on Friday afternoon to advance to the Class 3A finals.
"We had a great round in the semis," said Centennial coach Jay Groth, who has been named the Class 3A coach of the year. "It was a good day."
Fifth-ranked Centennial is on its way to the best finish in school history. The Jaguars are in fourth place with 78 points heading into Saturday's consolation rounds.
"Everyone should be placing higher (than their seed) in this tournament," said Owens. "Groth has been really encouraging us this whole time. It feels great."
The fifth-ranked Owens will finish above his seed after knocking off No. 1 Deville Dentis of Des Moines East at 145 pounds. The senior got a takedown and a three-point near-fall in the final 30 seconds to post a 7-4 decision.
Dentis, a state runner-up last year at 138, entered the match with a 7-0 record.
"He's really physical but he hasn't wrestled much, so I knew I just had to keep the pace going," said Owens, who improved his mark to 37-4. "He felt tired when I was wrestling him at the end. I knew I had to get on my feet and try to go for a big move. That's what I needed."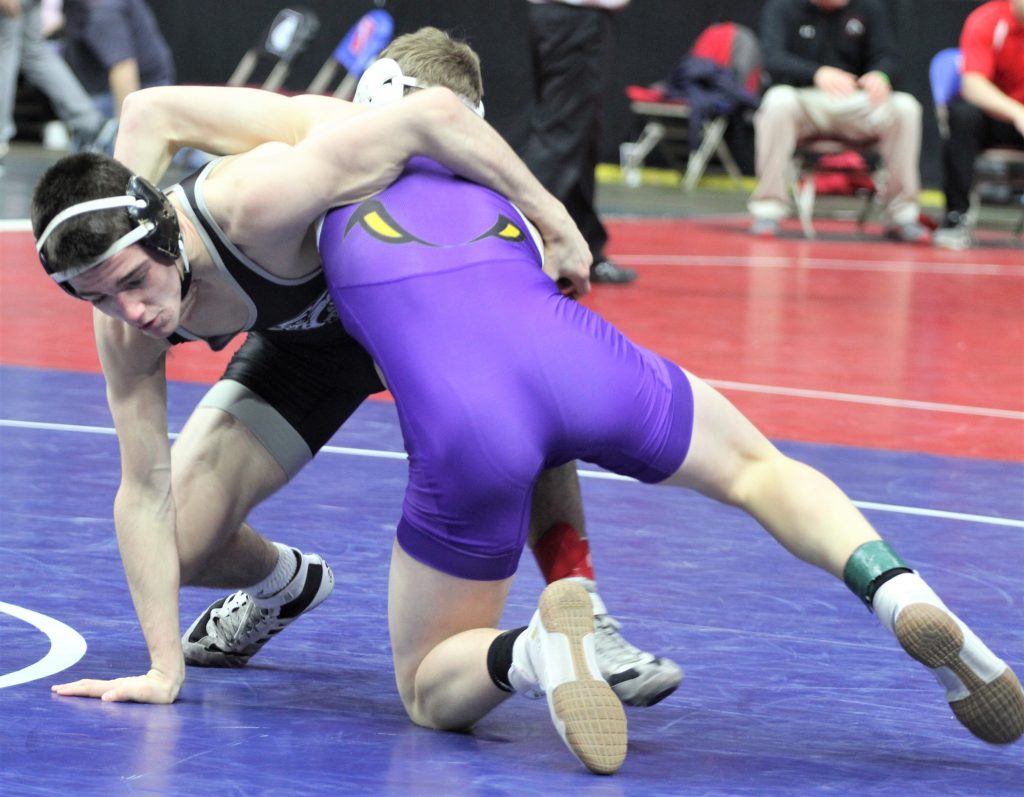 The top-ranked Monroe earned his third straight trip to the finals with an 11-7 decision over No. 5 Caleb Helgeson of Johnston at 132. The workout partners had split a pair of two-point matches this season.
After Helgeson got an escape in the third period to tie the match at 4-4, Monroe dominated the rest of the way. The junior raised his record to 40-1.
"My coaches were screaming to go after him, so I figured I'd better keep the pace going," Monroe said. "I knew I had to move my feet more. The last couple times I wrestled him I was too slow, and this time I fixed that. But he's a great competitor, and I hope he goes and gets third (place on Saturday)."
The second-ranked Neils later cruised into the finals with an 11-4 decision over No. 8 Ashton Barker of Iowa City Liberty at 170. The junior is now 38-2 on the season.
"It feels real good, especially after being here last year and losing the semifinal match," Neils said.
Centennial had one other semifinalist in senior Nic Leo at 182. The fourth-ranked Leo dropped a 9-4 decision to No. 1 Jacob Wempen of Linn-Mar (Marion).
"Nic closed the gap on Wempen," Groth said. "I know he's going to go out on Saturday and kick some butt in the consolations. I'm excited about that, too."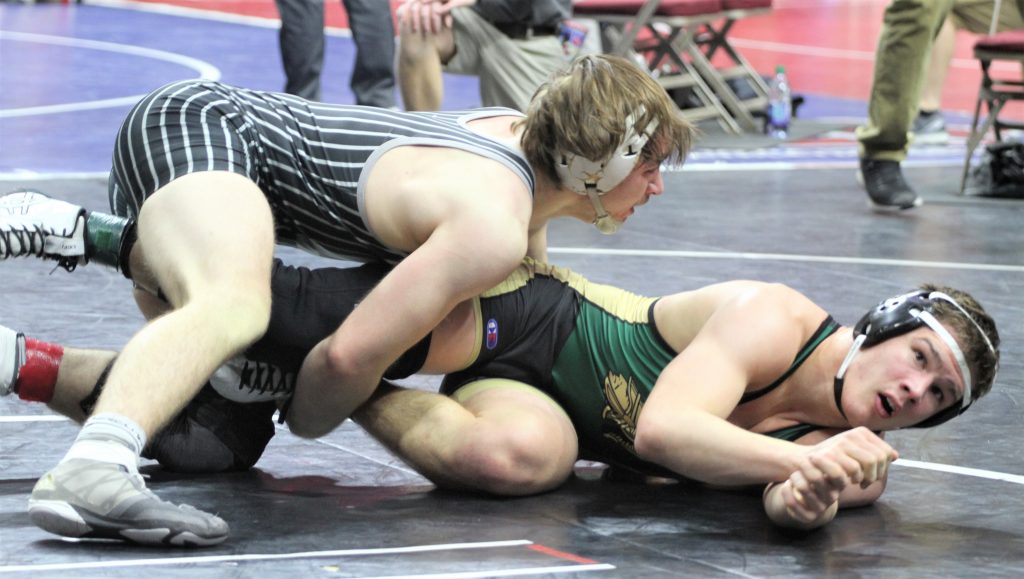 Leo had earlier defeated No. 7 Will Hoeft of Iowa City West, 7-5, in overtime in the quarterfinals on Friday morning. He got the winning takedown early in the extra period.
"I definitely thought (I had something left)," said Leo, whose record is now 36-4. "We worked for that all season. We practiced overtime, so I was ready to go."
Groth said he wasn't worried when the match went to overtime.
"Nic's been wrestling tough all year," he said. "It was a tough situation with a lot of pressure, but I think last year's experience for him helped a lot. He was in the blood round on the back side last year and was winning and got headlocked a couple of times and ended up losing by a point, and I think in the back of his mind there he said, 'I'm not going to let that happen again.' And he went out and got the job done."
Monroe posted a 13-5 major decision over Rylan Hughbanks of Bettendorf in the quarterfinals. Neils posted a 10-2 major decision over Deveyon Montgomery of Southeast Polk.
"I hadn't wrestled him before, and I hadn't really paid much attention to him," Neils said. "But we watched him and we knew he came out like a shot, hit his doubles and backed up, so we wanted to stalk him and stay in good position and get him called for stalling like we did."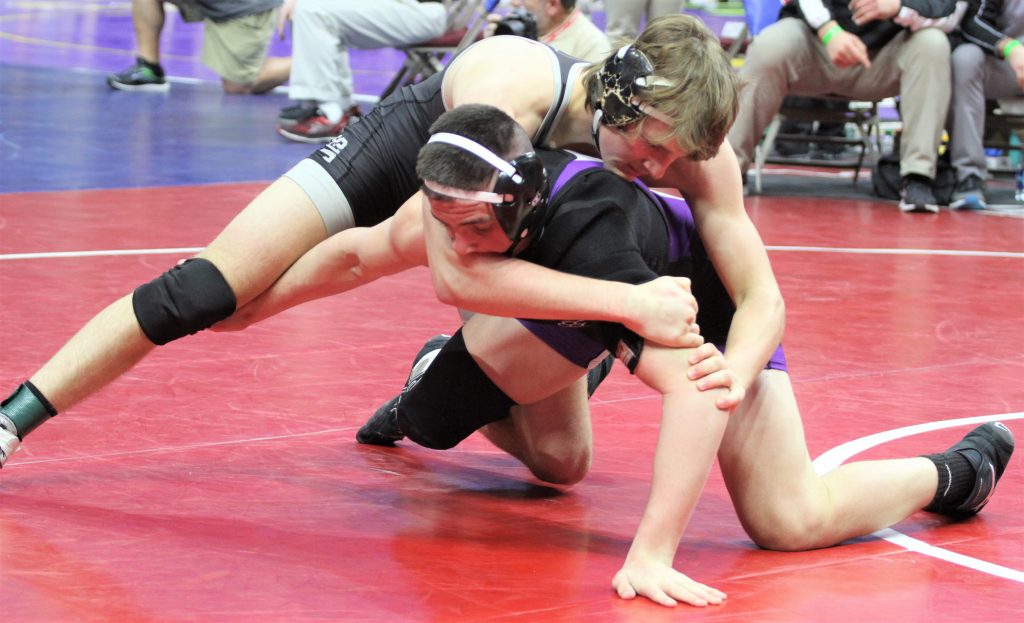 Owens advanced to the semifinals with a 3-1 decision over No. 7 Andrew Rohret of Clear Creek-Amana. It was their second meeting of the season.
"I wrestled him at Linn-Mar and had an OT match," Owens said. "I threw him out of bounds a couple of times so I knew I needed to throw him inbounds. I got that headlock, and I knew I just needed one takedown because our last match was 1-1 going to OT."
The Jaguars will have two other placewinners in Jackson Bresson at 113 and Noah Blubaugh at 126. Bresson posted a 10-8 decision over No. 9 Dawson Biermann of Western Dubuque in the blood round on Friday morning, while Blubaugh bounced back from a quarterfinal loss to No. 1 Caleb Rathjen of Ankeny with a fall over Carter Smith of Waukee in 5:34.
Blubaugh (30-12) will wrestle Carson Murray of Dowling Catholic (29-14) for seventh place on Saturday. Bresson (30-14) will meet No. 6 Grant Harbour of Norwalk (36-6) for seventh, and Leo will face No. 5 Matthew Scott of Des Moines East (36-5) in a consolation semifinal.
On Saturday night, Monroe will meet No. 4 Joe Pins of Dubuque Hempstead (34-3) in the first of Centennial's three championship matches. Monroe was a runner-up in each of the last two years.
"I'm confident he's going to go out there and dominate and get his first title," Groth said.
Owens will face No. 2 Collin Lewis of North Scott (45-2). Lewis is coming off a 7-0 victory over No. 3 Caleb Corbin of Valley, who defeated Owens to win a CIML title last month.
"I have to prepare well for him," Owens said. "He's pretty big for a 45-pounder, and he's lengthy like me. It'll be a tough one."
Neils will meet No. 1 Anthony Zach of Waukee (45-3). He will try to avenge a loss to Zach in the finals of the CIML tournament.
"I lost 5-0 last time, and that's one move," Neils said. "The key is to keep my feet moving. Last time he caught me standing still a few times and got some takedowns. I've just got to turn those around."