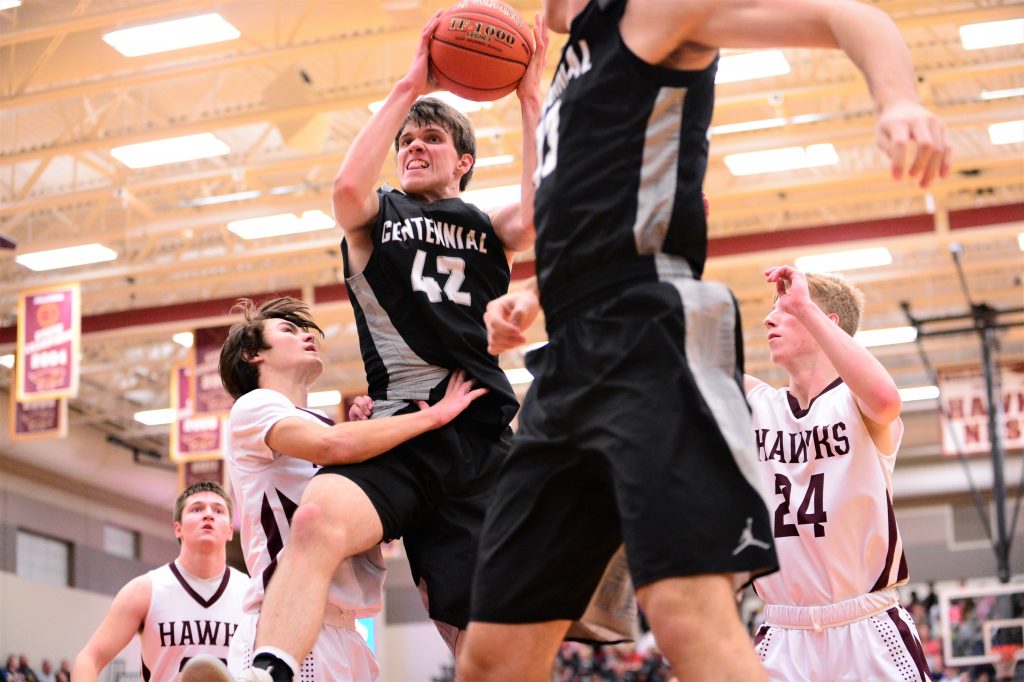 When the boys' Class 4A postseason basketball tournaments get under way this week, Ankeny Centennial could be a dangerous opponent in Substate 8.
The Jaguars closed out the regular season on Friday with a 56-51 victory at Des Moines Lincoln. They will enter the postseason with an 8-12 record, but are now riding a four-game winning streak.
The latest triumph came against a Lincoln squad that had posted a 57-55 victory at Dowling Catholic on Tuesday.
"That's a much-improved Lincoln team–probably the best Lincoln team since 2008," said Centennial coach Bob Fontana. "I went and watched them at Dowling and they had 10 3-pointers and ended up winning."
The Railsplitters also had 10 3-point goals in Friday's game, but it wasn't enough. They dropped to 10-11 on the season.
"One of their kids who had only made three 3s all year had four against us and banked two of them in," Fontana said. "So I thought maybe it was going to be their night."
Lincoln held a 39-35 lead after three quarters. Centennial then outscored the Railsplitters, 21-12, in the final period.
The Jaguars led by one point when three technical fouls were called, two of them on Lincoln, with 2 minutes 40 seconds left.
"We got a rebound and were coming down the floor and the whistle blew," Fontana said. "They 'T'd' their bench and then their coach got 'T'd' again but they didn't throw him out. One of our guys was standing at halfcourt just clapping, and another ref came in and said that we have a technical against our guy for taunting. So anyway, we shot four free throws and they shot two. That was big, because we got two extra points and the ball."
Cody McCullough made all four free throws for Centennial. He went 11-for-13 at the line and finished with 19 points and six rebounds.
The Jaguars enjoyed a huge advantage at the charity stripe. They made 20-of-29 free throws, while Lincoln went just 3-for-4.
Micah Johnson had 12 points, seven rebounds and two blocks in the win. Lathan Brandt had 11 points, five assists and three steals, while Brady Petersen added eight points and five rebounds.
Centennial also got six points from Preston Kelling, who returned to the court for the first time since being diagnosed with a fractured tailbone a week ago.
"He was a little rusty, but it was good to get him out there before the tournament," Fontana said.
The Jaguars will host a substate quarterfinal against Fort Dodge on Monday.