The Ankeny Centennial wrestlers are still in contention for a team trophy following Saturday's consolation rounds in the Class 3A state tournament at Wells Fargo Arena.
The Jaguars got a third-place finish from Nic Leo at 182 pounds, while Noah Blubaugh took seventh at 126. Jackson Bresson added an eighth-place finish at 113.
"I'm very proud of how our team did at the state duals and the individual tournament," said Blubaugh.
The fourth-ranked Leo bounced back from a 9-4 semifinal loss to No. 1 Jacob Wempen of Linn-Mar (Marion) to win the last two matches of his high school career. He posted a 10-7 decision over No. 5 Matthew Scott of Des Moines East in a consolation semifinal, then followed with an 8-4 victory over No. 3 Brett Mower of Glenwood in the third-place match.
"I was really hard on myself (Friday) night, but I knew I just gave the No. 1 wrestler in the state one of his closest matches of the year," said Leo, who finished with a 38-4 record. "I also knew nobody else deserved third more than I did, and I wasn't going to settle for anything less than that."
Blubaugh also ended his career with a victory. He posted an 8-1 decision over Carson Murray of Dowling Catholic to finish the season at 31-12.
"I had a pretty good week," Blubaugh said. "It was really nice to get revenge on a couple kids who beat me earlier in the season and it feels good to finally get a medal, but the goal was to finish higher."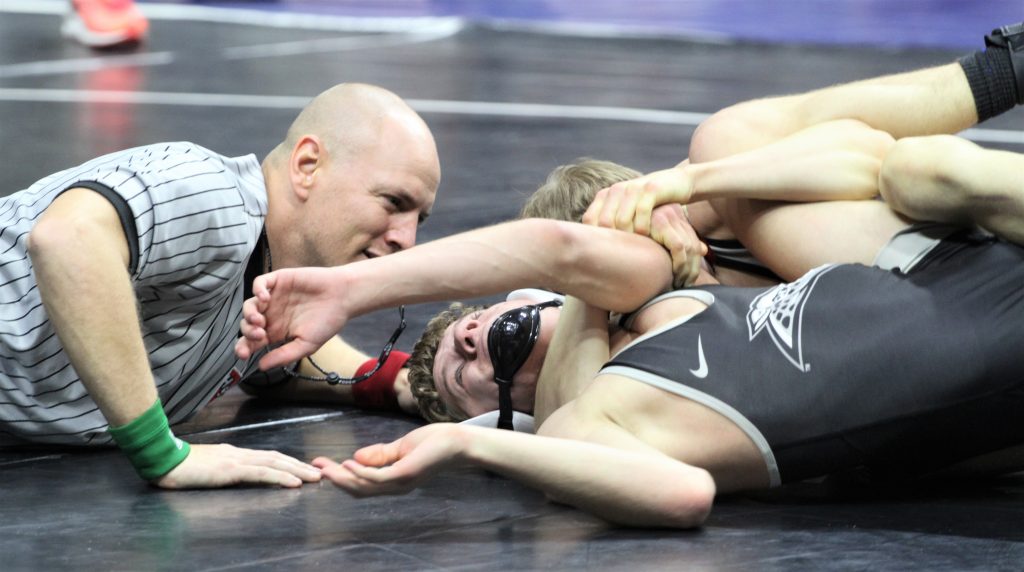 Bresson, a junior, was pinned by No. 6 Grant Harbour of Norwalk in 1 minute 53 seconds in the seventh-place match. He finished the season with a 30-15 record.
No. 5 Centennial is currently in fourth place with 86 points. The Jaguars trail third-place Fort Dodge, the defending champion, by 9.5 points.
Centennial has three finalists in Ben Monroe at 132, Eric Owens at 145 and Logan Neils at 170. Fort Dodge has a pair of finalists–Drake Ayala at 113 and Carson Taylor at 120.
No. 2 Waverly-Shell Rock has already clinched the Class 3A title with 153 points. No. 1 Southeast Polk is in second with 110.