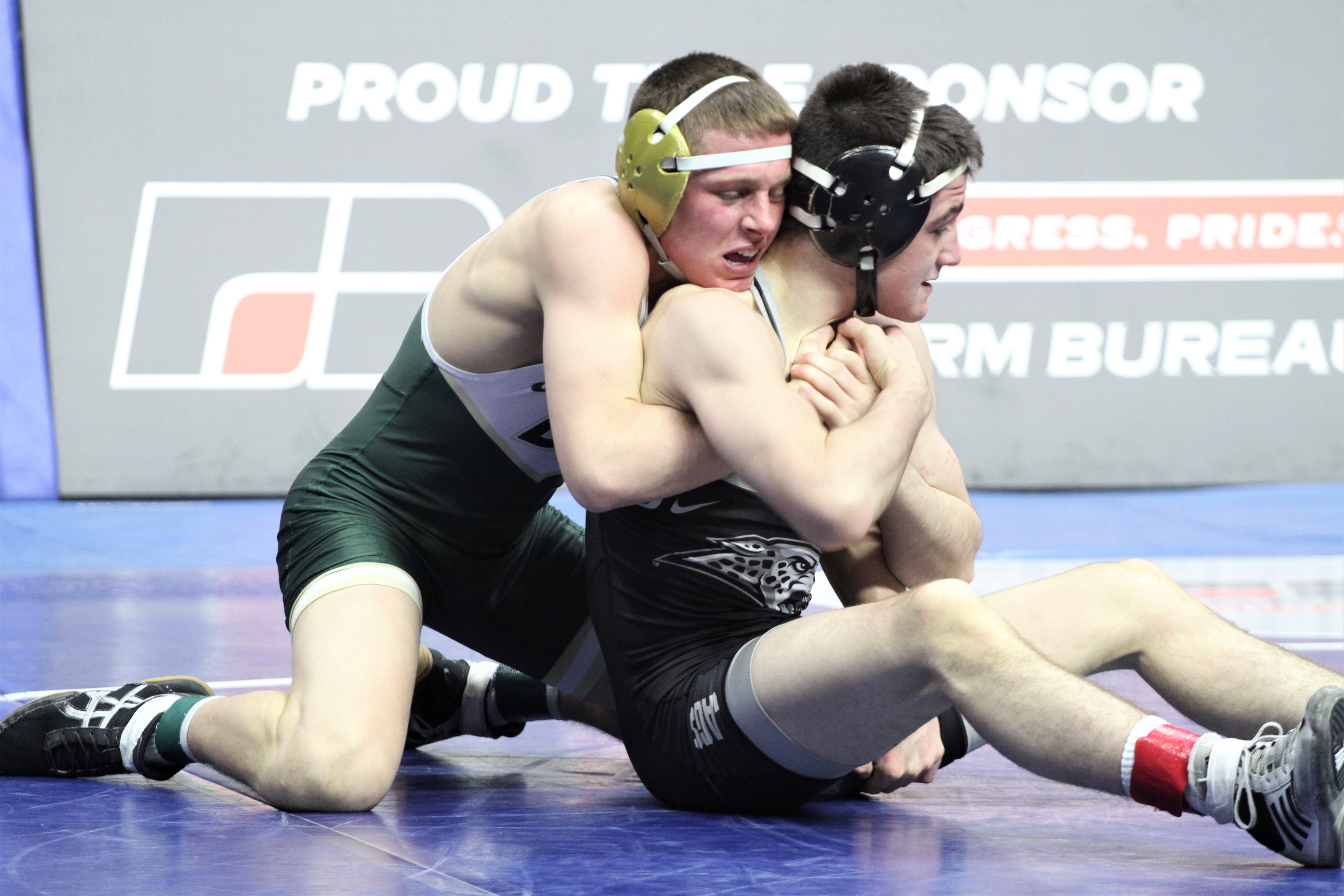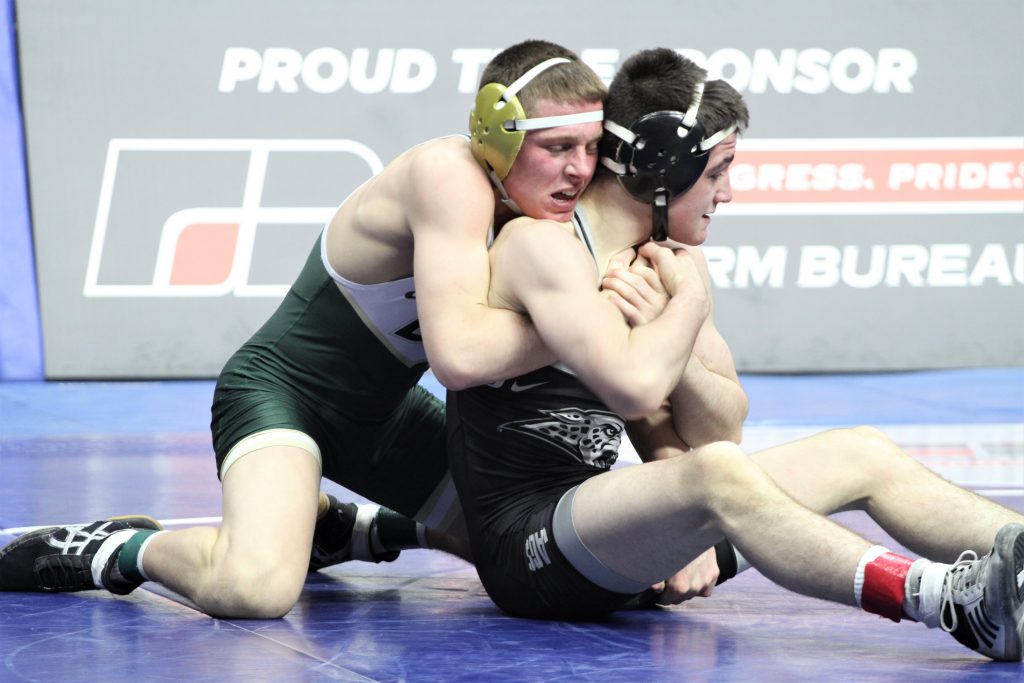 For three days, the Ankeny Centennial wrestlers put themselves in position to capture a team trophy at the Class 3A state tournament in Des Moines.
Centennial coach Jay Groth was also confident that the Jaguars would win multiple individual championships, especially after his team advanced three wrestlers into Saturday night's finals at Wells Fargo Arena.
Instead, Centennial will have to wait at least one more year to crown its first champion. The fifth-ranked Jaguars went 0-3 in the finals and finished fourth overall with 86 points, but it was still the best finish in school history.
"The whole week went pretty well until tonight," Groth said after the finals. "It's kind of a rough pill to swallow. Things had been going so well up to this point, but still I'm very proud of what these guys did this season. It's been a great year."
Placing second for the Jaguars were top-ranked Ben Monroe at 132 pounds, No. 5 Eric Owens at 145 and No. 2 Logan Neils at 170. Monroe, a junior, became a state runner-up for the third consecutive year.
No. 4 Joe Pins of Dubuque Hempstead got a takedown in the first period and went on to post a 4-2 decision over Monroe, who was ridden out in the third period. Monroe finished with a 40-3 record–and all three losses came in the last two weeks of the season.
"It's super frustrating for Ben and for us. He just got outwrestled tonight," Groth said. "We've got one more year to figure out how to solve this puzzle and get him that title that he definitely deserves."
Monroe's previous championship losses came to Cullan Schriever of Mason City and Kyle Biscoglia of Waukee. That duo has combined to win five state titles.
This year, the Centennial star entered the tournament as the favorite, and Monroe appeared to be on his way to the title after posting an 11-7 victory over No. 5 Caleb Helgeson of Johnston in Friday's semifinals. That win avenged one of his three losses.
"I think Ben just puts a lot of pressure on himself," Groth said. "He knew in the last two years that it was going to be tough to beat either one of those guys (Schriever or Biscoglia), but as we got near the end of this season Ben was the clear, expected favorite to win and he started putting all that pressure on himself and got in his own head a little bit. But I have faith that he's going to do all the right things to make it happen next year."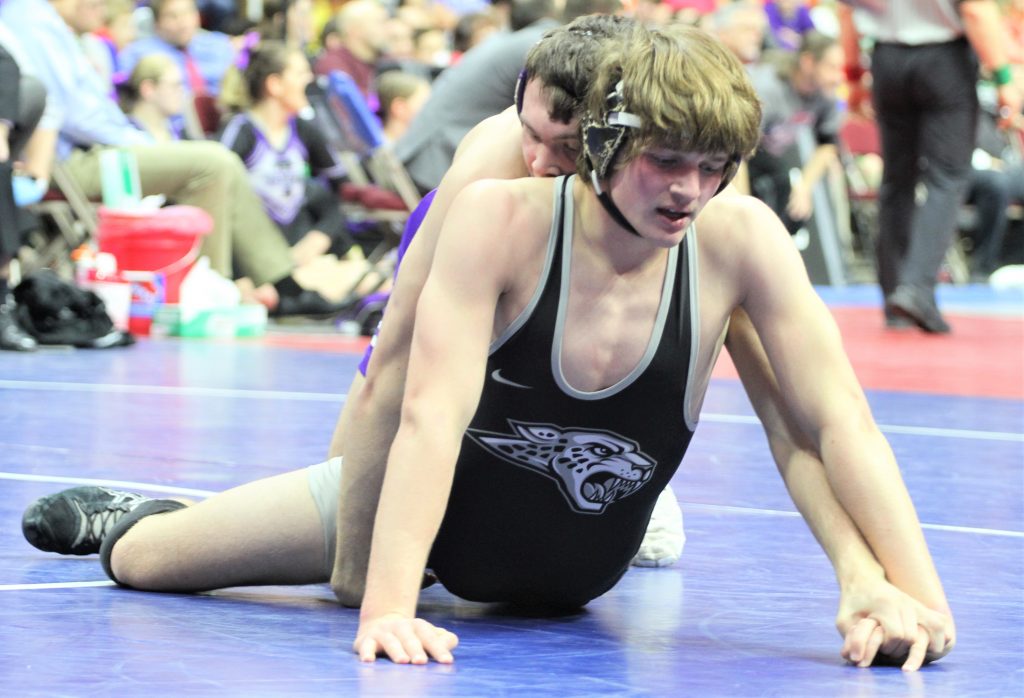 Both Owens and Neils became two-time placewinners for the Jaguars. Neils, who placed fourth at 160 a year ago, dropped a 7-0 decision to No. 1 Anthony Zach of Waukee.
Zach also posted a 5-0 victory over the Centennial junior to win a CIML title last month.
"He's really tough," said Neils, who finished with a 38-3 record. "We knew he was going to hit that lefthanded single–he hit it twice on us. He's the real deal."
Neils had won his first three matches at the tournament by a combined margin of 28-7. But he didn't have any answers for Zach.
"Logan said (Zach) got his hands on him, and he just couldn't get out of that grip," Groth said. "He's long and lanky like Logan, so he was able to neutralize some of the things that Logan is usually able to do with his length and his leverage."
Neils said he wants to get to the top of the awards podium in 2020.
"The goal was first to get to the finals and then win it," he said. "I just came up a step short, but I can't complain. I've got next year to come back."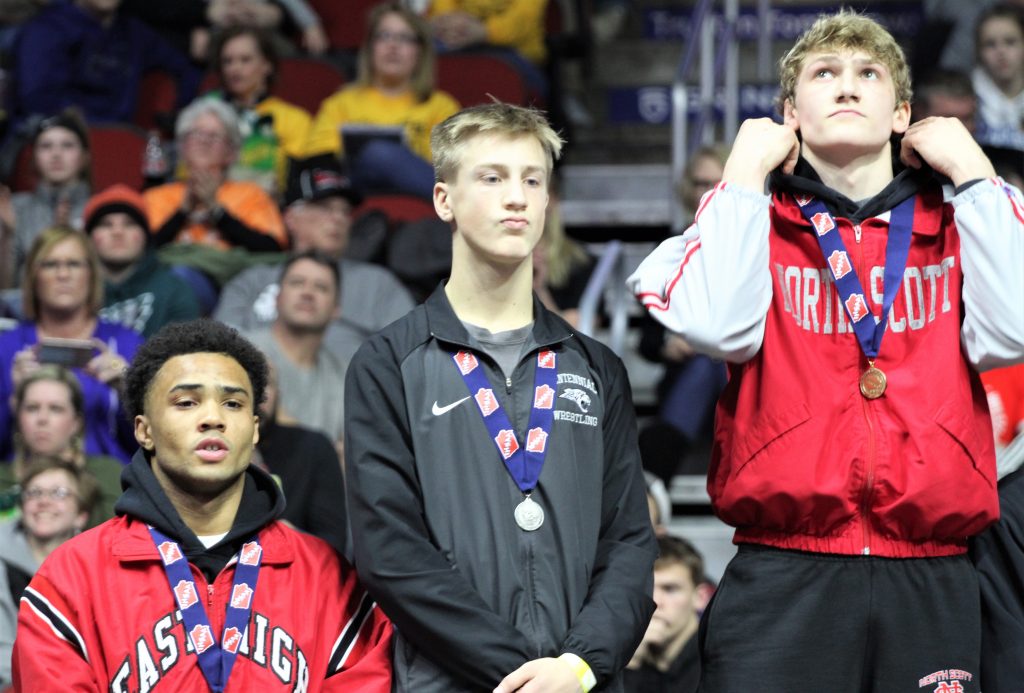 Owens, meanwhile, ended his high school career by placing for the second time in three years. He took sixth as a sophomore at 113.
After knocking off No. 1 Deville Dentis of Des Moines East in the semifinals, Owens was pinned by No. 2 Collin Lewis of North Scott in 3 minutes 41 seconds. He finished with a 37-5 record.
"I'm happy that I got top four in the state, but I wanted to be No. 1," Owens said. "But I'm happy overall with my career."
Owens built a 6-2 lead in the first period after throwing Lewis onto his back. But he wasn't able to get the fall.
"I needed to get lower," Owens said. "I was a little too high, and he was able to adjust. He's a really good wrestler."
In the second period, Lewis turned Owens onto his back and eventually got the pin.
"That kid is strong, but Eric got a nice headlock in that first period," Groth said. "I would have liked to see us get back to our feet again and see if we could get another throw, because Eric has some great throws."
No. 2 Waverly-Shell Rock claimed the Class 3A title with 157 points. No. 1 Southeast Polk was second with 123, followed by No. 9 Fort Dodge with 105.
Groth and his assistants were named the coaching staff of the year after guiding the Jaguars to a third-place finish in the state duals tournament on Wednesday and another strong showing in the traditional tournament.
"We had six medalists, so it was a lot of fun," Groth said. "And I've got great guys coaching with me, so I'm very happy with what we've got going on here."