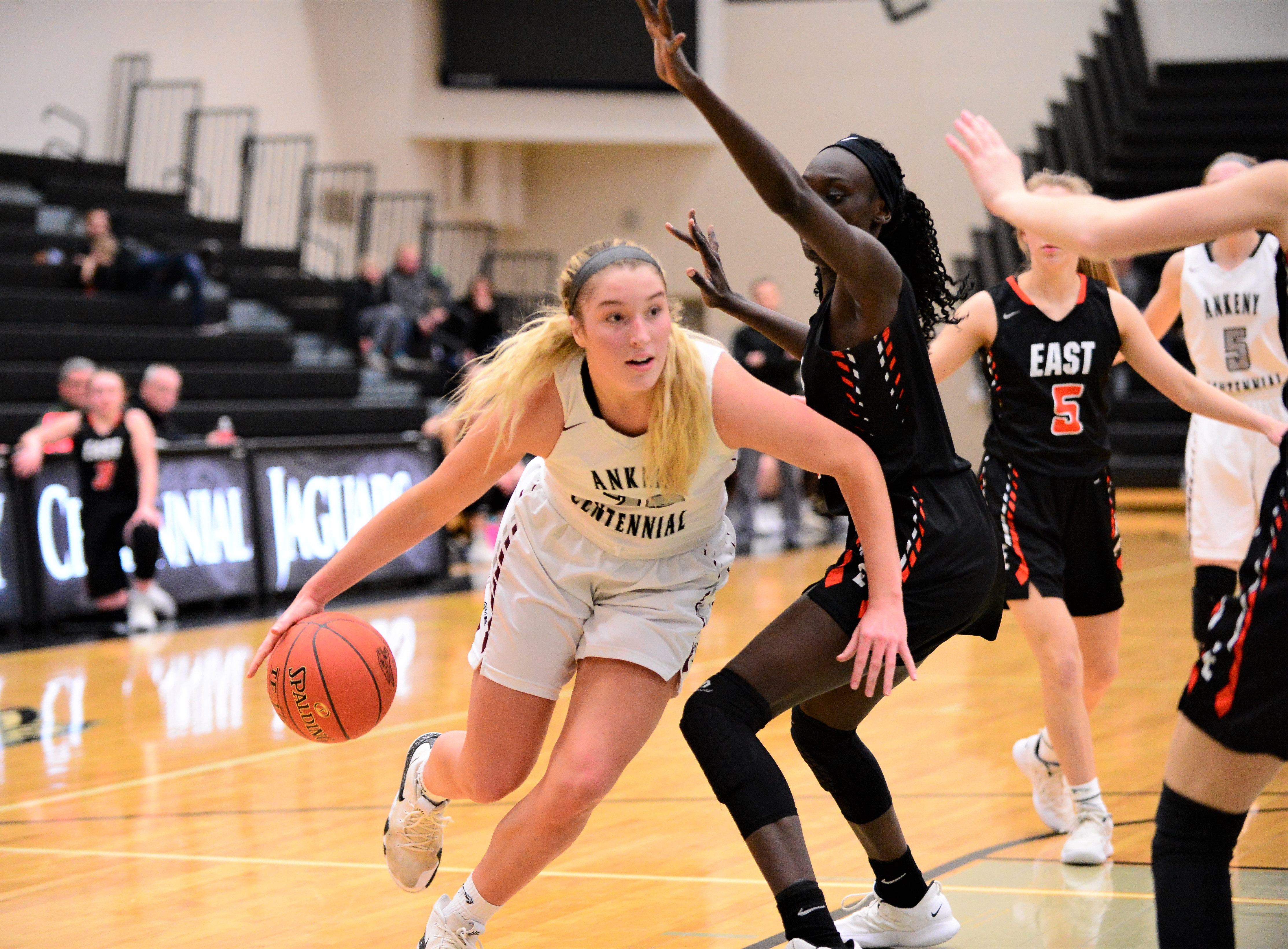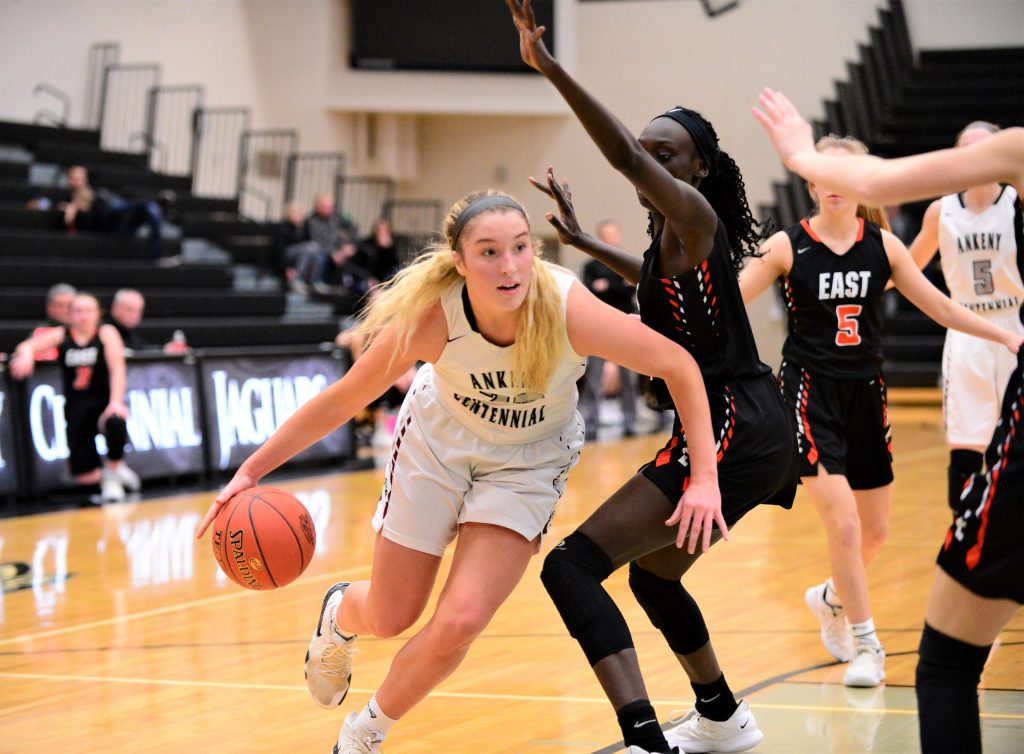 Kenna Sauer didn't want her basketball career to end on Saturday afternoon.
The Missouri volleyball recruit scored a season-high 22 points and grabbed eight rebounds to lead the Ankeny Centennial girls' team to a 50-31 victory over visiting Sioux City East in a Class 5A regional semifinal. She also had two steals and a block.
"We're not done yet," said Sauer. "We're halfway (to the state tournament), so that's exciting."
Sauer converted three traditional 3-point plays in the second half, accounting for nine of her 18 points in the final two quarters. She went 10-for-11 at the charity stripe.
Sauer entered the game as a 54 percent free-throw shooter.
"In the beginning of the season I didn't shoot free throws so well," Sauer said. "I've been working on them a lot in pressure situations, so it felt good to finally make them. My brother (Kaden) makes fun of me for not making them."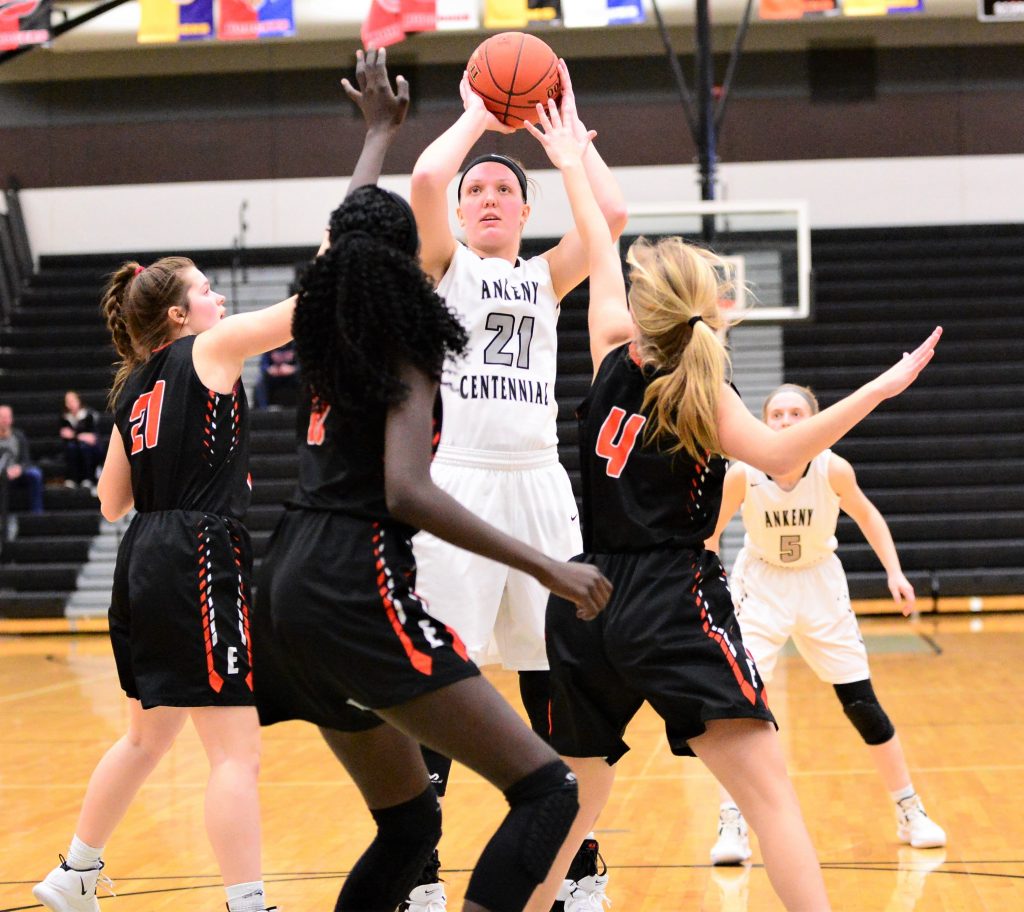 The 10th-ranked Jaguars overcame a slow start to raise their record to 14-7. They led by just 14-11 at halftime before pulling away.
"It wasn't pretty, but we feel good about it because of the second half," said Centennial coach Scott DeJong. "Our defense was consistent throughout the game–I thought we really got after them. We weren't able to slow it down any on offense, but I thought we did the second half."
Sauer scored nine consecutive points during one stretch of the third quarter. She went coast-to-coast for a layup with 2 minutes 55 seconds left in the period, then grabbed an offensive rebound on Centennial's next possession and turned it into an and-one.
"We need her leadership out there," DeJong said of Sauer. "She was determined, and Rachel (Schon) was, too. That will help lead us."
Schon scored seven quick points in the fourth quarter to extend the Jaguars' lead to 39-21. She finished with 14 points, five rebounds and two assists.
Sauer's final 3-point play came off a Schon assist with 4:18 remaining.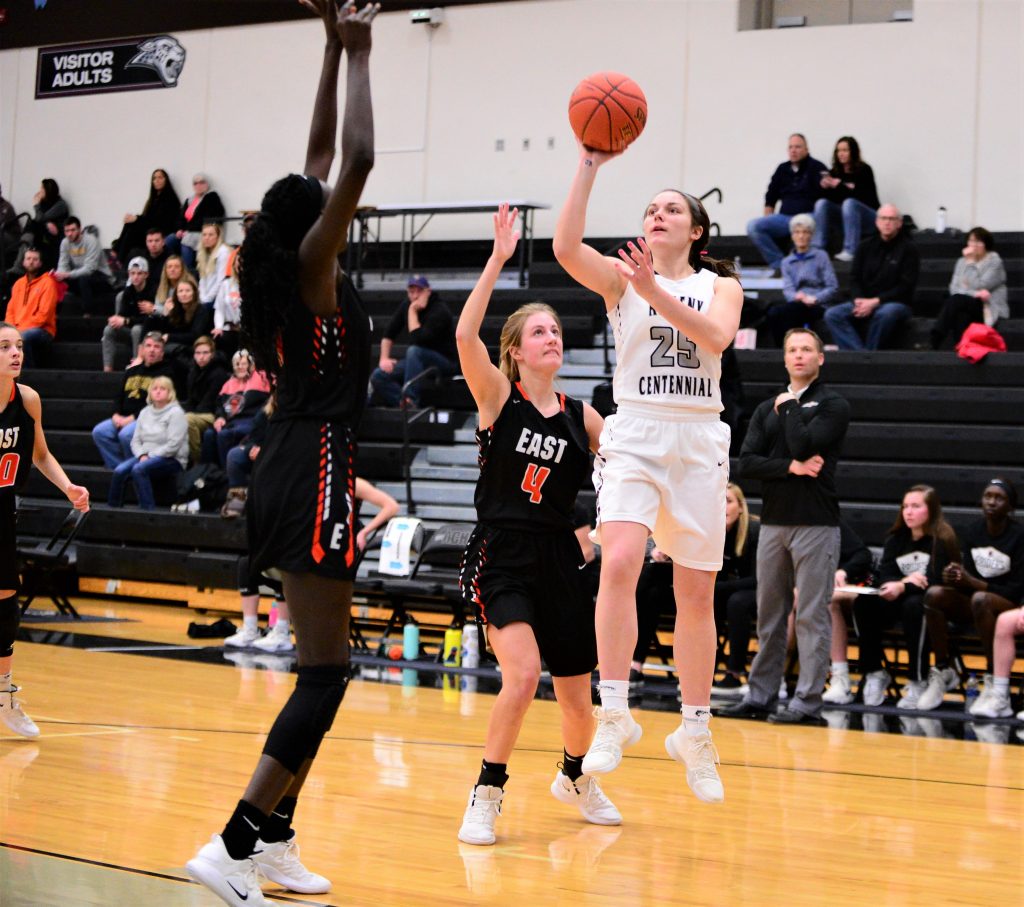 "Our defense was keeping us in it the first half," Sauer said. "Once we picked up the offense, that really helped a lot. We were all playing for each other. We know it's one and done now, so we really have to step it up."
Meg Burns added eight points for Centennial, including a pair of 3-point goals. The Jaguars built a 50-22 advantage before Sioux City East (14-9) scored the last nine points of the game.
The loss ended a five-game winning streak for the Black Raiders.
"Sioux City East isn't the best team, but what we saw on tape is that they play really hard and they're aggressive. They fly around," DeJong said. "They did a couple things we weren't quite prepared for and we didn't play great early, but we didn't get tight or frustrated. We just played better and better as the game went on."
Centennial will play at No. 7 Pleasant Valley (21-0) in the regional final on Tuesday.
"We're the underdogs and we really don't have anything to lose, so we're just going to go there and give it what we have," Sauer said. "We're going to practice really hard the next few days."