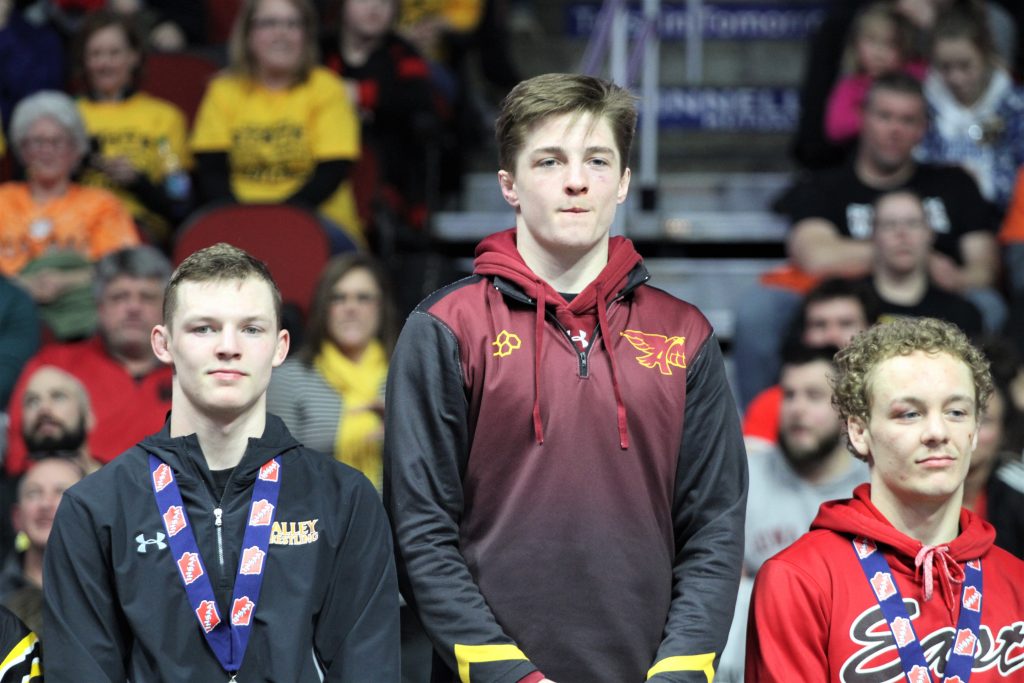 Ankeny wrestling coach Jack Wignall waited six years to crown his first individual state champion.
He only had to wait about 30 minutes for his second one.
Ankeny's top-ranked duo of Trever Anderson and Caleb Rathjen each won a title in the Class 3A state tournament on Saturday at Wells Fargo Arena, leading the Hawks to their best finish since the split into two high schools. Anderson won the 106-pound crown, then Rathjen followed three matches later by winning the 126-pound championship.
"It's undescribable really–undescribable," said Wignall. "You go six years–and this is the sixth year (that I've been the head coach)–and you struggle so hard, and then to get two (champs) in one night. This is just the tip of the iceberg."
Anderson, a freshman, got the ball rolling with a 7-0 decision over No. 5 Jace Rhodes of Mason City. He dominated Rhodes for the third time this season, recording a takedown in each of the three periods.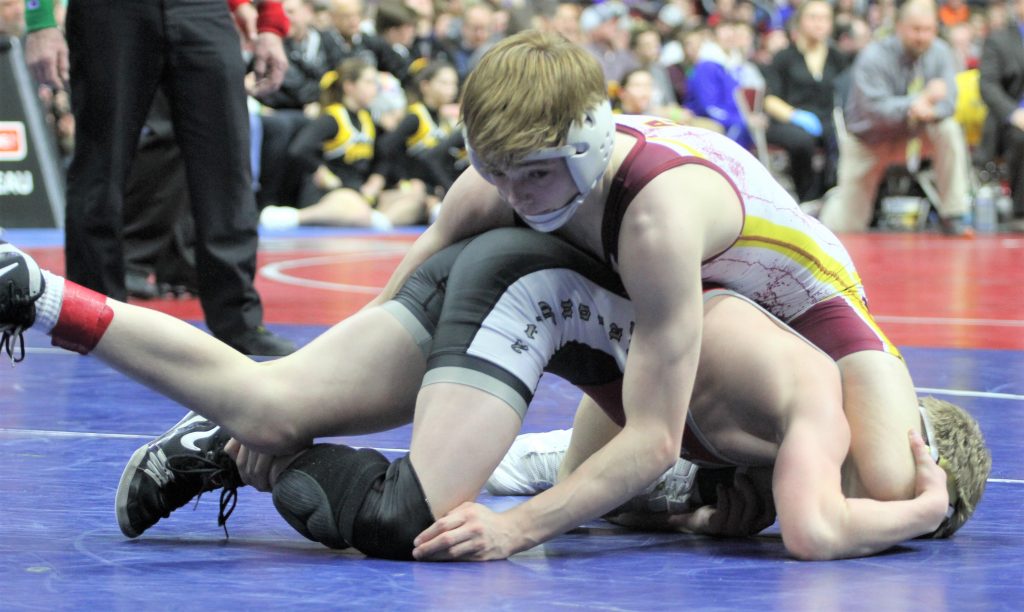 "I knew he was really good at getting the legs, so I was hoping to down block and hope to get to my shots, maybe get a front headlock and score a point and I did," Anderson said.
Anderson did not allow a point in three of his four matches at the state tournament. He outscored his opponents by a 39-6 margin.
Anderson finished the season with a 42-1 record. His only loss came to Class 2A champion Carter Fousek of Crestwood in the Cliff Keen Invitational on Dec. 1 at Independence, but he avenged that loss two weeks later at the Battle of Waterloo.
Now, Anderson is a state champion.
"It's more than I dreamed of," Anderson said. "It's unlike any feeling in the world knowing that I was the best and more right now."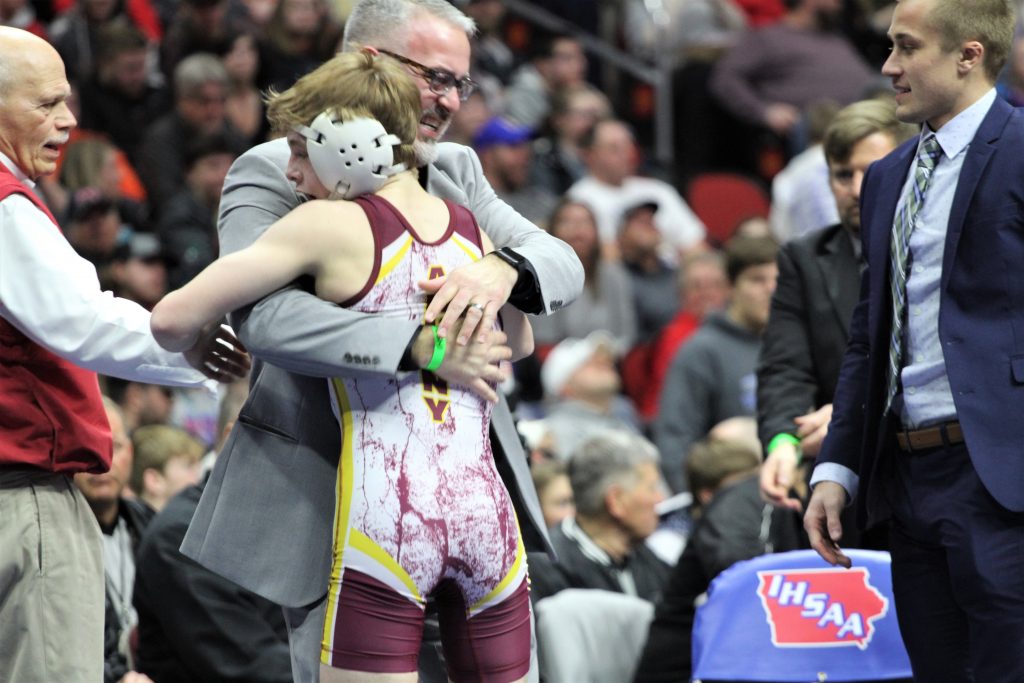 There have been 27 four-time state champions in the history of Iowa high school wrestling. Anderson now has a chance to join that elite fraternity.
"I was hoping I could maybe win it once, but now that's the goal," Anderson said. "I just have to keep working hard and improving every single day."
Rathjen, a sophomore, could become a three-time champion. He posted a 3-2 decision over No. 2 Nick Oldham of Valley, avenging a 10-8 loss in last year's 113-pound title match.
"I was really confident," Rathjen said. "But it's Saturday night at Wells Fargo Arena and the state finals. Anything can happen, so I was still a little nervous coming into that match. But I was confident. I knew I could do it."
Rathjen broke a 2-2 tie with an escape to open the third period. When time expired, Rathjen ripped off his headgear and slammed it onto the mat, then received a bear hug from assistant coach Derrick Huber.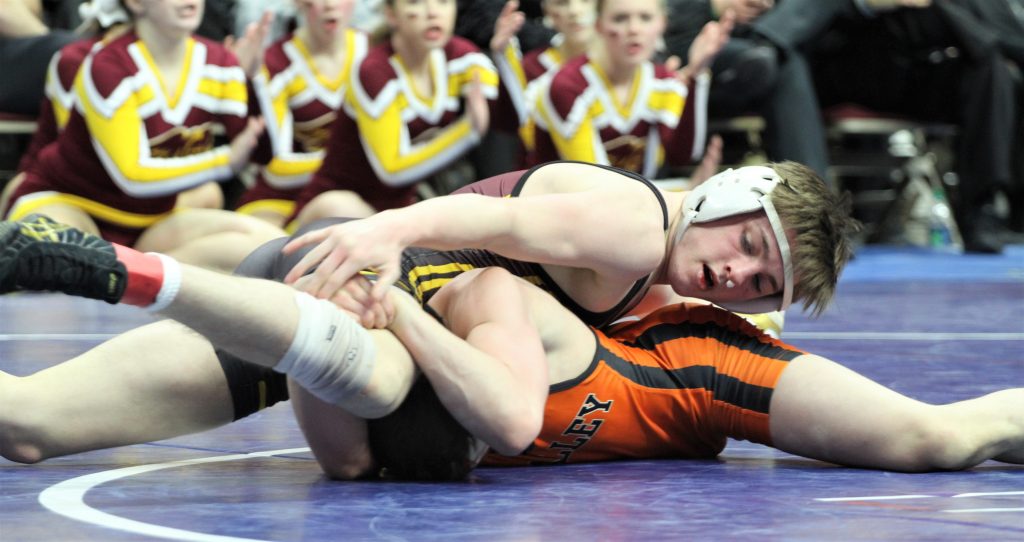 "It feels even better (than I thought it would)," Rathjen said. "I didn't think I'd celebrate because I'd beaten (Oldham) three times (this season). But the emotions were running through me. I don't know, it was awesome."
Rathjen finished with a 41-1 record. His only loss came to Lisbon star Cael Happel, who went 50-0 this season and won the Class 1A 132-pound title for his third state championship.
Rathjen and Anderson led Ankeny to an 11th-place finish in Class 3A. The Hawks scored 59.5 points.
It marked the first time since 2003 that Ankeny had a pair of champions in the same state tournament.
"They put in the work every single day–in season and out of season–and pull our other kids along," Wignall said of the duo. "They just get it done. That's what they do."