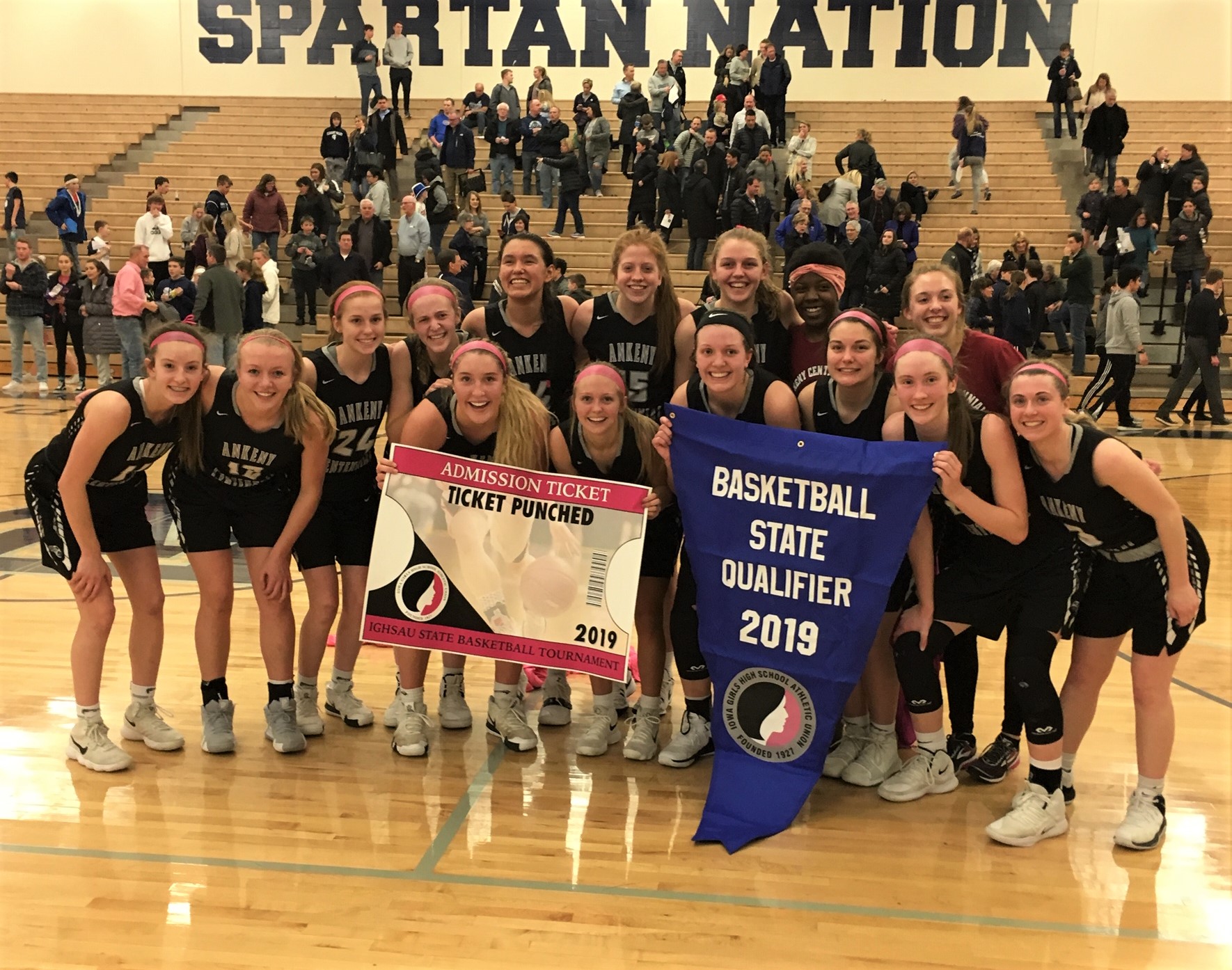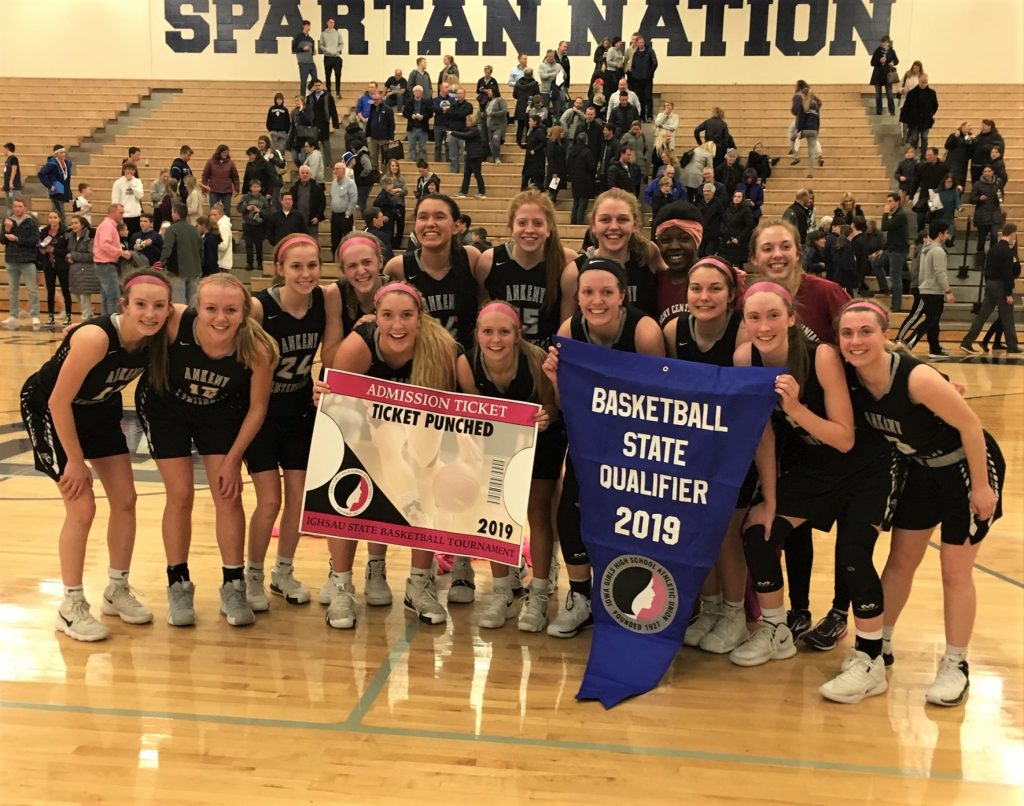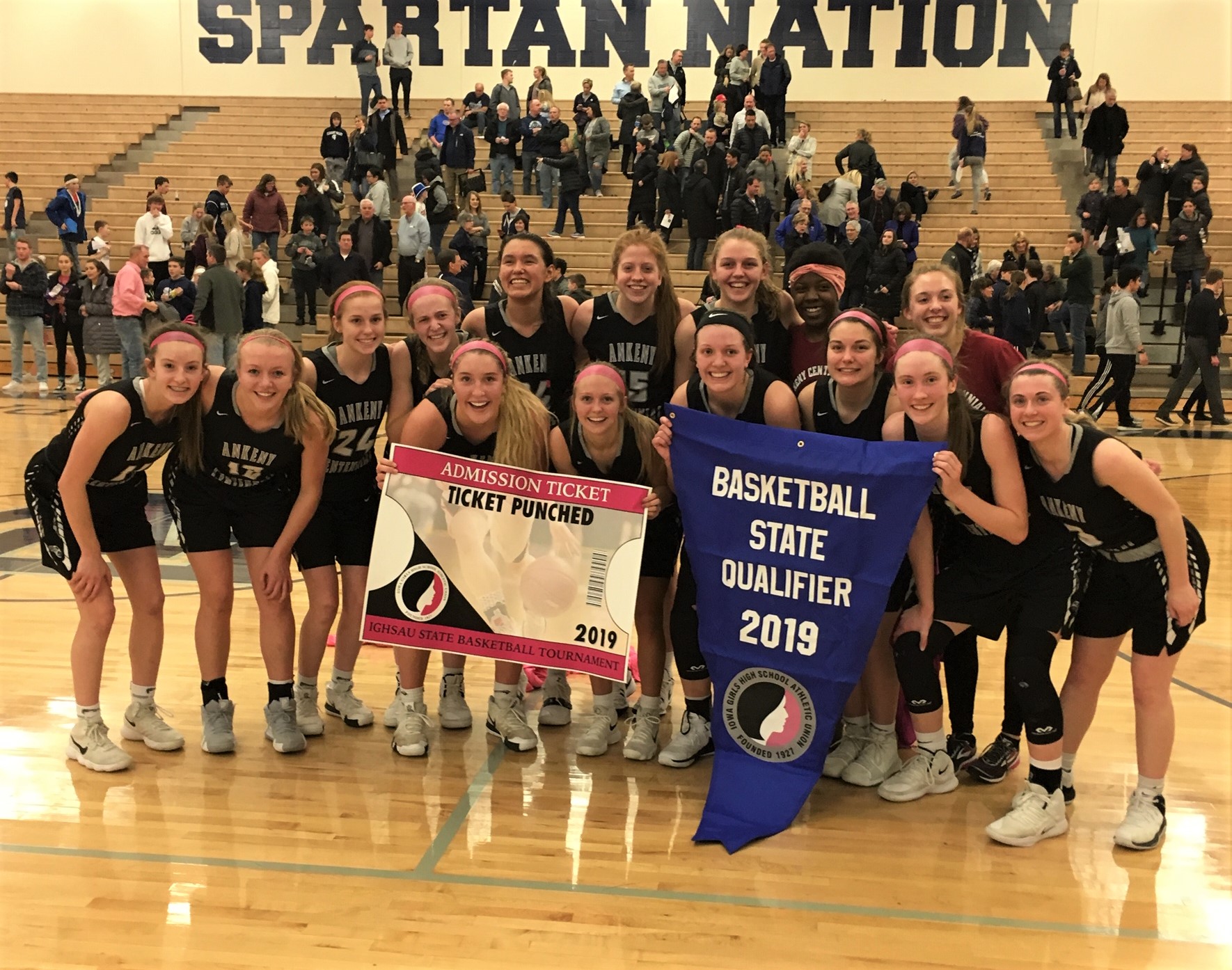 Wells Fargo Arena sits only about 10 miles away from the city of Ankeny.
To earn a chance to play there, however, the Ankeny Centennial girls' basketball team had to make its longest road trip ever.
The 10th-ranked Jaguars traveled to Pleasant Valley on Tuesday for a Class 5A regional final against the No. 7 Spartans, who entered the game with a 21-0 record that was built on the strength of the state's top defensive unit.
"Obviously, that's a big statement, going undefeated in 5A," said Centennial forward Kenna Sauer. "We were the underdogs–we didn't really have anything to lose."
The Jaguars found a way to score against Pleasant Valley's zone, relying on their superior size around the basket. Rachel Schon scored 19 points and grabbed 10 rebounds, Sauer added 13 points, and Centennial advanced to the state tournament for the first time since 2016 with a 46-36 victory.
"It just feels so awesome," said Centennial point guard Taylor Runchey. "It's what we've been working for all year, and I don't think we've ever wanted anything so bad."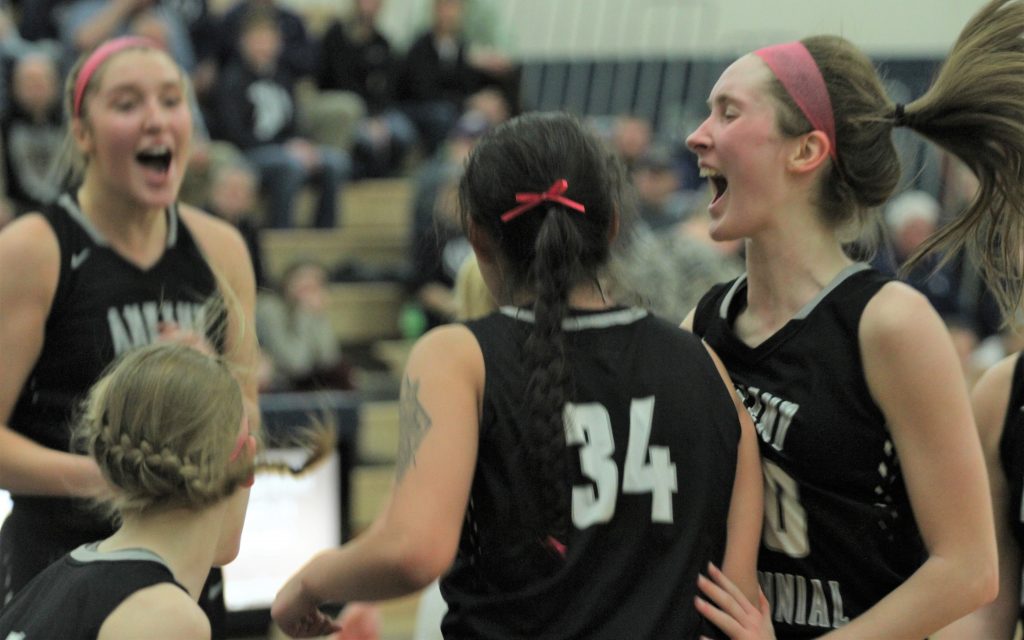 Centennial is one of seven teams from the CIML that qualified for the Class 5A tournament. The Jaguars (15-7) will play No. 3 Southeast Polk (19-3) in the quarterfinals on Monday at 3:15 p.m.
"It feels amazing," said Centennial guard Meg Burns. "The last two years we came up just short of the state tournament, so this year I'm so excited to be going."
Centennial had lost in a regional final in each of the last two seasons, but that streak was dwarfed by Pleasant Valley's own run of heartbreak. The Spartans have now lost in a regional final every year since 2013.
"We just couldn't put an offensive run together, and that's kudos to (Centennial's) defense as well," Pleasant Valley coach Jennifer Goetz told the Quad-City Times. "It stinks."
The Jaguars outscored Pleasant Valley in the second quarter, 13-2, to build a 22-10 halftime lead. Schon had 11 points in the quarter and 15 in the half.
"Our coaches did a great job of getting a great scouting report," said Schon. "We knew we could pound it inside and get a lot of high-low looks with our size advantage, and we did. We executed, and I'm really proud of us."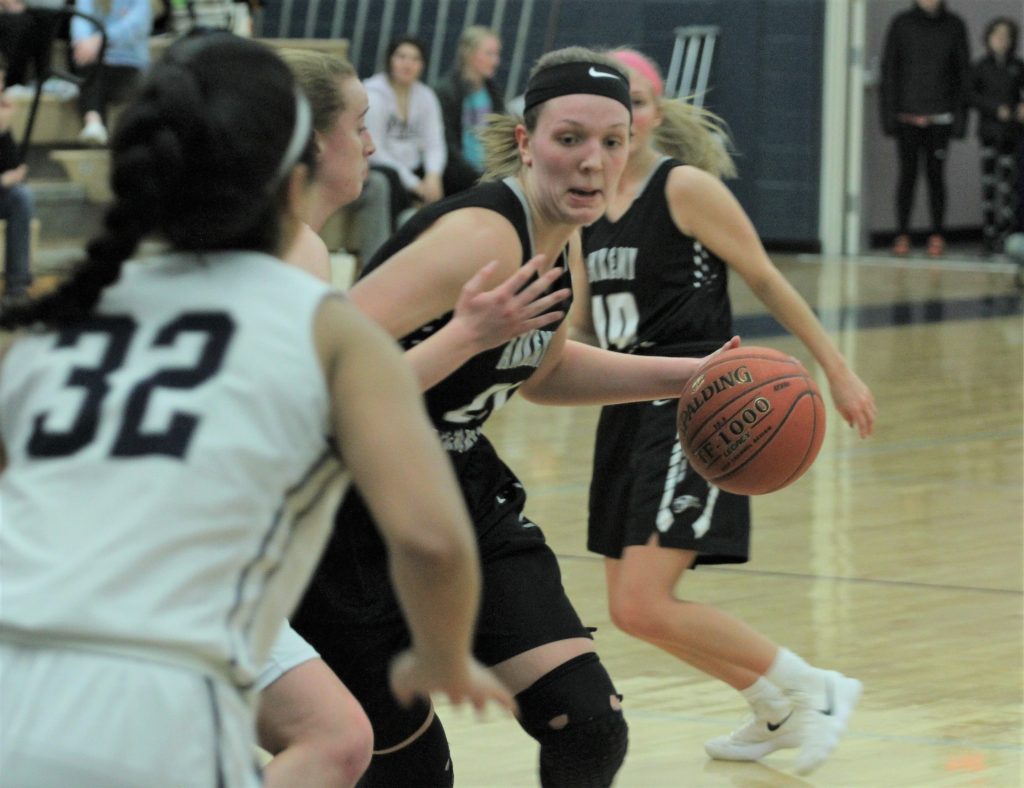 The Spartans, meanwhile, could not find the basket. They made 1-of-11 shots in the second quarter and went 4-for-25 in the half.
"I thought we really dominated in the paint," said Centennial coach Scott DeJong. "We gave up some rebounds early, but I thought our defense was really, really good for the most part. We kind of let them score a little bit at the end, but our offense was good enough–that's a really good defensive team."
Sauer scored all nine of Centennial's points in the third quarter. The Jaguars held a 31-23 lead after three periods.
"We just came in and gave our all and puts our heads down," said Sauer, who also had eight rebounds, three steals and a block. "We knew it was going to be tough–and it was–but we got it done and we pulled it out at the end."
Pleasant Valley closed to within 34-28 on a 3-point goal by Mallory Lafever with 5 minutes 22 seconds left. Centennial then answered with a drive by Runchey, who dribbled down the lane and banked in a shot for her only basket of the game.
"We've been working on penetrating the middle against their defense, and it was open," Runchey said.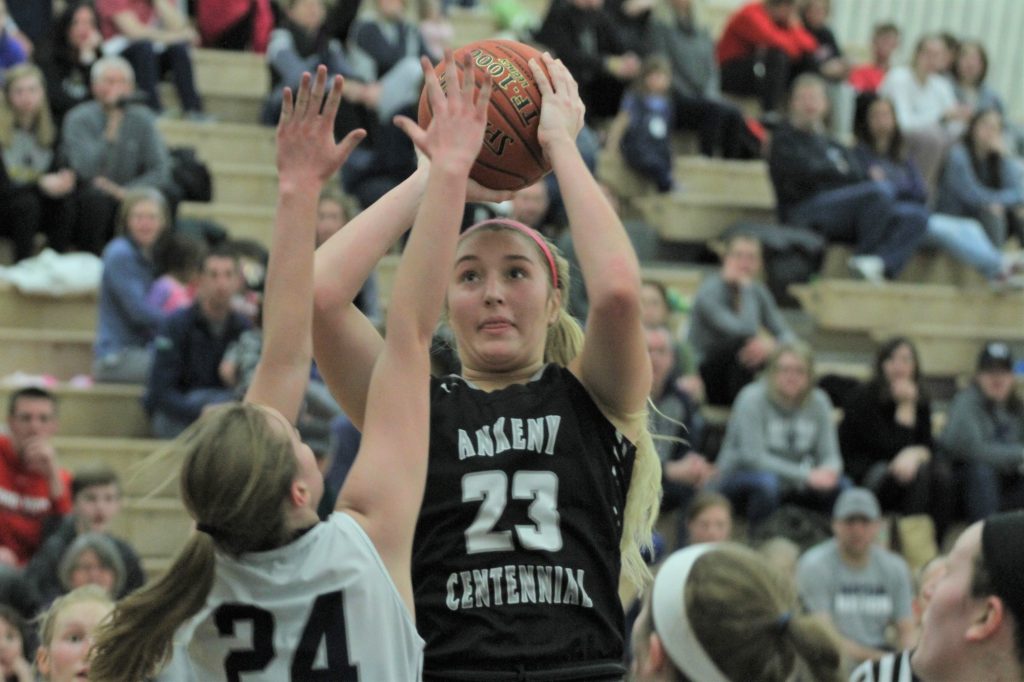 The Spartans later pulled to within 39-34 on a layup by Regan Denny with 2:21 remaining, but Anna Griffin missed a 3-pointer on Pleasant Valley's next possession that could have made it a two-point game.
Centennial then sealed the victory by making five free throws in the final 1:23. Schon hit three of them and finished 11-for-13 at the line.
"Every day we do free throws at the end of practice, and now it's just muscle memory," Schon said.
Burns had six points and four assists in the win. She made a pair of 3-pointers.
"The crowd was insane," Burns said. "It was so loud, but I think we were able to feed off that energy a little bit. It got us going. It was an amazing crowd."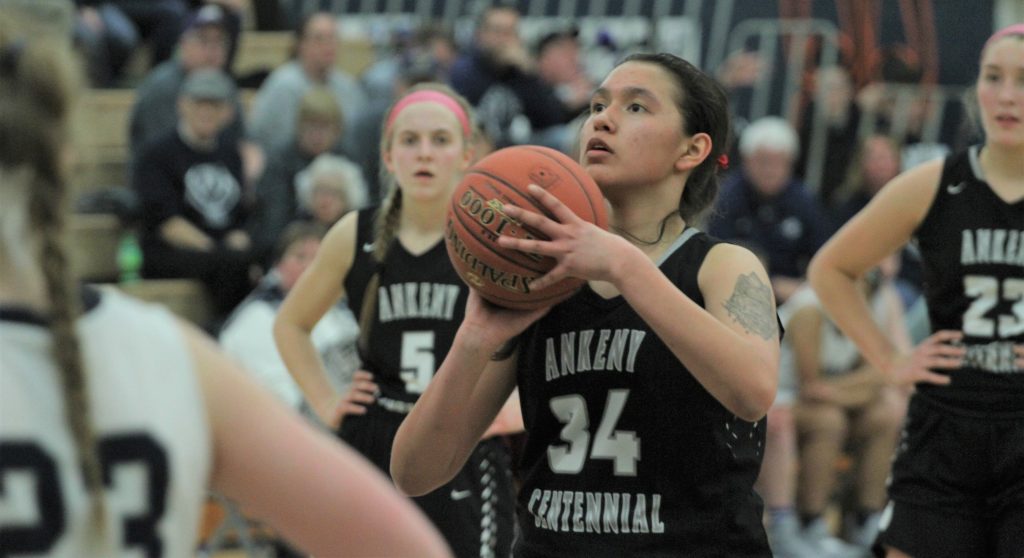 Alexandria Keahna-Harris added five points for the Jaguars. Her basket with 28 seconds left silenced the Spartans' supporters.
"I'm just so excited," said Keahna-Harris. "It's my first time (going to state)."
Carli Spelhaug led Pleasant Valley with 10 points–six below her average. She was hounded by Centennial's Lily King for much of the game.
"Lily did an awesome job," Runchey said. "I got two fouls right away, and then she stepped up and did a great job for us."
The Spartans made just 14-of-48 shots, including 3-of-22 attempts from behind the arc.
"We were trying to push them off the 3-point line and kind of keep the 3s away from them," Burns said. "I thought we did a good job of really getting out and getting after them outside the arc and took away some of those 3-point shots."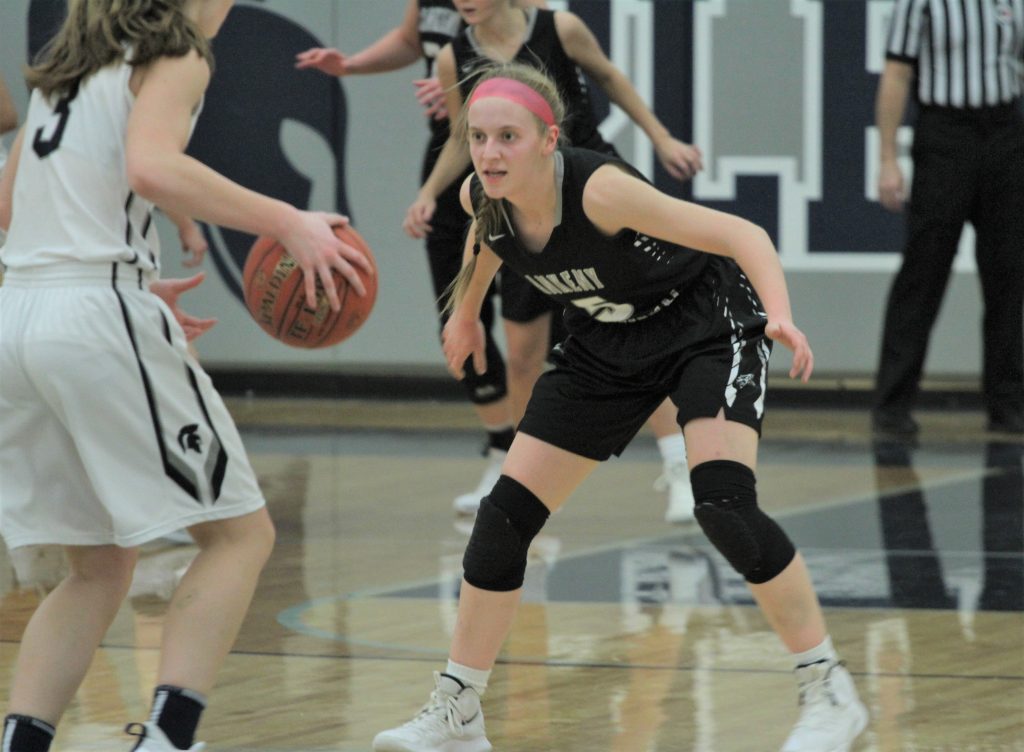 Their inability to score dealt a fatal blow to the Spartans' state tournament hopes.
"That was something we needed to do. We needed to put the ball in the basket in order to win," senior Macy Beinborn told the Quad-City Times. "That was just something we couldn't do, and I'm not sure why.
"It sucks because that was the big goal, and we were so confident we were going to get (to Des Moines), especially since we were undefeated," she added.
Instead, Centennial will be making its second appearance in the state tournament. Both Sauer and Schon were freshmen on the Jaguars' squad that captured the Class 5A crown three years ago.
"It feels so good–we haven't felt this in so long," Sauer said. "This is what we've been working for all season; this was our goal. We're excited to get back to the state tournament."