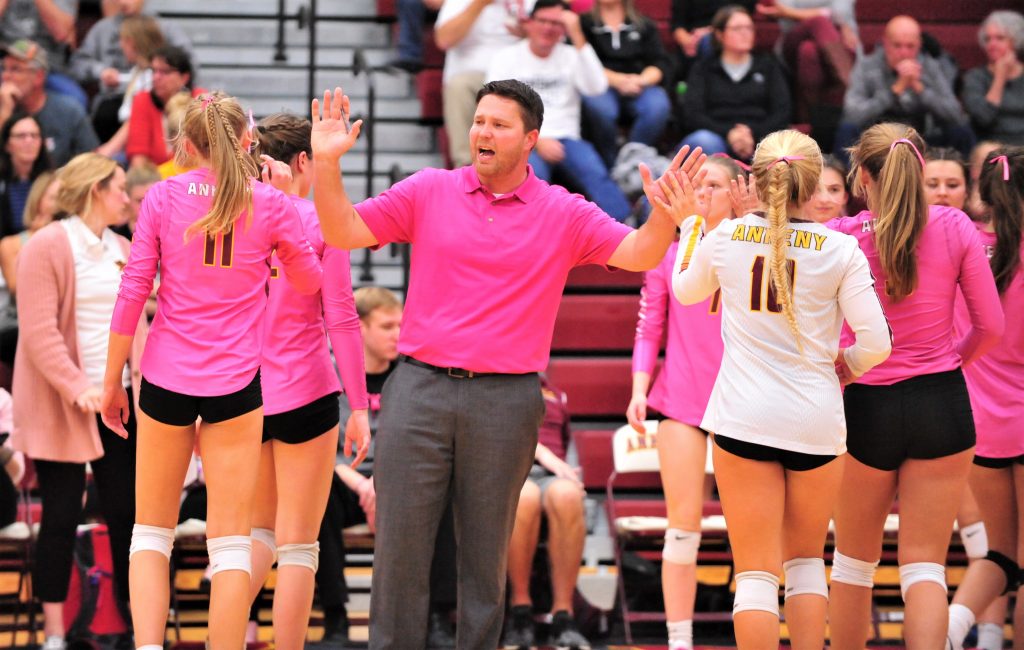 Ankeny volleyball coach Joe Morton has resigned from his position after four years at the school.
Morton compiled a 116-48 record after replacing longtime Ankeny coach Dave Whims in 2015. He guided the Hawkettes to a pair of state tournament appearances.
"It's always a tough decision to walk away," said Morton. "I tried to reassure the kids when I met with them last week that I'm not walking out on them. I just had to make a decision that was best for myself and my family first. But it was really hard to tell the kids, to be honest with you."
In his resignation letter, Morton thanked the administrative staff at Ankeny High School for their support.
"Under Dr. Hawkins and Mr. Buttjer's leadership, I have experienced nothing but the highest level of support for myself as well as my student-athletes. I will never be able to repay them for that and I wish them the best of luck in the future," Morton wrote.
The coach elaborated, though, on the reasons for his departure.
"However, even with the highest level of support sometimes a coach/teacher/employee is not a direct fit for an organization. I believe this to be a mutual belief with myself and the Ankeny School District," he wrote.
Ankeny's best season under Morton came in 2016, when the Hawkettes posted a 38-6 record and advanced to the Class 5A semifinals before losing to Cedar Falls. That team also tied Ankeny Centennial and Valley for the CIML Central Conference title.
Ankeny went 31-13 last season and again qualified for the state tournament. The Hawkettes lost to Valley in the Class 5A quarterfinals.
"I accepted coach Morton's resignation last week and wish him the best of luck in the future," said Ankeny Activities Director Brent Buttjer. "We will work quickly to hire someone with the high standards of excellence that the Ankeny Community School District expects."
Morton has coached club volleyball with Iowa Power Volleyball Alliance for the last 10 years. He said he will likely seek another high school coaching position, possibly in the Des Moines area.
"I can't tell you how much I enjoy working with the kids," Morton said. "Being able to have an influence on them, and not just in volleyball, but helping them out with modern day problems and helping them to become fine young ladies. That part of coaching is very important to me."
Morton said he expects the Ankeny program to continue to thrive.
"Coach Whims left the program in pretty good shape, and I think we did some nice things in my tenure to build a good culture," he said. "I think we've set the program up to be successful for the next person who comes in."