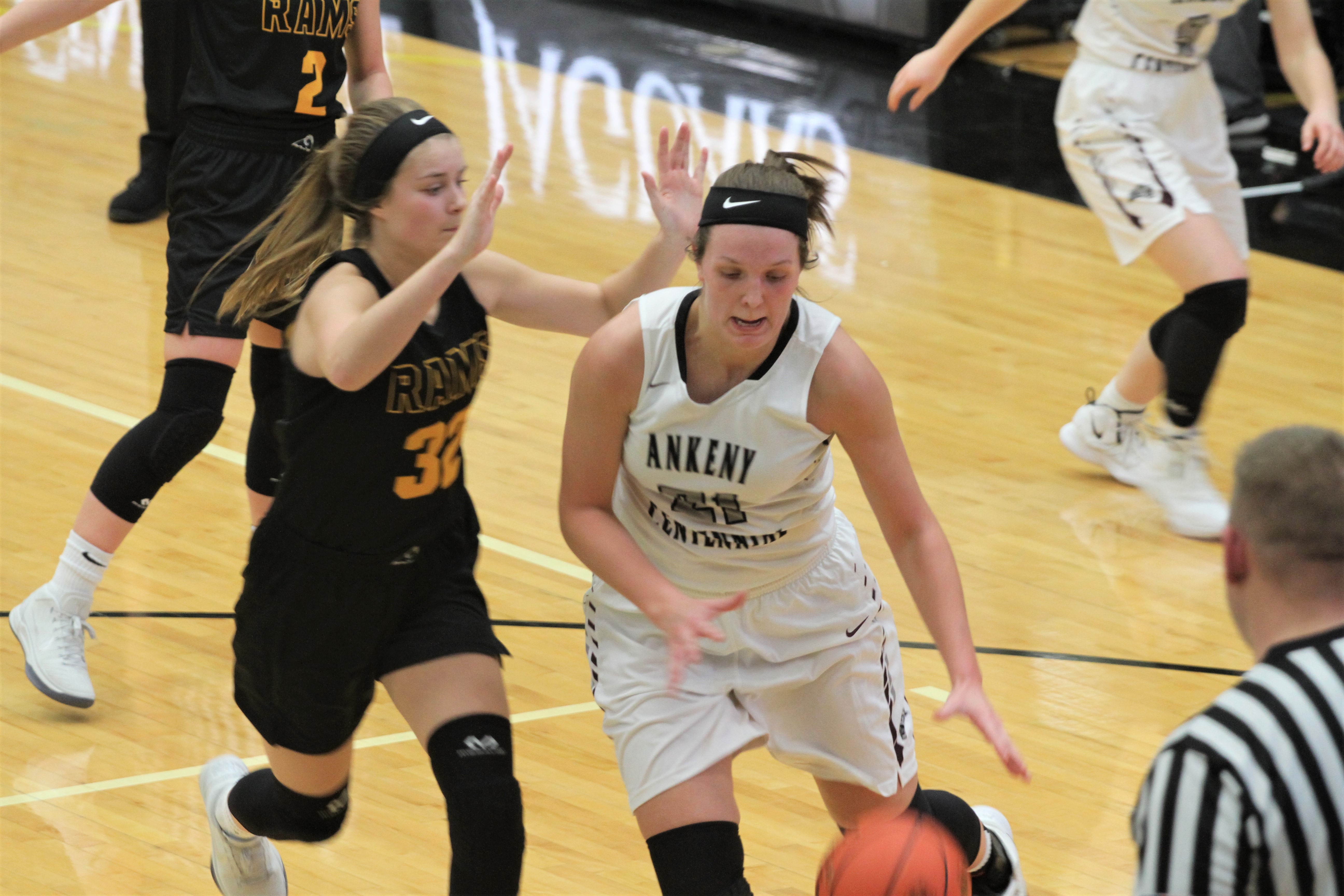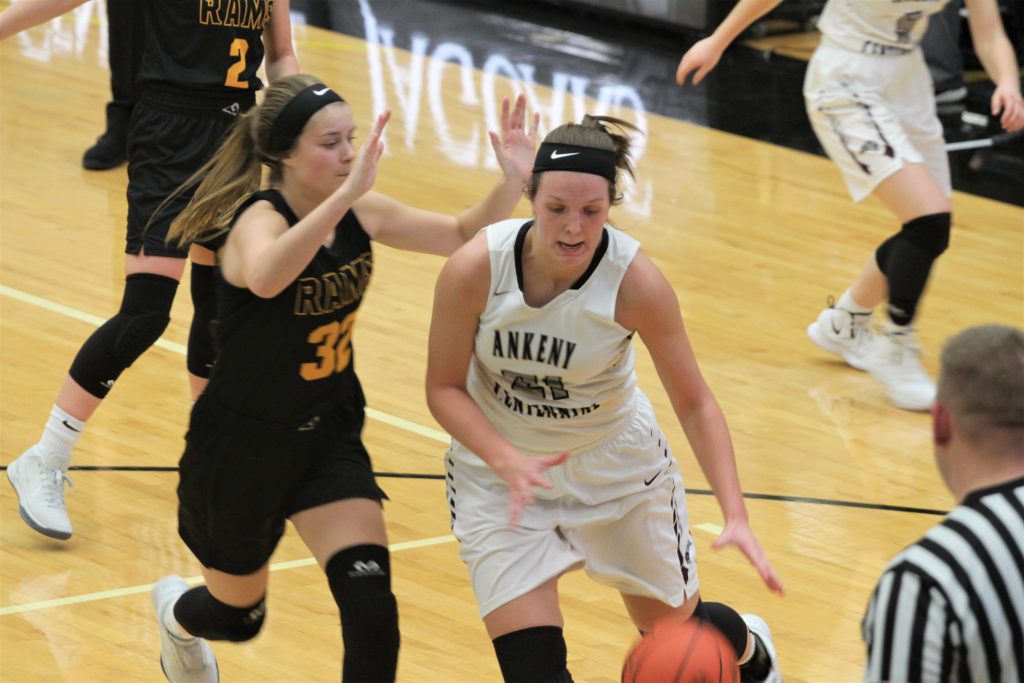 When the girls' state basketball tournament tips off on Monday at Wells Fargo Arena, 10th-ranked Ankeny Centennial won't be mentioned as one of the favorites to capture the Class 5A title.
But that's just fine with the Jaguars.
Centennial pulled off one upset in order to reach the state tournament, and now it will try for another one. The Jaguars (15-7) will play No. 3 Southeast Polk (19-3) in the Class 5A quarterfinals at 3:15 p.m.
"We know we can beat anyone," said Centennial guard Meg Burns. "We've beaten top-three teams before so we're going to be a team to compete with. I'm excited."
Centennial earned its second trip to the state tournament with a 46-36 victory at No. 7 Pleasant Valley in a regional final on Tuesday. Rachel Schon had 19 points and 10 rebounds in the win.
"It feels incredible. I'm so proud of our team," said Schon. "We've worked so hard all year. Our record might not show it, but we've faced a lot of good competition. I'm really proud of us for fighting through this whole game and finishing out strong and getting a state tournament berth."
Pleasant Valley entered that game with a 21-0 record. Only two of the Spartans' games had been decided by fewer than 10 points.
"We were the underdog here, too," Centennial guard Taylor Runchey said after the game. "We have a lot of faith in ourselves."
Centennial is one of seven teams from the CIML that qualified for the Class 5A tournament. Fellow Central Conference members Johnston, Dowling Catholic and Urbandale are also in the field.
"I don't think there will be any secrets," said Centennial coach Scott DeJong, who guided the Jaguars to a state championship in 2016. "There's just a lot of really good players and to think in our six-team league, there's four of them in the state tournament and that's really amazing."
Centennial will try to avenge a 51-44 loss to Southeast Polk on Nov. 27. Iowa State-bound Maggie McGraw had 18 points for the Rams, while Grace Larkins added 13.
That duo is averaging more than 41 points per game.
"They're really hard to slow down, and we have to find some way to do it," DeJong said. "We're just not a team that is going to score 70 or 80 points. It's a huge challenge, but there's a few things that I hope they don't like about playing us."
Southeast Polk built a 23-10 lead in the first meeting, then held off Centennial's late rally. But the Jaguars had some success getting the ball inside, where Schon scored 15 points to go along with 12 rebounds and three blocks.
"We need to really control the paint–that would be a big part of our game plan," DeJong said. "Try to get the ball inside and maybe draw some fouls against them."
Centennial split a pair of meetings against Southeast Polk in each of the previous two seasons, when both teams were members of the Central Conference. The Rams are seeking their first state title since 2013.
"They're an old nemesis. We have a really good rivalry with them," DeJong said. "Southeast Polk has been rated in the top three probably all year long. We're excited about it, but it's a tough draw–no doubt about that."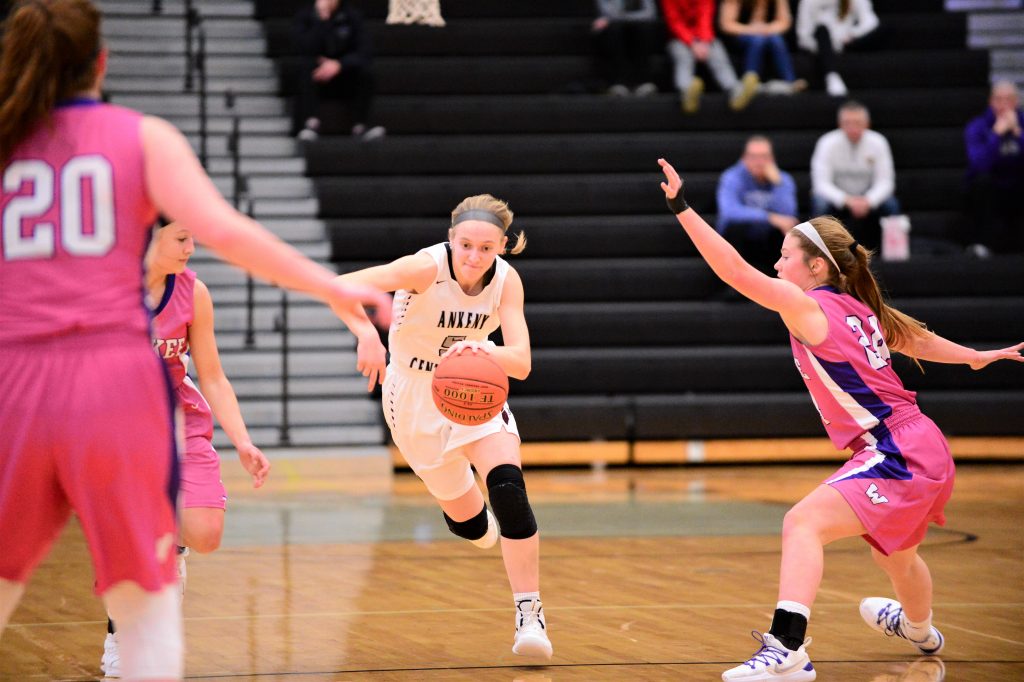 The winner will meet No. 2 Waukee (18-4) or No. 11 Dowling (16-7) in the semifinals on Thursday at 11:45 a.m. The Maroons handed Waukee one of its losses, 57-53, on Jan. 15.
State scoring leader Caitlin Clark of Dowling and Maryland recruit Zoe Young of Valley are two of the top players in the tournament. Young led the Tigers to a crown in 2017.
No. 1 Johnston (21-2) will open the tournament on Monday at 10 a.m. against No. 14 Urbandale (13-9). No. 8 Valley (17-5) will then meet No. 6 Iowa City High (19-2) at 11:45, followed by the Waukee-Dowling contest at 1:30.
The championship game is slated for Friday at 6 p.m.
"If somebody gets hot like we did in 2016 and starts playing really well, you never know what can happen when you play three games in five days," DeJong said. "I think it's definitely wide open."