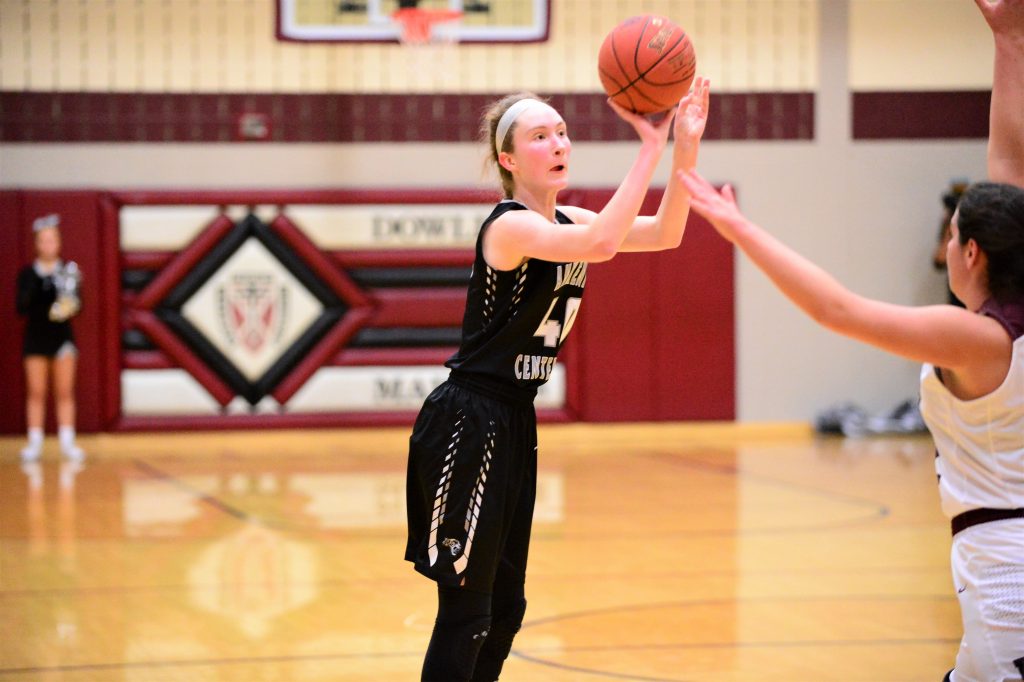 Here's a quick primer on Monday's Class 5A quarterfinals and what COULD happen in the girls' state basketball tournament at Wells Fargo Arena:
10 a.m.–#1 Johnston (21-2) vs. #8 Urbandale (13-9). The key matchup here will be between talented point guards Maya McDermott of Johnston and DeeDee Pryor of Urbandale, who have committed to play for Northern Iowa and Creighton, respectively. The Dragons have already defeated their CIML Central Conference neighbor twice this season, 60-34 and 62-43. It can be tough to beat the same team three times in a season, but Johnston has shown that it is clearly better than its nearby rival. Prediction: Johnston 58, Urbandale 42.
11:45 a.m.–#4 Iowa City High (19-2) vs. #5 Valley (17-5). The Little Hawks are the only non-CIML team in the field. They were ranked No. 1 for awhile this season, despite losing Ashley Joens to graduation last year. Ashley's sister, Aubrey, has picked up the slack, averaging better than 23 points per game. Valley counters with Maryland recruit Zoe Young, who led the Tigers to a championship in 2017. A Valley victory would set up an all-CIML semifinal round on Thursday. Prediction: Valley 68, Iowa City High 64.
1:30 p.m.–#2 Waukee (18-4) vs. #7 Dowling Catholic (16-7). The Maroons already posted a 57-53 victory at Waukee on Jan. 15. They won that game despite getting just 23 points on 4-of-17 shooting from state scoring leader Caitlin Clark, who averages 32.2. The Warriors can't count on Clark having another rough shooting night, but they should also get more production from the trio of Anna Brown, Katie Dinnebier and Jori Nieman–who went a combined 6-for-25 in the loss. This one should go down to the wire. Prediction: Waukee 60, Dowling Catholic 59.
3:15 p.m.–#3 Southeast Polk (19-3) vs. #6 Ankeny Centennial (15-7). The Jaguars are a better team than the one which lost to Southeast Polk, 51-44, on Nov. 27. But so are the Rams, who went a combined 5-3 against the other CIML teams in the field, including a 66-53 victory over Valley in their regular-season finale on Feb. 8. If Centennial can hold the Southeast Polk duo of Maggie McGraw and Grace Larkins to a combined 31 points like it did in the first meeting, the Jaguars will have a chance to pull off an upset. But if McGraw and Larkins come close to or surpass their average of 41 points, the Rams will likely advance. Centennial's biggest win this season came against Johnston on Jan. 4, when the Jaguars closed out the game with a 10-2 run to post a 50-48 victory. It might take some similar late-game magic for Centennial to knock off the Rams. Prediction: Southeast Polk 50, Ankeny Centennial 47.