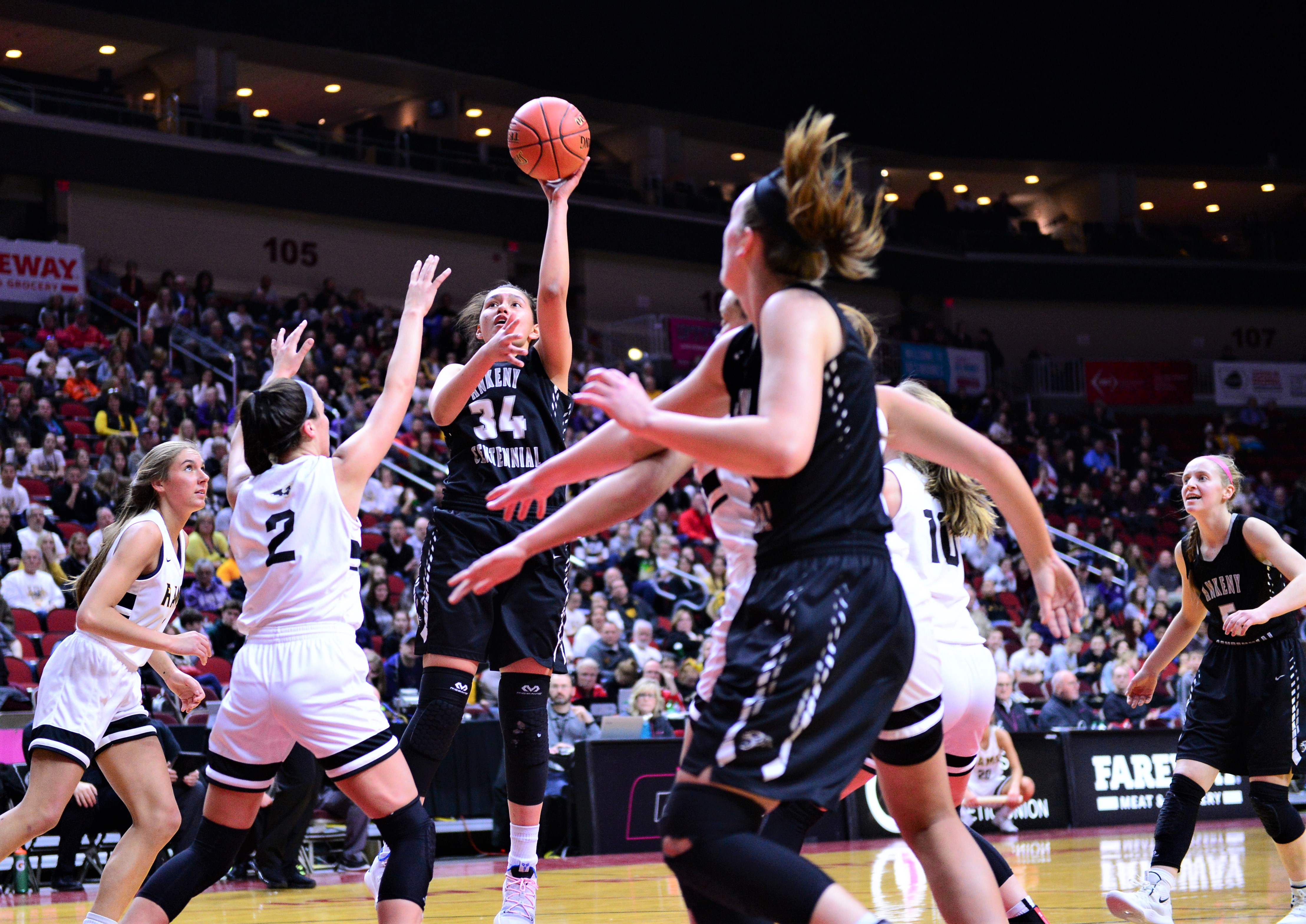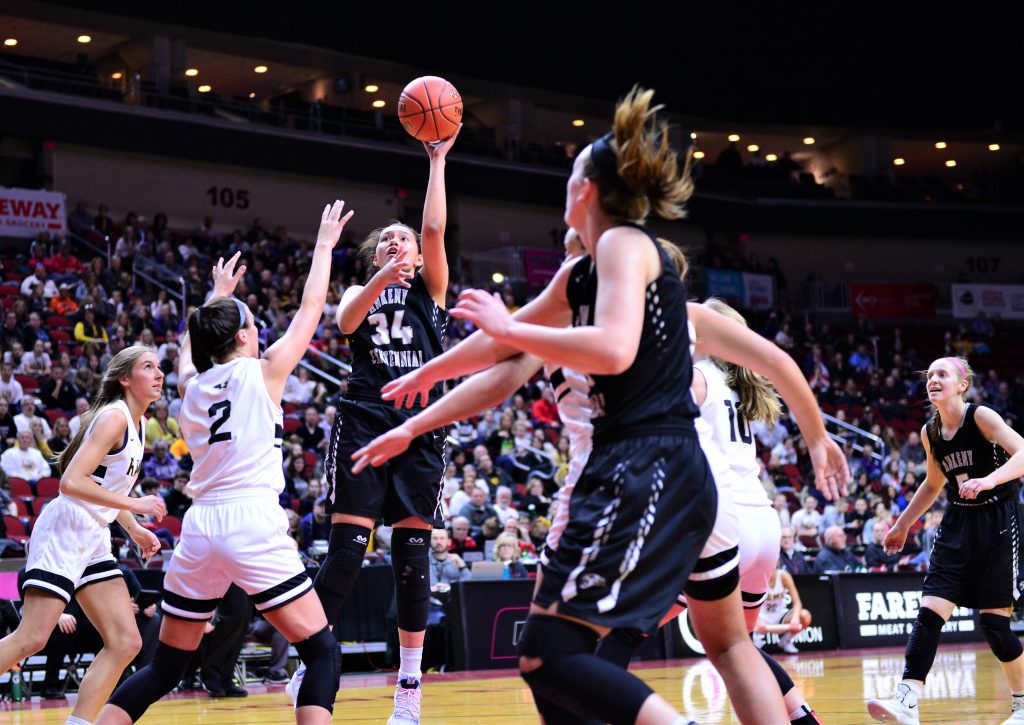 Junior forward Alexandria Keahna-Harris helped the Ankeny Centennial girls' basketball team to a 15-8 record. She scored 12 points and grabbed four rebounds in the Jaguars' 61-56 overtime loss to Southeast Polk in the Class 5A quarterfinals of the state tournament on Feb. 25 at Wells Fargo Arena.
Keahna-Harris averaged 7.7 points and 4.4 rebounds per game this season. She received all-conference honorable mention.
Here is some inside info on Keahna-Harris:
Congratulations on an outstanding season. I know it didn't end the way you wanted it to, but it still had to be a thrill to play in the state tournament. Can you describe what the atmosphere was like?
It was an awesome experience to play at the Well. The energy from the crowd and the size of the arena was amazing. And you can't forget about all the history of Iowa girls' basketball. This all combined to make one of the greatest experiences of my basketball career so far.
Your team played in the final game of the quarterfinals, and you had to wait for the Dowling Catholic vs. Waukee game to finish–and that contest went to three overtimes. Was that an excruciating wait for you?
Since it was my first time at state, I was really anxious to play. We'd get ready to take the floor and then there was another overtime and we'd go back to the locker room. After the third overtime we were all wondering what the record was, and that's when (coach Scott) DeJong said the record was five (overtimes in a 1997 game between Ankeny and Waterloo West).
I know your team had played a game at Wells Fargo Arena earlier this season. Did that help you adjust to the shooting background in the arena?
Since it was my first time at state, playing a regular-season game at the Well helped my confidence because I was already familiar with the layout.Your team fell behind, 16-3, in the first quarter. Do you think you guys were nervous at the start?Yes, I think we were a little tight to begin with, but as the game continued I felt that we got more comfortable and just started to play our game.
What was the key to turning the game around?
I think a key to turning the game around was to get rid of the nerves and just get into the game. Once we got into it, we really stepped up our defense and started to score more.
Southeast Polk presented some matchup problems with their speed and quickness, but your team had more size and was able to grab 16 offensive rebounds. Did it seem like you were starting to wear them down as the game progressed?
We play a more physical type of game, and it tends to wear teams down in the second half. So during the second half we were able to execute our style of game.
After your team lost, Southeast Polk was one of four CIML teams that advanced to the semifinals along with Dowling Catholic, Johnston and Valley–which eventually defeated the Rams in the Class 5A final. Did you want Southeast Polk to win the title so that you could say that you lost to the champs, or did it matter to you?
Since we were no longer in the state tournament, it really didn't matter to me.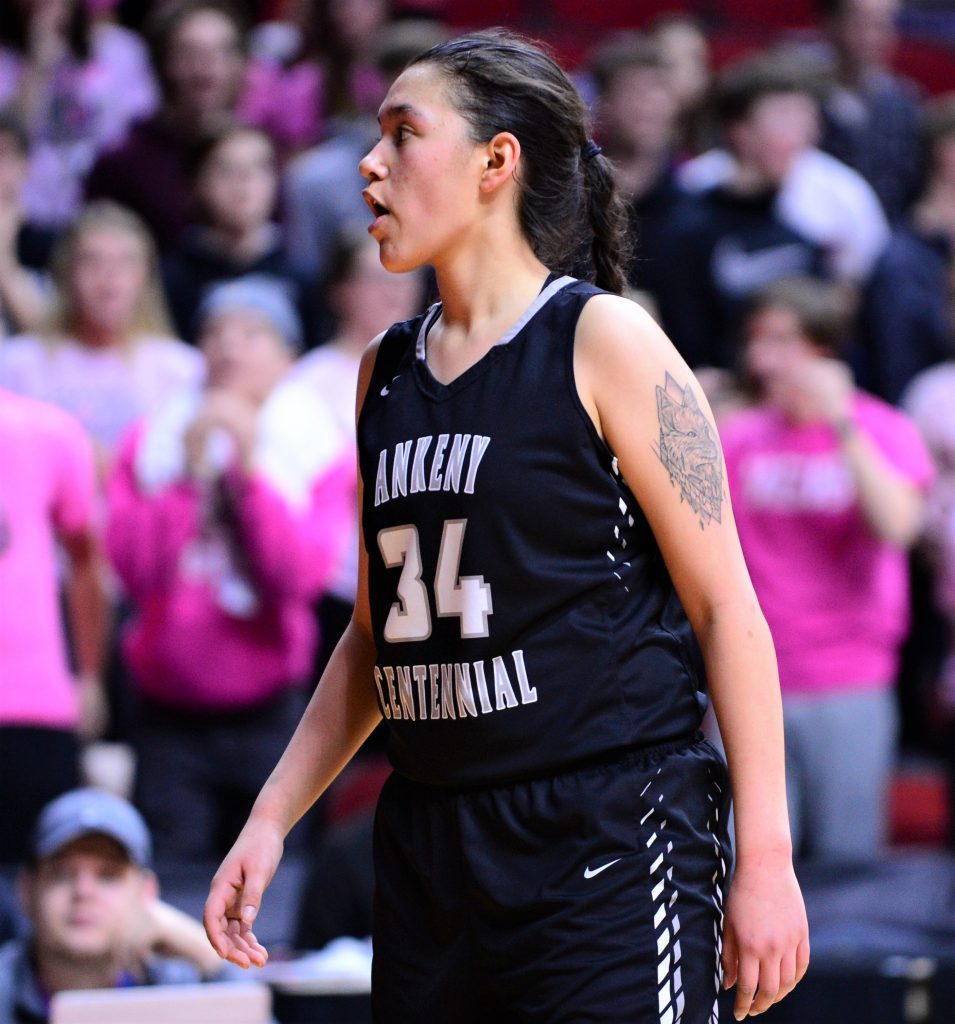 You are one of the few female players that I've seen with a tattoo. Can you tell me about the tattoo on your left forearm and what the inspiration was for it?
I got my tattoo in August last year, and it's (a tattoo) of a fox. I'm Native American and I'm from the Fox clan so I decided to get the tattoo to represent my clan.
Your team will have to replace a trio of seniors in Lily King, Kenna Sauer and Rachel Schon. What will you miss the most about them?
It's going to be very difficult to replace the seniors on the team because they all contributed so much. I'm going to miss Lily's tenacity, Rachel's scoring on the inside, and Kenna's athleticism. But most of all, I'm going to miss their leadership on and off the court.
How do you think your role will change next year without Sauer and Schon on the court?
I will definitely have to step up next year since they were our leading scorers and rebounders. I'm going to work more on my game during the summer so that I can contribute more to the team next season.
Would you like to play basketball in college?
I would like to play basketball in college, and I've been looking at some schools.
Do you know what you want to study?
I would like to major in Chemistry and possibly minor in pharmaceutical sciences.