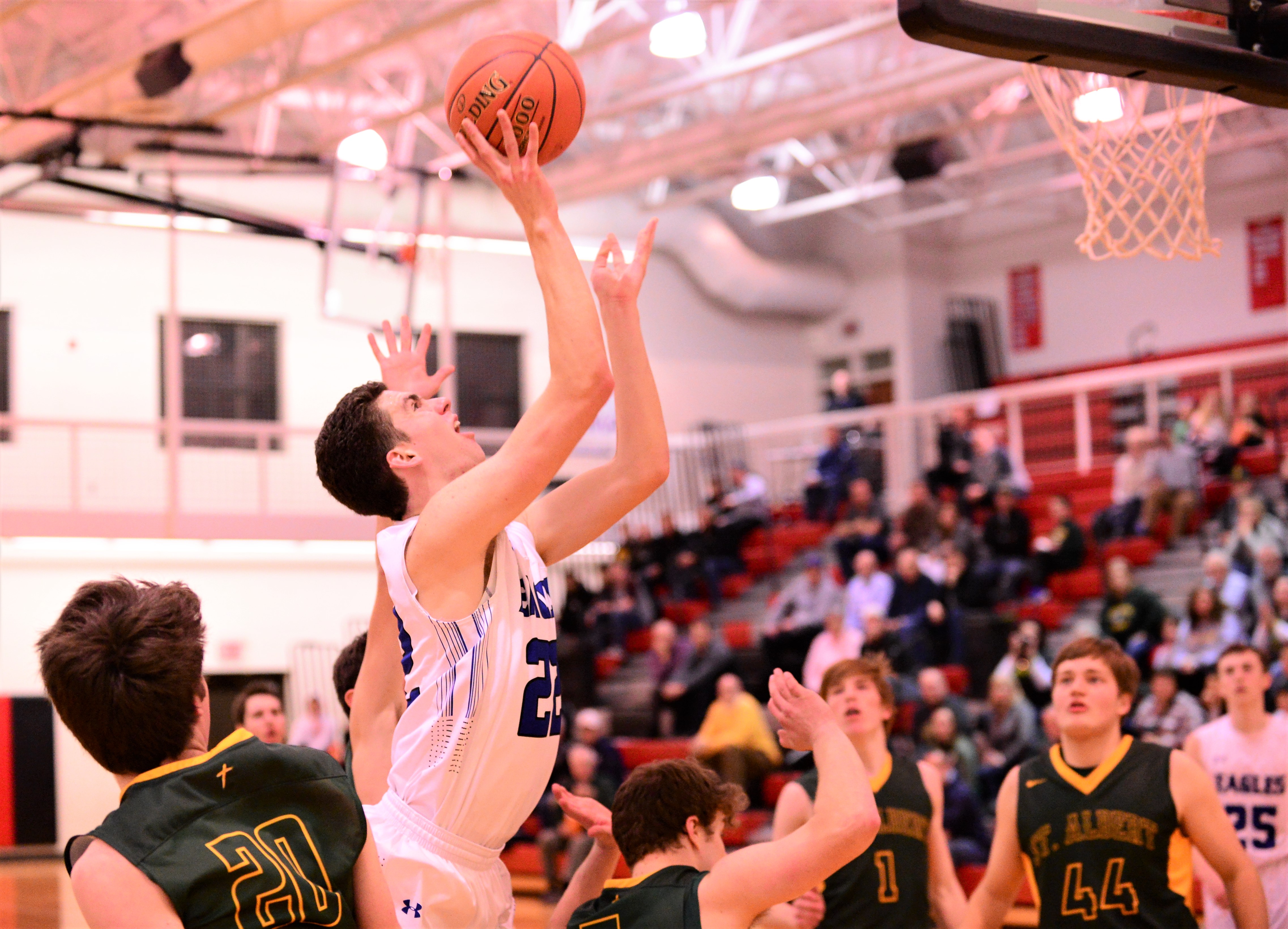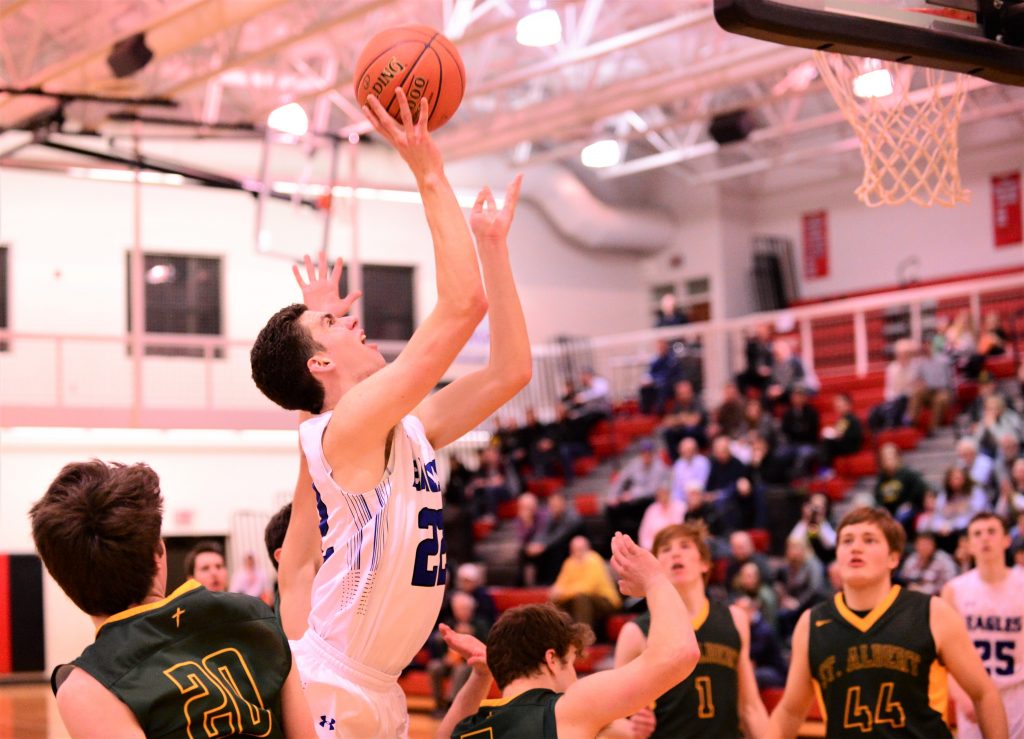 Senior center Caleb Grizzle led the Ankeny Christian Academy boys' basketball team to a 23-1 record. He had 15 points, nine rebounds, seven blocks and four assists as the Eagles ended their season with a 58-56 loss to Council Bluffs St. Albert in a Class 1A substate final on Feb. 25 at Adel.
The 6-foot-7 Grizzle averaged a team-high 17.0 points, 8.3 rebounds and 3.9 blocks per game. He shot 53.5 percent from the field, 37.5 percent from 3-point range and 76.5 percent from the free-throw line.
Here is some inside info on Grizzle:
Congratulations on an outstanding season. What was the highlight for you?
Thank you! The highlight of my season had to be finishing the regular season 20-0 with a 33-point win at Eddyville-Blakesburg-Fremont (on Feb. 9).
Your team posted an average winning margin of nearly 41 points, which ranked second in the state behind only North Linn. Coming into the season, did you expect your team to be so dominant?
I didn't expect that night in and night out at the beginning of the season, but we had focused on improving our defense, which I believe propelled us to that point differential for the year.
The season obviously didn't end the way you wanted it to with the substate loss to St. Albert. What do you think was the difference in the game?
In the St. Albert game we started slower than we would have liked and we shot under our season averages which made it more difficult to gain momentum or extend any lead. We shot 15 percent from 3-point range and we normally shoot 37 percent. This large of a drop-off slowed down our offensive production and resulted in a nailbiter finish with the final outcome not falling our way.
Did you attend any of the games at the state tournament? Were you hoping to see someone knock off Grand View Christian, which won its third consecutive Class 1A crown?
I watched many of the games online. I was hoping to see someone upset Grand View so there would be a new team in the championship game. Grand View was obviously the top team in 1A at state this year, and they were an exciting team to watch.
How do you think your team would have matched up with Grand View Christian?
I think we would have matched up well against Grand View. We had the opportunity to play them in the summer and played them very close without a couple of our key players. We have really talented guards and I believe that would have created some matchup problems for Grand View. Grand View clearly has a talented and athletic front court; however, with how short high school games are, it's just important to slow them down and force more perimeter looks from the two big men.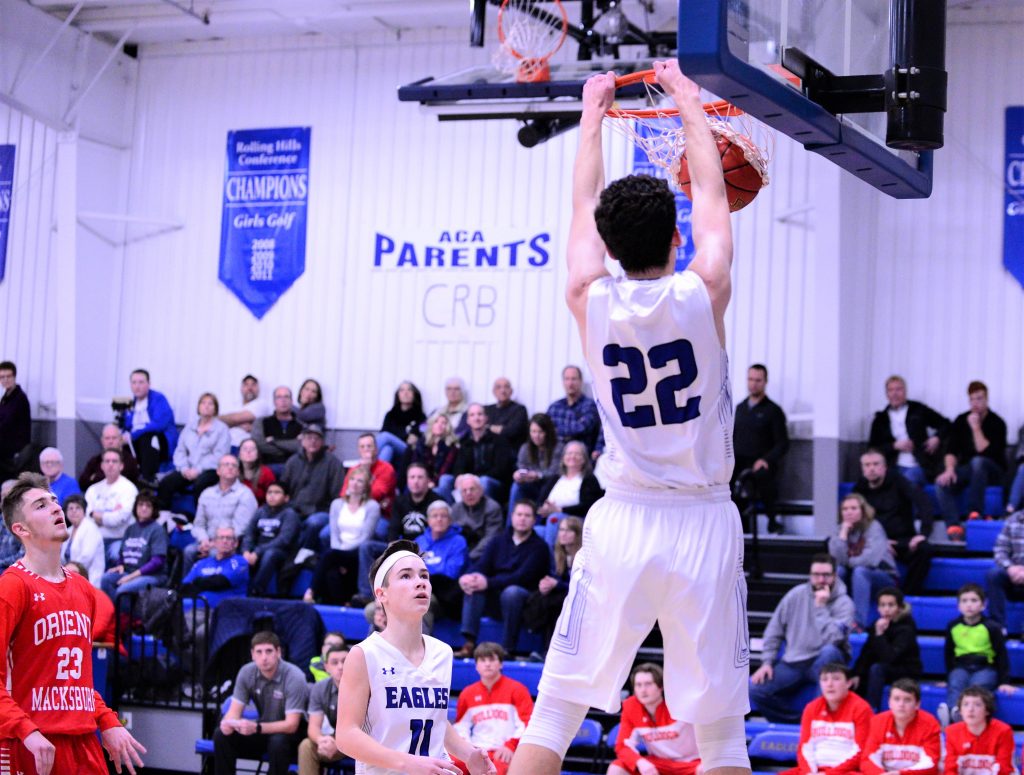 I know your team played against Grand View Christian and Drake recruit Issa Samake three times in the previous two seasons. Is he the most athletic big man you've ever played against, and what challenges did he present for you?
He is definitely the most athletic big man I've ever played in Iowa. During the AAU season I've played against some 6-foot-10 to 7-foot athletic bigs which made for some tough matchups. When playing Issa, if you let him get a head of steam or get too deep in the paint he'll cause some problems. The most important thing to do if you're guarding him is box out, because he's a crafty and explosive rebounder.
You led the Eagles with 36 3-point goals this season. Do you think you surprised some of your opponents with your ability to shoot from the perimeter?
Early in the season I think I did surprise some opponents when I shot well from 3 because of my height; however, once districts came around I received some extra defensive pressure when I had the ball on the 3-point line.
I know you have committed to play for the University of Northwestern – St. Paul, a private evangelical Christian college. Was it a tough decision for you?
It wasn't that tough of a decision for me because I am very familiar with the school because my brother attended UNW, and I am already taking classes online through Northwestern.
What other schools did you consider?
I visited many schools during my junior year. I considered Berry College in Georgia, Central College in Pella, Grand View University, Northern Iowa, and Union University in Tennessee.
What did you like about Northwestern?
I loved the basketball program at UNW and the head coach there, Tim Grosz. I also look forward to living close to my older brother who lives in Duluth, Minn. I will begin my first year on campus with around 30 credit hours completed, which made the choice to attend the University of Northwestern a lot easier.
What will you study there? What would you like to do in the future?
I am planning on majoring in communication. Once I graduate I am not sure what exactly I'd like to do yet, but I would love to coach any level of basketball along with my main profession.