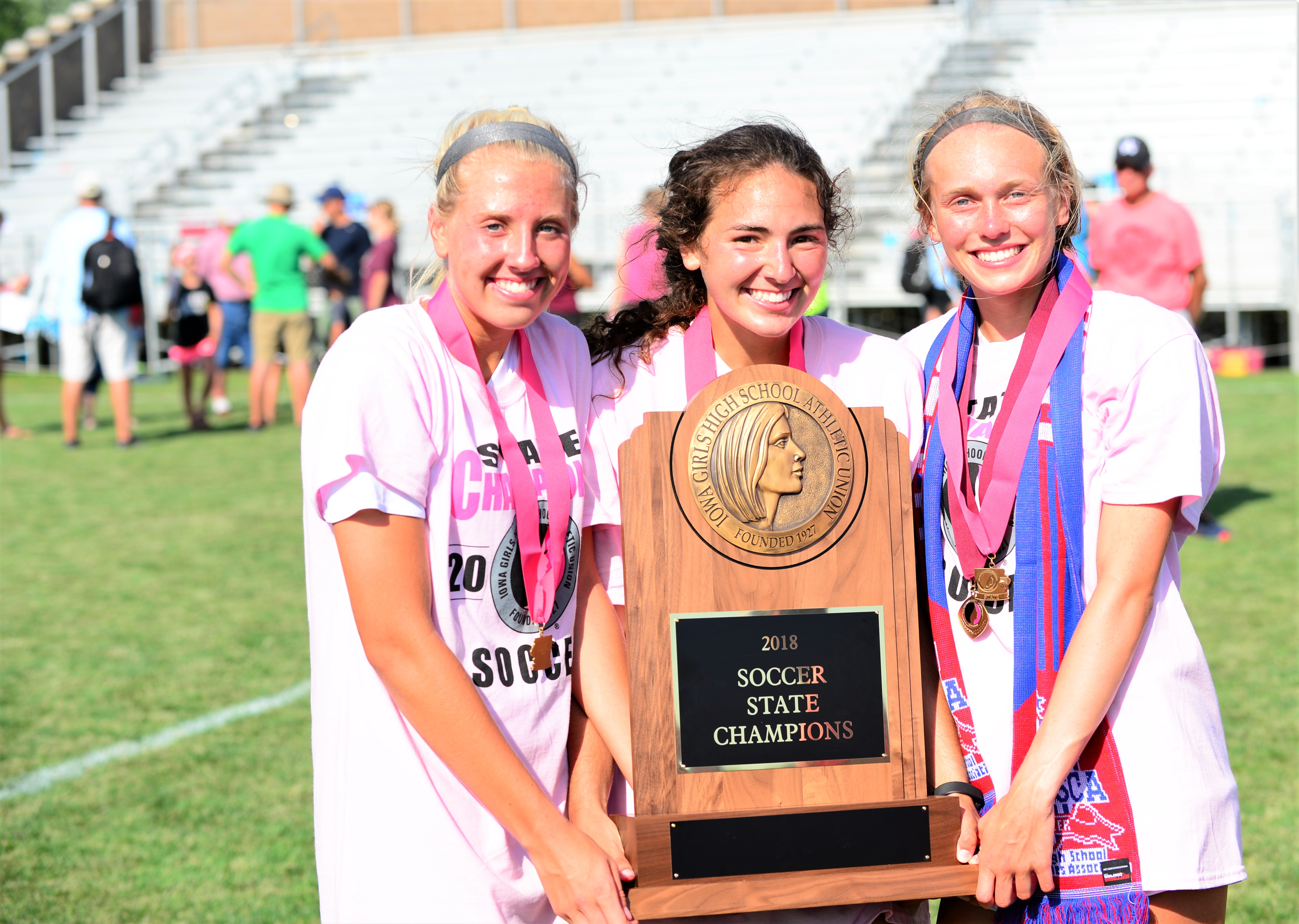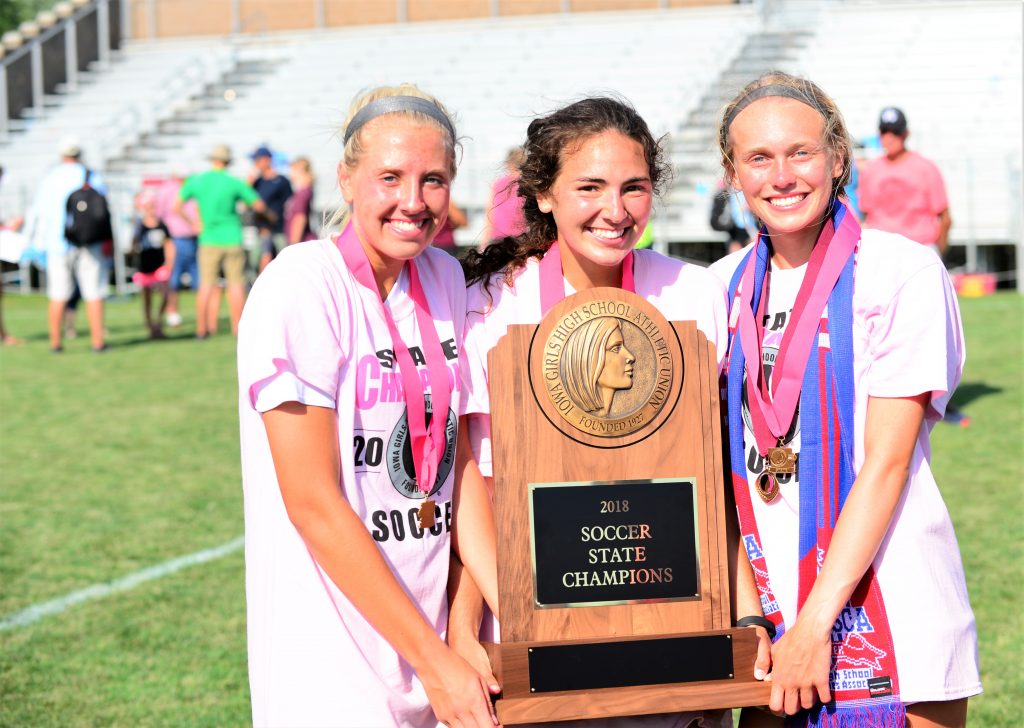 Here's a scary thought: the Ankeny Centennial girls' soccer team could be even better than a year ago, when the Jaguars captured their second state title in three seasons.
Coach Chris Allen returns 11 players who started at some point last year. Seven of them have already committed to play for college programs, and two more college recruits have joined the Jaguars after not playing high school soccer in 2018.
Allen said he doesn't expect complacency to be a problem for his squad.
"I think it would be easy in some circumstances to become complacent, but our players realize that our team will not be the same as last year's," Allen said. "They do see this season as a new challenge and the team essentially being a new team. They are excited to contribute to the legacy of those awesome student-athletes who have moved on from our program."
Centennial posted a 20-2 record a year ago. The Jaguars avenged one of their two losses with a 2-0 victory over Waukee in the Class 3A semifinals, then knocked off crosstown rival Ankeny, 3-2, to claim the state title.
Seniors Lexie Gutknecht, Lizzy Johnson, Kenzie Langstraat, Gillian Nithang, Olivia Wee and Allie Wyckoff are among the returning starters. The others are juniors Paige Frette, Jaecee Hall, Carlie Jensen and Miranda Wood along with sophomore Aly Jumper.
Junior Hannah Hron and sophomore Emily Vortherms also played for the varsity team toward the end of last season.
"We don't really make a big deal about a starting player or a reserve as we want players to be open to changes that allow us to adapt our tactics to a variety of situations," said Allen, who was named The Des Moines Register's All-Iowa Coach of the Year last season.
The Jaguars return several key members of a defensive unit that allowed only 11 goals last year. Both Wee and Wyckoff are Iowa State recruits.
Wee scored two goals and had eight assists as a junior. She was named to the Class 3A all-tournament team after assisting on Olivia Brown's game-winning goal against Ankeny.
Wee and Wyckoff were both named to the Class 3A West all-district second team along with Frette, a midfielder who contributed three goals. Johnson, a UMKC recruit who had seven goals and four assists a year ago, will also be a key contributor as a midfielder/defender.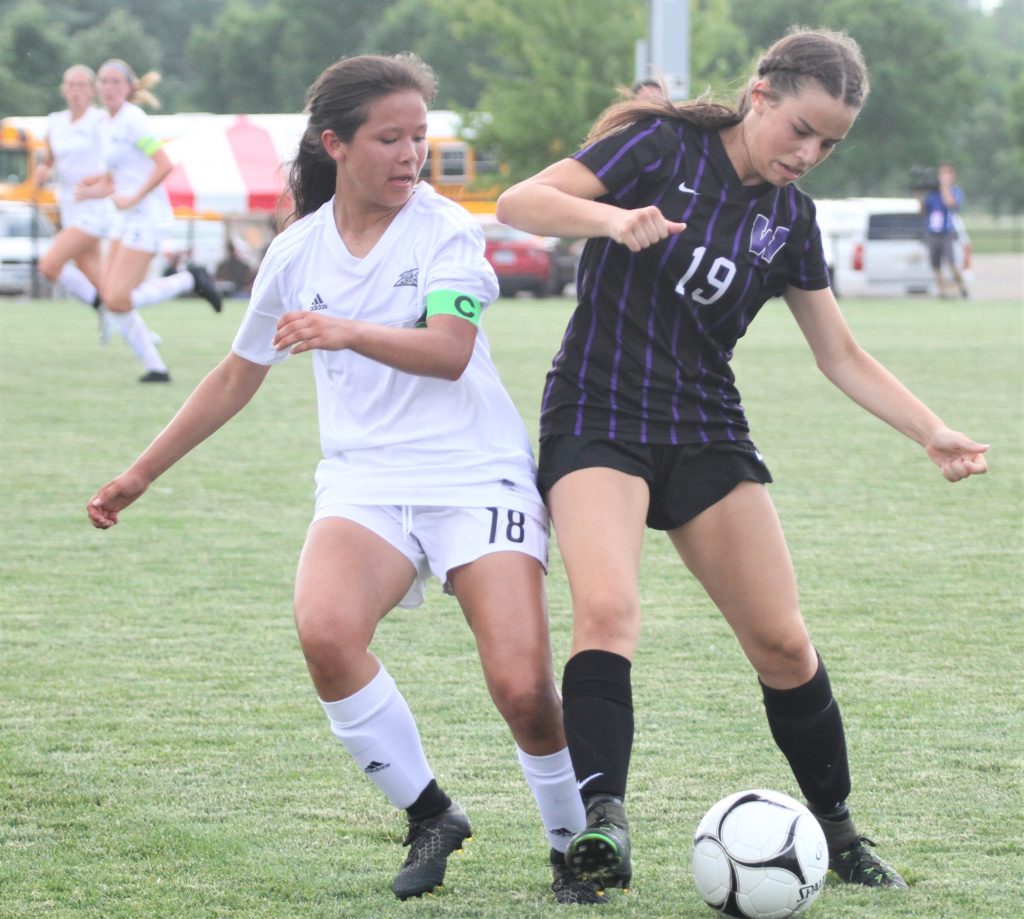 "It is a hope that we can continue to build a strong defense from the experience of players like Paige, Lizzy, Olivia and Allie," Allen said. "Given their experience, we believe we can develop a defense that can remain organized and handle individual battles."
Jumper will likely take over the goalkeeping duties following the graduation of Marissa and Nahomi Lopez. She played in six games and made two saves as a freshman.
Gutknecht is the team's top returning scorer. The forward racked up eight goals last season.
Langstraat, a Grand View recruit, will also be one of the team's top offensive threats. She scored four goals and had two assists last year.
Jensen, an Indiana State commit, will be part of the Jaguars' attacking midfield along with Wood, a Wartburg recruit. Wood scored five goals and had six assists a year ago, while Jensen added a pair of goals.
Nithang, a Murray State recruit, is back in the midfield. She scored two goals last season.
Hall is expected to fill a utility role for the Jaguars.
"We won't have the entire team back until the week after spring break," Allen said. "However, we have opened the gym Sunday night throughout the winter for pick-up soccer, and there has been a good mix of underclassmen competing right along with our upperclassmen though the setting is very informal. Furthermore, we have had a committed group working on leadership skills and identifying aspects of our team culture they want to highlight and other aspects that they would like to develop."
Two sophomores who did not play last year will likely contribute heavily this season. Elizabeth Overberg has verbally committed to Minnesota, while Macy Epp has committed to Minnesota State.
The Jaguars will host Fort Dodge in their season opener on April 2.
"I expect that we will have strong senior leadership that will help to guide the younger players in our program and that will model good character and commitment," Allen said.