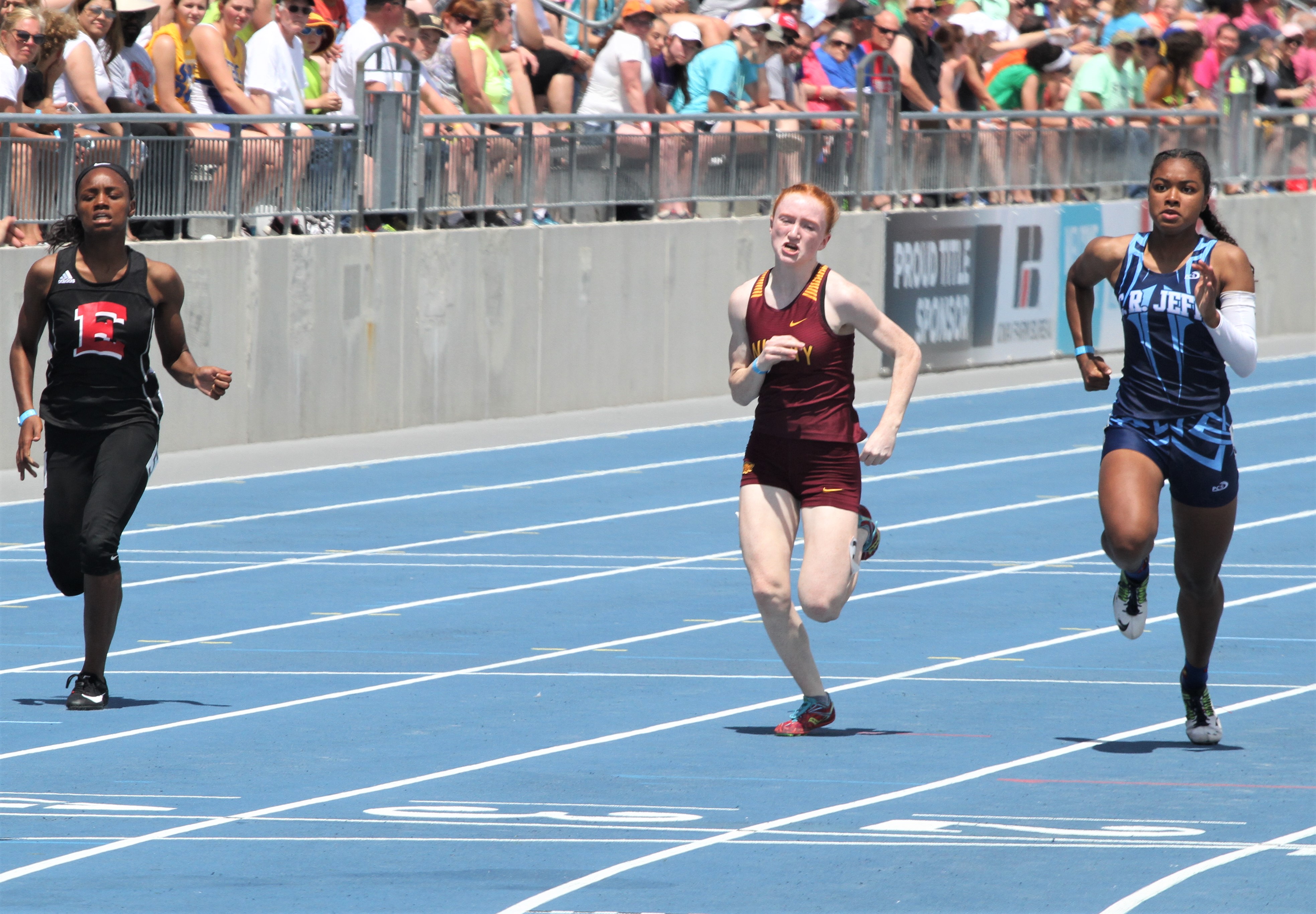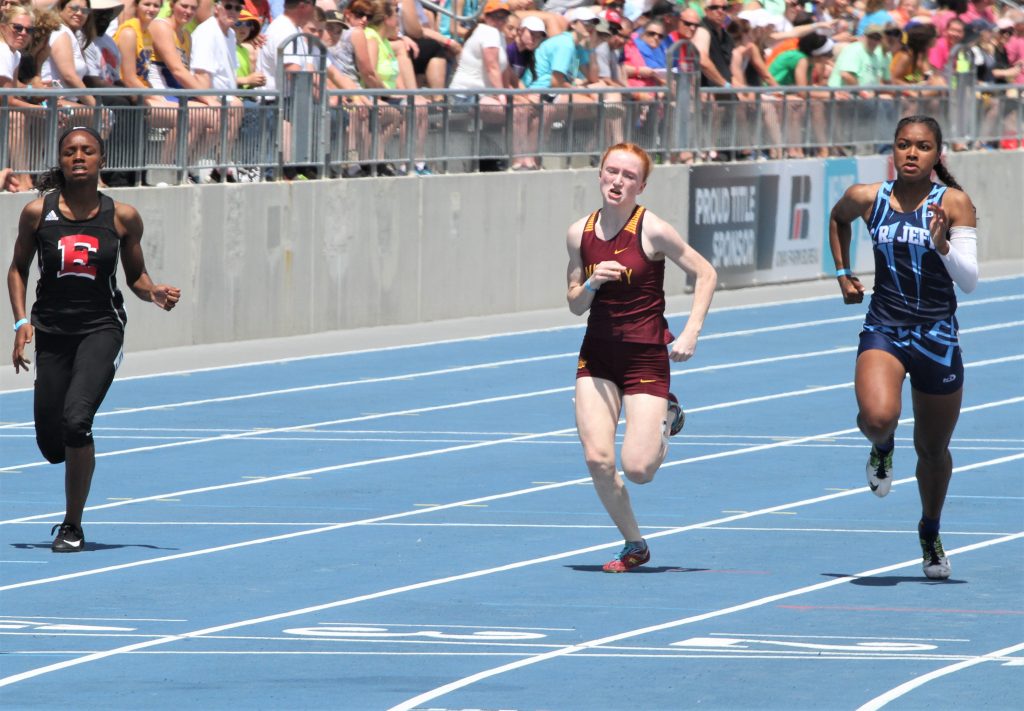 Sophomore Eva van de Mortel is one of 14 returning state qualifiers for the Ankeny girls' track team. She placed 15th in the 100 and also ran on the Hawkettes' third-place 4×100 relay at the Class 4A state meet.
During the indoor season, van de Mortel won the 55-meter dash at Wartburg and the 60-meter dash at UNI, where over 200 girls competed and she was the only girl to break 8 seconds. She also ran an outstanding split in the 4×400 relay.
"Eva is really showing some range to start the season," said Ankeny coach Thomas Cotter.
Here is some inside info on van de Mortel:
Congratulations on an outstanding indoor season. Are you surprised by the success you've had?
Thank you! I definitely was surprised by the results I've received at my first two meets mostly because pretty much throughout my entire preseason I kept telling myself that I had to earn it and that I had to work hard to prove I was something worth paying attention to. I kept this mentality in the back of my mind during all of my races; I really just wanted to show that hard work pays off.
You're obviously already in great condition. Did you train a lot over the winter to prepare for the season?
Heck yes! I've been in the weight room a lot! I lift before school for P.E., and my track coaches provided us with excellent preseason workouts after school so I was in the weight room as much as possible. It's kind of funny…I felt like the weight room was my home for a while. I was at school from 7 in the morning to sometimes 6 at night. It's crazy!
Did you get tired of the snowy weather this spring? Do you think you'll have any outdoor meets anytime soon?
I'm not as anxious as I am excited. I love outdoor season because it provides more challenges (Iowa's weather is unpredictable) and I think it makes me a better, more rounded-out athlete. I don't think I'll be in any outdoor meets until about April–or whenever the snow melts–but I am very, very excited!
Your team has a new coach this season in Thomas Cotter, who took over the program following Dennis Adamson's retirement. Has it been a smooth transition?
So far so good! Obviously we all miss coach Adamson, but coach Cotter has been a really good fit for our Ankeny track and field family. He's very organized, and he's really good with looking out for the entire team and making sure that everyone is having fun and improving.
How would you describe Cotter's coaching style?
Coach Cotter's coaching style is very relaxed. He's good about balancing fun and intensity so practices aren't stressful. In fact, practices for me are like a sanctuary. School can be stressful so being able to come to practice and be surrounded by fabulous, hard-working people is really incredible.
Coach Cotter told me that you ran a strong 1:02 split in the 4×400 relay at one of the indoor meets. Do you think you'll be running more 400s this year, and do you like stretching out to the longer sprint?
I will for sure be running some more 400s! Being a cross country runner, I think I have some endurance in me, so I have a lot of fun applying that to my sprints, even if it feels like the event kills me sometimes.
Are you planning to try any other events this season?
I think I'll be sticking to running this year. I've done long jump in the past, but it just tired me out for my later events and I'm not actually that good at it. As for running, I ran a lot of 100s last year but I will definitely be doing some longer events this year. I'm really excited to see how I handle the 200 and 400 and I'm totally willing to try an 800 sometime.
You ran on the 4×100 relay that set a school record at last year's state meet, but your team will have to replace a couple of the key members of that relay. Do you think your 4×100 squad can still compete at that level?
Oh yeah! We have a good mix of very talented girls that will have to compete for limited spots. The entire team is so incredible and hard-working and we have such good coaches leading us that I think we'll have a decent shot at placing higher than third this year.
I know you told me that you were going to the Netherlands for spring break. Was that a family trip?
Yes, my dad is from the Netherlands–he immigrated over in the 90's and pretty much all of his family is there. I got to see my grandma last summer, but I haven't really seen anyone else in about five years so I'm really, really excited!
How was the weather there? Were you able to do some workouts there?
The weather there this time of year is about the same as it is here, but about 20 degrees warmer. It's typically rainy and cloudy a lot of the time, but the landscape is pretty flat and there are some really nice nature trails near where I'm staying so as long as I have my raincoat, running won't be too challenging. My coaches also sent me off with some quick workouts so I can maintain strength and speed while I'm there. I definitely don't plan on slowing down at all while I'm gone.
I know college is a few years away for you, but are you hoping to run track at the next level?
For sure! I love track with all my heart and it's such a good stress reliever for me, so being able to run at college would be a dream come true. Honestly, even if I don't join a team, I'm sure you'll be able to find me running somewhere out there.