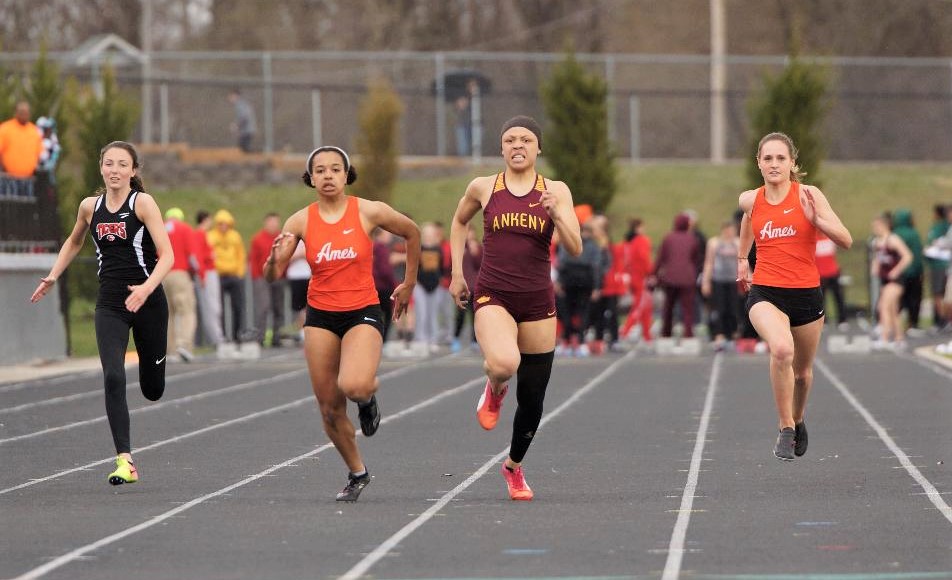 Tuesday's Hi Covey Relays in Ames provided an opportunity for the Ankeny girls' track athletes to test themselves.
The Hawkettes placed fourth in the eight-team field with 118.5 points. They finished behind three of the top teams in Class 4A.
Southeast Polk won the meet with 163 points. Cedar Falls was second with 143.5, edging the host Little Cyclones by 4.5 points.
"It was a good night for us," said Ankeny coach Thomas Cotter. "We got fourth behind three teams that will contend for the state title."
Ankeny's Mikala Sidney won the 100 in 12.65 seconds. She also ran on the winning 4×100 and 4×200 relays.
The 4×200 team was clocked in 1:46.30.
"That group continues to drop time," Cotter said. "They're now the sixth-fastest team in the state."
The 4×100 unit posted a time of 49.97. Ankeny turned in a state-leading time of 49.04 in that event a week ago.
"We will need to continue to work on our handoffs to get the most out of that event," Cotter said.
Eva Fulk placed third in the 200 in 26.68. She now owns the 16th-fastest time in the state.
Malea Daugherty was the runner-up in the 100 hurdles in 16.16 seconds. Teammate Shelby Romig was third in 16.61.
Romig also placed second in the long jump. She posted a jump of 16 feet 6.25 inches.
Sarah Bosch added a third-place finish in the 400 hurdles. She was clocked in 1:09.90, improving her season-best time by about 2 seconds.
The Hawkettes placed second in the sprint medley relay and third in the shuttle hurdle relay. The shuttle hurdle unit now ranks 19th in the state with a time of 1:10.35.
"The shuttle hurdle dropped 3 seconds off their time," Cotter said.