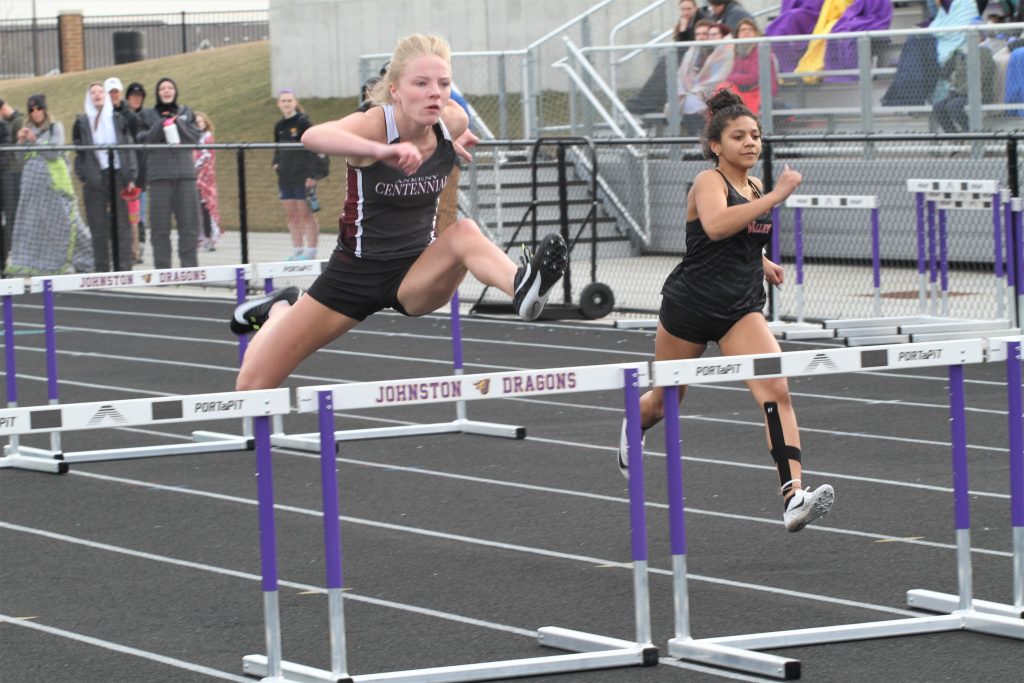 Ankeny Centennial's James Jacavino and Katie Petersen both broke their own school records during the Blue Oval Invitational on Saturday at Drake Stadium.
Thomas Collins set another school record in the boys' 400, breaking the mark that teammate Liam Murphy established just one week ago.
"It was a good day for most of our guys," said Centennial boys' coach Nate Smith. "We had many PRs from an individual standpoint."
Jacavino won the high jump with a leap of 6 feet 5 inches. He erased his own mark of 6-4 that he set at the Dr. Brooks Relays on April 6 at Valley.
Collins placed second in the 400 in 49.26, knocking nearly a full second off Murphy's mark. Murphy took sixth in 51.13.
Centennial's Avery Gates placed second in the 100 in 11.09 and was fourth in the 200 in 22.55. Murphy finished fifth in the 200 in 22.69.
Dylan DeAngelo was the runner-up in the 400 hurdles in 55.45 seconds. Nathan Reinke took fifth in the 110 hurdles in 15.48.
Gabriel Vicker placed second in the 1,600 in 4:29.14. Connor Cunningham was sixth in the 3,200 in 10:16.95.
Hayes Gibson added a seventh-place finish in the long jump. He jumped 18 feet 7 inches.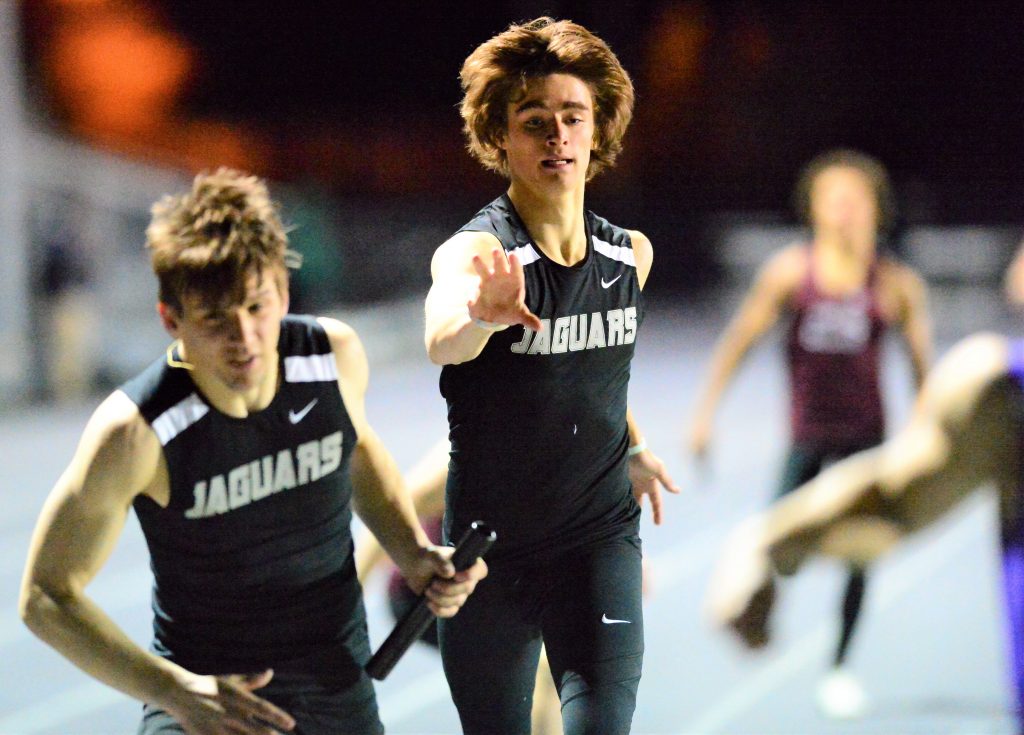 The Jaguars placed fourth in the sprint medley relay with a time of 1:38.39. That team consisted of Derek Boike, Ben Sloan, Blake Murphy and Trey Porter.
Porter also ran on Centennial's fifth-place 4×200 relay. He teamed up with DeAngelo, Jon Wong and Josh Decker to post a time of 1:31.35.
Many of the teams were trying to run qualifying times for the Drake Relays later this month, but Smith said the Jaguars are focusing more on the end of the season.
"Drake is something that is nice to do," he said. "(But) this team is more focused on performing in May at the state meet."
Petersen won the girls' 100 hurdles in 14.87 seconds, lowering the school record for the third time this season. She also teamed up with Sophie Lampe, Kayla Eilander and Meg Ridout to place third in the shuttle hurdle relay in 1:06.90.
"We had a nice day on the blue oval," said Centennial girls' coach Andrew Kruzich. "We couldn't do everything we wanted to at this meet because prom was scheduled on top of it, and that's unfortunate. It takes away chances for our kids to get to the Drake Relays. Our sprint medley didn't improve, but our shuttle had a big drop and is sitting fifth in the state. That will qualify, and we could get faster if we can get Calea Jones healthy again."
Lampe placed third in the high jump with a leap of 5 feet. Kathryn Vortherms took fourth in the 400 in 1:01.02, and Hannah Wilson finished fifth in the 100 in 13.10.
Millie Hill placed third in the 400 hurdles. She was clocked in 1:08.64, which now ranks fifth in Class 4A.
"Millie had a really big (time) drop," Kruzich said. "She's been a great surprise for us this year."
The Jaguars placed fourth in the sprint medley relay in 1:53.10. That team was comprised of Wilson, Ridout, Petersen and Vortherms.
Centennial took fifth in the 4×800 relay. The quartet of Jesslyn Gaumer, Morgan Graybill, Sophia Lee and Jeanne Peters posted a time of 10:09.98.
"Overall, we were pretty happy with how the day went," Kruzich said. "Our distance crew had nice individual drops, but those weren't put together for Drake qualifying. We will head to Ames on Tuesday and Urbandale on Thursday looking to see what we can qualify. We're looking forward to seeing what we can do."
The Ankeny girls' team only entered a few events. Malea Daugherty placed ninth in the 100 hurdles in 16.68, and teammate Shelby Romig was right behind her in 10th place in 16.75.
The Hawkettes finished fourth in the 4×400 relay. The team of Eden Gibson, Sydni Wendling, Eva Fulk and Eva van de Mortel posted a time of 4:14.47.
"It was not an easy decision, but with wind chills in the 20s we felt it was the safer choice to hold kids back rather than risk injury," said Ankeny girls' coach Thomas Cotter. "We feel comfortable with where we are at in terms of Drake qualifying. We had a season-best time in the 4×400, but there's still room for growth in that event."