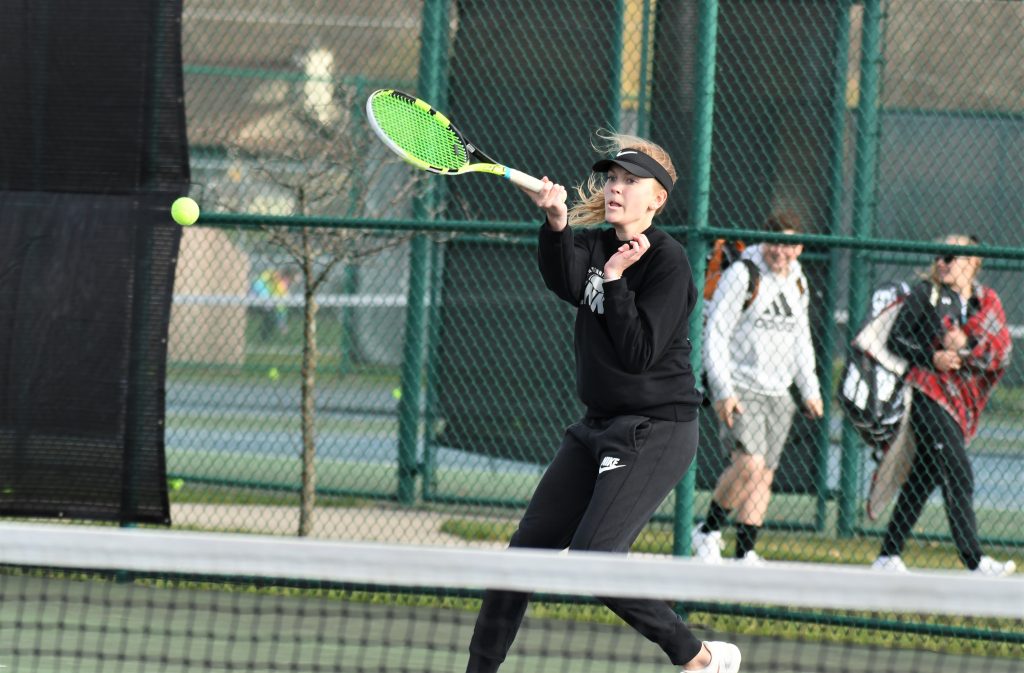 Seniors Alli Gustafson and Karly Weber are the No. 1 players for the Ankeny Centennial and Ankeny girls' tennis teams, respectively.
Gustafson has led the Jaguars to a 2-2 record. She also helped her team to a fifth-place finish at the Johnston Invitational on April 5.
Weber has led the Hawkettes to a 1-2 mark. She placed second in No. 1 singles at the Boone Invitational on April 5.
Here is some inside info on the duo:
How is the season going thus far?
Gustafson: This season has had a pretty good start. Johnston was one of our first meets, so that was a tough start having to play the state champion within the first week, but I ended up playing really well. We have also had a couple of more successful meets so those have been fun for our team as a whole.
Weber: It's going well so far. I'm having lots of fun with my teammates. I hope the weather gets better–it's been cold.
What has been the highlight for you?
Gustafson: Getting back with the team and competing several times each week has been a highlight. Off-season is definitely a lot different than in-season play, so it has been fun to get back at it.
Weber: I played some tough singles matches at (Boone), and I could tell that I was getting better and better each game. I ended up getting second place for No. 1 singles.
Are you trying to be a leader for your team?
Gustafson: Yes, I am trying my best to fill the roles that were left behind by our graduated seniors.
Weber: Yes, I mostly lead by example to show my teammates how to represent our school by having good sportsmanship and to have fun!
Do you prefer singles or doubles?
Gustafson: I have always loved singles, but after going to state last year, I think I would say that I prefer doubles. It is a lot of fun to have another person to build off and work with. It makes wins and losses better, too, when I get to share them.
Weber: Doubles, because I feel more comfortable to have a teammate there with me while I'm playing. I feel it's more enjoyable to talk to my partner after each point. It helps us to stay positive when we have each other for encouragement.
Alli, you placed sixth in the Class 2A state doubles tournament last year along with Alyssa Lewton, who has graduated. Are you developing some good chemistry with your new partner?
Gustafson: My partner this year is actually my younger sister (Jordyn)! We have played together quite a bit over the last year, so it has been pretty smooth moving into the season. It is always a learning curve moving to a new partner, especially when Alyssa and I were as successful as we were last season, but it has been fun having my sister on the court with me.
Your team has a new head coach this season in Ryan Petersen. What has he brought to the Jaguars' program?
Gustafson: He has brought a new perspective and some new insights to the program. He was able to work with some of us last year, so he had a good head start. It will be fun to see how this season plays out.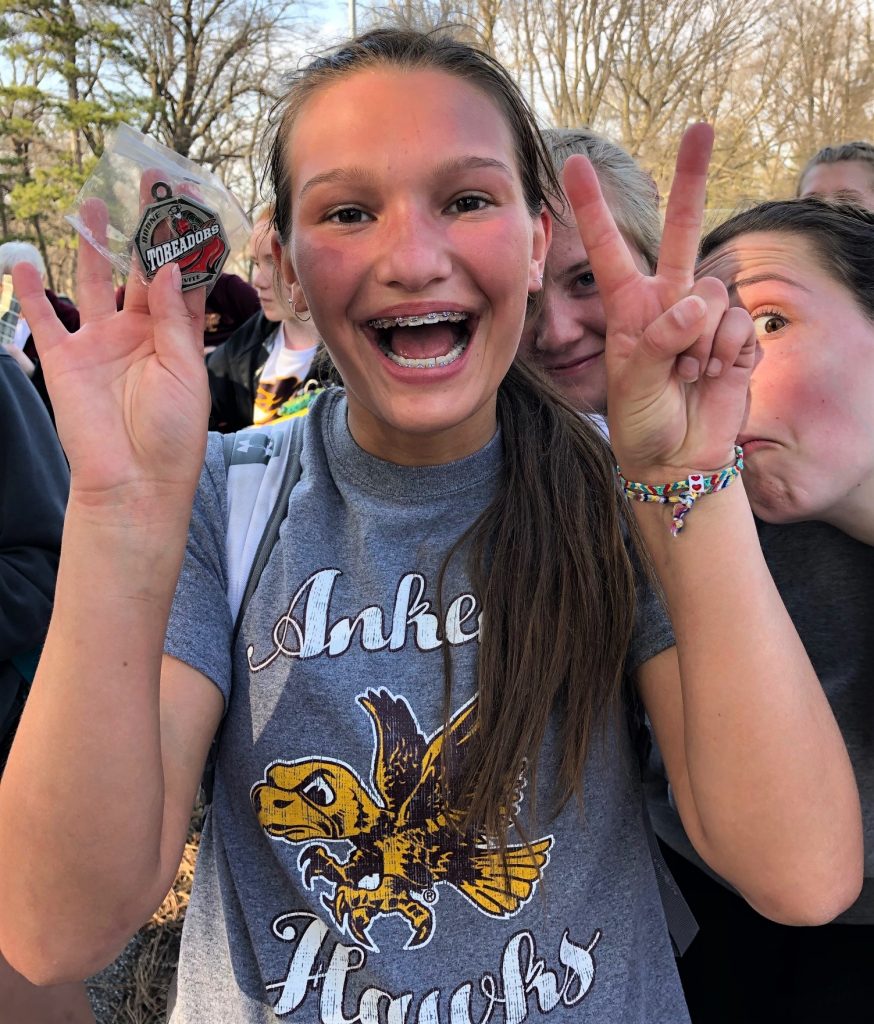 Karly, you also played on the Ankeny volleyball team last fall. Is volleyball or tennis your favorite sport?
Weber: I like them both equally. Volleyball has taught me how to work hard with my team and I have made so many friends while playing. On the other hand, tennis has taught me great sportsmanship and I can play tennis throughout my life.
Your older sister, Joise, was previously the Hawkettes' No. 1 player as a senior in 2017. Did she have a big influence on you when you were growing up?
Weber: Yes, I would always do what my sister did and I played all the sports she played. She convinced me to play tennis my sophomore year and her senior year, and I am so glad she did. And in two years I will influence my younger sister to play her freshman year.
Alli, you mentioned that you're now playing doubles with your sister. Are you competitive with each other on the court?
Gustafson: Yeah! We play a lot together, so it's always friendly competition.
Goals for the season?
Gustafson: My ultimate goal would be to get back to the state tournament! Knowing how competitive and fun that experience was makes me want to get back even more. It would be fun to end my senior season there again.
Weber: My goals would be to have fun my senior year with all my teammates and get better as a player and a teammate.
The annual Ankeny vs. Centennial match will be played on April 25. Do you have very many friends on the opposing team?
Gustafson: To be honest, I do not know many of the girls very well. With tennis being more of an independent sport, players tend to do their own off-season work so I don't come across them often.
Weber: No. I know some girls from volleyball camps, but all my good friends are from the south side.
Do you enjoy playing against your crosstown rival?
Gustafson: Yes! It is always fun to all be at our home courts at the same time and to play each other!
Weber: It doesn't really matter to me. It's just like any other tennis match, but the whole town comes together.
Plans for next year? Would you like to play tennis somewhere?
Gustafson: I am planning on attending Iowa State. I had several colleges talking to me about playing tennis for them, but decided Iowa State is the better fit for me. I hope to continue to play tennis recreationally.
Weber: I will be going to DMACC. I won't play tennis at college, but I will definitely play for fun!
What are you going to study?
Gustafson: I am going to major in Elementary Education.
Weber: I haven't decided quite yet, but I'm leaning toward accounting.