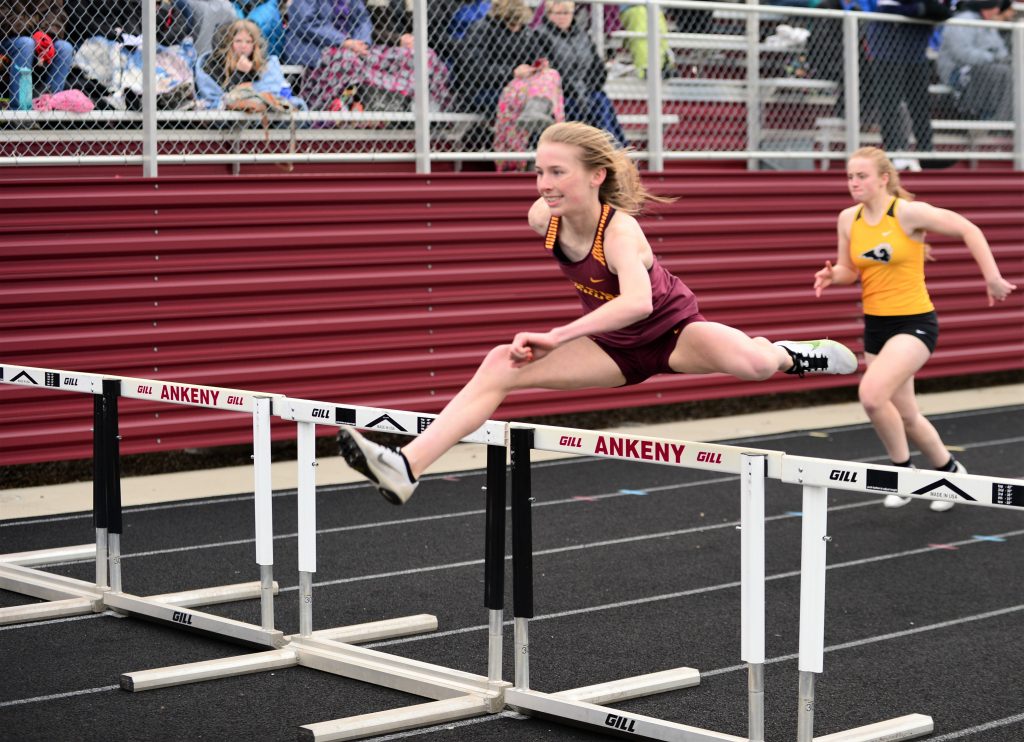 The Ankeny girls' track team turned in some strong performances in the Jim Duea Invitational on Tuesday at Ames.
And so did Ankeny Centennial.
Neither squad focused much on the team standings. The Hawkettes placed fifth in the eight-team field with 75 points, while the Jaguars finished seventh with 64.
"It was a good meet," said Centennial coach Andrew Kruzich. "We went in not paying attention to the team scores, as we were looking to drop times in certain events to qualify for the Drake Relays. We took apart some of our better events (shuttle, 100 hurdles) to do this."
Waukee won the meet for the fifth straight year, racking up 199 points. Dowling Catholic was second with 117.
Ankeny scored many of its points in the sprint events. The Hawkettes placed second in the 4×100 relay in 49.57, losing to Ames by .01 seconds.
"Our sprint crew continues to show great depth," said Ankeny coach Thomas Cotter. "We were battling a few injuries and illness, including to standout runner Eva van de Mortel, but our team competed well tonight."
Ankeny's Mytika Mayberry won the 100 in 12.25 seconds. She now owns the state's third-fastest time.
Mikala Sidney took third in the 100 in 12.57 and placed second in the 200 in 26.54. She currently ranks 12th and 15th in those events, respectively, in the state.
Sydni Wendling placed third in the 400 in a time of 1:03.21. Teammate Shelby Romig finished third in the long jump with a leap of 16 feet 11 inches.
"Shelby continues to improve every meet," Cotter said. "There's no doubt she'll be in the 17-foot range before the end of the season."
Romig also ran on Ankeny's fourth-place shuttle hurdle relay. The Hawkettes posted a time of 1:08.52.
"Our shuttle hurdle made a big jump to No. 9 in the state in a loaded field," Cotter said. "We have three sophomores and a junior in that group."
Centennial won the sprint medley relay with a time of 1:50.87. That team consisted of Hannah Wilson, Meg Ridout, Katie Petersen and Kathryn Vortherms.
"We wanted to get the sprint med in, and we won that race and now sit in the top 10 in state," Kruzich said. "We put together a 4×200 to do the same and dropped over 4 seconds off of our previous season's best, but we had a poor handoff that will keep us on the bubble. And our 4×400 might have been safe to go, but we wanted to make sure. We dropped almost 4 seconds there and are now top 10 in that event, too."
Morgan Graybill placed third for the Jaguars in the 3,000. She was clocked in 11:07.04.
Wilson took fourth in the 100 in 12.87. Ridout finished eighth in the 100 hurdles in 15.96.
"Individually, we wanted to give Meg and Hannah shots (to qualify for Drake)," Kruzich said. "Both had very nice drops–Hannah was more than two-tenths faster and Meg ran a half-second season best and all-time PR in the hurdles. Both are going to be close, but probably not quite fast enough to get in."