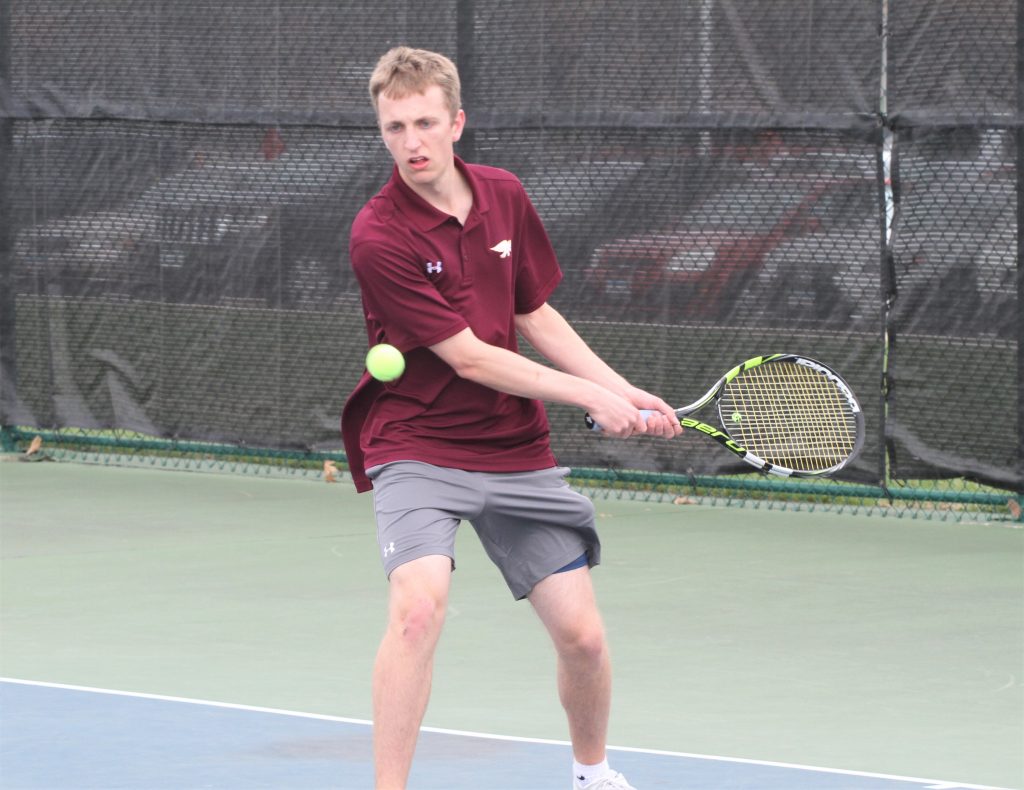 Even though the Ankeny boys' tennis team dropped a 10-1 decision to visiting Ames on Thursday, the Hawks came away from the dual meet with some moral victories.
Cade Davis managed to win a game against Timmy Ellis in the No. 1 singles match. Ellis is the defending Class 2A state singles champion.
At the No. 2 position, Luke Parkinson put up a strong fight before falling to Nate Withers, 6-3, 6-4.
"Cade played great against Timmy, and Luke played very well against Withers," said Ankeny coach Steve Smith. "I know Timmy and Withers well from my Thrive Tennis Academy teaching, and they had a lot of positive comments about Cade and Luke."
Cameron Bush provided Ankeny's lone victory at the No. 4 spot. He posted a 6-4, 6-0 win over Caleb Kong.
"Cam continued his fantastic tennis, cruising in singles and nearly winning with Jake McCann at No. 2 doubles," Smith said. "I've been really impressed with Cam's serve and overall play."
Ames needed a third-set super-tiebreaker to win three of the doubles matches. The Little Cyclones, whose only loss came to Ankeny Centennial on April 9, improved to 5-1 overall.
"Even though we lost three tiebreakers, I was happy with our doubles play," Smith said. "I continue to see our team making great strides in that area. Sam Parkinson played in his first varsity meet (at No. 5 doubles), and he and his partner–fellow freshman Owen Somers–competed well."
The Hawks dropped to 1-2 in the CIML Central Conference and 2-5 overall. They will host the Dennis Hoefle Invitational on Friday.
Here are the match-by-match results:
Ames 10, Ankeny 1
Singles–Ellis beat Davis, 6-1, 6-0; Withers beat L. Parkinson, 6-3, 6-4; Kim beat McCann, 6-0, 6-2; C. Bush (An) beat Kong, 6-4, 6-0; Wilson beat Ferree, 6-2, 6-0; Arbuckle beat Lee, 6-0, 6-1.
Doubles–Kim-Wilson beat Davis-L. Parkinson, 6-4, 4-6, 10-7; Withers-Junck beat McCann-C. Bush, 1-6, 6-4, 12-10; Kong-Arbuckle beat Ferree-Schon, 6-2, 6-3; Furukawa-Oh beat Lee-Wu, 7-6, 3-6, 10-8; Xu-Peng beat Somers-S. Parkinson, 6-3, 6-4.