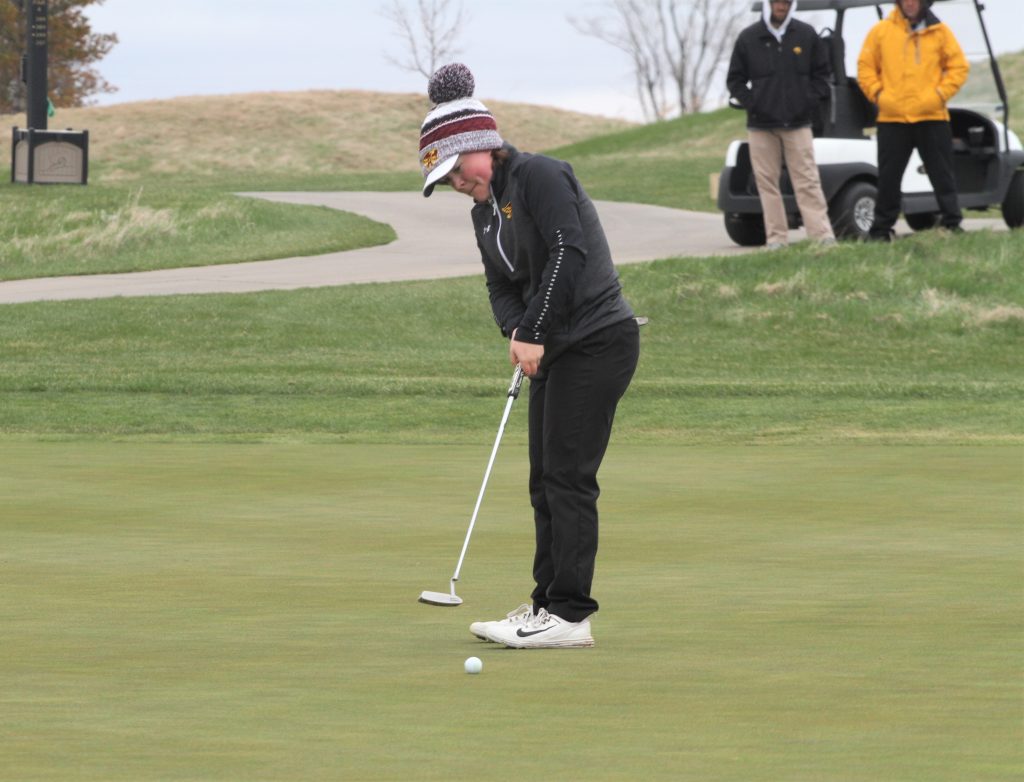 Thursday wasn't a great day for golf. But it was the perfect time to honor former Ankeny girls' golf coach Toni Dickey.
Ankeny's annual home tournament was renamed the Toni Dickey Hawkette Invitational in honor of Dickey, who was also inducted into the Dick Rasmussen Coaches Hall of Fame before the meet in the Otter Creek clubhouse.
"What an honor to follow in the footsteps of a coaching legend like Toni Dickey," said Ankeny coach Seth Hagarty, who took over the program last year following Dickey's retirement. "It was such a beautiful ceremony this morning, when (Ankeny Activities Director Brent) Buttjer honored her by renaming our invite and inducting her into the Coaches Hall of Fame. It was so great to have coach Dickey there at the end of the event to hand out the awards to the placewinners and the winning team."
Valley overcame the cold and windy conditions to win the team title for the second straight year. The Tigers shot a 322 to finish 66 strokes ahead of runner-up Marshalltown.
Ankeny Centennial fired a 417 to place fourth in the nine-team field. The Jaguars edged crosstown rival Ankeny by one shot, but coach John Petersen wasn't satisfied with his team's play.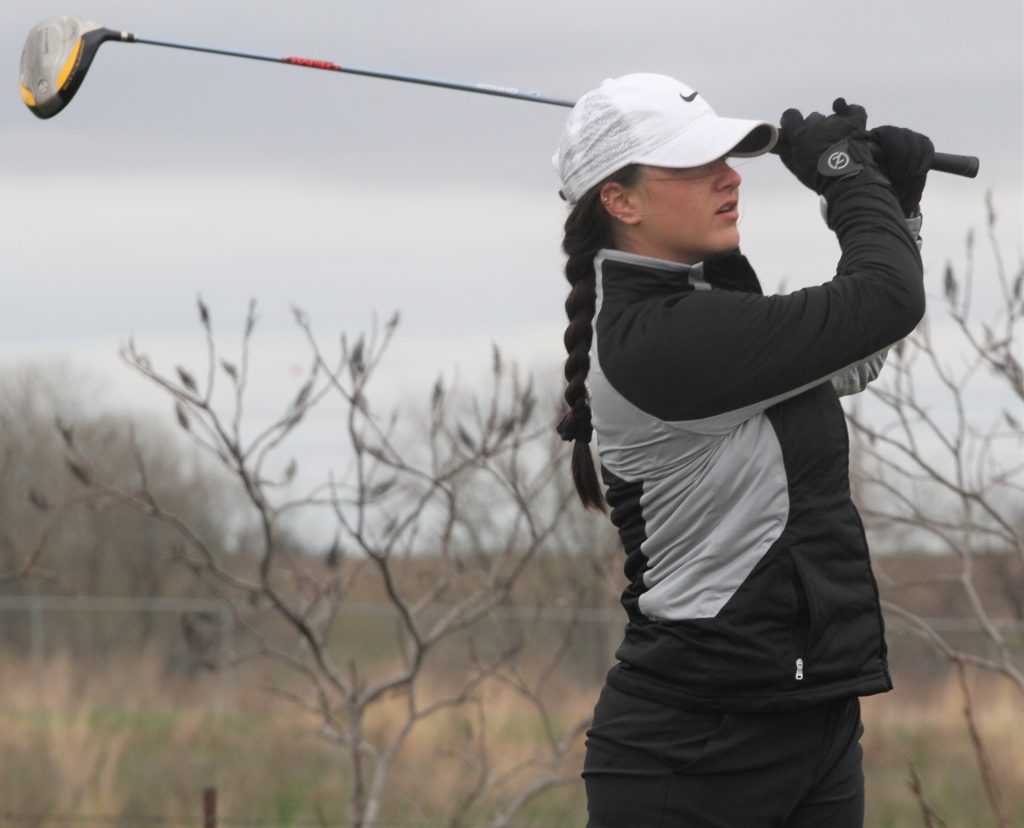 "It was a rough round today," he said. "We definitely felt like we could have scored better. We will be spending a lot of time on our short game."
Jaci Webb carded an 87 to lead Ankeny. She placed sixth as an individual.
"(I'm) very honored to have placed at an event honoring a coach who left a legacy for the @Ankeny_Hawks girls' golf program!" Webb tweeted after the meet.
Kelsey Hensen placed 13th for the Hawkettes. She shot a 97.
"I thought all of our girls did a great job today battling the tough conditions and taking what the course was giving them," Hagarty said. "Jaci had a rough start, but bounced back nicely. Kelsey also performed well today (and shot) a personal best at Otter Creek."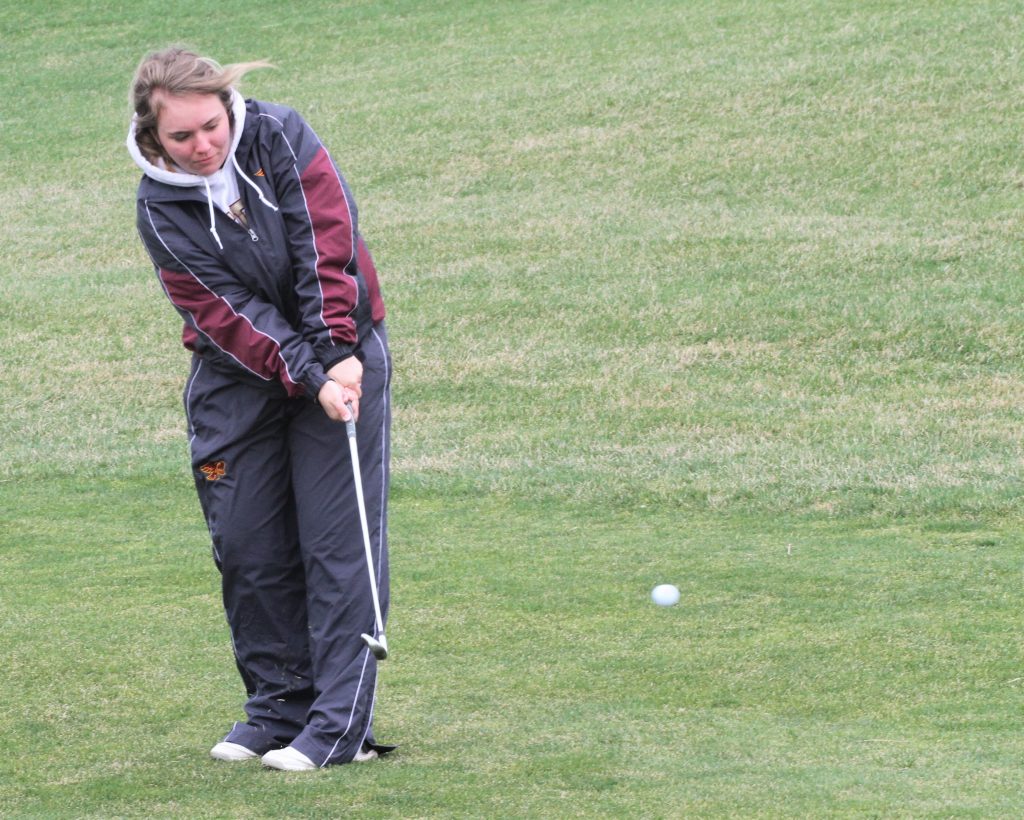 Lauren Sease led the way for Centennial. She placed eighth with a 91.
Lexi Simpson carded a 105 for the Jaguars. Megan Lazear shot a 108, Claire Beath had a 113, Riley Stewart fired a 115, and Grace Meter had a 125 in her varsity debut.
Rachel Moore shot a 116 for the Hawkettes, while Gabby Schnepf had a 118 in her first varsity meet. Hannah Loftus carded a 119, and Lexi Russell finished with a 129.
"Overall, we took fifth as a team and we will take those results and continue to work on our weaknesses and ultimately be better for it," Hagarty said.
Valley's Paige Hoffman carded a 3-over-par 74 to earn medalist honors. Teammate Saffire Sayre was the runner-up with a 79.