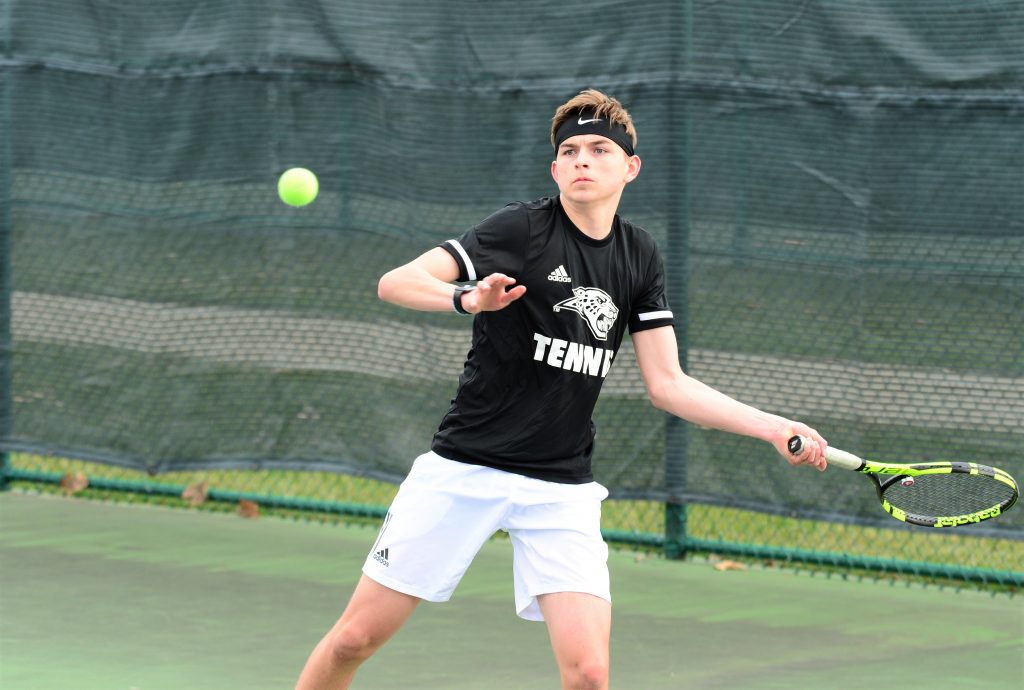 A grueling week for the Ankeny Centennial boys' tennis team ended on a positive note Saturday with a pair of victories at the Prairie Ridge courts.
After splitting two dual meets on the road earlier in the week and placing fourth in the Dennis Hoefle Invitational on Friday, the sixth-ranked Jaguars played host to a quadrangular meet that featured three other top-10 teams–No. 8 Bettendorf, No. 9 Ames and No. 10 Cedar Falls.
Centennial began the day with a 9-2 win over Bettendorf, then swept the five doubles matches to rally for a 7-4 triumph over Cedar Falls. The Jaguars improved to 7-1 on the season.
"That was a fantastic come-from-behind win against Cedar Falls, and I am really proud of the mental fortitude that all of our guys showed," said Centennial coach Tami Lewton. "It showed some really great mental strength and guts from all 10 of them. We have had a crazy busy week of tennis, and the guys deserve a well-earned rest!"
Cedar Falls (6-2) took a 4-2 lead in singles as the Jaguars rested two of their top four players due to injuries. However, Samson Densmore and James Cole returned to the court for doubles and helped spark Centennial's rally.
Cole teamed up with Will Blevins for a three-set victory at No. 1 doubles, while Densmore combined with Ryan Lofgren for another three-set win at the No. 2 spot. The Jaguars won the other three matches in straight sets.
"We had to sit James and Samson in singles," Lewton said. "Four matches in a day was just too much with their leg injuries, but the guys pulled through in the doubles. With the help of the injured guys, we pulled it out. We really toughed out some difficult matches."
Earlier, the Jaguars handed Bettendorf (6-1) its first loss of the season. The Bulldogs' only wins came at No. 4 singles and No. 1 doubles.
Here are the match-by-match results:
Centennial 9, Bettendorf 2
Singles–Blevins beat Porubcin, 6-3, 6-1; Densmore beat Swearingen, 6-2, 6-4; Lofgren beat Luebke, 6-1, 6-0; Witcraft (B) beat Cole, 6-2, 6-3; Petersen beat Herrmann, 6-2, 3-6, 10-5; Unick beat McNab, 6-1, 6-1.
Doubles–Porubcin-Witcraft (B) beat Densmore-Lofgren, 1-6, 6-3, 10-8; Blevins-Cole beat Swearingen-Luebke, 6-2, 6-1; Petersen-Unick beat Herrmann-McNab, 6-1, 6-2; Mackaman-DenAdel beat Bicknese-Von Maur, 6-1, 6-0; Livingston-Peterson beat Allen-Fromi, 7-6, 6-2.