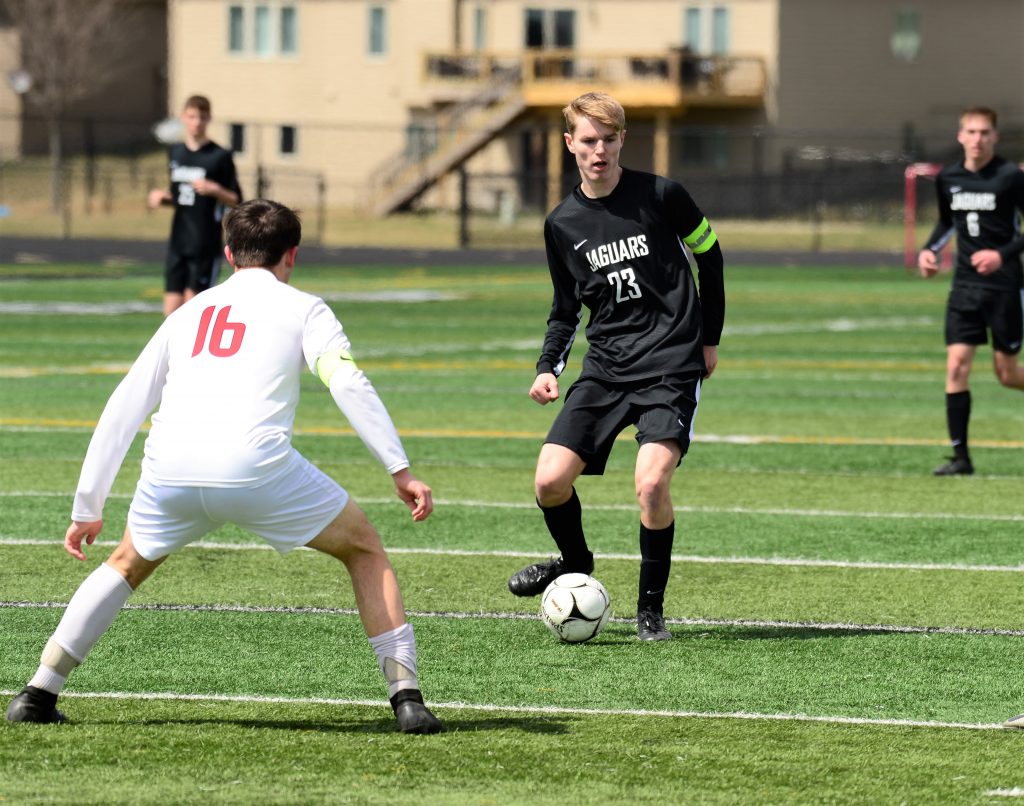 A quartet of seniors has led the Ankeny Centennial boys' soccer team to a 9-1 record and a No. 2 ranking in Class 3A heading into Tuesday night's game against No. 11 Johnston.
In the future, though, the longtime friends and teammates will become rivals on the pitch.
Forward Will Overberg verbally committed last week to play for Luther College, while midfielder Michael Brandt committed to Loras College. Earlier this month, forward Nick Ashton announced that he will play for Central College.
Central, Loras and Luther are all members of the Iowa Conference.
"I love playing with Will and Mike, but I am also very excited to play against them in college," said Ashton. "They are both going to great schools, and I look forward to beating the two of them on the pitch next year."
A fourth Jaguar, defender Easton Becker, has also made his college plans. He committed in January to play for Concordia University in Wisconsin, another Division III school.
"It was definitely nice to have that decision made before the high school season," said Becker. "This allowed me to focus on the spring season instead of where I'll go next year."
Centennial coach Brian Duax said he thinks all four players found good fits to continue their soccer careers.
"It takes a little burden off of their shoulders," he said. "They can just relax now and play some soccer."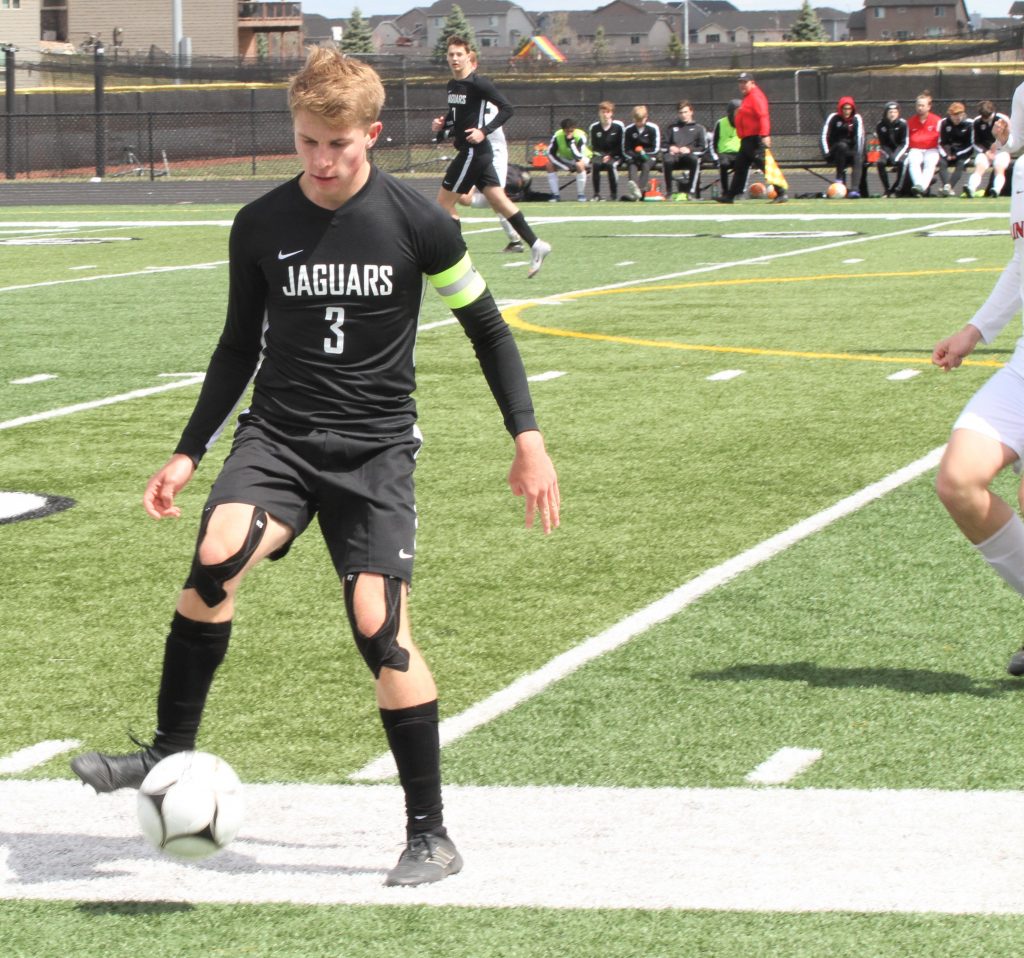 Overberg has racked up 12 goals and five assists this season. He leads the team in scoring and is tied for ninth in the state with 29 points.
Overberg said he chose Luther over Hamline, Grand View and Illinois Wesleyan.
"It is a relief to be done with the college search after such a long and time-consuming process," he said. "I've been reaching out and communicating with coaches since early in my junior year. It has definitely been something I've been working on for awhile so I could find a good fit."
Overberg, who was named to The Des Moines Register's all-Iowa Elite team and to the Class 3A all-state first team by the Iowa High School Soccer Coaches Association last year, was impressed by Luther's program.
"The coaches are great, and the soccer program itself is at a consistently high level," Overberg said. "They're always trying to make a run in the NCAA Tournament and last year ended up ranked eighth in Division III. I know they will push me to become the best player I can potentially be. Also, the campus and the surrounding landscape (in Decorah) are awesome."
Like Overberg, Brandt looked at several other schools before making his decision. He eventually chose Loras, which is located in Dubuque.
"I considered the University of Nebraska-Omaha, Lewis University, Wartburg College, Western Illinois University, and a few others in Wisconsin," Brandt said. "During my visit at Loras College, I felt connected with the players and coaches because they showed great characteristics when it comes to being a team that feels like family. I also really liked the campus because everyone was very welcoming as I had professors confronting me to greet me and introduce themselves."
Brandt has contributed six goals and three assists this season. He received all-state honorable mention from the Coaches Association as a junior.
Brandt will become the fifth member of his family to play a sport in college. Older sisters Mary and Sarah played soccer at Northern Iowa, while another sister, Meg, currently stars for Nebraska and has also played for the U.S. Under-23 Women's National Team.
"Growing up with them, I have gone to countless soccer games," Brandt said. "I was able to gain a lot of knowledge, and because of that it helped improve my game as well. However, probably the most important thing I learned from my sisters and my brother (Carter)–who also played college (football)–was the hard work you have to put in during the off-season to be successful during the season."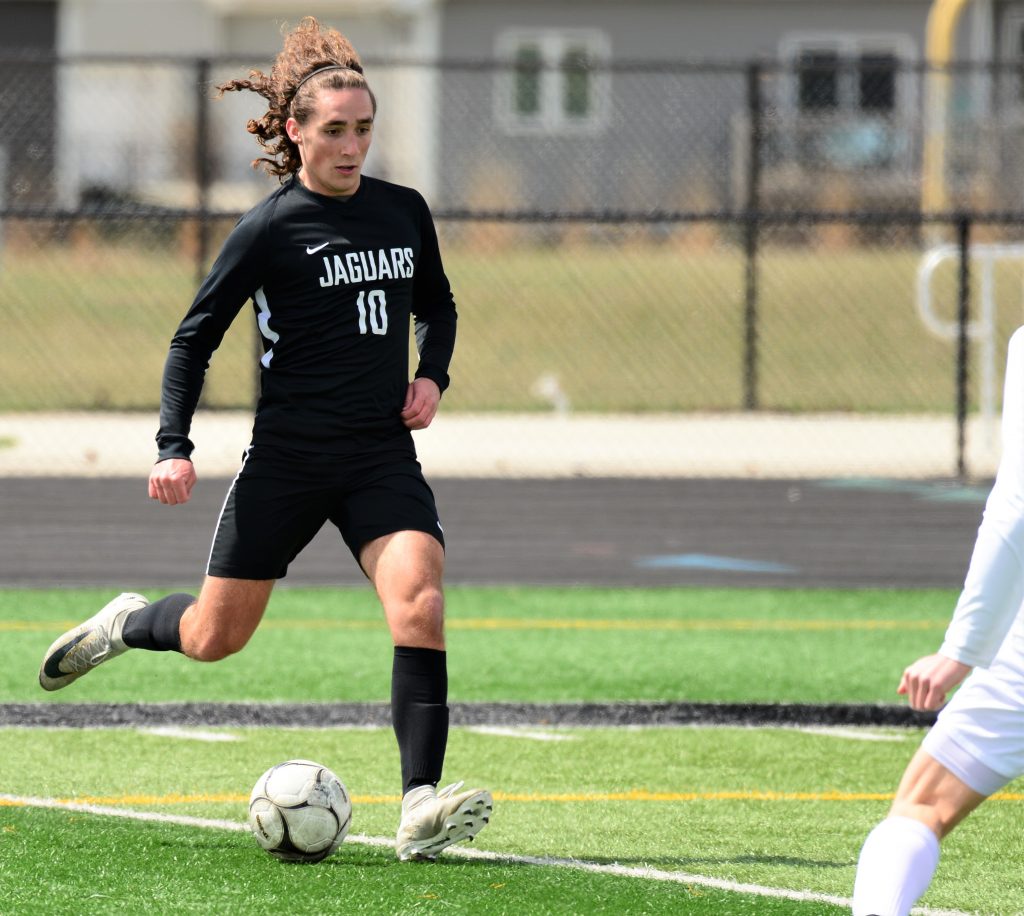 Ashton has scored four goals and leads the Jaguars with eight assists. He took his time before committing to Central.
"It is a huge relief to get my college decision made, but it was also something I couldn't rush," Ashton said. "I wanted to make sure to find a school that not only fit me for soccer but also my education."
Ashton isn't the only player from Ankeny headed to Pella. Ankeny High standout Charlie Pritchard has also committed to play for the Dutch.
Ashton said Lewis University in Chicago was one of the other schools that he considered.
"I also looked in Colorado a bit, but decided to choose Central for many reasons," he said. "The Central style of play fits me very well and the members of the coaching staff all seem great. I really like coaches (Garry) Laidlaw and (Will) Foskett and hope to have a really good first season with them. I also chose Central because everybody I have ever talked to about the school says that it is a great place and all the people are friendly and welcoming. On my visit, I realized how true that was."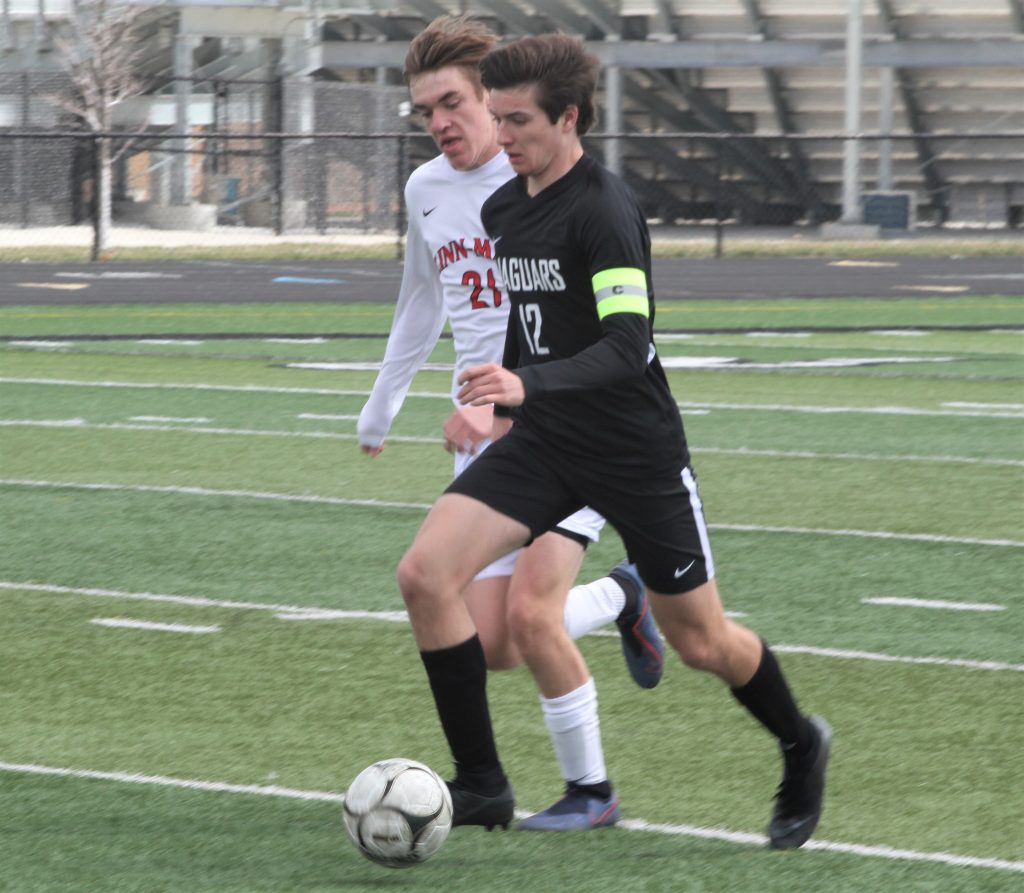 Becker said he was looking for a school away from home. And he found it in Mequon, Wis.
"I knew I wanted to go somewhere out of state or at least a good distance from home because I wanted that feeling of independence," he said. "I looked at Milwaukee School of Engineering, University of Wisconsin-Whitewater, University of Wisconsin-Platteville, and even the University of Texas at Dallas."
Becker, who has recorded three assists this season, said Concordia felt like his "home away from home".
"The coaches and players there were all very welcoming, and I could see myself playing there for coach (Tom) Saleska," Becker said. "The school itself had exactly what I wanted academically, and it's just an amazing campus right off Lake Michigan."
Concordia plays a schedule that includes some schools from the surrounding states. Becker could eventually find himself across the pitch from one of his Centennial teammates.
"Hopefully, I'll get to go up against Easton at Concordia at some point," Overberg said. "We've always pushed each other, so it'll be fun."
There's no doubt, though, that Ashton, Brandt and Overberg will collide multiple times over the next few seasons.
"It'll be fun to play against them and even defend them," Brandt said. "I'm sure the games will be very competitive! Go Duhawks!"
Unlike Ashton, Overberg wasn't ready to make any predictions about their future matchups.
"I've played with Nick and Mike for probably 10 years so it is going to be weird seeing them not as teammates, but I think it will be fun being able to compete with them for four more years," he said.