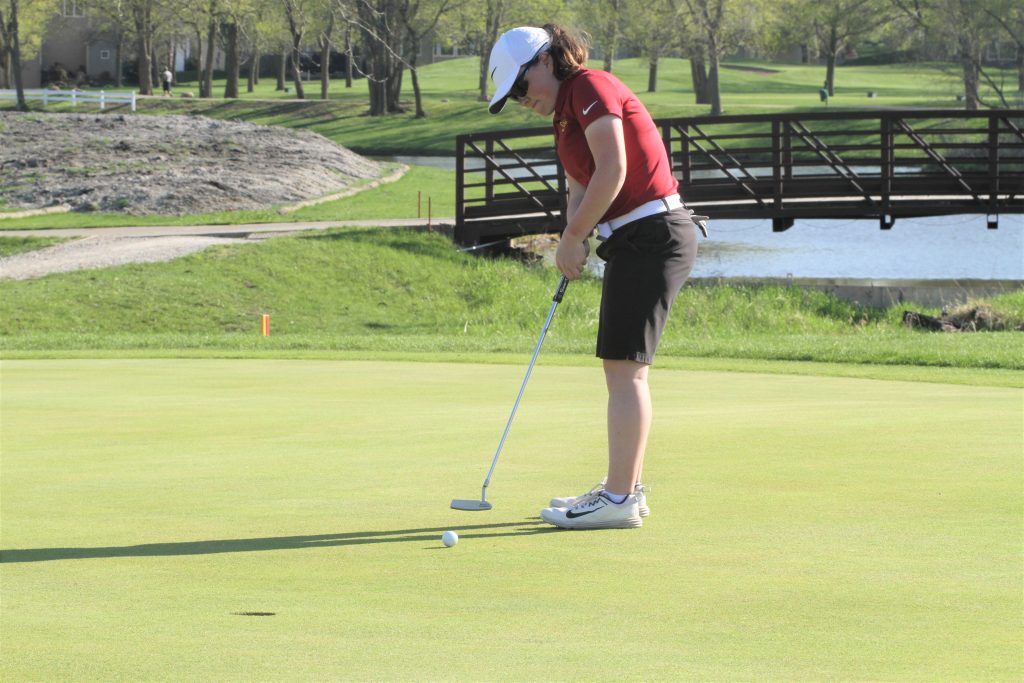 Jaci Webb didn't know that the Ankeny girls' golf team had never defeated crosstown rival Ankeny Centennial.
"That makes the win feel that much better!" Webb said on Wednesday after the Hawkettes posted a 191-201 victory over Centennial in a CIML Central Conference dual meet at Briarwood Golf Club.
Ankeny earned the win on a postcard-worthy afternoon that featured sunny skies and temperatures in the 60s. The Hawkettes had lost all five previous dual meets against Centennial by an average of 48 strokes.
"It was an absolutely beautiful day for golf, which is definitely rare for this time of year in Iowa," said Ankeny coach Seth Hagarty. "We were fortunate to take advantage of that and put up some great scores today."
Ankeny improved to 3-0 in the league just one year after the Hawkettes failed to win a conference dual meet. The Jaguars' record dropped to 0-3.
"Congratulations to Ankeny–they played very well," said Centennial coach John Petersen. "We felt like we played ok. However, we still believe we can shave quite a few strokes off of our score. We haven't had everybody playing up to their potential on a single tournament yet."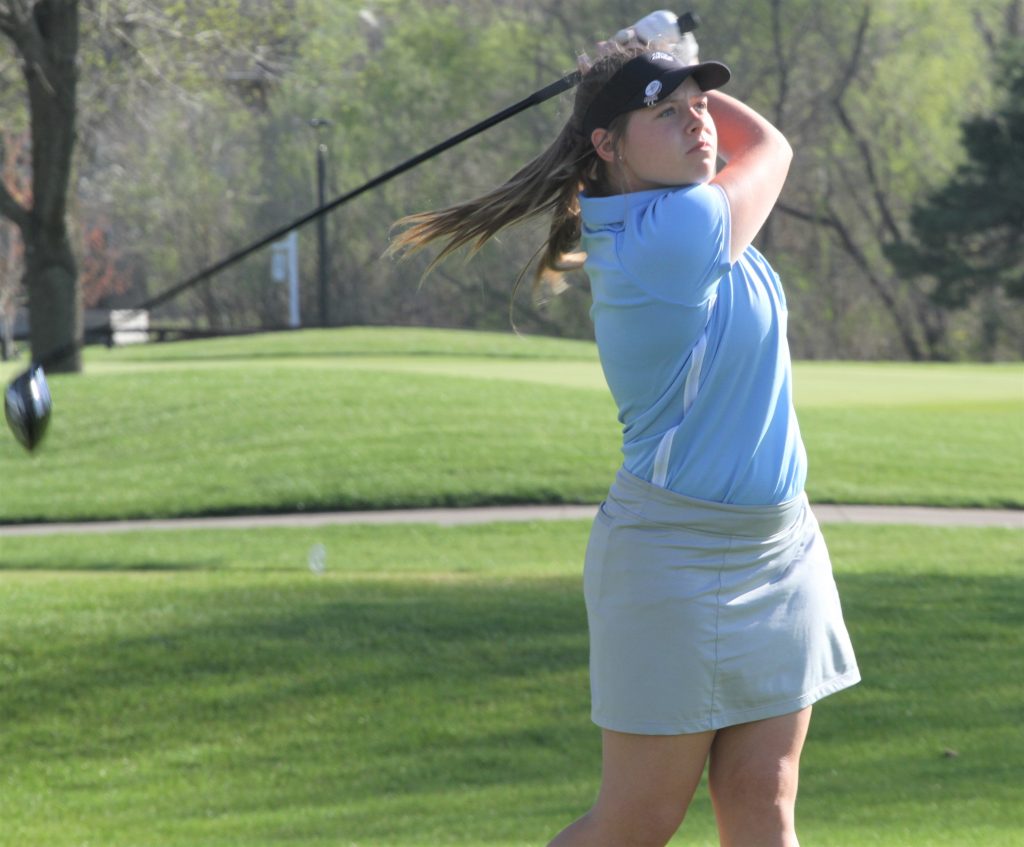 Webb carded a 2-over-par 38 to earn medalist honors. She ended her round with four consecutive pars.
"Everybody has been putting in a lot of work, so it was great to see it pay off," Webb said. "The key to my round today was getting off to a good start and then putting myself in a good position to make par. My putting today was the best it has been in a long time. I had 15 total putts and no three-putts, so that really shaved quite a few strokes."
Webb finished seven shots ahead of runner-up Lauren Sease of Centennial, who fired a 45. That provided most of the Hawkettes' 10-stroke margin.
"Jaci fired a personal best," Hagarty said. "Just watching her today, you could tell she was in a great place and was taking each hole one by one. She has worked very hard the past few days to get her driver dialed in and today all of that worked paid off."
Hagarty also praised the play of Kelsey Hensen, who carded a 47 for the Hawkettes.
"Kelsey has worked very hard in practice on her weaknesses and is starting to see the results of that hard work," Hagarty said.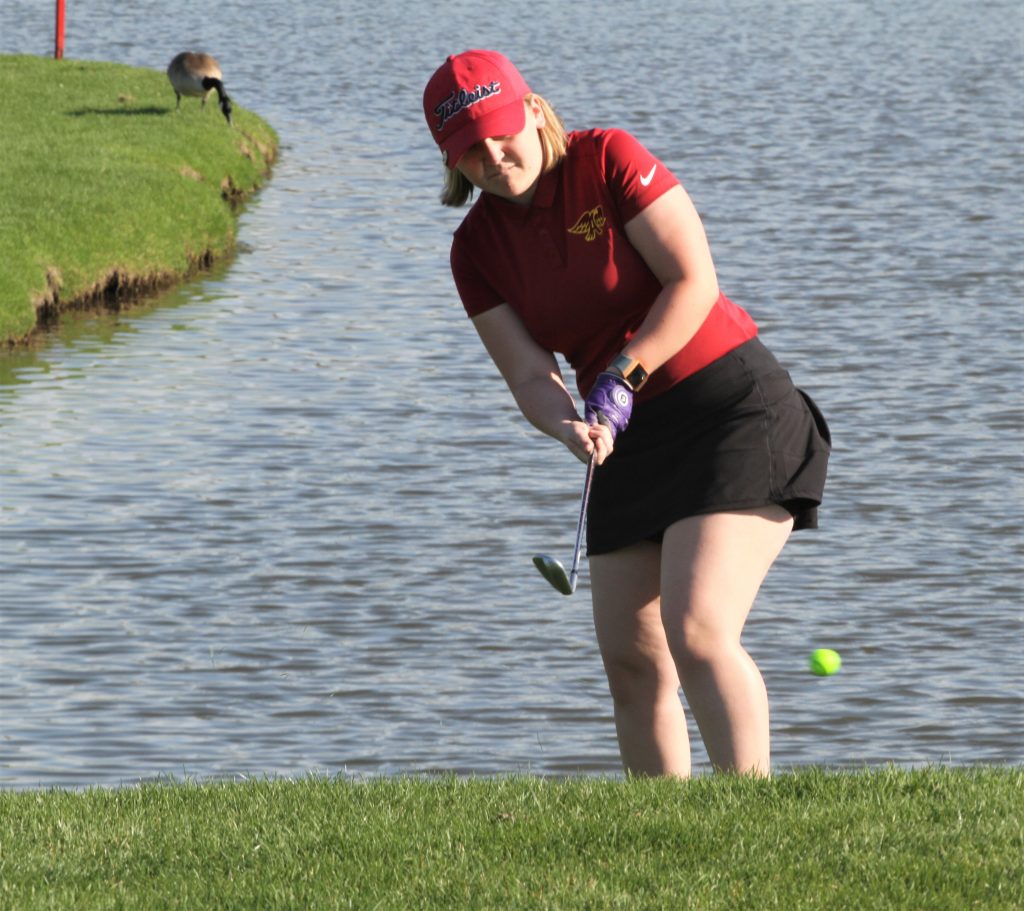 Ankeny's Gabby Schnepf shot a 51, while Caroline Price fired a 55. Rachel Moore had a 58, and Hannah Loftus added a 66.
The Hawkettes lost last year's meet against Centennial, 180-209, on the same course.
"It feels really good to get that first victory over Centennial since the split," Hagarty said. "Every single girl on this team has worked extremely hard on all aspects of their game, and it is starting to pay off. We still have work to do and areas of the game that we need to work on, and we will do that over the course of the next few days of practice. But overall, I am extremely proud of this group of girls and their determination to take their game to the next level."
Lexi Simpson shot a 51 for Centennial. Riley Stewart carded a 52, Megan Lazear had a 53, Marissa Jones shot a 62, and Claire Beath finished with a 64.
The Jaguars will compete for the third straight day on Thursday, traveling to Marshalltown to play in the Linda Bloom Invitational.
"Hats off to Centennial," Hagarty said. "They are a very good golf team, and every single girl on that team is a great kid."