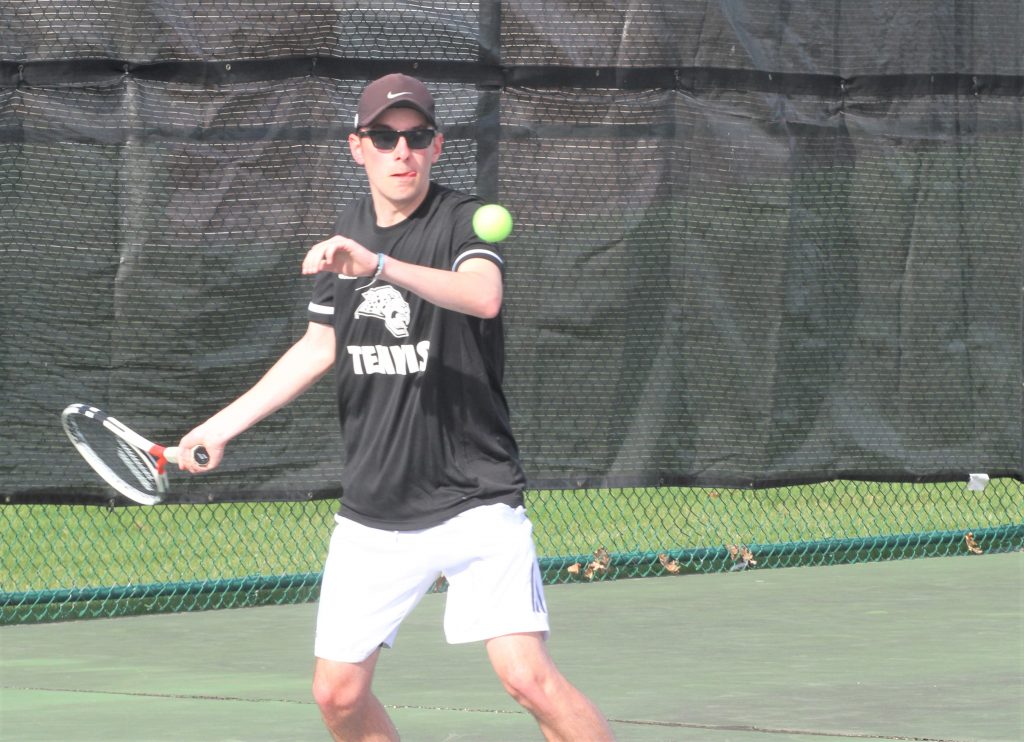 Tuesday was an enjoyable night for the Ankeny Centennial boys' tennis team.
The sixth-ranked Jaguars used 15 different varsity players during a dual meet against visiting Des Moines East. It was an almost all-senior lineup for Centennial, which rolled to a 10-1 victory.
"We have quite a few seniors that are just below our varsity lineup, and this gave them a chance to play," said Centennial coach Tami Lewton. "I was super proud of how they competed. It was a fun night!"
The Jaguars raised their record to 8-1 on the season. East dropped to 1-7.
"Will (Blevins) and Ryan (Lofgren) played singles, but they were the only varsity in the singles lineup besides our undefeated No. 5 doubles team of Sage Peterson and Clayton Livingston. Those two guys got a chance to play singles at 3 and 4," Lewton said. "In doubles we teamed up some of the guys with some varsity seniors."
Here are the match-by-match results:
Centennial 10, D.M. East 1
Singles–Blevins beat Dolphin, 6-0, 6-0; Lofgren beat Cort, 6-0, 6-0; Livingston beat Thompson, 6-3, 6-1; Jack (E) beat Peterson, 4-6, 6-4, 10-8; Carlson beat Cook, 6-4, 6-0; Dirks beat Bartz, 6-2, 6-2.
Doubles–Lofgren-Mackaman beat Dolphin-Jack, 6-2, 6-1; Hegstad-DenAdel beat Cort-Thompson, 6-2, 6-4; Eichhorn-Brcka beat Cook-Mila, 6-2, 6-1; Petersen-Miller beat Pranivong-Bartz, 6-0, 6-0; Unick-Brady beat Demuth-Vang, 6-1, 6-2.