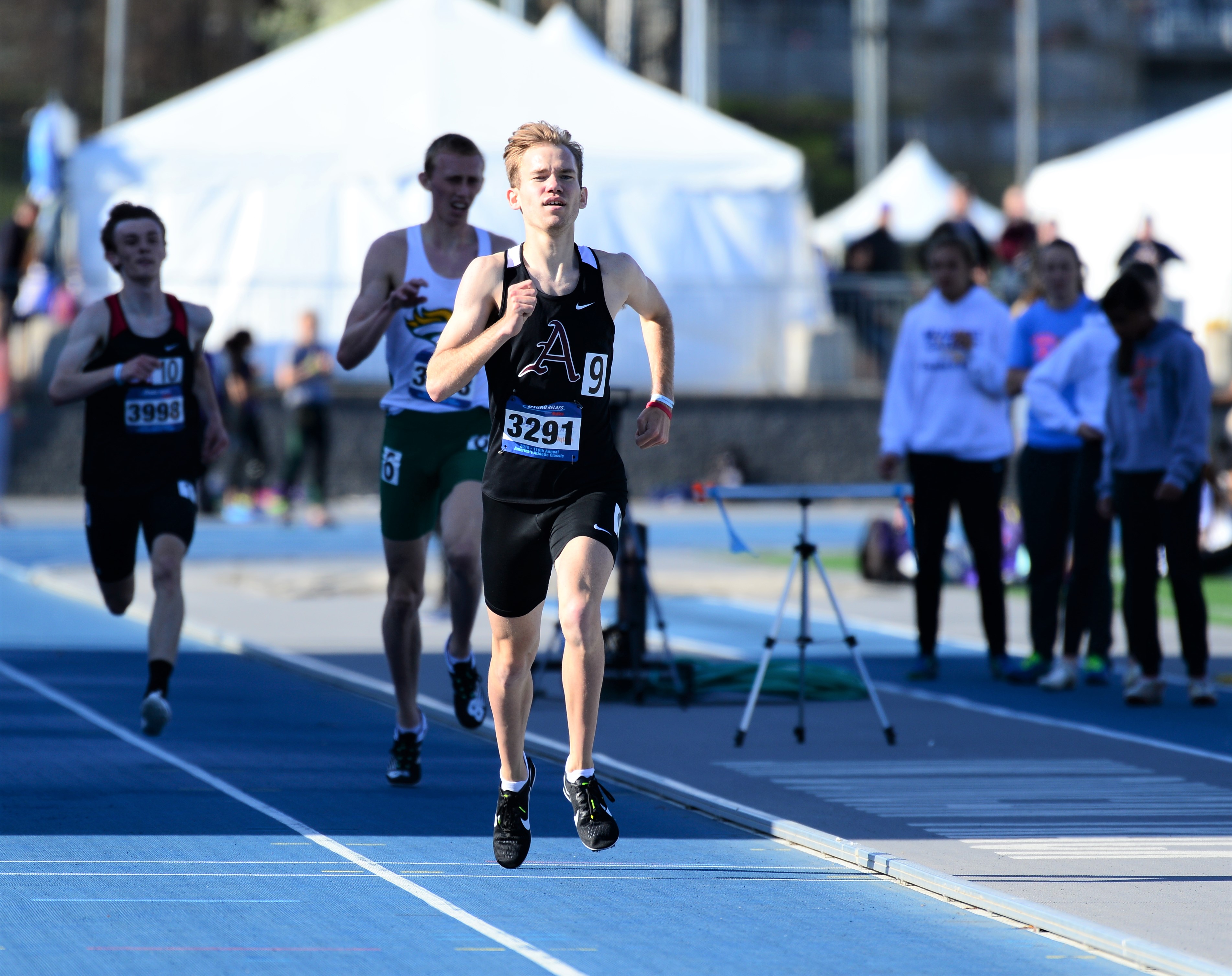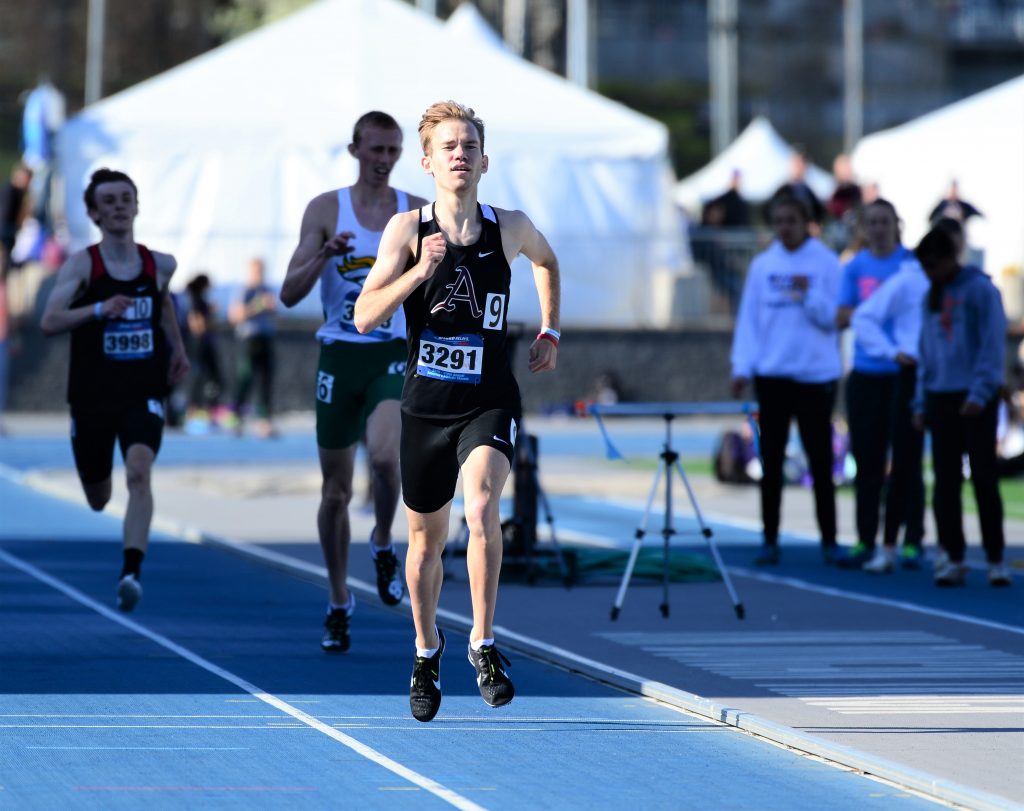 For a brief moment, Ankeny's Tim Sindt felt his victory slipping away on Thursday at the Drake Relays.
After leading for the last few laps of the boys' 3,200-meter run, Sindt was passed on the final lap by David Holesinger of Dubuque Hempstead, who surged to the front with a strong move.
"For a half a second, I was like, 'Oh no, it's over,'" Sindt said. "And then something flipped and I was like, 'No, I've waited a year to get revenge on this. I'm going back for it.' I finished hard."
Sindt quickly recovered and regained the lead, then held off a late charge from Reece Smith of Garner-Hayfield-Ventura to win the race in a time of 9:14.64. Smith was clocked in 9:15.88.
Sindt, a senior, became the Hawks' first Drake Relays champion since Aaron Jarosh won the long jump in 2006. The two-time state cross country champion also became the first Ankeny runner to win the 3,200 since Chris Leonard in 1980.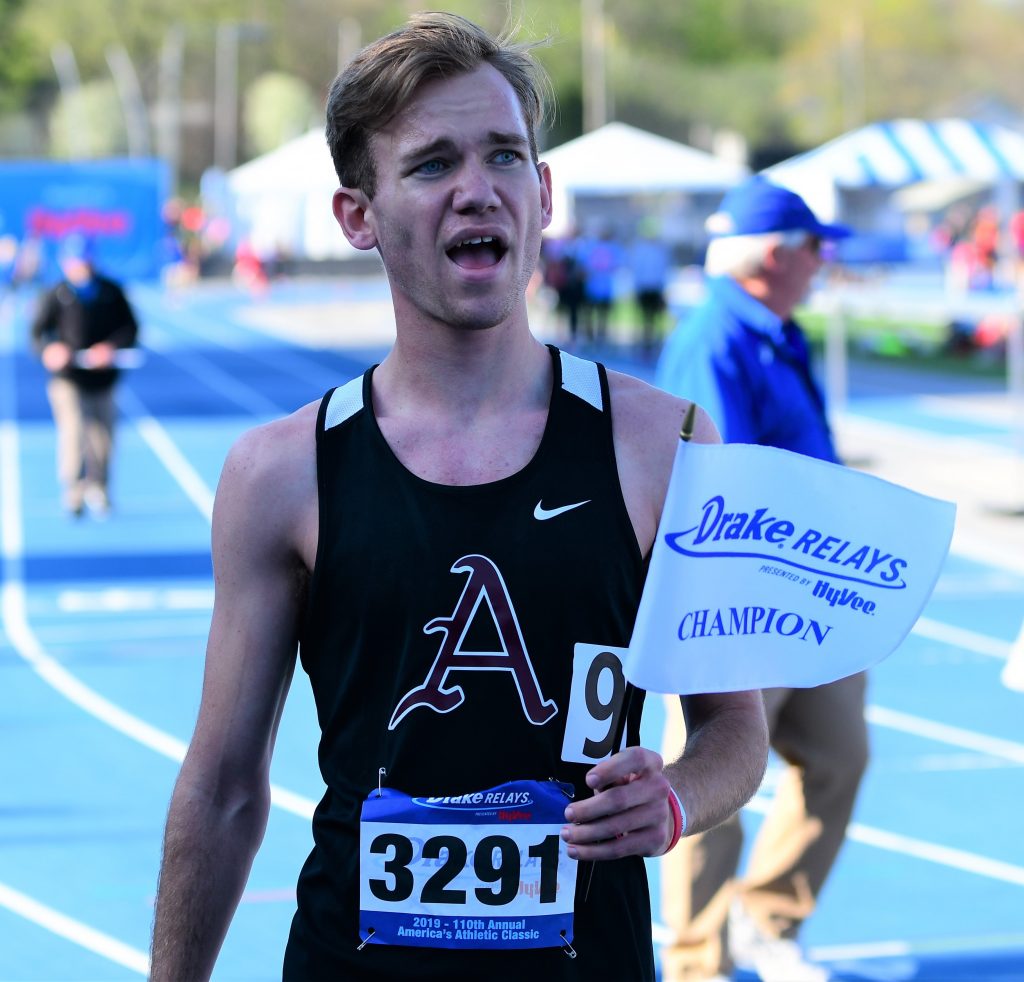 "It feels fantastic," Sindt said. "I wanted to try and go for it last year, and it just didn't play out that way. So I studied last year's race all this week–all since last year–and try to recreate what Gable (Sieperda of Central Lyon) did, and it worked out. It feels great."
Gabriel Vicker of Ankeny Centennial placed ninth in a time of 9:39.29. The sophomore led the race for the opening 800 meters.
"I was really pleased with the result of my race," Vicker said. "I wanted to break my personal record of 9:43, and I left it all out there and got 9:39. I wasn't planning on leading at the beginning. I just came off the waterfall and slid right in front when I tried to get an inside lane. Even though I didn't hold that pace, the plan was to get out and not get boxed in."
Sindt was just happy that the pace wasn't too fast.
"I didn't think anyone would take it out hard, like (Matthew) Carmody (of Dowling Catholic) did at state last year," Sindt said. "I'm really glad they didn't. I kind of tried to run it even and then speed up the last three laps. It worked really well."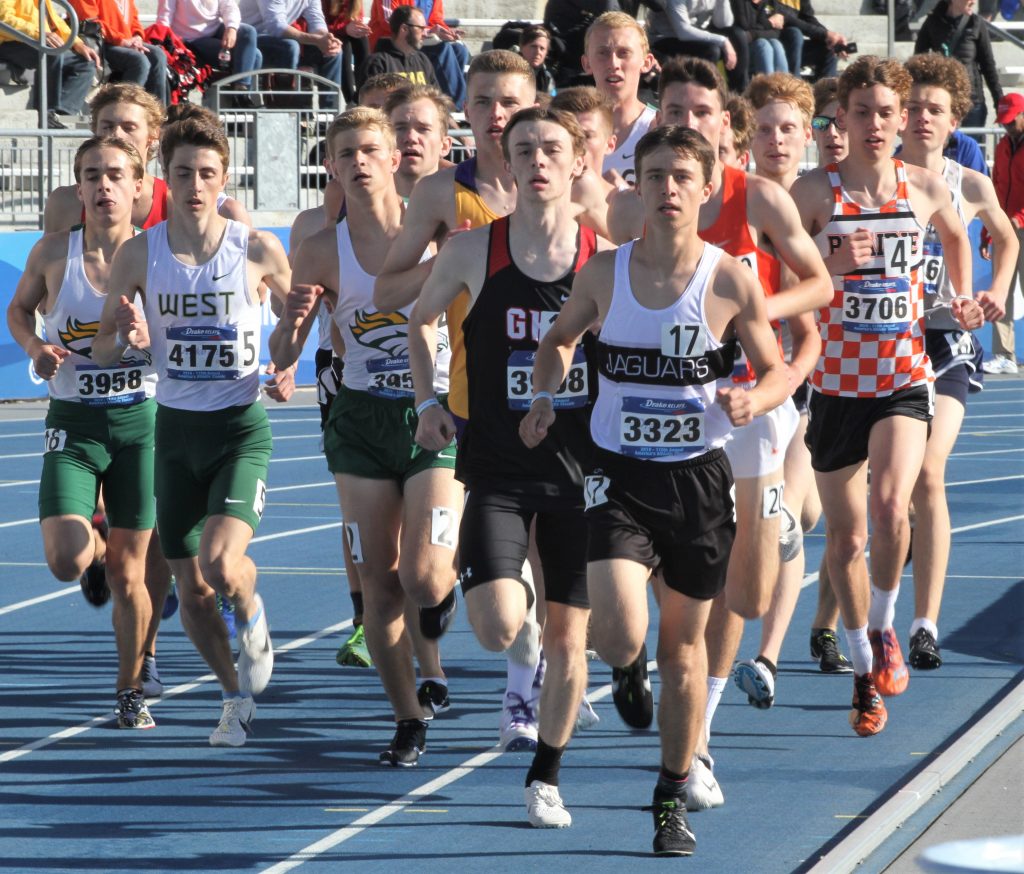 Sindt will be back on the track on Friday morning to run the 800-meter anchor leg of the distance medley relay. After that race, he can focus on his other individual events.
Sindt has a chance to win the distance triple–the two-mile, the mile and the half-mile. The 1,600-meter run is scheduled for Saturday afternoon, but the 800 will be held just a few hours after the distance medley on Friday.
"I'm entered in all four," Sindt said. "I'm running the d-med and the 1,600 as well for sure. The 800 we're still not sure of. It depends on how the d-med goes."
In the field events on Thursday, Ankeny's Jacob Baier placed 13th in the shot put while Centennial's James Jacavino tied for 21st in the high jump. Both athletes were slowed by injuries.
Jacavino cleared the bar at 6 feet 1 inch on his third attempt. The senior then missed all three of his tries at 6-3 before limping away to the grandstand.
"My ankle's a bit missed up," Jacavino said. "My coach noticed it, and I just brushed it off as part of my foot. But it's part of my take-off foot, and I think I did do something to it. It's hurting just to put weight on it."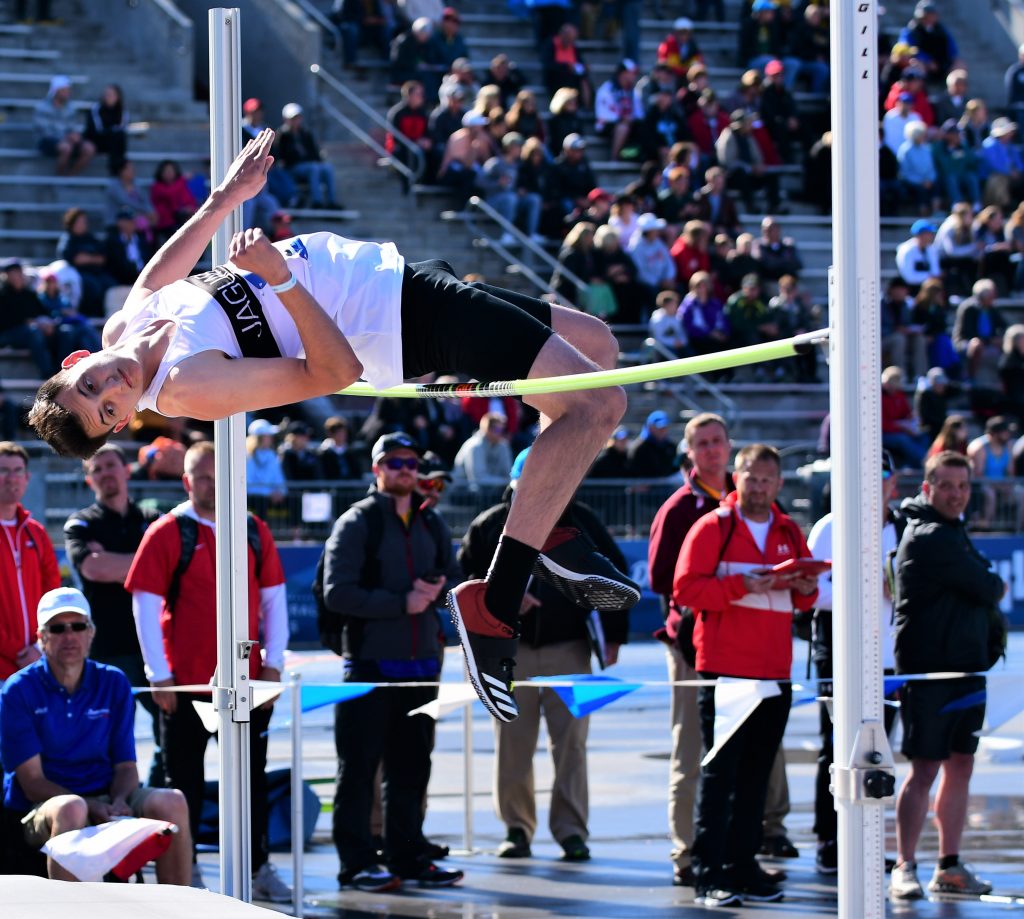 Grant Brouwer of Sibley-Ocheyedan jumped 6-9 to win the event.
"Hopefully, I'll be ok for conference next week," Jacavino said.
Baier, meanwhile, posted a throw of 50 feet 10.5 inches on his first attempt. After fouling on his second attempt, the junior threw 50-6 on his third try.
Baier did not advance to the finals.
"It wasn't very good," Baier said. "I hate to use this as an excuse, but this is my first meet in three or four weeks and I just got nervous. I threw horrible. I didn't get the distance I wanted. I threw way farther in practice. I think the main thing is that I've got to put it behind me. I've got the discus (on Friday)."
Baier has been battling a groin injury.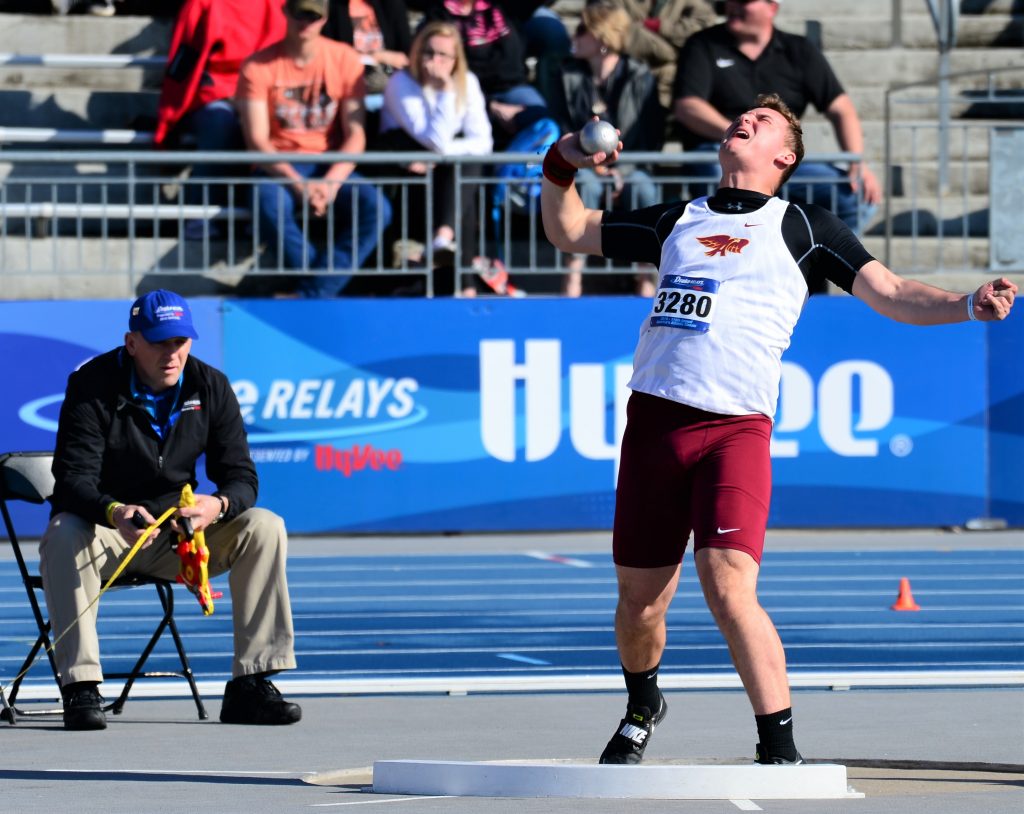 "I strained something," he said. "I haven't been able to compete for awhile."
Iowa football recruit Noah Fenske of New Hampton won the event with a toss of 60-11.25, beating the runner-up by more than 2 feet.