It's time for the Ankeny and Ankeny Centennial girls' soccer teams to regroup.
Both teams went 1-2 in the Tournament of Champions last week at Burlington. The fourth-ranked Hawkettes fell to 9-2 on the season, while the No. 2 Jaguars dropped to 7-2.
Ankeny opened the tournament on Thursday with a 3-0 loss to Dunlap (Ill.). After dropping a 1-0 decision to St. Viator Catholic (Ill.) on Friday, the Hawkettes rebounded with a 2-0 victory over Quincy (Ill.).
"We played a bit of a different schedule than everyone else with a game Thursday and two Friday," said Ankeny coach Simon Brown. "Looking back it was probably too much on my part for the girls, (after going) to overtime and PKs on Tuesday vs. Dowling Catholic. We had to move the games for prom on Saturday, which is an important part of the high school experience."
Centennial began play on Friday with a 1-0 overtime loss to Normal (Ill.) West. The Jaguars bounced back with a 1-0 victory over Wheaton (Ill.) St. Francis on Saturday before falling to No. 1 Waukee, 2-1, in their final game.
"Normally, we wouldn't want to play (Waukee) at this tournament, but since we don't play them in the regular season this year, I think both teams were happy to see each other," said Centennial coach Chris Allen. "We were just hoping it would be in the championship game–and not in the consolation championship."
Ankeny's first game was played in adverse weather conditions. Play was suspended for awhile due to lightning.
"Everything that could go wrong in a game did–we were down 2-0, we missed a PK, there was a lightning delay, and we played in gale-force winds," Brown said. "We were down 3-0 with 17 minutes to go and the tournament director wanted to call the game, but we wanted to play–the girls wanted to battle and showed great character. We created chances, but it was very tough in the elements."
On Friday, the Hawkettes lost to St. Viator despite dominating the game.
"I don't think they had a shot in the first half, but we just couldn't score," Brown said. "Eventually, a free kick from them went in and we lost 1-0."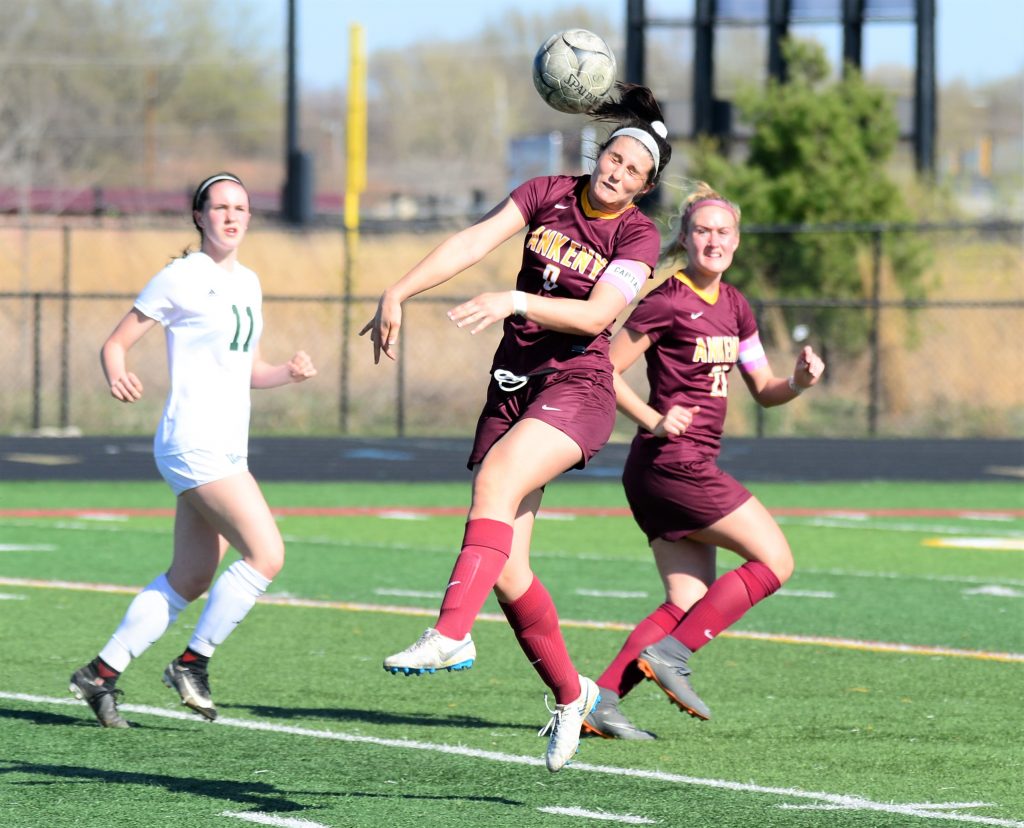 Ankeny finally got on the scoreboard in its final game. Chloee Kooker scored a goal on a spectacular free kick, then later earned an assist as teammate Paige Bennett scored off a rebound to make it 2-0.
"The last game wasn't the greatest spectacle of soccer shown," Brown said. "Four games in four days is too much, and it is something I will learn from as a new coach when scheduling games next season. It's not fair to the kids."
While the Hawkettes split their two games on Friday, the Jaguars suffered their first loss of the season against Normal West.
"We just had trouble scoring," Allen said. "We had 13 shots on goal and they had two, and they scored on the one in overtime. We've got to battle a little more for 50/50 balls and control the midfield, and we can't ball chase. Those were some of the breakdowns we had in that game."
On Saturday, Centennial got a goal from Olivia Wee in the win over St. Francis. She was assisted by Lizzy Johnson.
"Lizzy had a nice cross to Olivia, who rose up to head it home," Allen said. "That's something we've been working on, but we haven't had a lot of success with it."
The Jaguars then took an early 1-0 lead against Waukee when Carlie Jensen scored off an assist by Gillian Nithang. But the Warriors then answered with a pair of goals by Izzy Dammen to improve their record to 7-1.
"I think the first 20-25 minutes of that game were pretty sound," Allen said. "But after that, both teams were pretty exhausted."
Centennial will host No. 8 Dowling on Tuesday.
"We just need to get back to work and to take a one-game-at-a-time approach," Allen said. "We can't look too far ahead."
The Hawkettes will travel to No. 14 Ames on Tuesday.
"Overall, we will take the positives from the weekend, playing against tough competition, learning to battle in the elements, and overcoming two tough losses to grind out a win," Brown said. "The girls earned the right to enjoy their prom and rest Sunday. We will get back to work Monday for Tuesday's game against Ames, one of the best and most underrated teams in the state."