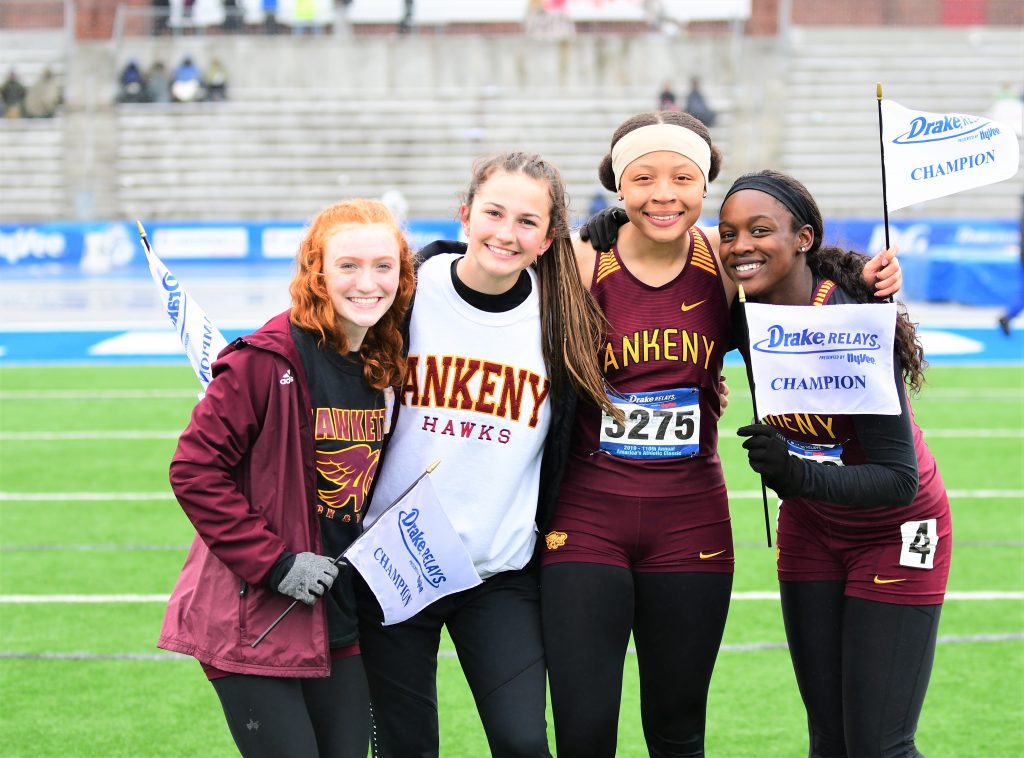 Mytika Mayberry jogged across the infield turf at Drake Stadium on Saturday along with her three teammates, waving their coveted white flags.
Just a few minutes earlier, Mayberry had sprinted down the homestretch of the blue oval, anchoring the Ankeny girls' 4×100 relay team to its first victory at the Drake Relays in 22 years.
"This feels amazing," said Mayberry. "Oh my God!"
Mayberry teamed up with Mikala Sidney, Eva van de Mortel and Eva Fulk to win the race in a time of 48.93 seconds. Pleasant Valley was the runner-up in 49.02.
"It's insane," said Sidney. "I've been running track for so long, and I've worked hard for it coming back from an (ACL) injury during last season. This is all I really ever wanted. I'm so proud of my teammates."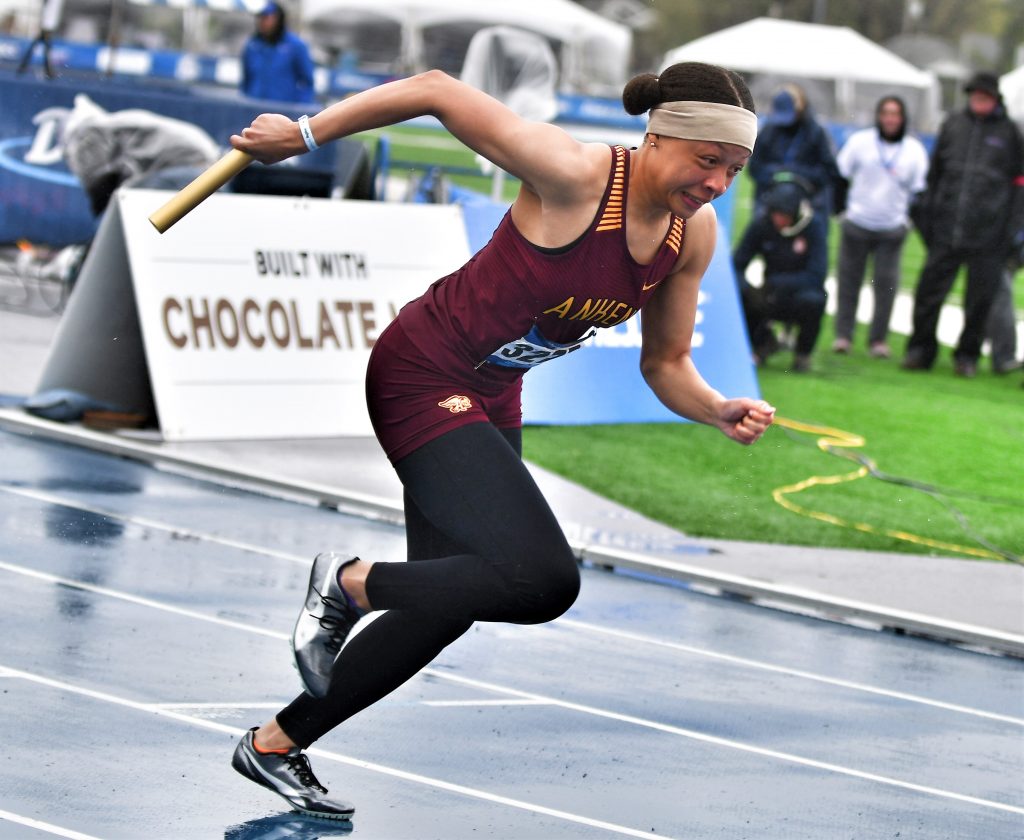 On a cold and rainy day, Ankeny ran the fastest time of 48.57 during the 4×100 preliminaries earlier on Saturday. The Hawkettes were almost a full second faster than Pleasant Valley, the No. 2 qualifier.
Ankeny coach Thomas Cotter had confidence that his team would win the final, but was worried about getting the baton around the track.
"We emphasized with the conditions to run a clean race," he said. "That would put us in a spot to win it, and that's all we can ask for."
Pleasant Valley got off to a great start, however, and held a lead going into the final exchange. That put a lot of pressure on Mayberry to make up the difference.
"I was definitely confident," said Sidney, who ran the opening leg for the Hawkettes. "That's what Mytika does. She works hard and covers ground. That's just who she is."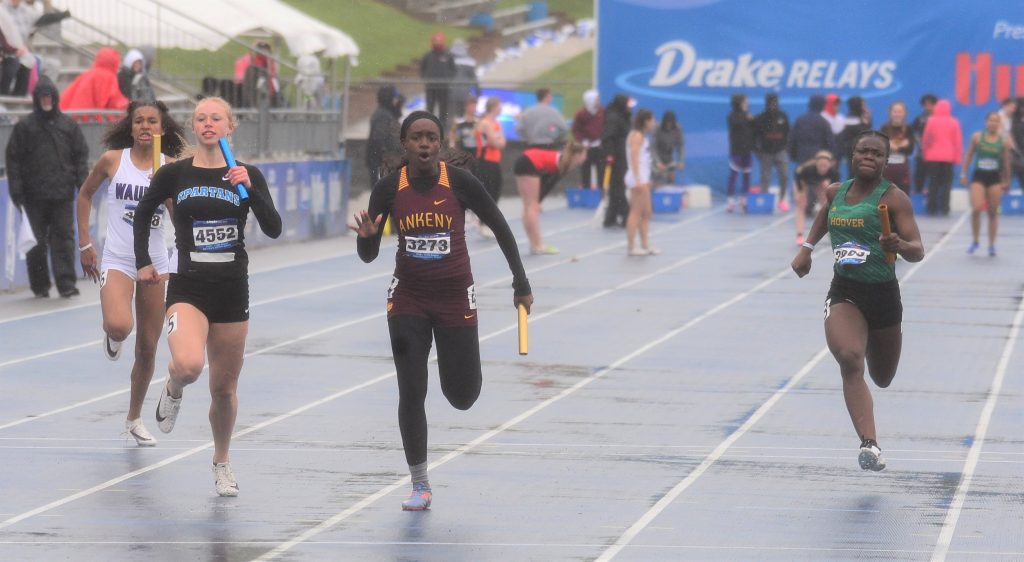 Mayberry, who placed fourth in the open 100 on Friday, quickly closed the gap on Pleasant Valley's Adrea Arthofer. She, too, was confident that her team was going to win.
"I felt it," she said. "I felt it in my soul."
Mayberry then surged ahead of Arthofer in the final 20 meters. She gave the Hawkettes their first Drake Relays title in any event since 1998, when Laura Aschoff won the long jump.
Ankeny's last victory in the 4×100 came in 1997, when Aschoff teamed up with Steph Pearce, Cori Verbeski and Erica Junod for the win.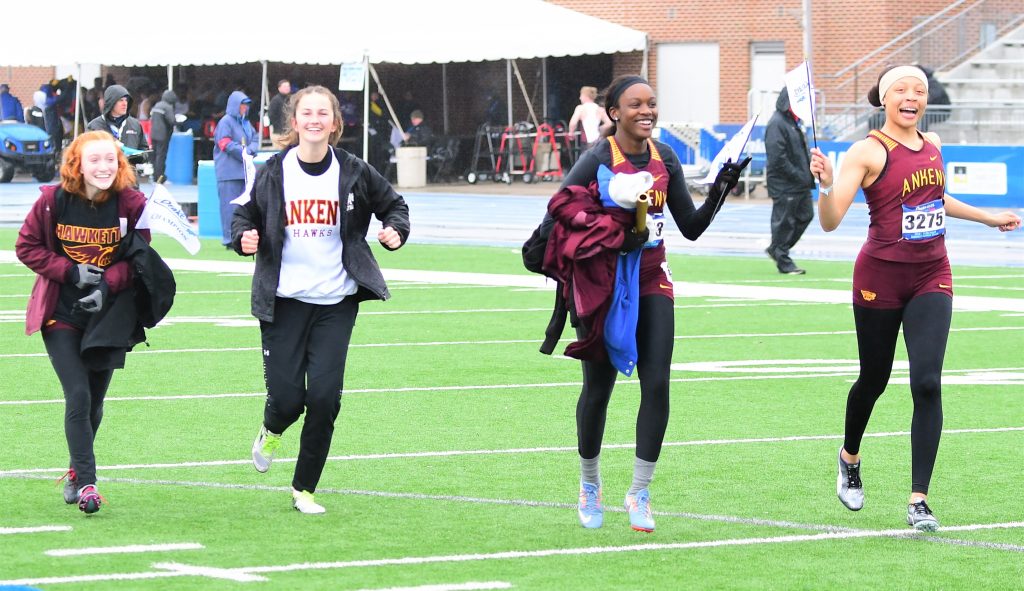 "The weekend could not have gone any better," Cotter said. "'Earn It' is the motto for the season. The girls have worked to this point and knew every success would be earned this weekend."
Mayberry, van de Mortel and Sidney all qualified for the 100 final on Friday. The trio showed that Ankeny would be a force in the 4×100 relay 24 hours later.
"It means so much," van de Mortel said of the Hawkettes' victory. "I've been working so hard all season, and I know these girls have, too. I'm so proud of all of us. It's a dream come true."
The team's ultimate goal, though, is to win a state title. Fulk said she's just happy to be part of the speedy quartet.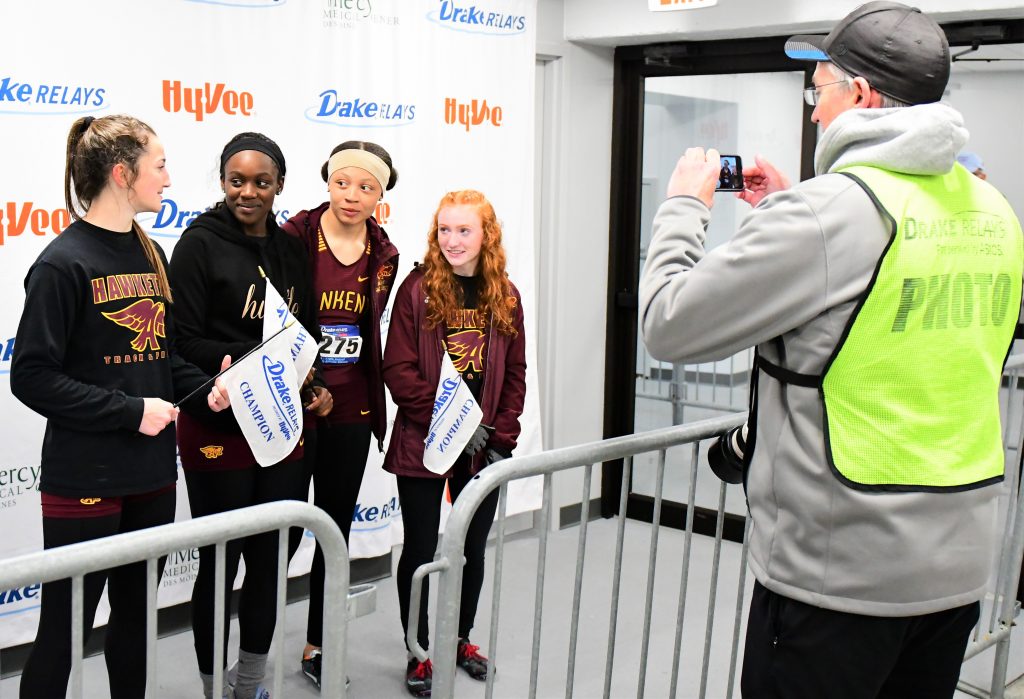 "It's an honor to be with this team," she said. "We're just going to keep growing."
Ankeny's shuttle hurdle relay team also hopes to keep improving. The Hawkettes placed eighth overall in that event on Saturday.
The team of Malea Daugherty, Calyssa Wright, Shelby Romig and Ellie Dalton was clocked in 1:07.73. Ames later won the final in 1:03.75.
"Our hurdlers keep shaving time and improving meet after meet," Cotter said. "They ran a great tactical race."