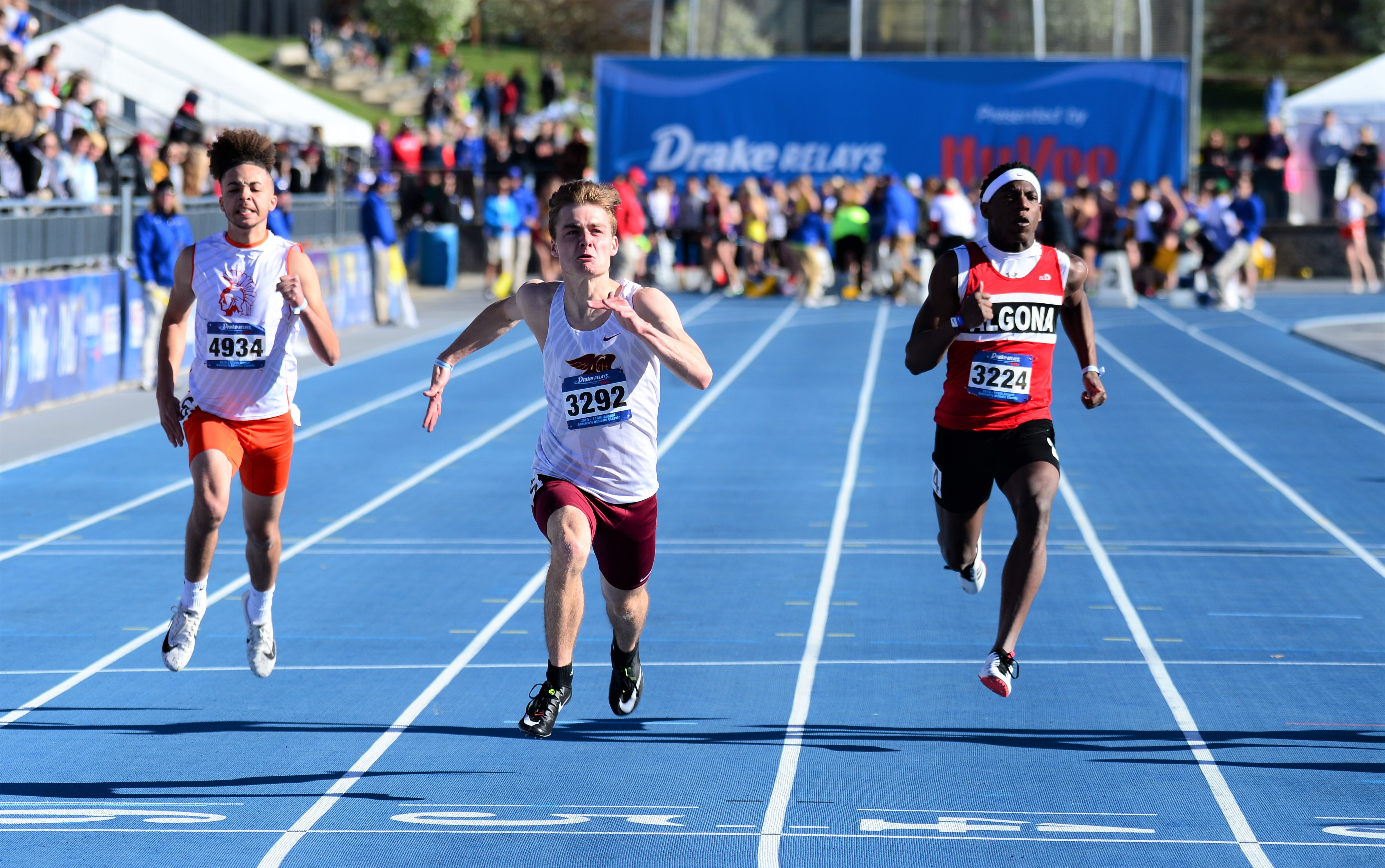 Senior Max Smith is the top sprinter on the Ankeny boys' track team. He won a pair of medals at the Drake Relays this weekend.
Smith raced to a fourth-place finish in the 100-meter dash on Friday, posting a time of 10.99 seconds. He then teamed up with Nick Scherle, Peyton Agan and Conner Niffenegger to place sixth in the 4×100 relay on Saturday in 44.41 seconds.
Here is some inside info on Smith:
Were you happy with your races at the Drake Relays?
Yep, I couldn't ask for much more. Getting medals in both my races at Drake was something that I didn't have on my radar as a possibility. I thought I had a chance of placing in the 100, but the 4×100 seemed like a stretch due to injuries. I ran the 100 as well as I could. My start gave me a good advantage in both the prelims and finals. As I look toward state, I need to find more strength at the end of my races. I think if I put a good start together with a good finish, I'll be able to put myself in place to have a chance at becoming a state champion. I need to find some little things to improve on. It gives me a good amount of motivation knowing that I am that close to the fastest person in the state. The 4×100 has been a little bit of a struggle. We lost Cooper Cox early on to a back injury, and he was our second-fastest 100 guy. An hour before Saturday's race, we had to switch Cael Boyd out for Peyton Agan (due to an injury). Peyton has never ran the 4×100 before with us, and he did a really good job stepping in at the last moment to help us get sixth place out of 96 teams.
How were the running conditions?
Friday was great weather throughout the day. Saturday was one of the worst running conditions I have ever had to run in. It was just one big puddle of cold water when I got down into the blocks.
What were your goals going into the meet?
My goal was to make it to the finals of the 100. I got nervous when I saw I had the first (Joe Stein of Spirit Lake Park) and third (Samonte Bawden of Algona) fastest runners on QuikStats in my prelim heat. I wasn't sure if I could even compete with my heat. I was happy with myself when I ran a PR in the prelims and won by that much (.16 seconds). In the 4×100, I was unsure about how we were going to place as a team but I knew I wanted to give my team a good lead.
Can you describe what the atmosphere was like in the stadium?
It was wonderful to be in the blue oval. It never gets old.
Have you ever ran in front of that many people before? Did it make you nervous?
I used to get nervous at big meets. When I was younger, I struggled with performing at big meets. I now have a mental trick I play on my brain at every meet. When I jump into the blocks, I pretend I am at this Southeast Polk track meet from a few years ago where no one was at. It has allowed me to treat every race the same. I completely zone out the crowd.
Did you get a chance to meet any of the Olympians who competed at the meet?
No.
The 100 is certainly your best event, but you also run the 200 occasionally. Can you describe how different those two races are?
The 100 is my bread and butter. I have a good understanding how to run it at a high level. The 200 is something I have used as a training tool for the 100. Last year, I struggled with finishing 100s so I decided to practice and train for 200 races over the off-season to grow my strength in the 100. I think it has helped me significantly.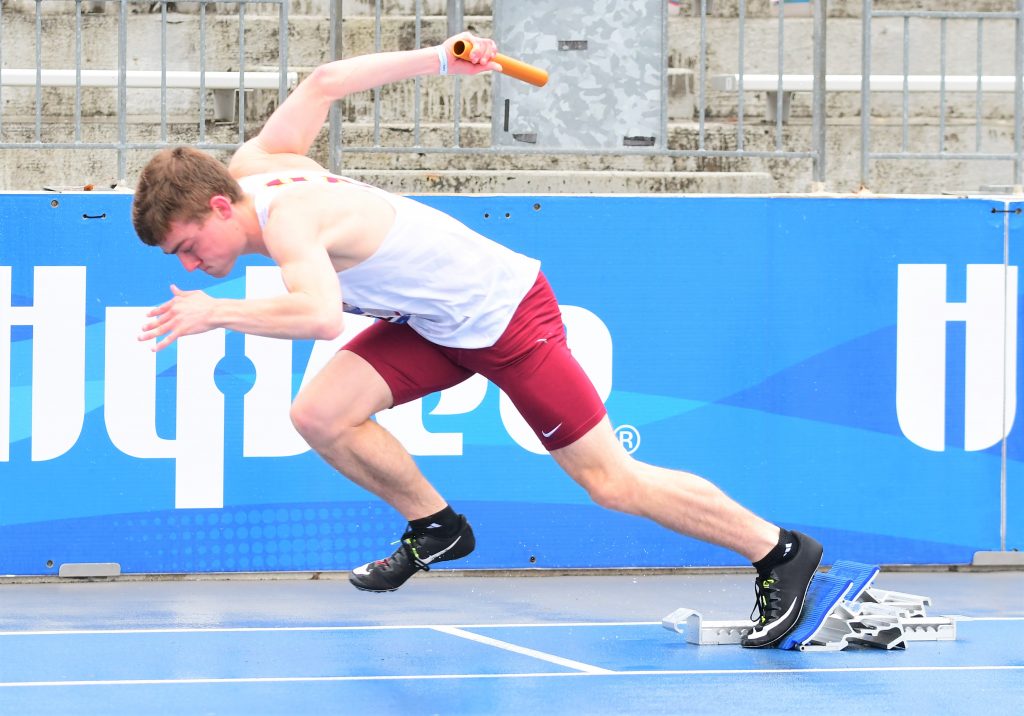 The state meet is now three weeks away. Do you think your 4×100 relay is capable of dropping some more time?
Yes; our current best is a 43.48. I think if we can have everyone get healthy, we could see a 43.1 in the future. After this past weekend, I think there is a good chance we will find a way to place at state.
Do you like running the leadoff leg in the 4×100?
I have ran every spot on the 4×100 at some point or another. I like starting us with a lead.
Regardless of which leg you run, the handoffs pretty much decide that race, don't they?
Yep; handoffs can be the difference between winning state and finishing near last at state. I learned how important handoffs were my sophomore year, when (I was at Ankeny Centennial and) our 4×100 team of (Sam) Snyder, (Gerald) Sama, me and (Ryan) VanBaale ran a 42.8 in districts to have a second overall seed coming into state. We unfortunately couldn't get it around as smoothly as we would have liked and finished 15th, not making the finals. That one hurt, but it was a good lesson that I still keep in my mind to this day.
Plans for next year? Would you like to run in college?
I am open to running track in college. I have recently looked at University of Northern Iowa and Coe College for track. I don't think I will choose a college based on the track program. I love track, but I am even more passionate about software development like creating iPhone apps for example. The current plan is to major in Computer Science at Iowa State University.