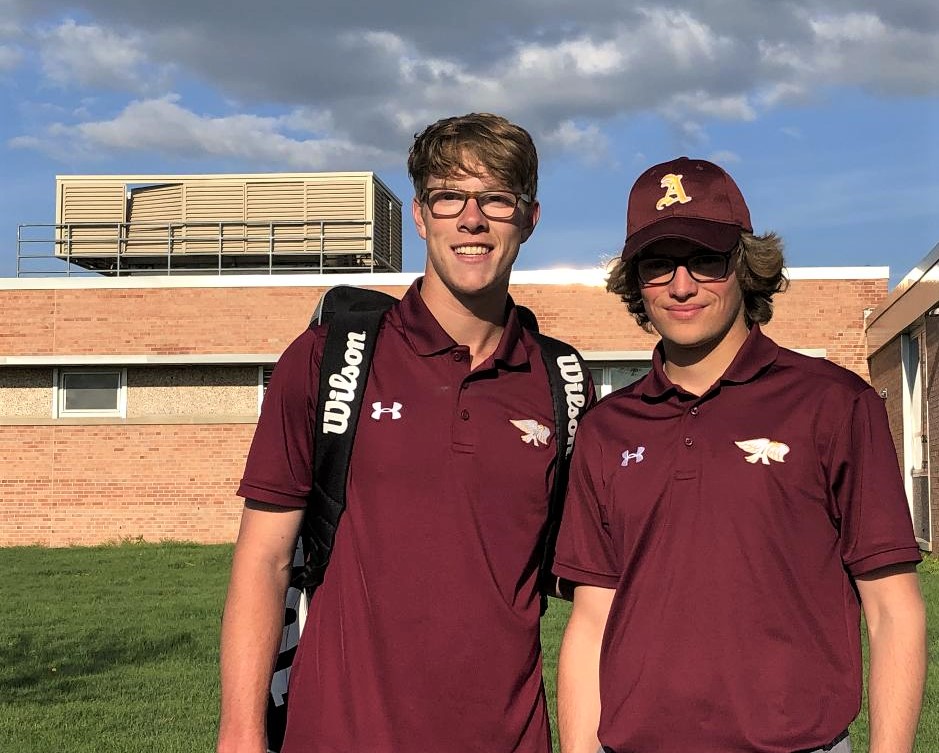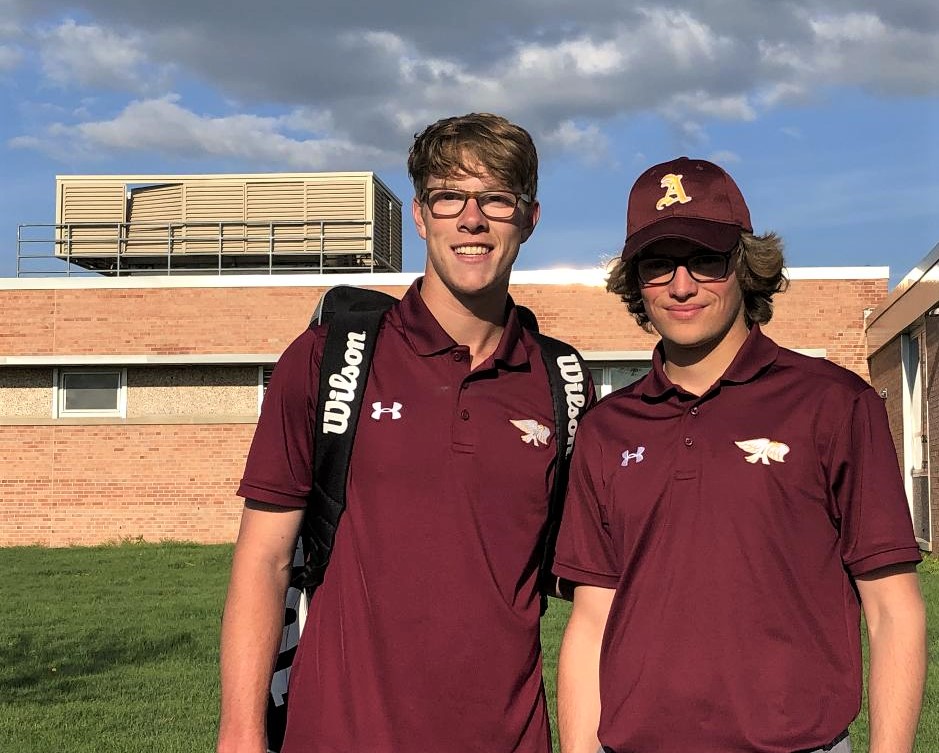 The Ankeny boys' tennis team celebrated its Senior Night on Thursday with an 11-0 victory at Des Moines Hoover. The Hawks raised their overall record to 3-8.
"Coach Feve and I wanted to give a special recognition to our two amazing seniors—Jake McCann and Cameron Bush—for all of their hard work, contributions to the team and positive impact they've had on the program," said Ankeny coach Steve Smith. "So, we played Jake at No. 1 singles and Cameron at No. 2 singles, and we arranged for some memorable doubles matches for them."
While Bush rolled to a 6-0, 6-1 victory in his match, McCann battled through some adversity against a tough opponent to prevail by a 7-6, 7-5 score. He overcame a 5-1 deficit in the second set.
"Jake apparently wanted to grow his 'Comeback Kid' Hawk tennis legend even greater," Smith said. "I love how he's been able to overcome adversity and earn his nickname, but I told him that he doesn't have to re-earn the nickname every meet. I'd actually be OK with him just winning without coming from behind every once in awhile."
After their singles matches, McCann and Bush–who normally play together–got the opportunity to build even more Hawk tennis memories.
"Coach Feve and I noticed how close neighbors Jake and Jacob Schon and brothers Cameron and Mason Bush were throughout the season," Smith said. "So, we thought it might make for a memorable evening to give them the opportunity to play together."
McCann and Schon cruised to a 6-0, 6-1 win in the No. 2 doubles match. The Bush brothers also won in straight sets, 6-1, 6-3, at the No. 3 spot.
"I think it was a memorable evening for everyone involved," Smith said.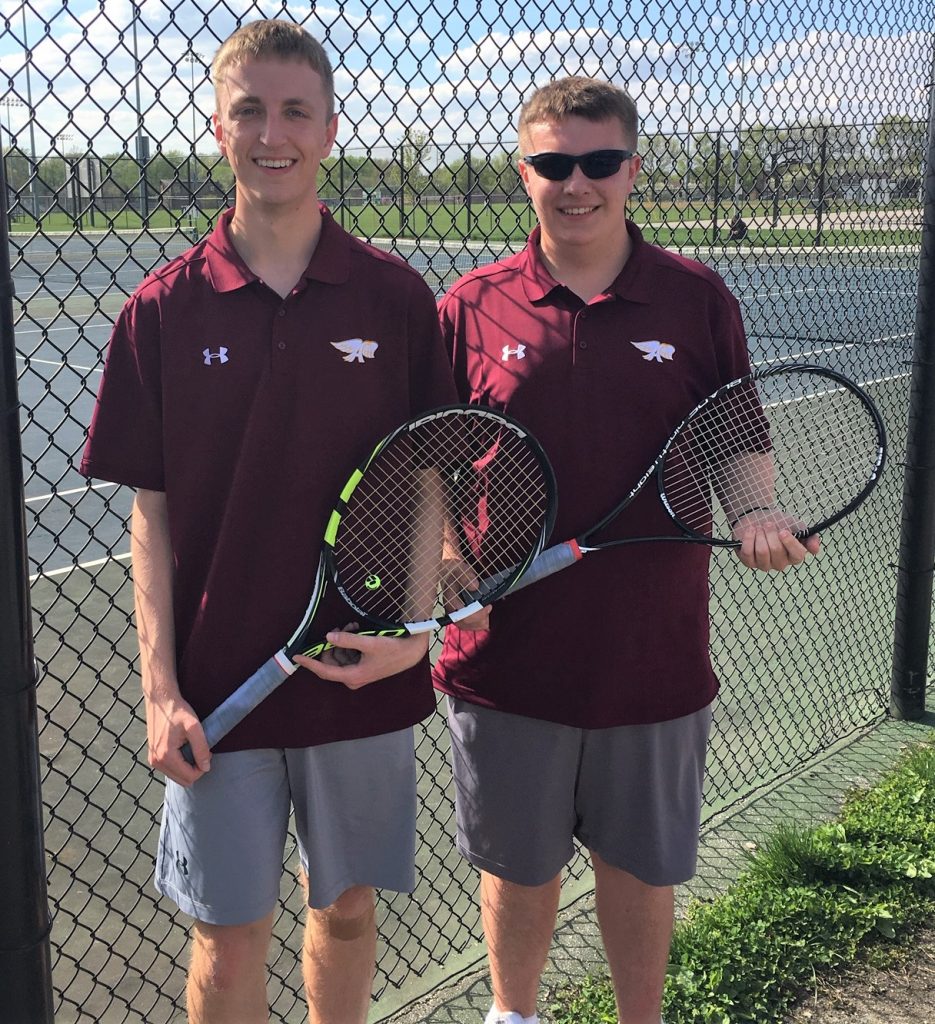 However, on a night focused on the seniors, the future shined very bright for the Hawks.
"We had four freshmen who were close to earning varsity letters this year, but they would not have done so with a normal lineup during the Hoover meet," Smith said. "Coach Feve and I wanted to give them the opportunity to earn their varsity letters on the court, and boy did they ever do so."
Other than London Schuchart, who played an outstanding match when forced into the No. 1 doubles spot against Ottumwa in the first dual meet of the year, none of the freshmen had played any higher than No. 5 doubles all year.
This night was quite a bit different. Sam Parkinson played No. 3 singles, followed by Easton Dunwoody, Owen Somers and Schuchart at the 4-6 positions.
"We often talk to our players about seizing the opportunities they are given rather than playing with fear," Smith said. "Four of our extremely talented freshmen did that against Hoover, all winning in straight sets in both singles and doubles.
"I had a hunch our freshmen would come through. I'm so proud of how far they have come this season, and these four are definitely not the only Hawk freshmen that have wowed coach Feve and I. This class, if they put in the work over the next three years, may end up being the best tennis class ever at Ankeny High School.
"What a great way to end the regular season and prepare for districts Wednesday. I just hope it propels these young men to continue to play over the summer and off-season," he added.
Here are the match-by-match results:
Ankeny 11, D.M. Hoover 0
Singles–McCann beat Ellis, 7-6, 7-5; C. Bush beat Roiland, 6-0, 6-1; S. Parkinson beat Shearon, 6-2, 7-5; Dunwoody beat Kopic, 6-1, 6-1; Somers beat Kirkpatrick, 6-1, 6-0; Schuchart beat Merfield, 6-0, 6-0.
Doubles–Davis-L. Parkinson beat Ellis-Roiland, 6-0, 6-4; McCann-Schon beat Shearon-Kirkpatrick, 6-0, 6-1; C. Bush-M. Bush beat Kopic-Merfield, 6-1, 6-3; S. Parkinson-Dunwoody beat Luu-Lo, 6-0, 6-0; Somers-Schuchart beat T. Nguyen-P. Nguyen, 6-0, 6-0.