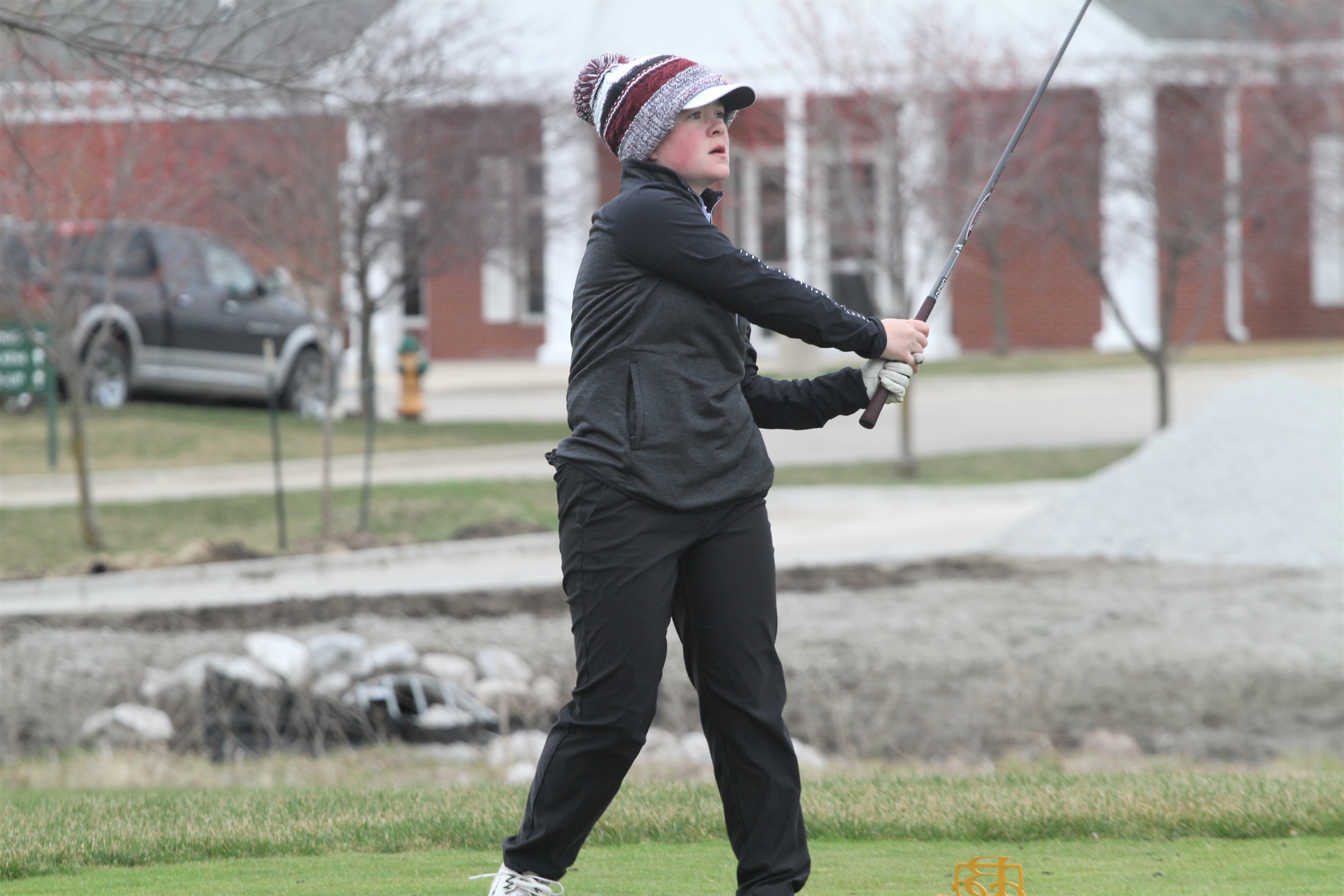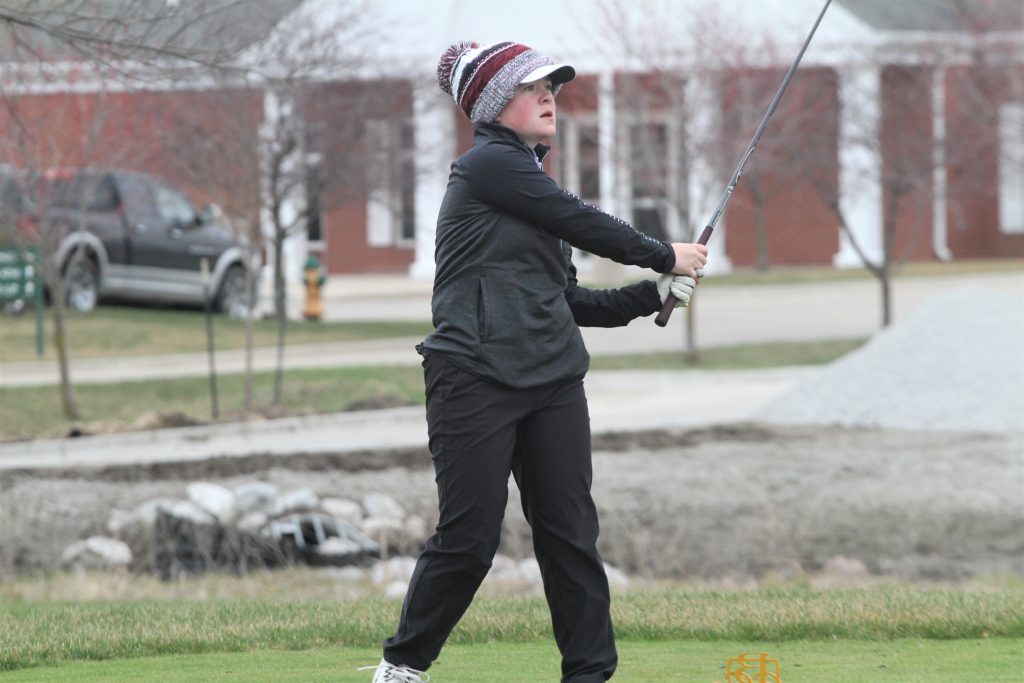 Ankeny girls' golf coach Seth Hagarty will never forget Thursday's Southeast Polk Invitational.
Neither will his team's best player.
Sophomore Jaci Webb recorded her first hole-in-one while shooting a career-best score of 79 at Copper Creek Golf Course, leading the Hawkettes to a tie for sixth place in the 11-team field. She took fourth as an individual.
Webb aced the par-3 No. 15 hole, using a wedge "which is 49 degrees 104 yards to the pin," she said.
"I honestly had no idea it went in until Hagarty started yelling and was running at me, telling me it went in!" Webb said. "And then he gave me a big bear hug. It was an extremely special moment for me because my dad (Jeff) has never had one, and I got one before him! It's definitely something I will always remember."
Hagarty said Webb played a beautiful round of golf. He caught up to her on her fifth hole of the day, which was No. 14.
"When I did, I found out quickly that she was playing pretty well so far and was only 2-over-par through four holes, and then she went on to par her fifth hole," Hagarty said. "No. 15 would be her next hole, so I decided to stick around for her tee shot and then I planned to move on."
That's when things got really interesting.
"While Jaci was on the tee, she threw a bit of grass up in the air and it came right back in her face and I laughed and said to the Newton coach, 'Yep, the wind is blowing right in your face!'" Hagarty said. "Then Jaci struck the ball, and it looked really good in the air and I figured it would be pretty close!"
It was even closer than that.
A few seconds later, the ball hit the bottom part of the flag, bounced on the edge of the cup, and then disappeared.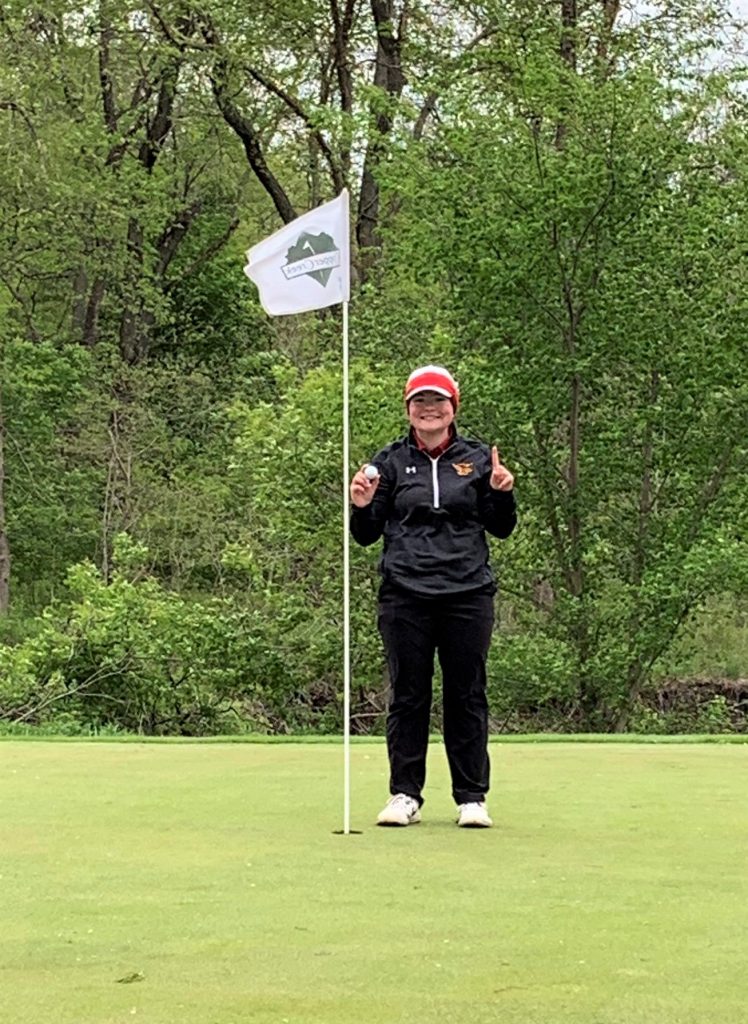 "All I could do was yell and run toward her with my hands in the air!" Hagarty said. "That was the first hole-in-one that I have ever witnessed, and for it to be Jaci–and for her to do it today in the Southeast Polk Invitational–was truly amazing."
Valley's Paige Hoffman carded a 3-over-par 74 to earn medalist honors by two strokes over Amber Henson of Marshalltown. Webb wasn't far behind with her 79, which included a birdie on the par-4 No. 18.
Webb played the five par-3 holes in a combined 2-under-par, thanks to her ace.
"She has never broken 80 in a meet yet, and today she met that goal!" Hagarty said. "Her excitement was radiating off of her as numerous people congratulated her on both the hole-in-one and the great round of 79! I am extremely proud of the work she has put in and the contagious love for the game that she displays. I am looking forward to this postseason and what Jaci and this team can do."
Valley easily won the tournament for the second straight year. The Tigers shot a 322 to finish 37 strokes ahead of Marshalltown.
Ankeny and Southeast Polk each finished with a 394 total.
"First of all, I was excited to see that all of our girls are improving and working hard on all aspects of their game," Hagarty said. "We have been consistently under 400 as a team on 18 holes, and that was one of our goals from the beginning of the year. Each girl on this team is putting in the time, and it's starting to pay off."
Kelsey Hensen shot a 97 for the Hawkettes. Caroline Price fired a 103, Madi McCormick and Gabby Schnepf each had a 115, and Rachel Moore added a 120.
The front nine was also used as a dual meet between Ankeny and Urbandale. The J-Hawks won, 193-204.
The Hawkettes finished with a 3-2 record in the CIML Central Conference after going winless in the league a year ago.