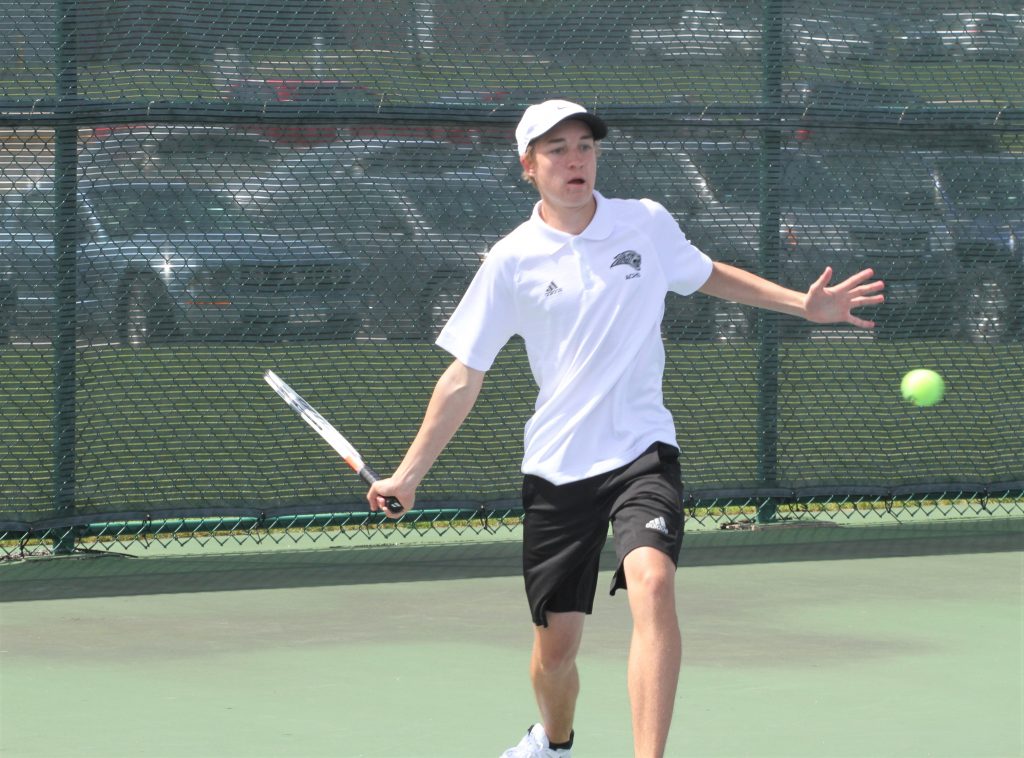 For the second year in a row, the Ankeny Centennial boys' tennis team has qualified three players for the Class 2A state tournament later this month in Cedar Rapids.
Sophomore Will Blevins won a district singles title on Friday at Ankeny, while teammates Samson Densmore and Ryan Lofgren combined to win the doubles crown. The Jaguars edged Dowling Catholic by four points for the team title and will advance to a substate team tournament on May 18 at Dowling.
"I was super proud of the way our team competed," said Centennial coach Tami Lewton. "It is always difficult to play for a place in the state tournament. Our top guys were not satisfied with just qualifying–they wanted a chance to compete for a seeded spot. There were some tough matches and we would have liked to have qualified more, but Dowling is a good team. We were happy to have punched the ticket for a doubles team and our top singles player."
The top-seeded Blevins won his first two matches without dropping a single game. He then defeated Dowling freshman Daniel Lu, 6-4, 6-4, in the finals.
Blevins will be making his second trip to the state tournament. He beat Lu's older brother, David, in last year's district final and went on to place fifth in Class 2A.
"I was very happy with the way I played. I knew the final would be tough," said Blevins. "I do feel like I can contend for a state title. There are very good players throughout the state, but I think I can beat anyone on any given day."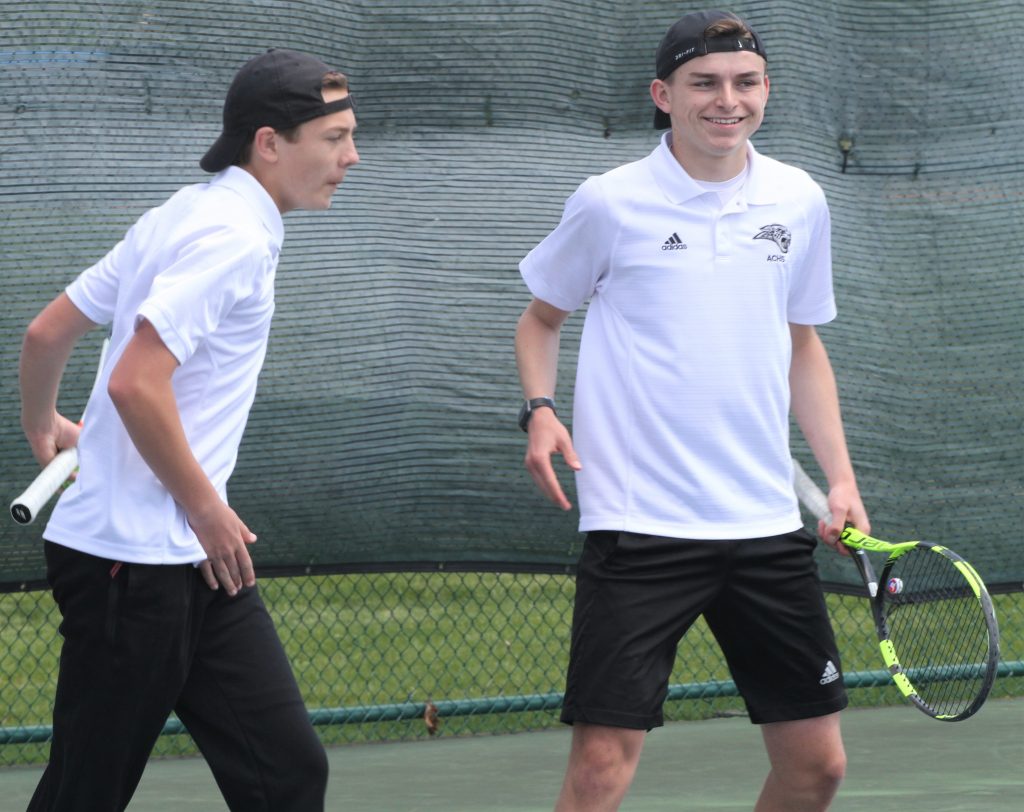 The top-seeded Densmore and Lofgren also qualified for state with a 6-0, 6-1 victory over Dowling's Evan Schulteis and Logan Cox in the semifinals. That set up a showdown against Dowling's Jack Drey and Michael Fraizer for the district crown.
"We want to win this one because it'll help for seeding at state," Densmore said before the match.
The Centennial duo then rallied from a one-set deficit to post a 6-7, 6-3, 7-5 victory over the Maroons.
"It was a really tough match, but Samson and Ryan stepped up their play in the second set and became more aggressive and took over the match," Lewton said.
Lofgren also earned a repeat trip to the state tournament. He teamed up with Sam Marold to defeat Drey and Eddie Bening in last year's district final.
Lofgren and Marold went on to place eighth in Class 2A, with Densmore watching from the crowd. After Marold graduated, Densmore knew that he'd have an opportunity to take his place.
"I really wanted to work in the offseason, and my goal was to get to state," Densmore said. "We just expected to come in today and get there. It's awesome."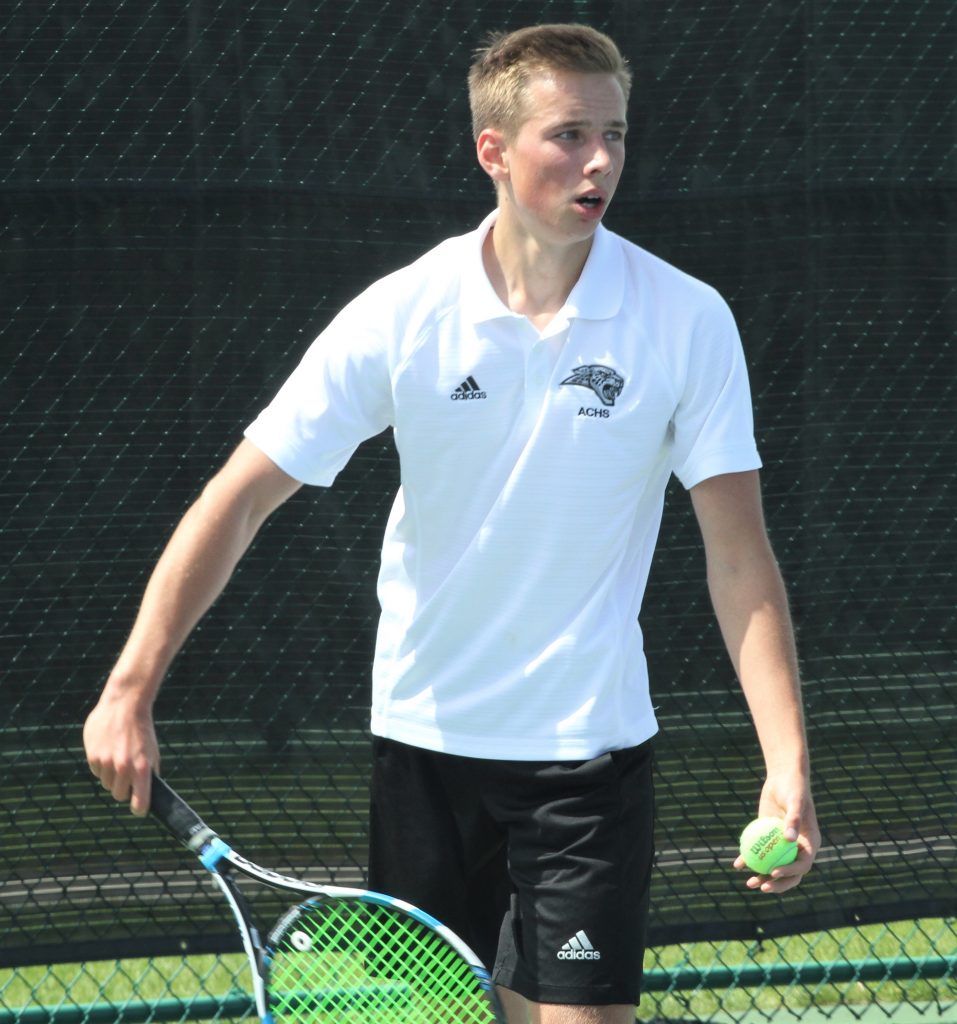 The Jaguars also got a third-place finish from Joel Unick in singles. He lost to Lu in the semifinals, but then rebounded to beat Fort Dodge's Daniel Leigh in the third-place match.
Centennial's James Cole and Zach Petersen placed fourth in doubles.
"It was a good day!" Lewton said.