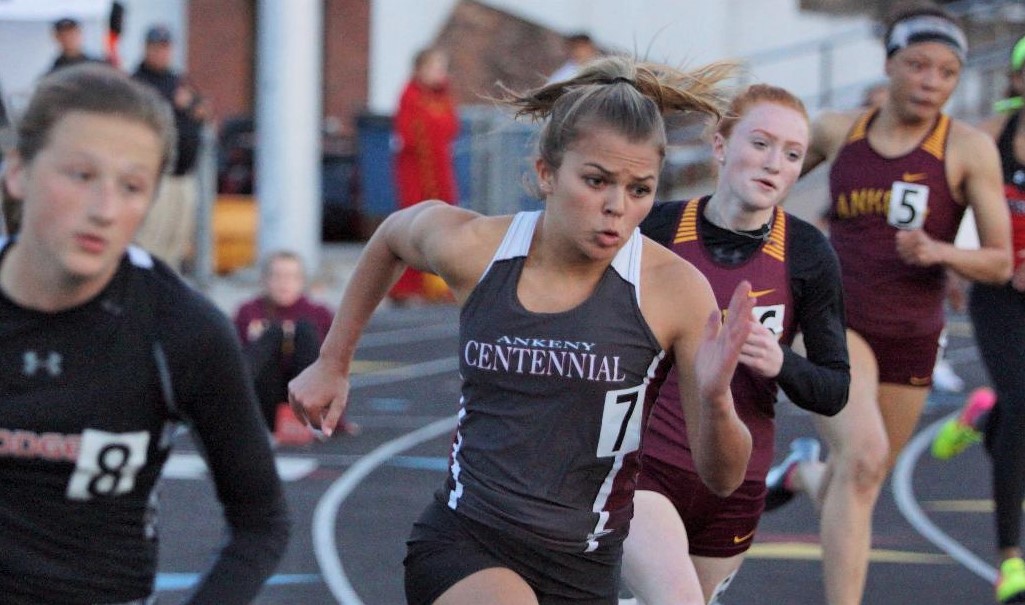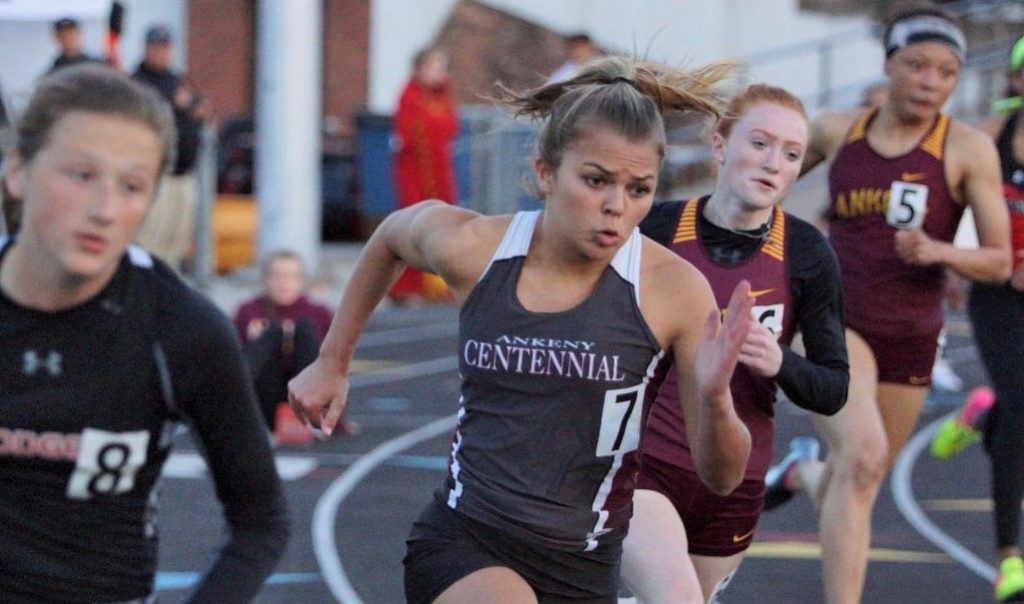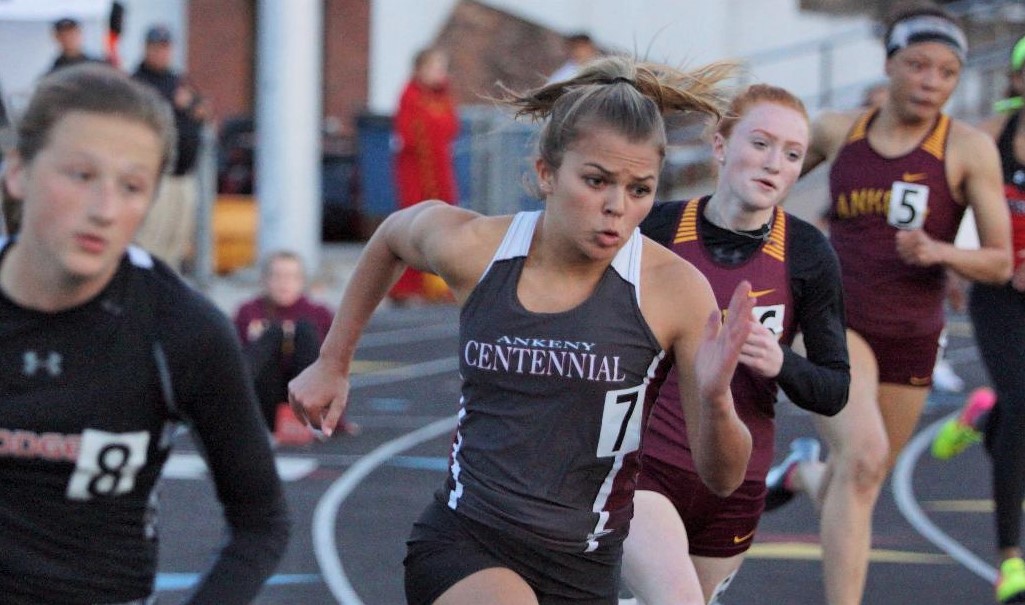 Ankeny Centennial girls' track coach Andrew Kruzich was proud of his team's victory in Friday's Class 4A regional meet at Fort Dodge.
But he was also delighted about Ankeny's performance.
"I couldn't be prouder of our town," said Kruzich. "Ankeny was neck-and-neck with us the whole way. They really had a great meet."
Centennial captured the team title with 145 points. Ankeny was second with 136.
The Jaguars won three events and placed second in four others.
"Obviously, we go to this meet to qualify for state. That's priority No. 1," Kruzich said. "But we also pride ourselves on being a team that is more than just state qualifiers. We had a lot of 3rd-8th finishes that didn't make it to the state meet, but those were contributors to our winning the meet. They should feel really good about that. There are only six banners given out each year in girls' track and field, so it's some pretty tough math to add one to the gym rafters. We're happy to put the first one for girls' track and field up there high where our girls can see it for years to come."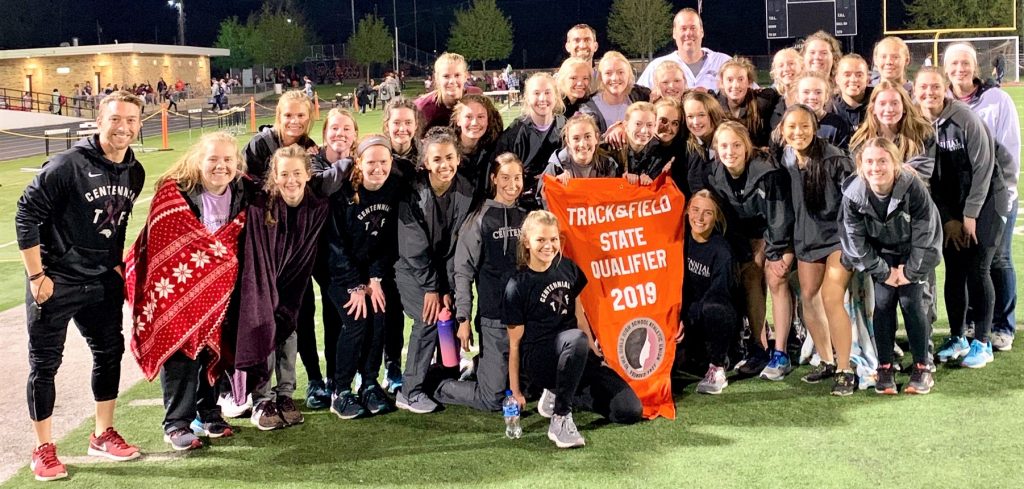 Ankeny won four events and placed second in four others. The Hawkettes edged Ames by one point for the runner-up spot in the eight-team field.
"The ​night went exactly like we had mapped out, which does not happen often in track and field," said Ankeny coach Thomas Cotter. "I'm very excited with how things are shaping up (for the state meet)."
Centennial closed out the meet with a victory in the 4×400 relay. The foursome of Kathryn Vortherms, Elle Street, Josie Bearden and Millie Hill posted a time of 4:10.19.
"What I'm happiest about is that we finished the meet well," Kruzich said. "We were seeded fourth in the 4×100, but finished third in a season-best time. Then we figured ourselves for fourth in the 4×400–we didn't have it stacked and Millie was coming off of the 400 hurdles–but Kathryn blasted out a first leg and opened up a nice lead, and Elle extended it. Josie hung on and Millie was just so determined tonight–lifetime PR in the 400 hurdles by about 1.5 seconds and both of those (races) were after she ran her best 400 split ever in the distance medley. We've had a couple of 4x400s not go our way this year, but this time we came through."
Hill won the 400 hurdles in 1:06.85. It was the second-fastest clocking in school history, just .18 seconds off the record.
Katie Petersen had the Jaguars' other victory. She won the 100 hurdles in 14.73 seconds.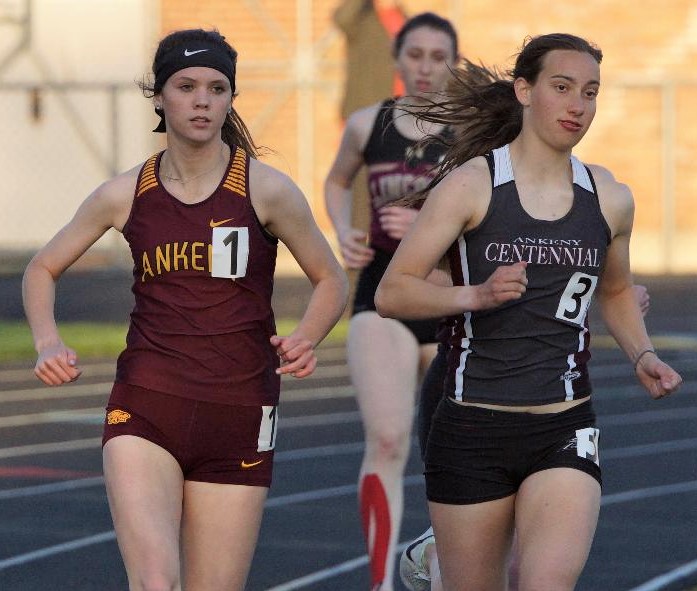 Centennial's Morgan Graybill placed second in the 3,000 in 11:36.44. Sophie Lampe was the runner-up in the high jump at 5 feet, while Calea Jones took third at 4-10.
"Sophie missed the high jump last year by a calf muscle, but punched her ticket this year," Kruzich said. "Calea hadn't high jumped since the Hawkette Relays on April 4, but she came back from injury to match her season's best and also qualified."
Vortherms anchored Centennial to a second-place finish in the distance medley relay. She teamed up with Maraye Breeding, Street and Hill to post a time of 4:20.63.
"Kathryn had a special night–three automatic qualifiers," Kruzich said. "Katie is going to state in four events, and so is Hannah Wilson."
Ankeny was led by its outstanding sprint crew. Mytika Mayberry won the 100 in 12.16 seconds, while Mikala Sidney took the 200 in 25.83.
"Mikala was a nice surprise in the 200," Cotter said. "We expected her to get in, but to run the fifth-fastest time (in Class 4A) is very impressive as that event is typically very deep."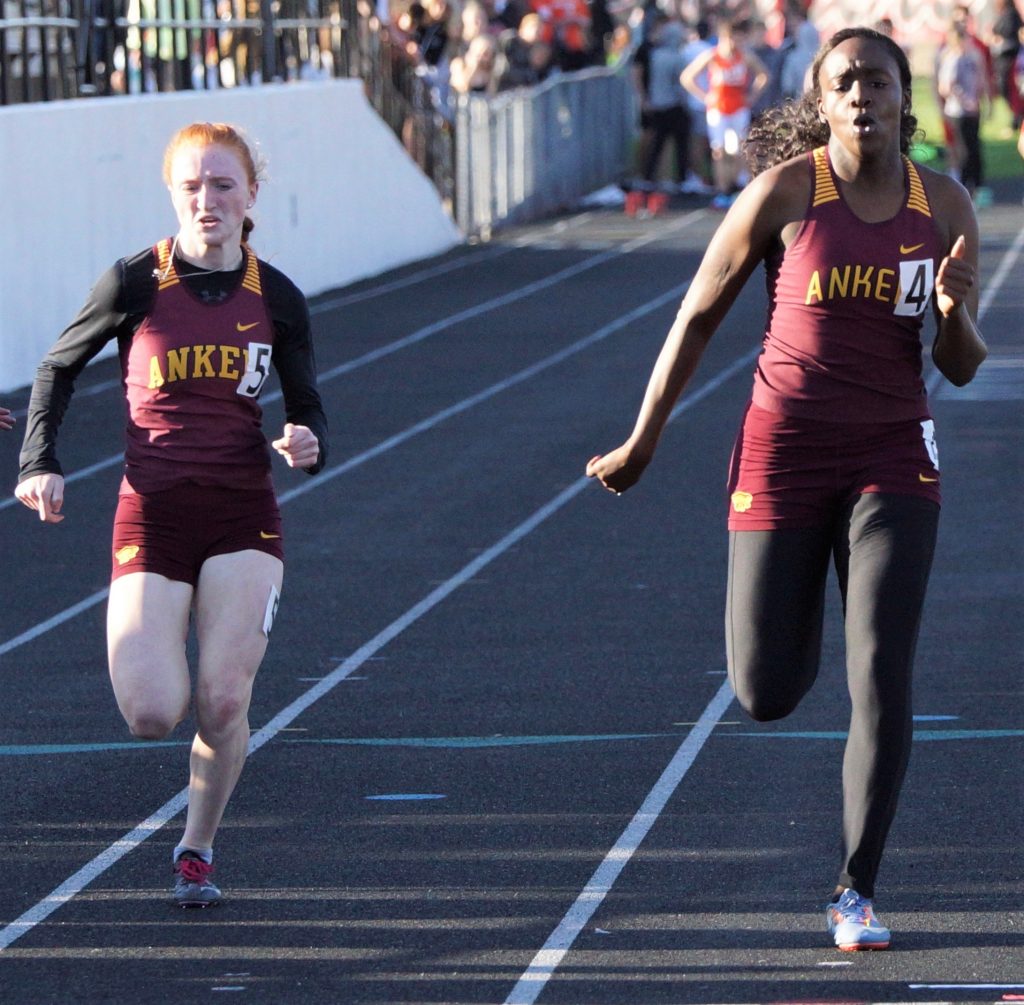 Sidney and Mayberry also teamed up with the Evas–van de Mortel and Fulk–to win the 4×100 relay. The Hawkettes were clocked in 48.58 seconds.
Shelby Romig provided Ankeny's other victory. She won the long jump with a leap of 16 feet 10.75 inches.
The Hawkettes got a second-place finish in the 100 from van de Mortel, who posted a time of 12.33. She also qualified for state with a fourth-place finish in the 200.
Ankeny placed second in the 4×200 relay in 1:44.18. That team consisted of van de Mortel, Eden Gibson, Fulk and Sidney.
Romig anchored the Hawkettes to a runner-up finish in the shuttle hurdle relay. She teamed up with Malea Daugherty, Calyssa Wright and Ellie Dalton to post a time of 1:05.51.
"The shuttle hurdle crew dropped an additional 2 seconds and is now in contention to potentially score some good points for us this coming weekend," Cotter said.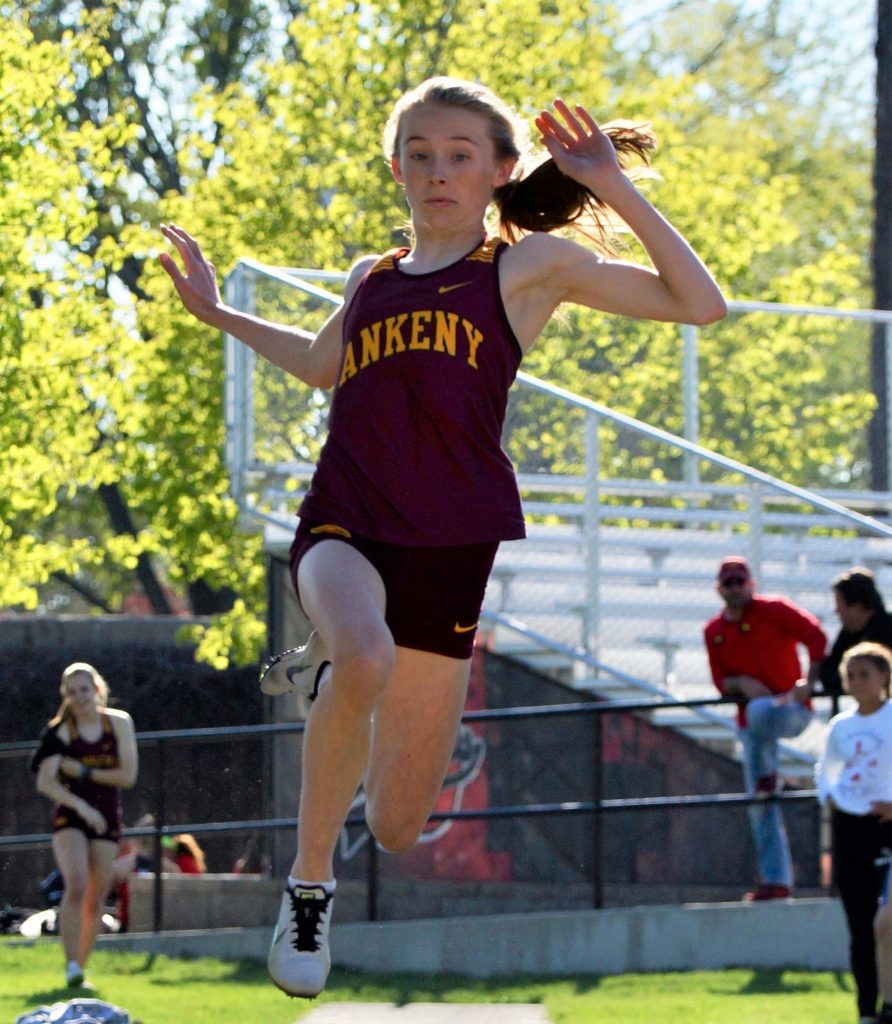 Ankeny also took second in the 4×800 relay. The quartet of Sarah and Megan Bosch, Madeleine Murphy and Cierra Fillinger was clocked in 9:57.13.
"Our 4×800 has dropped 22 seconds in the last two meets," Cotter said. "It was very fun to see their progression."
Both Ankeny and Centennial qualified for the state meet in six of the seven relays. The Hawkettes and Jaguars also qualified seven girls in six individual events.
After the meet, Kruzich savored his team's victory before worrying too much about what lies ahead.
"We've had Waukee around for the last few state qualifiers, so winning a banner wasn't realistic," he said. "So to have this opportunity, we really wanted to make the most of it. It's a heck of a deal to have your first meet win of the season be at the state qualifier.
"Obviously, we have a bigger meet next week. We need to let this be a confidence builder, but we need to run cleaner and faster next week to have a shot at multiple medals. It should be a heck of a state meet, and we're excited for it to get here," he added.