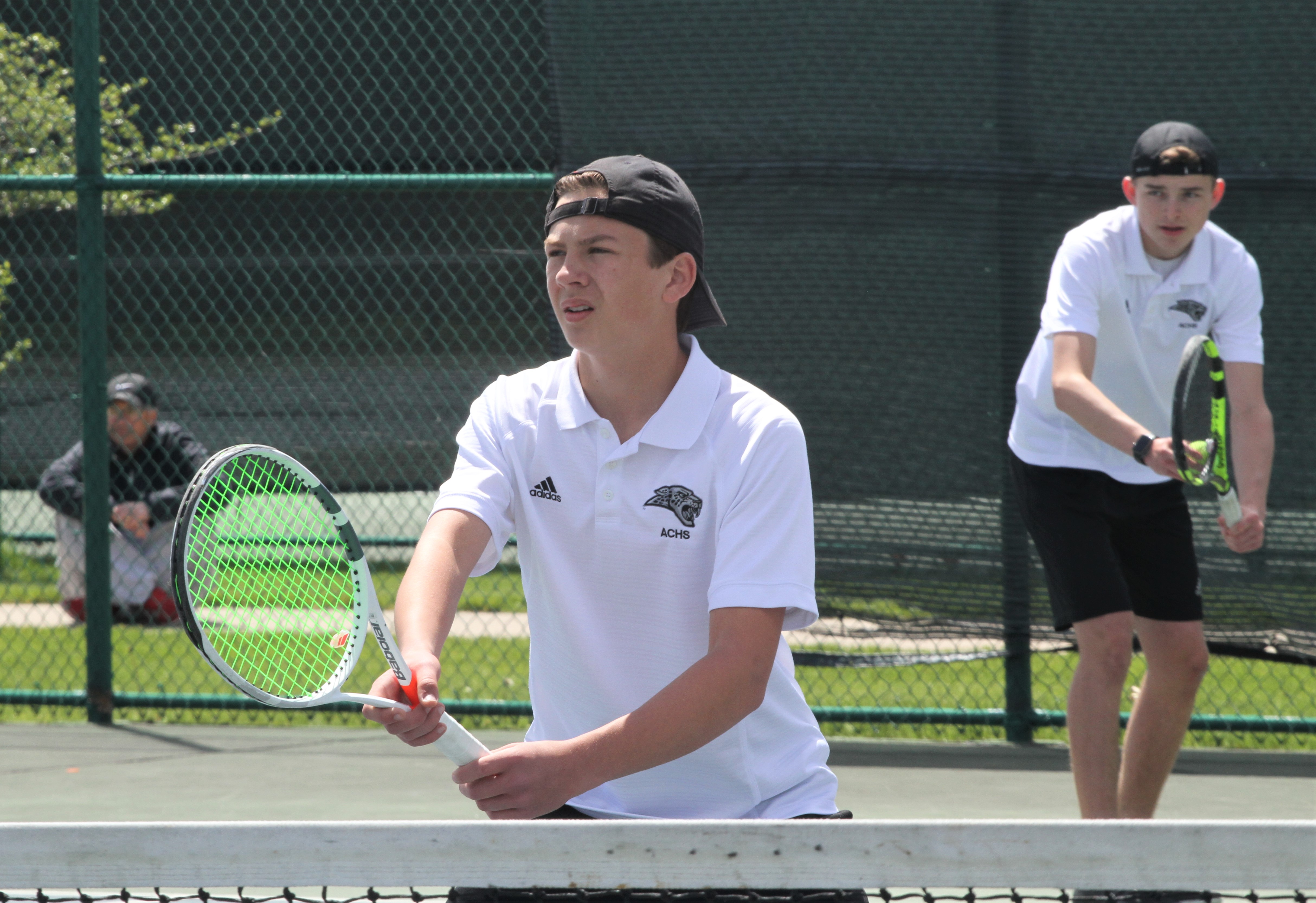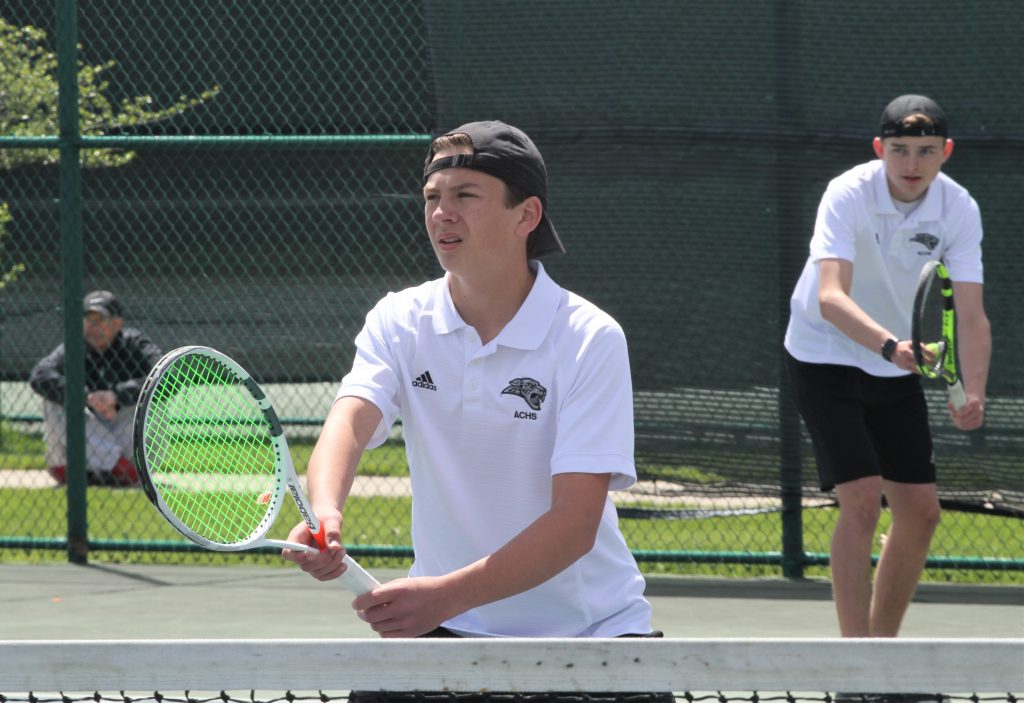 Ankeny Centennial junior Ryan Lofgren has earned a second consecutive trip to the state doubles tournament, while senior Cameron Bush helped the Ankeny boys' tennis team to a third-place finish in a district tournament on Friday at Johnston.
Lofgren teamed up with Samson Densmore to win the district title at Ankeny. They defeated Dowling Catholic's Jack Drey and Michael Fraizer, 6-7, 6-3, 7-5, in the finals.
Bush and Jake McCann easily defeated a doubles team from Council Bluffs Jefferson in the opening round at the Johnston district. The Ankeny duo then lost in the quarterfinals to Waukee's Pujit Mekala and Sai Rayasam.
Here is some inside info on the duo:
Ryan, congratulations on winning the district crown. What was the key to turning around the title match after losing the first set?
Lofgren: I believe that the key to turning around our match would definitely be communication. Looking back on the first set, Samson and I realized that we definitely had the capability to win and that we just needed to play our game. We were able to pull it together and take the next two sets.
Cameron, were you happy with how you played on Friday?
Bush: Yes, Jake and I won our first match against Council Bluffs easily and then played competitively against Waukee, one of the top teams in the state. We knew it would be difficult to beat Waukee, but since everyone won their first-round matches, we were able to get enough points to continue to substate. It just didn't pan out the best when everyone had to play Waukee in the second round.
Ryan, you have played doubles primarily with Samson this season after placing eighth in last year's state tournament with Sam Marold, who then graduated. Did it take awhile for you and Samson to develop some chemistry?
Lofgren: Playing with Samson did take some time getting used to–switching from a righty to a lefty partner is not easy–and playing with Sam is something I will always cherish. But in the end, I feel that Samson and I started clicking a few weeks back and I'm looking forward to taking on state with him!
What do you think are your biggest strengths as a doubles team?
Lofgren: I feel one of our biggest strengths is our serves–lefty serves can prove to be difficult for rightys with a different spin placement, and I feel our service games are very hard to break. I also know that we both enjoy taking over the net and feel that when our volleys are working well, we can really dominate there as well.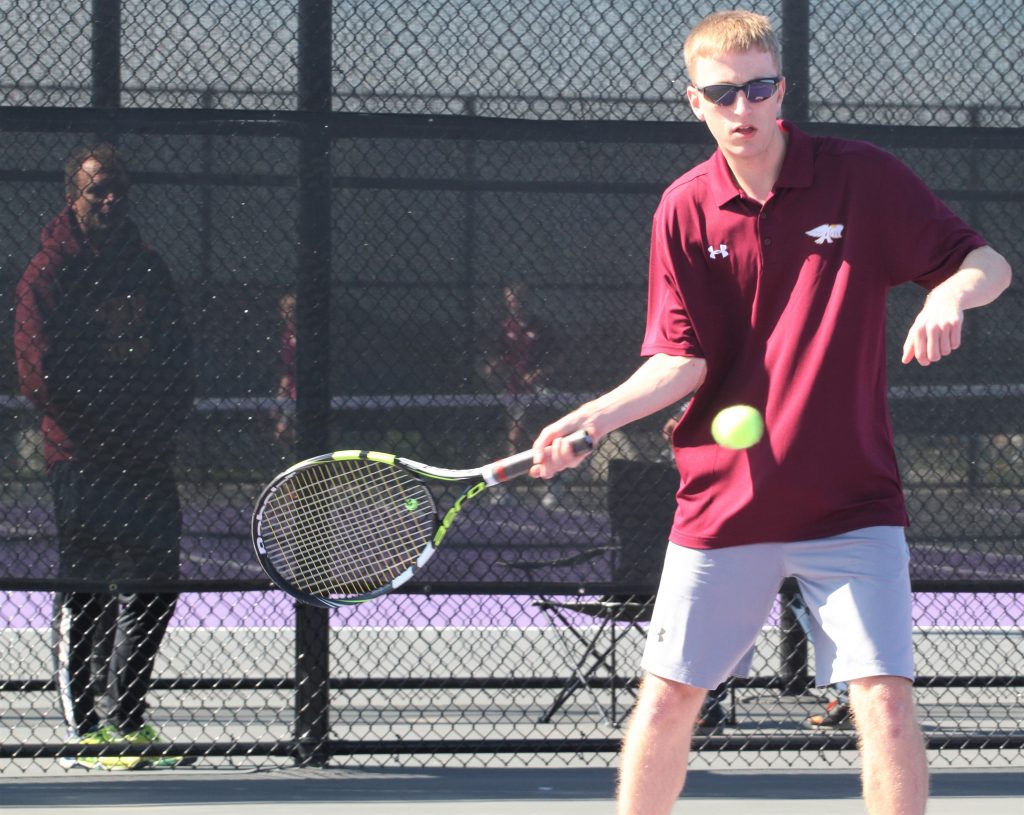 Cameron, your team has been coached this season by Steve Smith, who took over the program when Randy Daniels retired after last season. Has it been a smooth transition?
Bush: I think the transition for most of the players has been pretty smooth. Since most of last year's varsity players graduated or didn't return, very few of us had a long history–much less played varsity–with coach D, so it was easy to transition to coach Smith. It was a bit more difficult for those of us who played under coach D for many years because he and coach Smith have different expectations for players. For me, though, the hardest part was having to transition to my senior year without coach D. I'd played with him since I was in kindergarten, so for me, Hawk tennis and coach D are synonymous.
You got a chance to play doubles with your brother, Mason, during the dual meet at Des Moines Hoover on May 2. Did you enjoy playing with your brother?
Bush: I don't know if "enjoyed" would be the right word. We won and we didn't kill each other, so it was good.
Ryan, your father, Warren, is the Jaguars' assistant coach. Do you like being coached by your dad?
Lofgren: As a freshman, I wasn't too keen on having my dad looming over my shoulder every practice and match, but over the past couple of years I have really enjoyed having him around and I'm glad he can watch me grow and learn as a player. I'm glad he's always there to talk me through a match!
Your team will play Cedar Rapids Washington in the substate team tournament on Saturday at Dowling Catholic. Do you like your team's chances to advance to the state team tournament?
Lofgren: I feel that there are very few teams in the state we can't compete with. We were hoping to play Ames in the first round, but they beat Cedar Rapids Washington at districts. I believe that we can definitely compete with Wash, but it will be much more of a challenge. They have a very strong top three, so we will be looking for our lower players to step up and get wins.
The individual state tournament will then be held on May 24-25 at Cedar Rapids. What is your goal going into the tournament? Do you think you can contend for a state title?
Lofgren: I would certainly like to place at individual state. Last year Sam and I had a miraculous comeback to make day 2, so I hope Samson and me can repeat that–maybe just not as close. I would love to contend for a title, and I know that there are many great players throughout the state so we will definitely be trying our best to get there.
Cameron, your team played in a preliminary substate match on Saturday at Johnston and dropped a 5-1 decision to the Dragons. What did you think of your team's performance?
Bush: I think we played exactly how we expected to. We all played really well against a team with a better record than ours. Sam Lee and I, in particular, fought to the bitter end, both going to a third set to try to prolong the number of matches we played before Johnston got to the winning number.
I've noticed that you like to wear sunglasses when you play. Are you just more comfortable having them on than not?
Bush: Well, it's nice to be able to see the ball when it's sunny, so I guess that makes me more comfortable. But other than that there's no real secret reason I wear them, unless you count whatever slight advantage I may have with my opponent not being able to see where I'm looking.
Would you like to play tennis in college?
Bush: I've been invited to join the team at the Milwaukee School of Engineering, where I'll be headed in the fall. I haven't decided, however, if I'm going to play. It's a two-season sport there, which wouldn't leave me much time for other activities related to my profession that I'd like to participate in.
Lofgren: As of right now, I'm not looking to play competitive tennis in college. I'm looking to attend a bigger school so I hope to play club for sure.
What are you going to study?
Bush: Computer engineering.
Lofgren: I'm thinking something along the lines of mechanical engineering, but I'm not set on that yet. Just something with problem-solving for sure.
Federer, Nadal or Djokovic? Who do you think will go down as the greatest player ever when all is said and done?
Bush: As much as I play tennis, I don't really watch it enough to be able to say which one is the greatest. However, I do know there are lots of players, both men and women, who've made significant contributions to the game.
Lofgren: Federer. No question. Twenty grand slams is an absolutely ridiculous accomplishment. But I do love watching Rafa compete as we are both lefties.