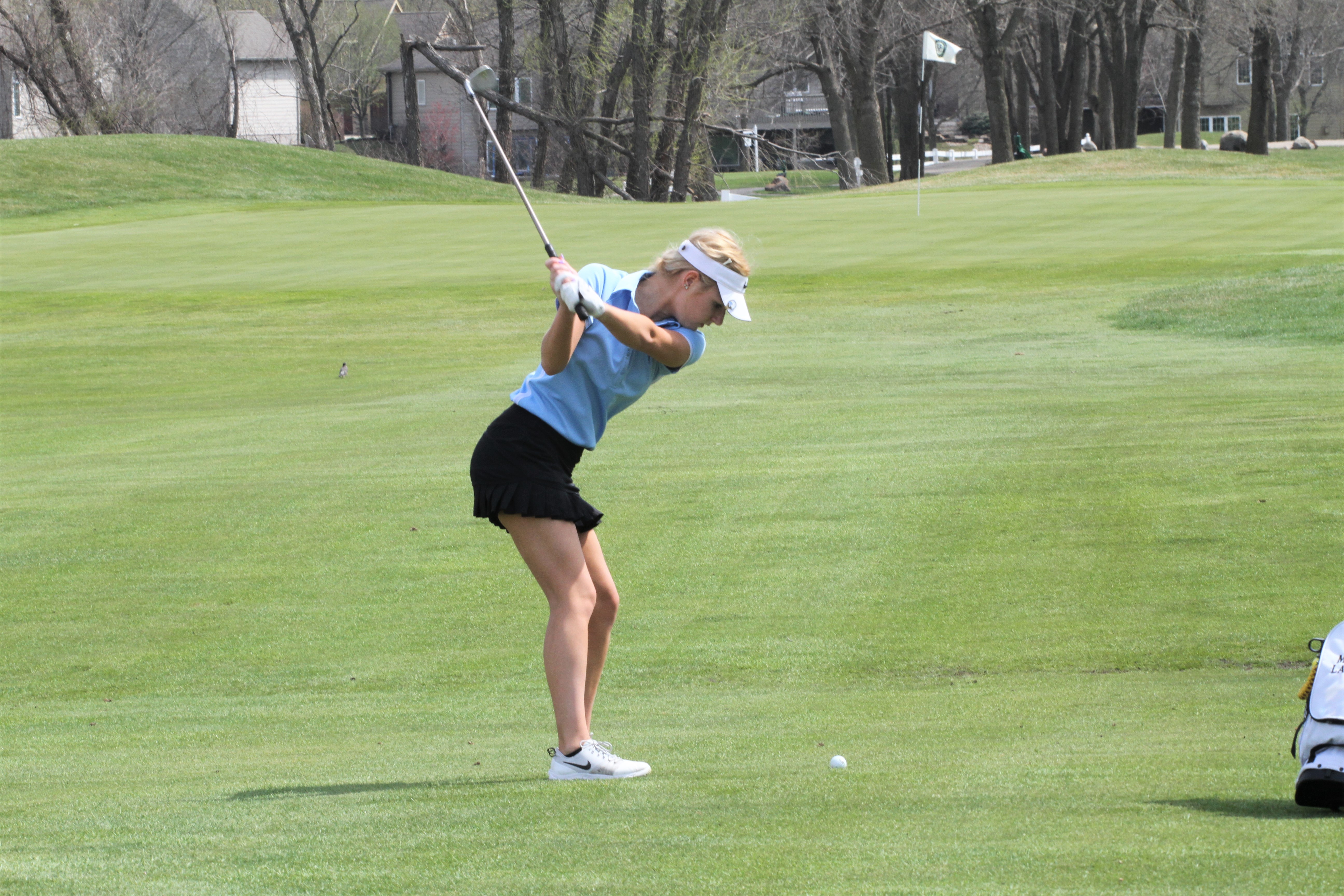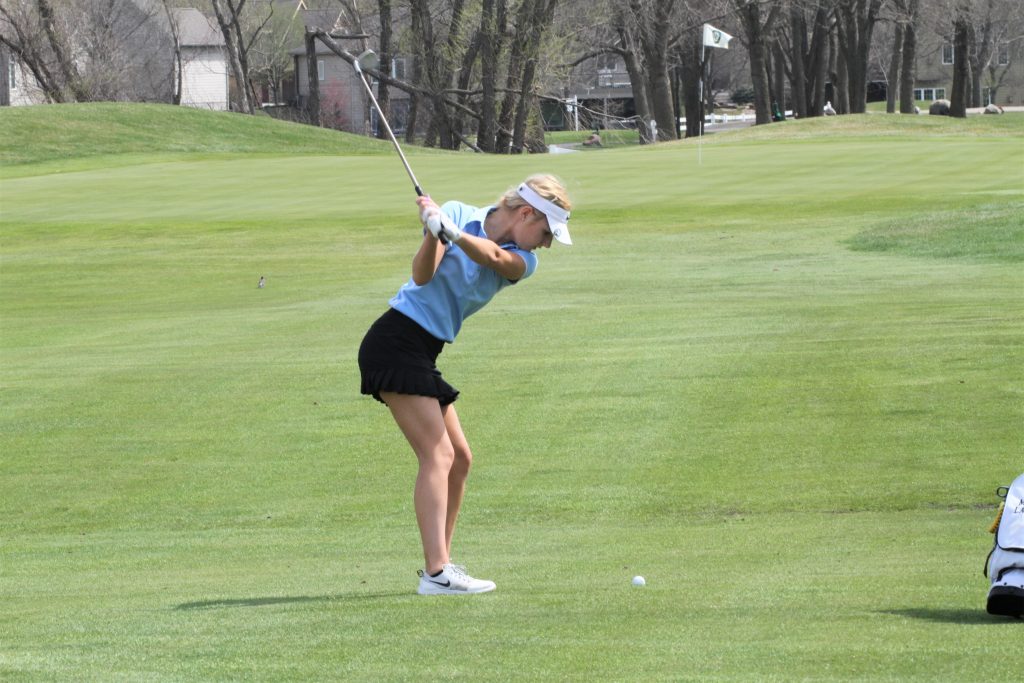 Ankeny Centennial's Lauren Sease and Ankeny's Jaci Webb were both in contention for medalist honors in the CIML Central Conference girls' golf meet on Wednesday at Jester Park.
A few bad holes, however, proved to be costly for both golfers.
Sease settled for runner-up honors after shooting an 85. She finished one stroke behind the medalist, Abi Sachs of Dowling Catholic.
Sease had a pair of double bogeys–one on No. 5 and another on No. 16.
"Overall, I was pretty happy with my round," said Sease. "I was just a little disappointed I couldn't par a few more holes on the back nine."
Webb, meanwhile, placed fourth with an 87. She had a solid 40 on the front nine, but struggled to a 47 on the back nine.
Webb had triple bogeys on the 10th and 15th holes. She also had a double bogey on No. 14.
"I didn't feel great about my round at all," said Webb. "Certain aspects felt better than others and after my round I went out to Otter Creek and worked out some of those kinks so I can prepare myself for regionals. The coaches and I were talking about how today was a learning experience, and I'm going to use it to fuel me to play great at regionals. Those three holes messed up my mental game today, and that really got me off track on that back nine."
Johnston won the conference title, shooting a 375 on its home course. Ames was second with a 380, followed by Dowling with a 387.
Centennial took fourth in the six-team field with a 389. The Jaguars had defeated Johnston by 10 strokes on the same course at the Dragon Invitational on April 29.
"We were disappointed," said Centennial coach John Petersen. "We had shot 372 at the invite at Jester, and we were hoping to beat that score today. We just didn't play our best golf."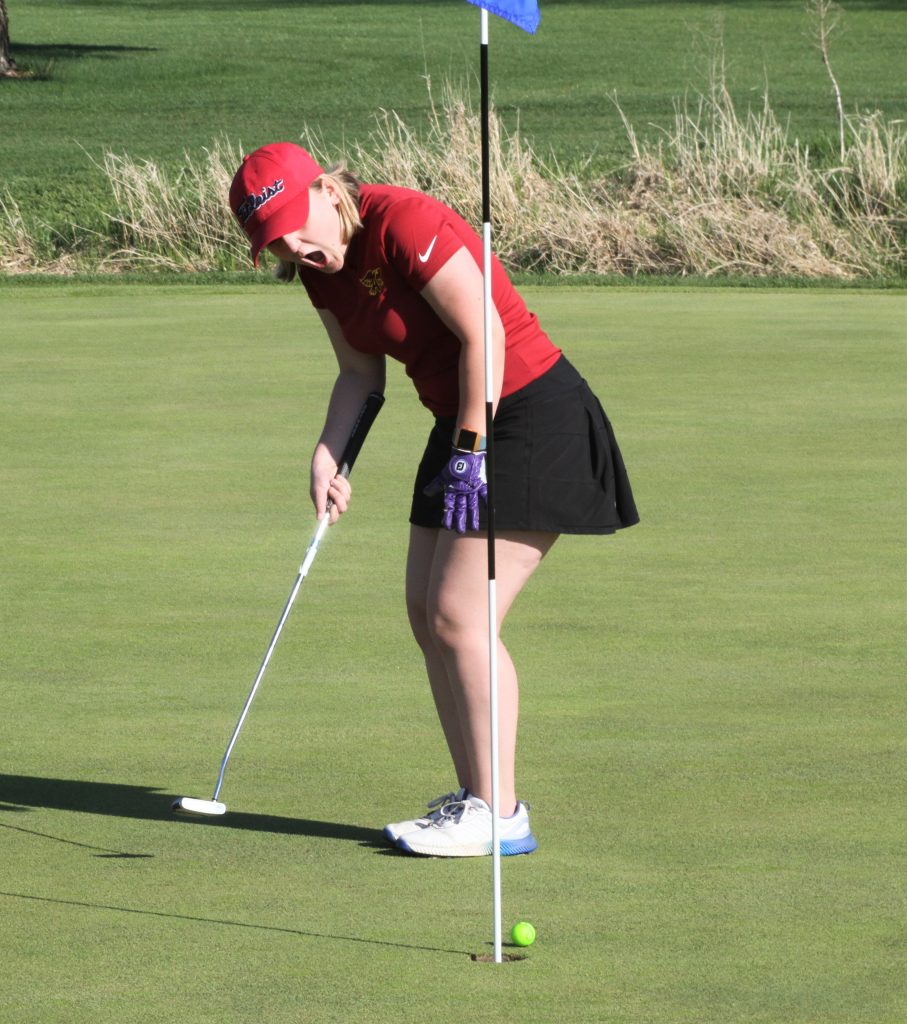 Ankeny also had a tough day. The Hawkettes finished sixth with a 398 total after defeating three of their five league rivals in dual meets this season.
"What an absolute perfect day to play golf…finally!" said Ankeny coach Seth Hagarty. "The girls have played better than they did today, so finishing last wasn't what we had set out to do. We know we can perform better than we did."
However, Ankeny had two top-10 finishers. Kelsey Hensen joined Webb on the leaderboard by placing 10th with a 94.
Caroline Price fired a 104 for the Hawkettes. Hannah Loftus had a 113, Rachel Moore shot a 116, and Gabby Schnepf finished with a 118.
Riley Stewart placed 15th for the Jaguars with a 98, while Megan Lazear finished 20th with a 102. Lexi Simpson and Morgan Kinch each carded a 104, and Claire Beath added a 114.
Both teams will now prepare to play in Class 4A regional meets on Monday. Ankeny is headed to the American Legion Golf Course in Marshalltown, while Centennial will play at Willow Creek.
"We will take the results from today and learn from them and grow as players from them," Hagarty said. "We will get back out there and keep working hard at our weaknesses to prepare for Monday's regional. We know there are some good teams and individuals in our region, but I know our girls can compete. So we will continue to improve, and we will give it our best effort come Monday."