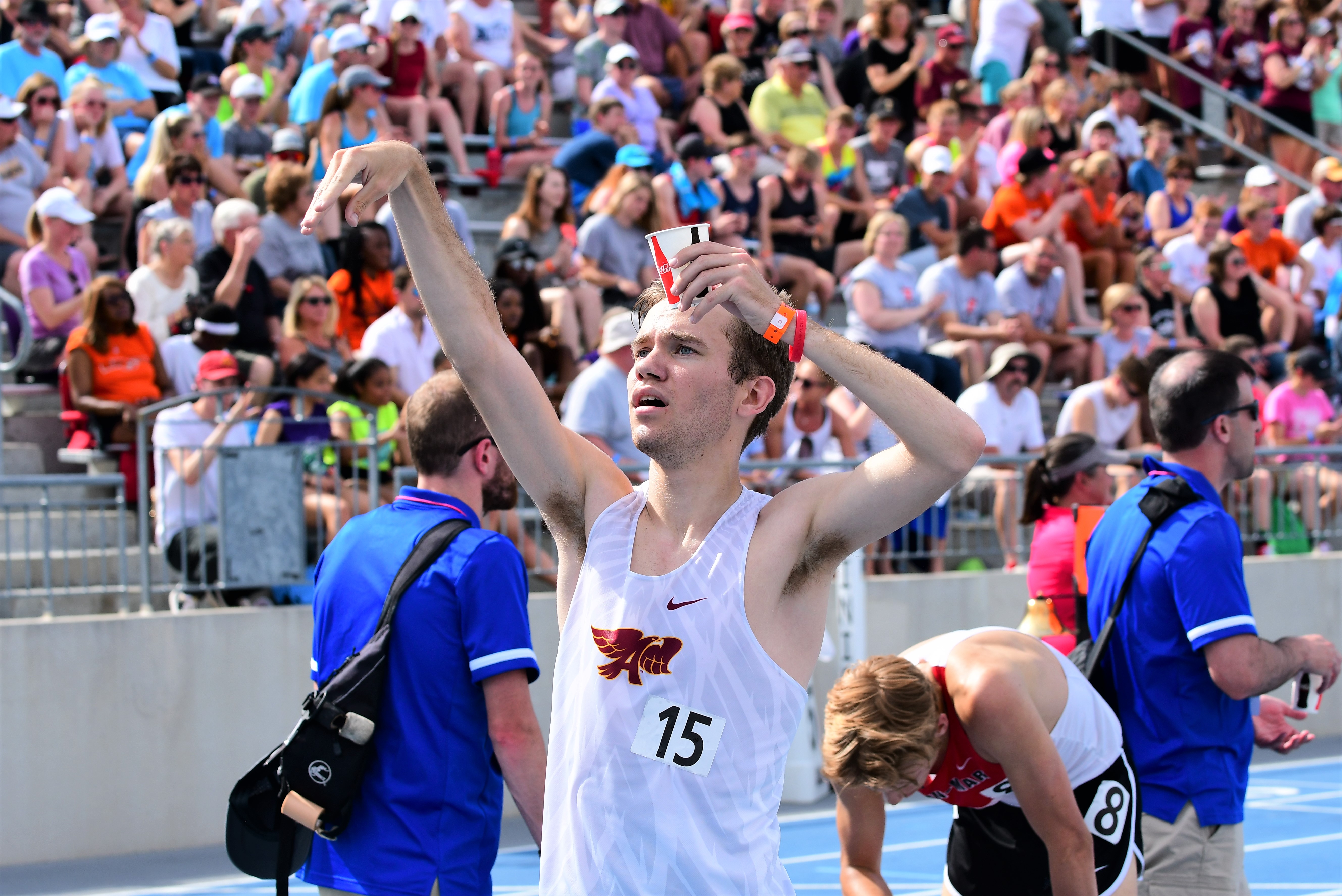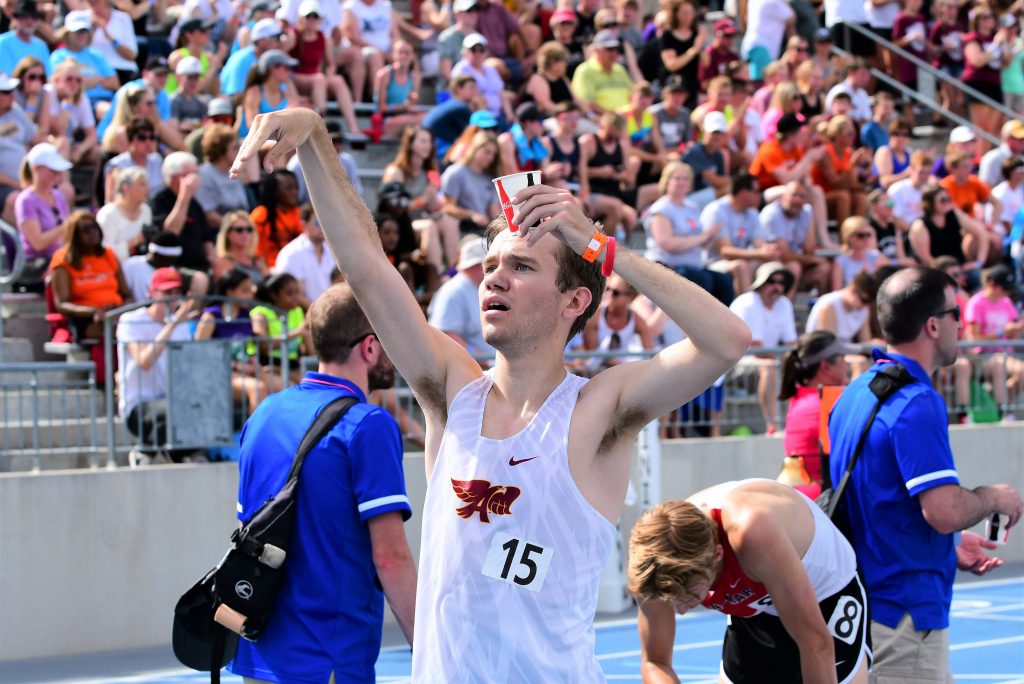 After crossing the finish line to win his first state track championship on Thursday, Ankeny's TIm Sindt doused himself with a cup of water on a 91-degree afternoon at Drake Stadium.
The Ankeny High School distance star then pretended to shoot a free throw as he looked up into the crowd.
A free throw?
"I was on the eighth grade 'D' team," Sindt said of his short-lived basketball career. "I wasn't good at all–you can probably tell from my form. But it's fun. We play it as a team all the time."
Sindt, a two-time state cross country champion, was encouraged by his teammates to find a way to celebrate his first state title on the track. The Iowa State recruit had plenty of time to think about it after racing out to a big lead in boys' Class 4A 3,200-meter run.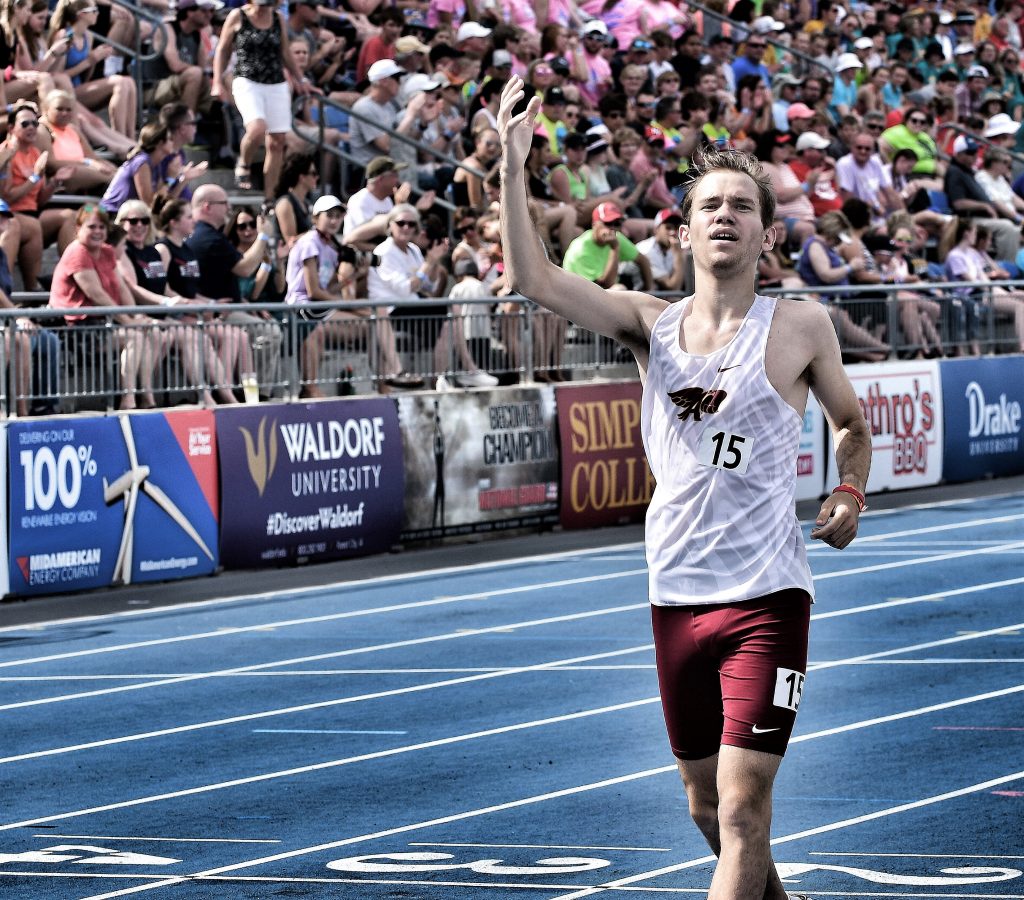 Sindt pulled away from the field and cruised to a convincing victory in a time of 9:28.90. He finished more than 6 seconds ahead of Dylan Dolezal of Linn-Mar (Marion).
David Holesinger of Dubuque Hempstead placed third in 9:38.47. At last month's Drake Relays, Holesinger briefly took the lead late in the 3,200 before Sindt recovered to win the race.
"I took it easy the first mile at Drake and David was able to hold on, and I didn't want him to outkick me this time so I took it out of him early," Sindt said.
Sindt built such a commanding lead that he couldn't hear the other runners behind him. He kept his eye on the stadium's video board to see if any of his opponents were going to challenge him.
"I saw for awhile they were like 50 meters back and so that was just exciting for me to know that I could save some (energy) and still win," Sindt said. "I didn't have to risk dying in this heat."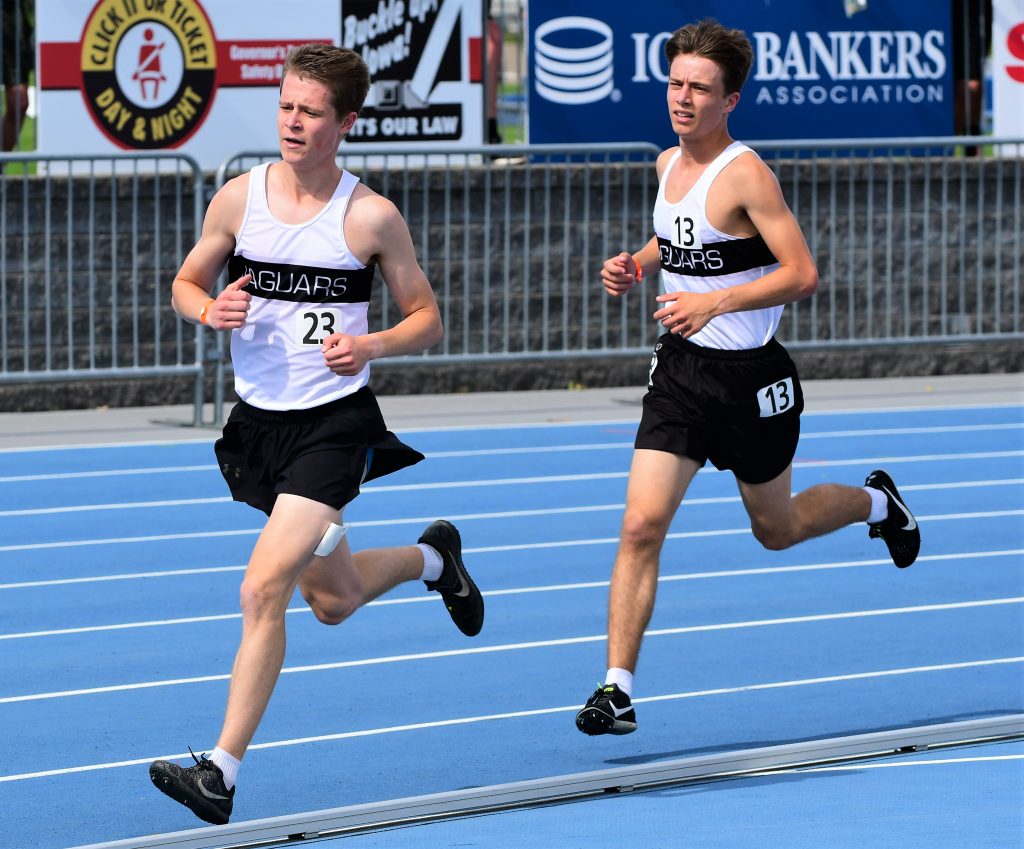 Ankeny Centennial's Jonah Vicker placed 15th in the same event with a time of 10:16.41. His brother, Gabe, finished 22nd in 10:32.39.
Sindt will be back on the track two more times this weekend. He'll run the anchor leg of the distance medley relay on Friday, then will close out his high school career on Saturday by running the 1,600.
Ankeny is in third place with 13 points heading into Friday's afternoon session. The Hawks also got a sixth-place finish from Jacob Baier in the discus on Thursday.
Baier, a junior, lofted a throw of 153 feet 9 inches on his second attempt in the preliminaries. He was in fifth place until Waukee's Mason Hale uncorked a toss of 157-7 on his second attempt in the finals.
Logan Jones of Council Bluffs Lewis Central won the event with a throw of 185-10. He had three tosses that surpassed 180 feet; only one other thrower went farther than 161.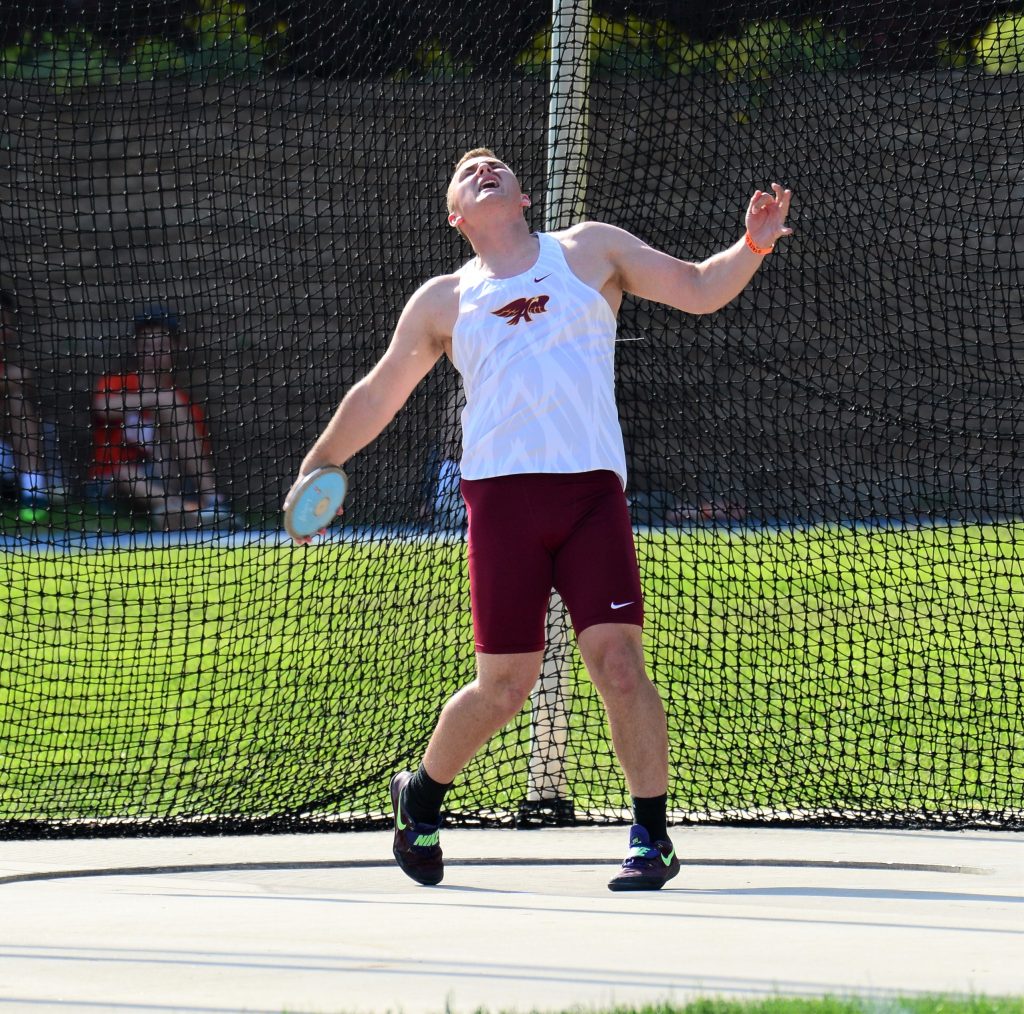 Centennial's Trevor Formanek finished 20th with a throw of 136-1.
"My goal was to place," said Baier, who will compete in the shot put on Friday. "My discus has been pretty hit-or-miss this season with hurting my leg, but tonight I feel like I did better. I had a couple of good distances and placed sixth, so I'm very happy with the way it ended."
The Hawks advanced to Saturday's final in the shuttle hurdle relay. The foursome of Max Griffin, Mason Thompson, Cael Boyd and Conner Niffenegger posted the second-fastest qualifying time of 58.30 seconds.
Only Valley ran a faster time (57.72). The Centennial team of Dylan DeAngelo, Jon Wong, Tyler Johnson and Nathan Reinke posted a time of 59.13 that would have qualified for the final, but the Jaguars were disqualified in the event.
Ankeny's Max Smith also advanced to Saturday's final in the 100, posting a time of 10.88 seconds. Niffenegger placed 10th in that event in 11.08.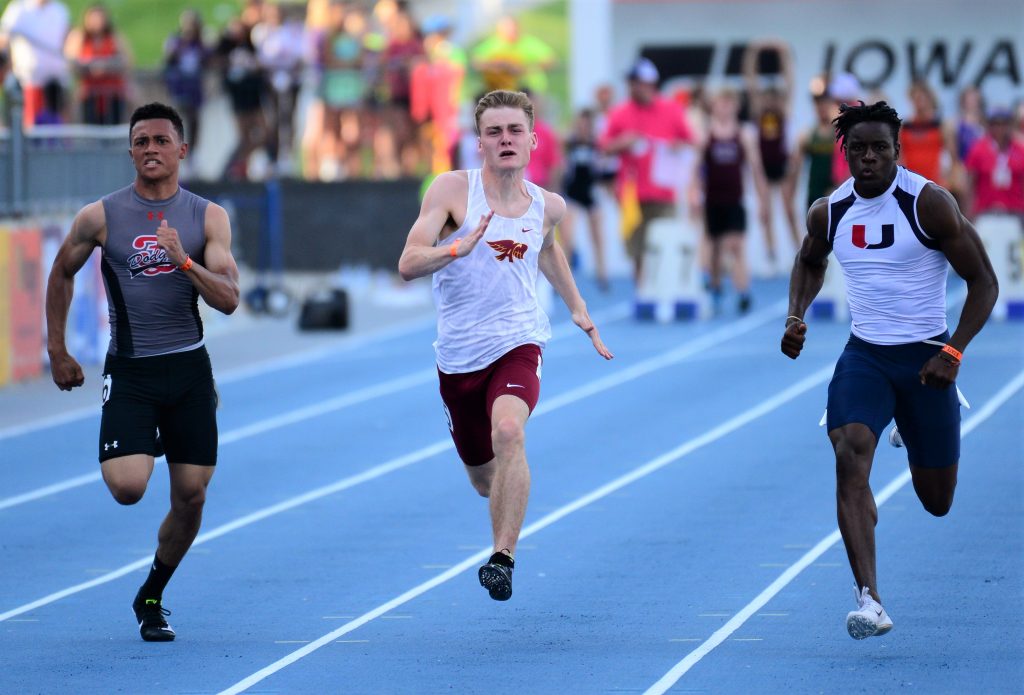 In other events, Centennial's James Jacavino placed 18th in the high jump with a leap of 5 feet 11 inches. Ankeny's Kayden Daniels did not place in the event.
The Hawks took 12th in the 4×800 relay. The quartet of Ethan Norgaard, Jalen Elwell, Drake Strnad and Noah Odson posted a time of 8:12.47.
Ankeny's Brody Brecht competed in same preliminary heat of the 200 along with Centennial's Liam Murphy and Avery Gates. Murphy placed 11th overall in 22.54, Gates was 13th in 22.60, and Brecht finished 16th in 22.76.
Centennial's Thomas Collins and and Austin Jones both ran in the 400 along with Ankeny's Zach Mohrfeld. The final placings will be determined on Friday after the third section of the 400 is contested.
The meet was called off on Thursday night due to inclement weather following the second section of the 400.